#CIRCAECONOMY: United Nations
Written By Barney Pau
The art sector's benefits are often intangible and can go unseen by contemporary society. CIRCA (Cultural Institute of Radical Contemporary Arts) challenges this by helping to give back through funds generated by their #CIRCAECONOMY initiative.
This is an incredibly challenging time for the arts, with public funds being divested away from institutions and public faith. The #CIRCAECONOMY endeavours to lead by example and show how art can affect change. In light of this, today marks a milestone in CIRCA history as their founder, Josef O'Connor, takes to the stage at the United Nations (UN) headquarters in New York to speak at the High-Level Pledging Event (HLPE) for the Central Emergency Response Fund (CERF) of 2023. This invitation to speak comes after CIRCA donated £300,000 to UN CERF following their collaboration with Yoko Ono and Serpentine back in March 2022, making them the second largest private donor after TikTok.
When an artist can take a stand behind a lectern usually reserved for politicians and corporations, it is a testament to the positive impacts that creativity can have:
Thank you so much for inviting us to be here with you all this morning. It is an honour and a privilege to stand on this stage, behind a plinth that is often reserved for leaders, to highlight the power of an idea, the power of collaboration and the power of the people to change the world. 

CIRCA is an art and culture platform with purpose. We have been fortunate to collaborate with some of the greatest minds of a generation: Ai Weiwei, Patti Smith, David Hockney, Tony Cokes, Marina Abramović, Shirin Neshat, and many more. All of these artists have paused time across some of the world's most prominent screens and presented ideas that reflect on our world today: inviting us to act, imagine a better world and strive for a future that we all believe is possible. 

I'm often asked how we were able to achieve this and the answer is simple: the power of an idea. 

Shortly after the Russian invasion of Ukraine, we felt a sense of urgency to share a message of peace with the world and who better to deliver that message than Yoko Ono, who, together with John Lennon, dedicated her life and her art to encouraging us all to IMAGINE PEACE. 

Standing here amongst you all, a day after the anniversary of John Lennon's untimely death in this great city – we continue the legacy of another impossible idea – one of unity: the united nations. Because ideas – no matter how big or small – have the power to change the world for the better.

CIRCA is not a nation or a multi national corporation. Instead we are a small team of six people, each driven by the idea that art can serve a purpose for positive societal change. But none of this would be possible without the community we have fostered in these two years we have been operating. 

It is with thanks to Hans Ulrich Obrist and Bettina Korek from Serpentine that the impossible idea to collaborate with Yoko Ono was made possible in less than 48 hours. It is with thanks to Derek Manns of Landsec, owners of Piccadilly Lights and our global network of screens that we were able to share Yoko's message of peace with the world. It is with thanks to our chairman, Norman Rosenthal for nudging it along and the incredible CIRCA team led by Rozi Rexhepi who worked day and night to achieve the impossible. And finally, it is with thanks to the over 3,000 people who purchased an IMAGINE PEACE print that we were proudly able to raise and donate £300,000 to the United Nations CERF – an organisation like no other, who for 17 years has been tirelessly ensuring that urgently needed humanitarian assistance reaches people in crises everywhere around the world.

All of this, because of the power of an idea, the power of collaboration and the power of the people to change the world.

Thank you Yoko for trusting us with your words and CERF for delivering on your promise.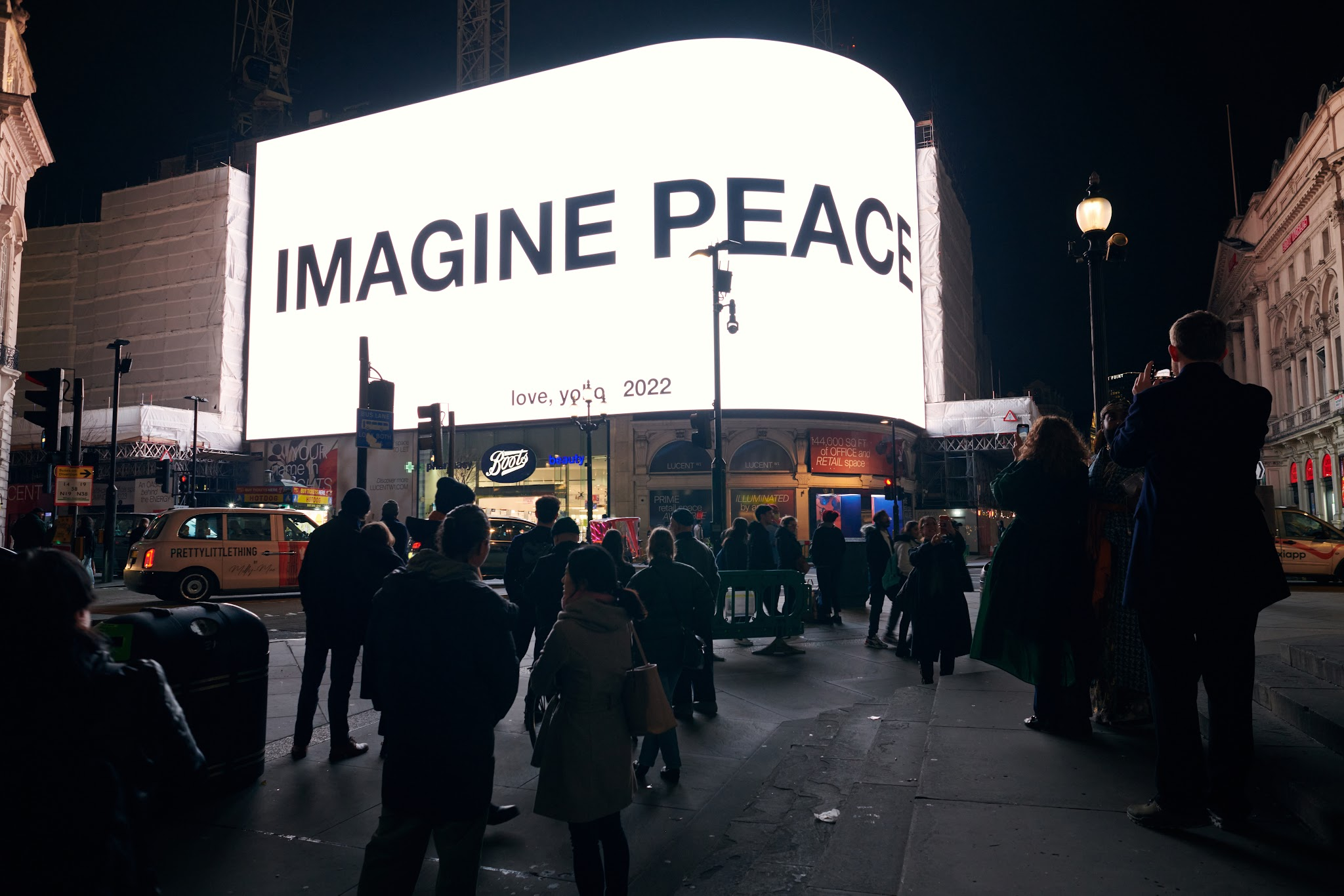 The words 'economy' and 'ecology' derive their prefix from the Greek oikos: 'house'. Yet, in spite of their familiarity, this is often where their similarities are seen to end. CIRCA cultivates new creative ecologies and economies under the same roof by building a collaborative network of artists who work for each other's mutual benefit through the circular #CIRCAECONOMY model.

We live in a time when art's potency is often diluted for profit. Its meaning is lost in its monetisation. This decline finds its extreme in 'art-washing', where the positive aspects of the artwork are used to distract from the negative actions of its funders. The #CIRCAECONOMY seeks to re-radicalise art through a network of creative dissenters. By investing in these divergent voices, CIRCA curates new waves of creativity that challenge the notion of the arts being socially superfluous.
At the start of 2022, CIRCA published a manifesto titled, And Now We Build Worlds, synopsised as follows: "We are (all) world-builders. Now is the time to awaken this potential. New forms of justice and liberation are imaginable and achievable through collective, creative action." In the 12 months since then, #CIRCAECONOMY's world-building capabilities have proved themselves.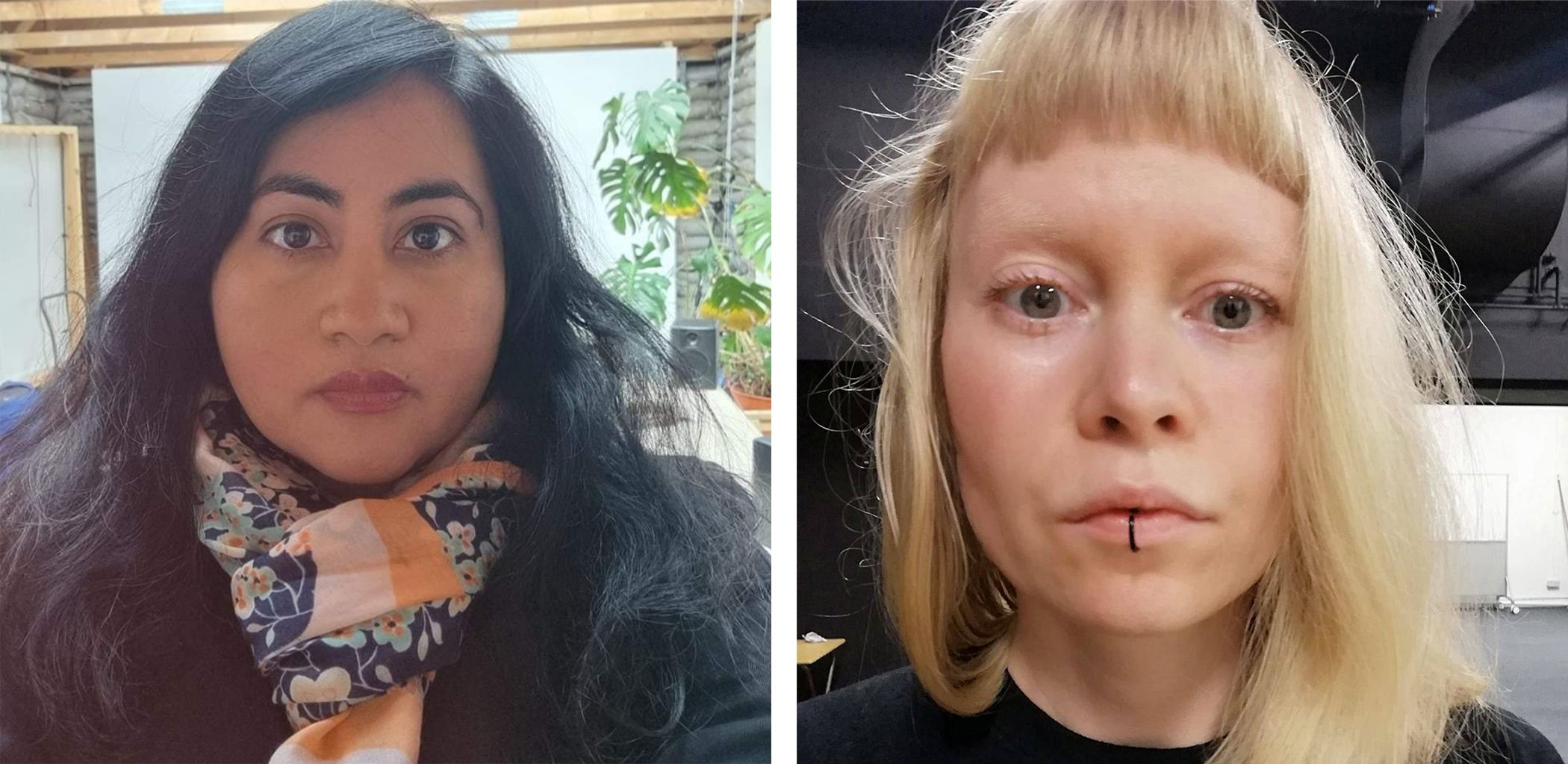 Driving change through conscious investment, they have been working towards a future that looks beyond the stale conventions of the Art World. Each month CIRCA has collaborated with emerging and established artists, including Marina Abramović, Yoko Ono, and David Hockney—to name a few—to present their commissions across a global network of screens and create a limited series of affordable prints, the sales of which help fund the #CIRCAECONOMY. These artists generously reinvest the proceeds to help fund a new generation of emerging creatives. An example of this investment, at the start of 2022, CIRCA granted two Goldsmiths, University of London students full scholarships (£15,000 each) for the MA Art & Ecology and MFA Curating courses. As part of these commissions, every day at 20:22 local time, a global network of screens across London, Berlin, Melbourne, Milan, New York, and Seoul displays the artists' work for two minutes. Often art is made to be experienced within the confines of a gallery, yet CIRCA negates this by broadcasting its commissions on billboards for all to see. Putting capitalism on pause, CIRCA democratises art by distributing it for free.
Through their generosity, these artists have also helped fund a number of humanitarian organisations: the sale of Laure Prouvost's Together As One enabled CIRCA to make a donation to Choose Love; Shirin Neshat's Woman, Life, Freedom helped fund a donation to the Human Rights Watch; and Yoko Ono's IMAGINE PEACE contributed to CIRCA's UN CERF donation. This last campaign reached over a billion people across CIRCA's different platforms. Working with such well-recognised creatives also enables CIRCA's far-reaching engagement, helping provide a platform from which to project the voices of the emerging artists they work.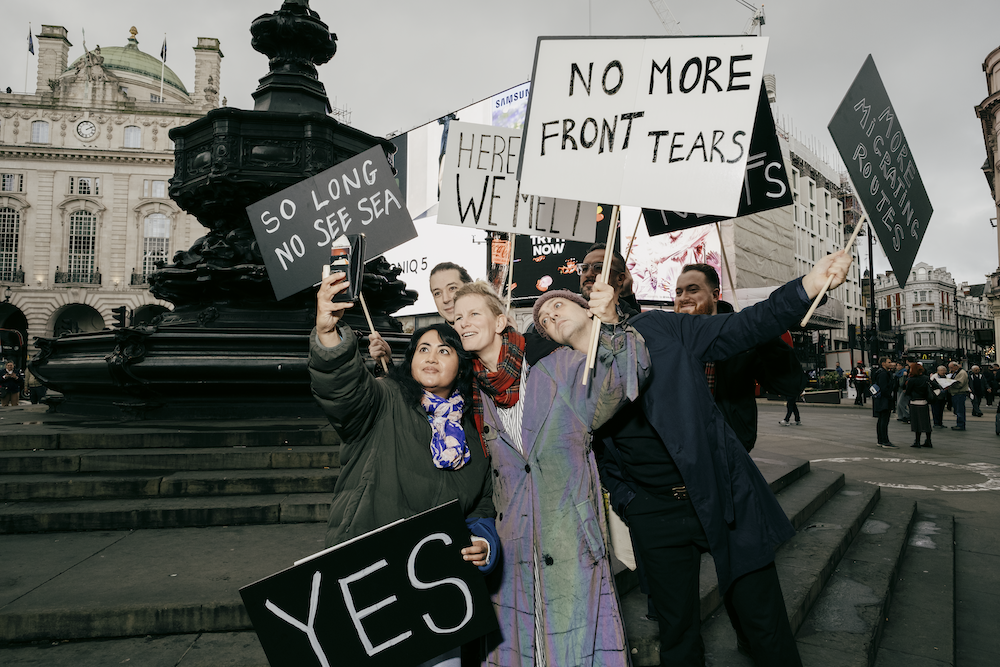 One of CIRCA's investments is the annual #CIRCAECONOMY Prize of £30,000, awarded to an emerging artist to help fund their practice for a year, the 2022 winner of which is Mary Martins. Mary explores this year's theme, And Now We Build Worlds, by focusing on the challenges faced by communities under threat from shifting social and political landscapes. Her film Something More highlights London's Brixton Recreation Centre—'Brixton Rec', as she fondly calls it—as a space of community and cultural heritage. As with much of London, the impacts of gentrification have left spaces like the Brixton Rec under threat of erasure by redevelopment. Mary is using this opportunity to reflect on Brixton Rec's historical significance for the Windrush Generation and its ongoing importance to Brixton's black community, hoping to highlight the Centre's plight.
In this way, the interconnected ecological nature of CIRCA's circular economy becomes apparent. By using the platform of more established names to help emerging artists such as Mary, CIRCA can, in turn, help her use her platform to amplify underrepresented voices. Mary's work poignantly echoes a quote from The Dawn of Everything (2021) included in CIRCA's 2022 manifesto, in which anthropologist David Graeber and archaeologist David Wengrow ask, "What if, instead of telling the story about how our society fell from some idyllic state of equality, we ask how we came to be trapped in such tight conceptual shackles that we can no longer even imagine the possibility of reinventing ourselves?" The politically and socially engaged themes presented by CIRCA are helping politicise the power of art and offering fresh air in a somewhat stuffy industry. In Josef's own words, "It needs to mean something to be a CIRCA artist: they have to carry a societal message, to say something urgency."
Wading through the quagmire of climate emergency, corporate greed, and political turmoil as we tentatively approach 2023, we should not be blamed for our trepidation. Yet CIRCA remains sanguine. Their 2023 manifesto, Hope: The Art Of Reading What Is Not Yet Written, looks to the future with optimism. It encourages new artists joining the #CIRCAECONOMY to creatively experiment with hopeful futurities. 3 years ago, CIRCA asked in their first manifesto, "What if hope looked very different to how we imagined it?" Through the creative ecologies CIRCA has funded, they have helped artists build worlds around their impactful practices, funded new creativity, and shown the ways in which the Art World can galvanise itself and impact positive change. Though the world is turgid with unrest, art can help us creatively disseminate the challenges we face, so let's find our footing and step into a brighter, more hopeful future together.
---
Barney Pau is a chef, artist and student on the MA Art & Ecology program at Goldsmiths University. Currently, his practice explores the connections between contemporary consumption and the codified norms of domesticity, playing with the symbolism of home by queering it. When he's not baking bent bread, drawing gay toile wallpaper, or painting erotic landscapes, you can usually find him foraging for his food or reading books on bread.