Anne Imhof: The Eyes of a Horse
Written by Francesca Gavin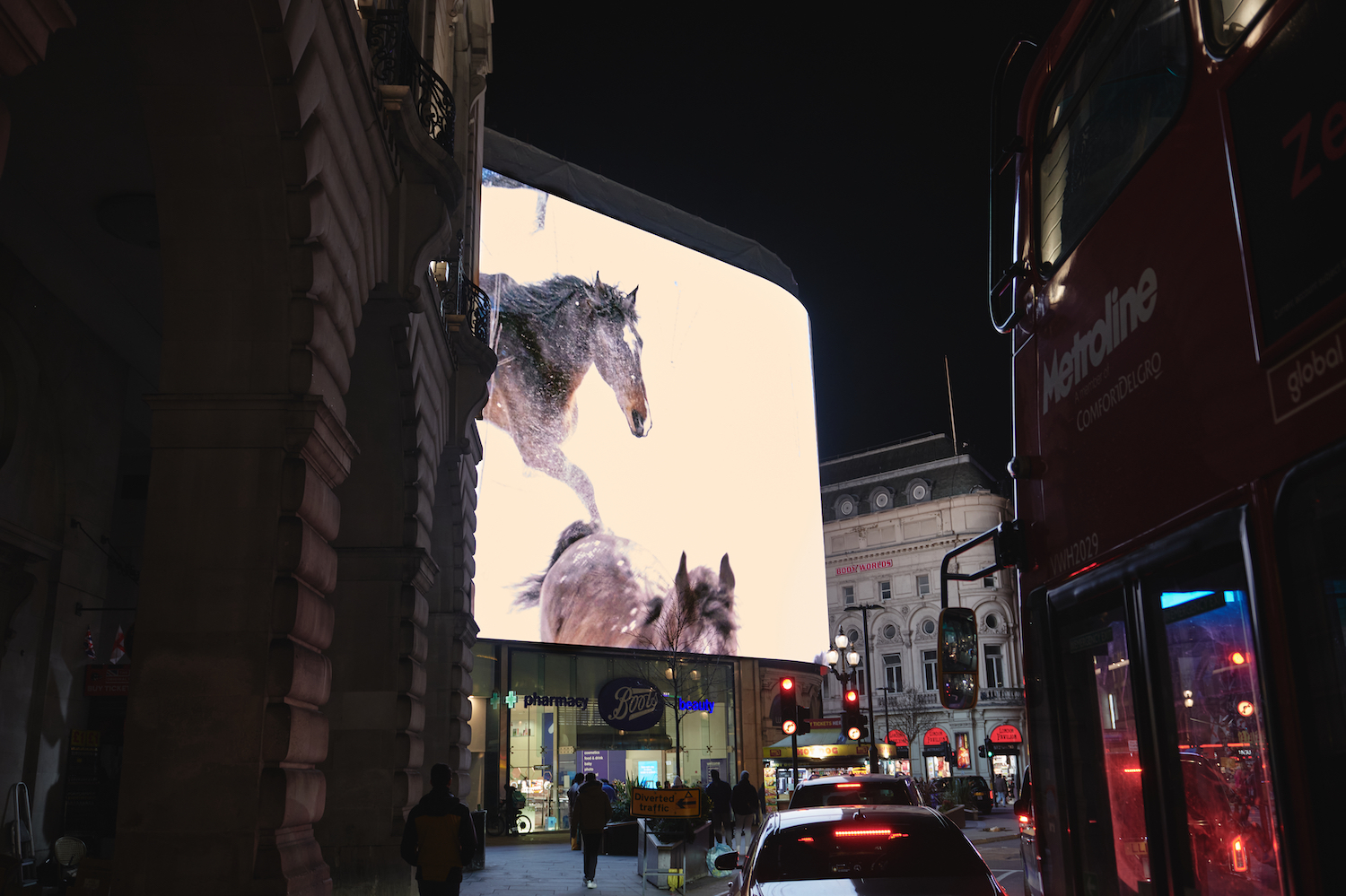 YOUTH starts with the eyes of a horse. A poetic trope imbued with projections of sadness, loss, understanding, and hope. We watch a group of seemingly wild horses in the snow, their deep chestnut flanks galloping in slow motion against a poetic snowy landscape. Their legs are submerged in the white powder. They are not weighed down with saddles or riders. In time, we see the animals riding against the context of brutalist housing blocks in a suburban Eastern European landscape. These grey architectural structures are the only hints of humanity—man's imposition on space.
Filmed in Moscow five days before the Russia-Ukraine war broke out on 24 February 2022, Anne Imhof was preparing an exhibition at Moscow's Garage when they were forced to leave in a state of shock. "This was maybe the last time an artist was working and shooting a film there and wouldn't happen again in the near future, maybe not even in my lifetime," the artist points out. The film piece and its accompanying #YOUTH24 print fundraiser aim to bring attention to the anniversary of the conflict and raise funds for United Nations CERF and Ukraine Humanitarian Fund. This shifting context brings an entirely different meaning to the work – although many of the issues around repression in Russia were brewing in advance of 2022.
The environments and architecture in Anne's work are loaded with narrative, ritual and reference. In her carte blanche exhibition at the Palais de Tokyo, NATURES MORTES, Imhof placed her work against photographs of cut-out piers by Gordon Matta Clark and her labyrinth of found, graffiti-covered urban detritus. The residue of subcultures often touches her sculptural and physical elements. The underground misuse of space reflects resistance to the power imbalance—a play with what is inside and outside.
Imhof wears her cultural and subcultural references on her sleeve. Metal and underground music, vandalism and skateboarding, Greek myth and cruising. Even her editions echo the idea of merch – the opportunity to buy into a cultural moment in a populist, accessible way. Here the band t-shirt, the poster or the artwork all play with fan culture. A way to buy into the culture of an artist, the emotion of a work. Feelings and lack of feeling are always central. Loneliness, desire, alienation, connection, rebellion. "It's paranoia, depression and angst that surrounds us," Anne observes. Her aim is to create work "for a generation that is asked not to speak up and expected to dive into capitalism's cradle. It's easy to get numb and still in their angst."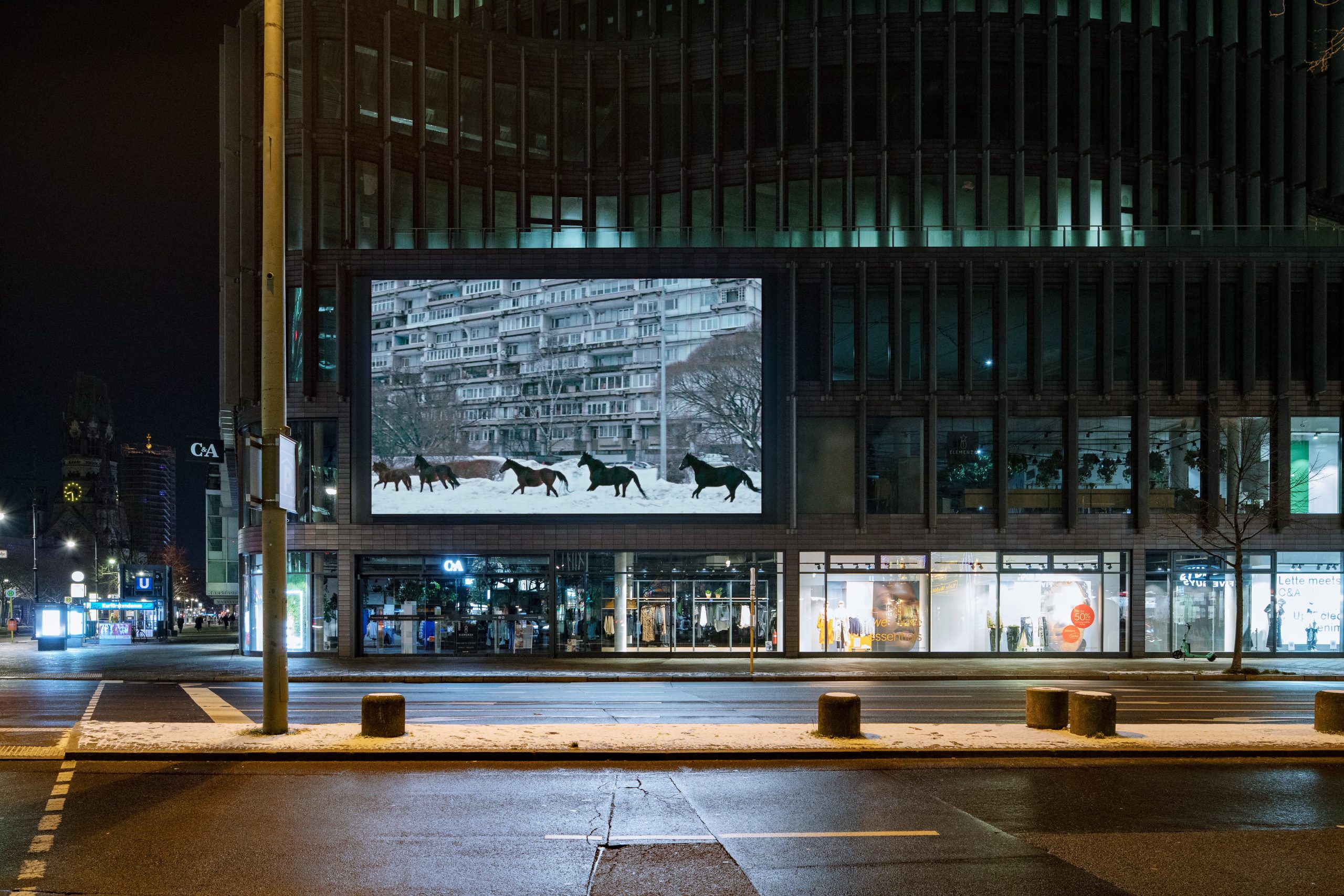 The buildings in YOUTH are Severnoye Chertanovo, an experimental housing development on the edge of Moscow created in the 1960s. "The socialist housing block Chertanovo reflected a belief in progress and was a showpiece for a new urban city planning that happened under Nikita Khrushchev," Imhof explains. "After the invasion of Ukraine, the significance of the deserted housing blocks changed for the artist. "The aspects of freedom, the almost Marlboro advertisement-like imagery, became this farewell, and I feel that without knowing it, I created a dystopian world where humans were gone, and those horses took over." It became a landscape of war and peace, hope and possibility.
The landscape brings to mind the strangeness of the zone Takorvsky's 'Stalker'. A post-utopian sub-urban environment. A terrain reduced of colour, instead a greyness shifting with light and chiaroscuro. The reference to the late Russian filmmaker is reinforced by the film's soundtrack – J. S. Bach's St. Matthew Passion – used by Tarkovsky in the closing scenes of 'The Sacrifice' when the protagonist's home goes up in flames. Here sound and image form a fitting metaphor for the destructive forces of the political now. The Russian director, who also was working in exile later in his career and against a culturally repressive political context, is an interesting pairing to Imhof's work.
Imhof's film work exists outside of the linear cinematic timeline. One still is a summary of its totality. Her work echoes Metahaven's ideas in 'Digital Tarkovsky' (2018) – published by Russian imprint Strelka also before the Ukraine conflict. The book discusses moving image in the context of contemporary hyper-technology. "Beginning and end now do not signify the duration of a film, but the two moments when the viewer starts and stops watching." Imhof's film work, like her performances, slows things down into something ritualistic.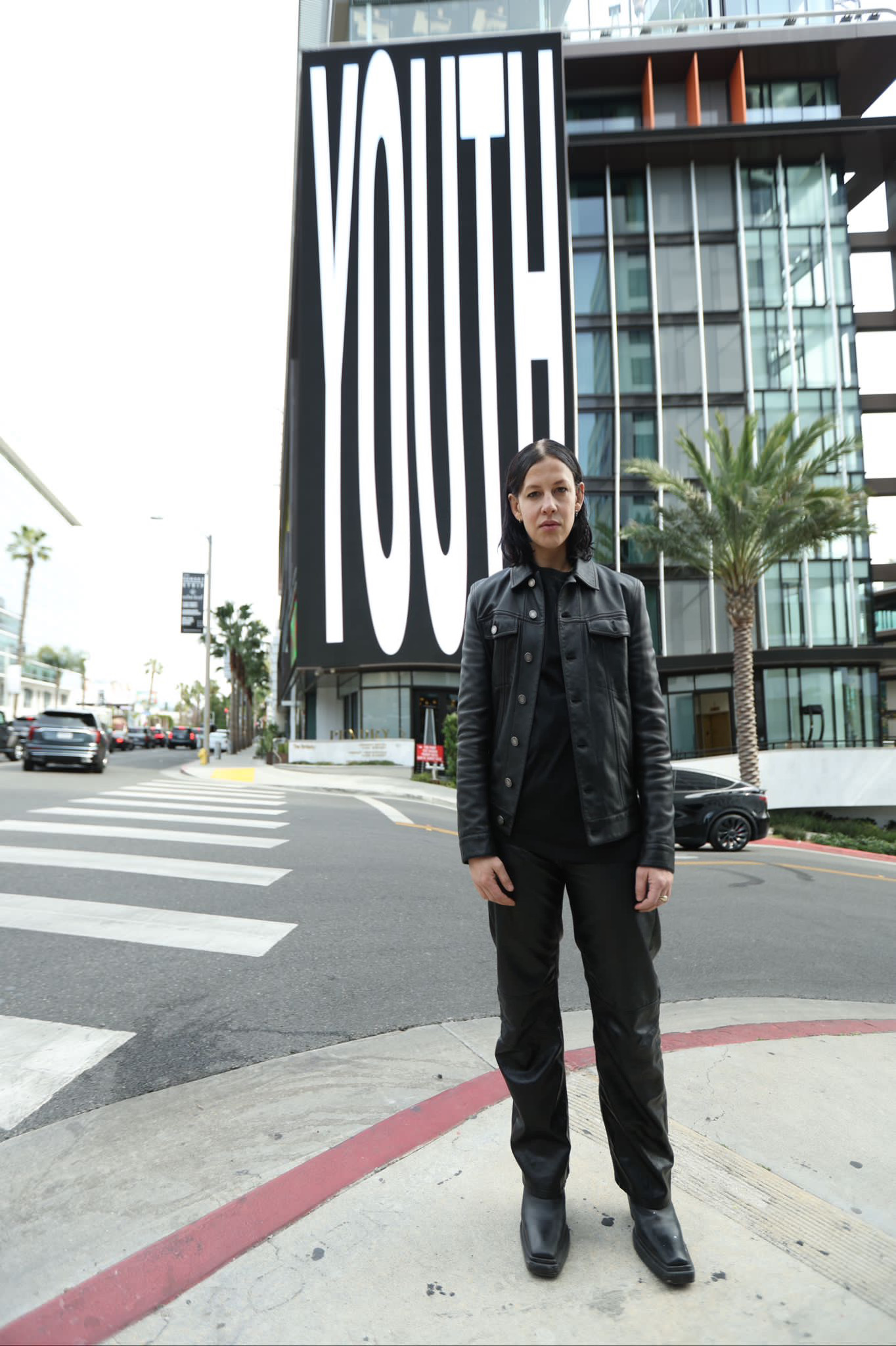 Animals recur in Imhof's narratives, often in interesting, jarring ways. An eagle, a guard dog, a donkey, a turtle. These creatures disorientate her work and place it into something larger, like Aesop's fables or Ovid's 'Metamorphosis'. They lift us into the narrative of epic poetry and meaning. The emotional human, projected onto or placed in relation to other species, the timelessness of the animal, other forms of experience, emotion and history. "I thought about the possibility of animals taking over, birds existing in flocks, horses with their herd… their bodies powerful and vulnerable," Imhof considers. The animals here reinforce the sense of ambiguity that fills all her work.
Anne Imhof's work questions what freedom looks like in the context of political unrest, war and repression – as well as vocal resistance, upheaval and activism. This is the second time Imhof has exhibited in the context of CIRCA's digital billboards. In a way, Youth pairs to an earlier commission titled One (2020), which was screened in the final minutes leading up to midnight in December 2020, when the UK officially left Europe. Another timely and poetic take on a cultural rupture. The war has transformed Anne's work in a more radical way, as she notes, "My art will never be the same again." The imperfection of our times, however, is what makes the work powerful. As Andrei Tarkovsky once stated, "Art would be useless if the world were perfect, as a man wouldn't look for harmony but would simply live in it. Art is born out of an ill-designed world."
---
London-based art writer and curator Francesca Gavin is one of the most trusted voices in the art world. With an impressive career that spans over 15 years, Francesca knows how to put on a good show and how to write about one too. Having curated shows at Soho House and Palais de Tokoyo, she has written five books and also co-curated the Manifesta 11 biennial in 2016. Starting out from modest beginnings as an intern at Dazed & Confused, Francesca is now Art Editor at Twin and Editor-at-Large at Kaleidoscope and contributing editor to Sleek magazine. Defining herself as an enthusiast rather than a critic, Francesca has her own radio show Rough Version on NTS, where she talks to contemporary artists about their work and music. Spending the morning in total awe of her charm and wisdom, we grab a coffee with Francesca, head to Whitechapel Gallery in East London and talk with her about her musical background, the inherent addictiveness of screen media and why she is passionate about writing and curating in an accessible way.