Visit / Contact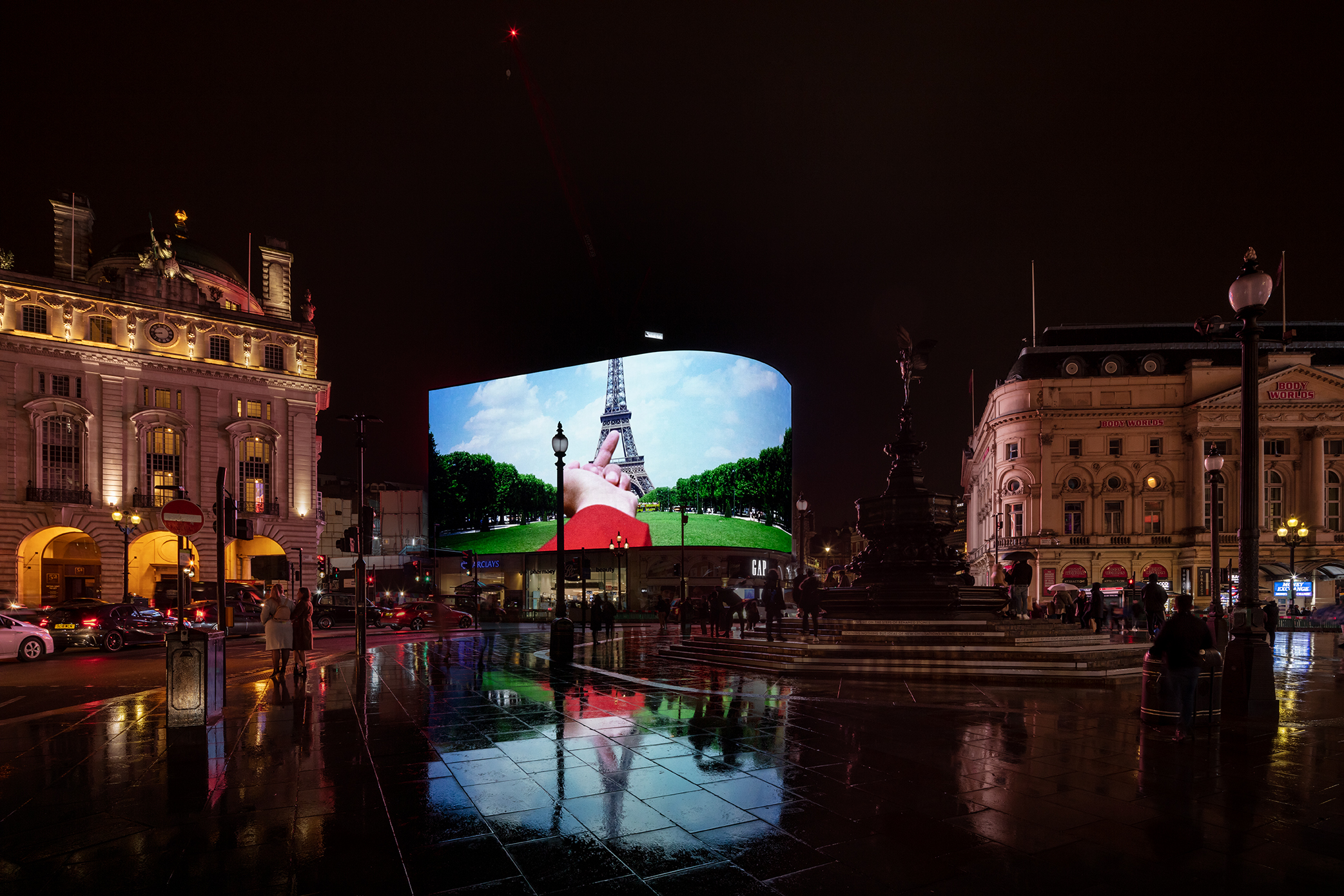 General Enquiries
Tel: +44 (0)20 7100 4429
Email: info@circa.art
Shop Enquiries
Limited Editions
Email: customerservice@circa.art
Press Enquiries
Email: press@circa.art
Accessibility
Audio is automatically provided on the CIRCA website. Connect your headphones or play through your phone's inbuilt speaker.
More information about our global screen locations can be found here.
Getting Here
CIRCA is a global art and culture platform on London's iconic Piccadilly Lights. Our free public art programme is also broadcast daily at 20:23 (local time) across a global network of screens in Seoul, Hong Kong, Los Angeles, New York, Berlin, Milan and occasionally Tokyo.
London, Piccadilly Circus – 20:23 BST/GMT
Piccadilly Circus and Charing Cross are the nearest tube and train stations. The nearest bus stops are located on or around Piccadilly Circus.
Bike racks are located at the top of the Duke of York Steps. There is a London Cycle Hire docking station on the corner of Panton Street and Sackville Street.
There is no parking on Piccadilly Circus, but car and taxi passengers can be dropped off nearby. Metered parking bays are located on Waterloo Place and Carlton House Terrace, and there are nearby car parks on Brewer Street and Leicester Square.
Seoul, COEX K-Pop Square – 20:23
Samsung-dong of Gangnam-gu, Seoul
Berlin, Kurfürstendamm – 20:23 CET
Milan, Via San Nicolao – 20:23 UTC
Hong Kong, CVISION – SOGO – 20:23 HKT
Home to major cultural attractions, world-class events, tourism experiences and an exceptional array of restaurants, bars and specialty stores, this modern piazza has become the heart and soul of Melbourne. Fed Square is open 24 hrs a day, and is always free to enter.
Fed Square is part of Melbourne's  Free Tram Zone, which includes the area from the iconic Queen Victoria Market to Victoria Harbour in Docklands, up to Spring Street and over Flinders Street Station and Fed Square.
Travel on trams within this zone is free, and you won't need a myki, however, if your journey starts or finishes outside the boundaries of the Free Tram Zone, you must touch on your myki at the reader in the normal way to make sure you have a valid ticket.
The Free Tram Zone signs at tram stops identify the boundaries of the zone. Download the Free Tram Zone Map
New York, Times Square 20:23 EST
Find a CIRCA screening location near you and plan your visit here.
Feedback
Please Tell Us What You Think
We welcome visitor feedback! It helps us to continually improve our visitors' experiences and informs our decision-making processes. We want to make sure you enjoy your visit and that you come back to see us again.
Our specially trained staff are on hand to speak with you regarding all aspects of your visit, from discussing the exhibition and artworks in detail to listening to any comments or concerns you may wish to raise regarding your experience with us. In most cases, your queries and concerns can be resolved quickly in person, but in some instances, further information may be necessary.
Get In Touch After Your Visit
If you think of something after your visit that you would like to share with us, the quickest way is by telephone. We are open daily from 10am to 6pm and can be called on: +44 (0)20 7100 4429
You may prefer to send us your feedback in writing. If a response is required, we will aim to contact you within two working days.
Please email us at: info@circa.art
Please write to us at:
Visitor Feedback
CIRCA
13 Hague Street
London E2 6HN
United Kingdom