Press Release: CIRCA PRIZE 2023, Award Ceremony
Press release
CIRCA ANNOUNCE CEMILE SAHIN WINNER OF THE CIRCA PRIZE 2023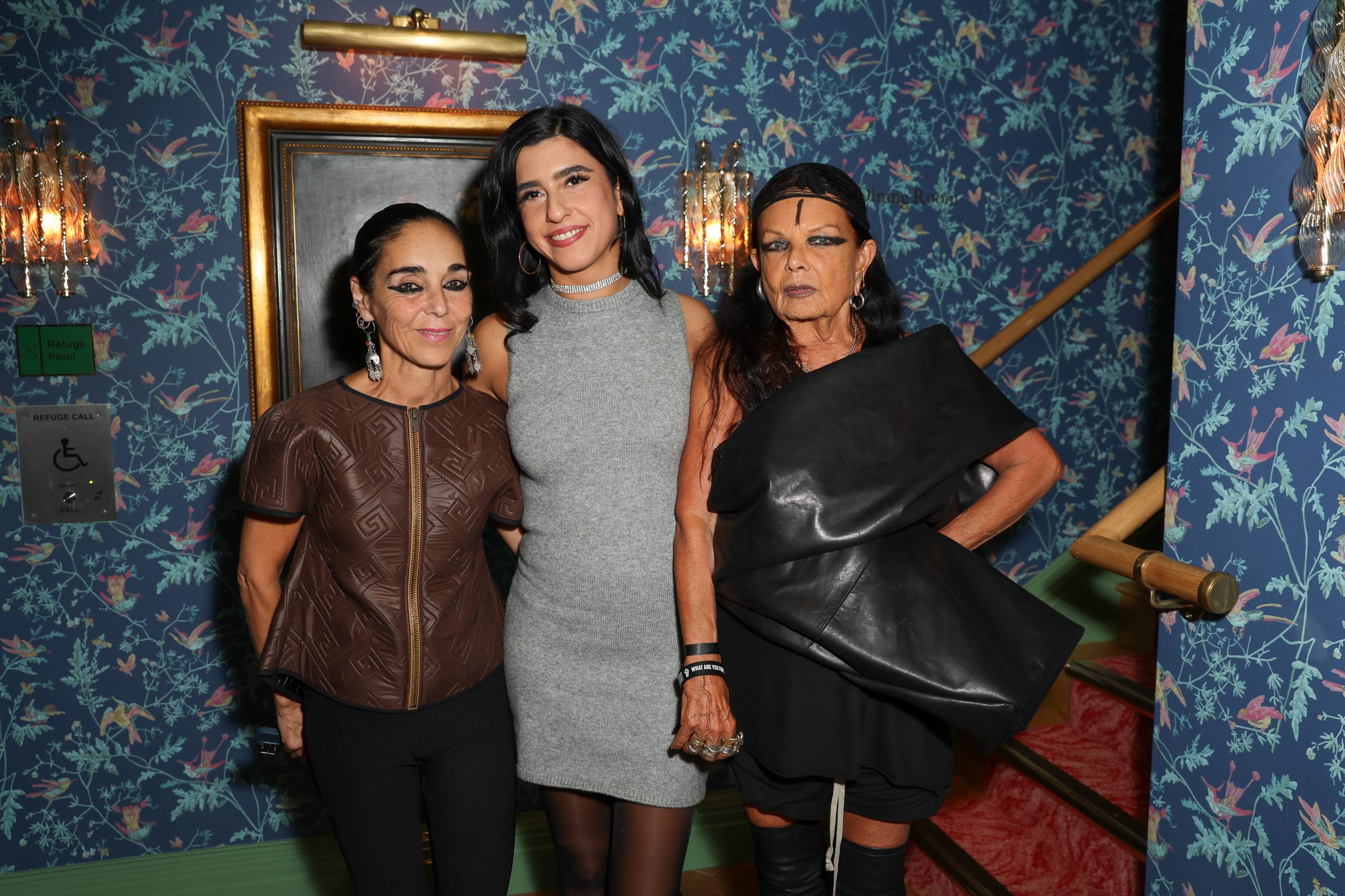 (Piccadilly Circus, London) 10 October, 2023 ➳ Last night, during a live 20 minute ceremony on London's iconic Piccadilly Lights screen, CIRCA announced Cemile Sahin winner of the CIRCA PRIZE 2023. The german artist was awarded a new CIRCA PRIZE trophy designed especially by Ai Weiwei at Broadwick Soho by Shirin Neshat and Michèle Lamy. Sahin will also receive £30,000 to support her practive and create a new work which will be presented on the CIRCA platform in 2024.
Four Ballads for my Father – Spring (2022), the CIRCA PRIZE 2023 winning artist's film, was submitted alongside 1,000 other artists from around the world in response to the theme of hope. The 2.5 minute film – edited from a collection of footage Sahin found in Kurdish television archives and from family records, layering Spring's fiction with real-world sources – tells the story of a Kurdish family split between Paris and Istanbul: how their life was affected by the Southeastern Anatolia Project, a dam construction that ruptured communities in the Kurdish regions of Turkey. "Making a film means hope." says Sahin. "Making a contribution to this precarious cinema means hope. Above all, it is "hope" that tells the stories in a language that belongs to 40 million people although the Kurdish language was forbidden in Turkey. Speaking comes with hope and becomes cinema: that this can be narrated in a film and thus be preserved. Everything that finds its way into a film is something which cannot be banned and therefore cannot be lost anymore. And this is for the future yet to come: that keeps growing and developing – with images that cannot be destroyed anymore. It is simple: this is the opposite of war and that is the greatest hope of all."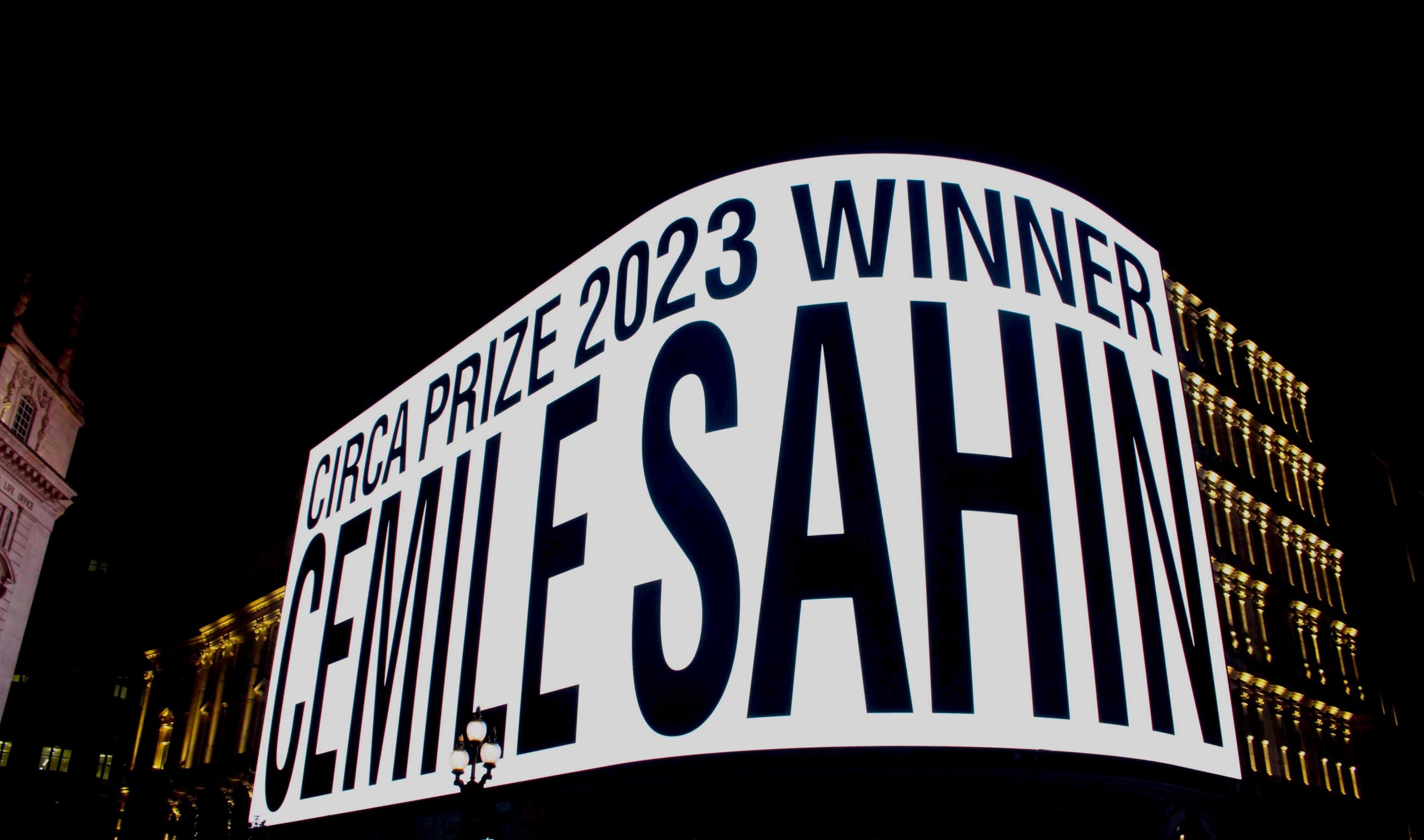 In a pre-rercorded video message presented by CIRCA on London's iconic Piccadilly Lights, Nadya Tolokonnikova of Pussy Riot said: "To make this prize possible, artists including myself, Anne Imhof, Shirin Neshat, Ai Weiwei, Marina Abramović and many others contributed print editions in support of the #CIRCAECONOMY — a circular model that commissions new public art and creates life changing opportunities for the community. Throughout the year, CIRCA sold these prints to generate this £30,000 cash prize. A life changing sum of money designed to help lift up emerging artists and invest in the future of art and culture."
Powered by Piccadilly Lights, JJ Agcaoili & Xin Wen received the most public votes and were announced the popular winner by Michèle Lamy during a LIVE! takeover on the iconic screen. Titled  'EMERGE:NCY', their 3D artwork involved remapping filmed imagery taken from a built to-scale model of the iconic London landmark. The recent graduates from The Royal College of Art Global Innovation Design (MA/MSc) course received an additional £10,000 to support their joint artistic practice, saying: "We dream to expand on our use of the screen as a space for performance in a way that involves more performers and sets to explore an urgent sociological vision of hope in our hopeless burning world."

Following the CIRCA PRIZE 2023 announcement on Piccadilly Lights, Shirin Neshat said: "I want to start by congratulating every artist that was nominated for an award by CIRCA. This was an amazing list for us as the jury to choose from, and a very difficult process. I do want to congratulate Cemile Sahin for being the winner. The reason I was very drawn to her work was for the diversity of work that she does: from photography, sculpture, film and literature. And how beautifully she navigates between all these mediums. I'm very, very impressed and i'm just very honoured to get to know all of these wonderful new artists and wish every one of them a great future and thank CIRCA for including me as a member of this jury."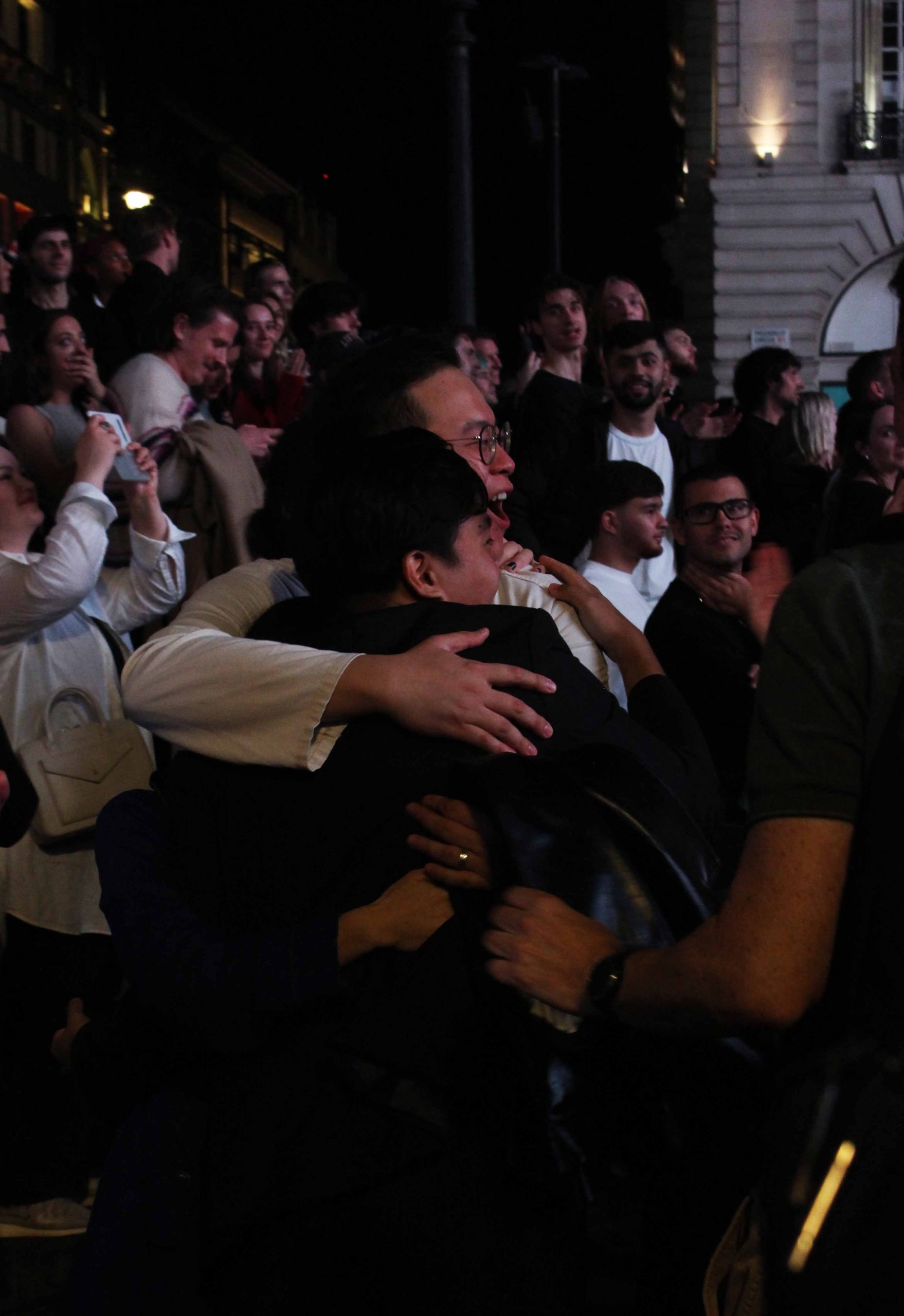 The CIRCA PRIZE is a global, annual initiative funded by the sale of #CIRCAECONOMY prints that invests in the future of art and culture by awarding £40,000 to the next generation of creative talent. The III edition of the prize unearthed over 1,000 films from across the planet, each a light shining amid the darkness in a constellation of collective belief.
Thirty finalists were selected from over 20 countries including Ghana, India, Vietnam, Lithuania, Albania, France, the U.S. and the U.K. Throughout September, each finalist had the opportunity for their artwork to screen across the CIRCA global platform on Piccadilly Lights, London and in Berlin and Milan.
The CIRCA PRIZE 2023 finalists included: Akış Ka; Annie Rockson; Blerta Kambo; Cemile Sahin; Conor Ackhurst; Gabriella Hirst; Gaby Sahhar; Harmeet Singh Rahal; CB Hoyo; Keiken; Prem Sahib; Linyou Xie; Matthew Stone; Tizintizwa; Rashaad Newsome; JJ Agcaoili & Xin Wen; Deividas Vytautas; Jérémie Danon; Joseph Noonan-Ganley; Rene Matić; Revital Cohen & Tuur Van Balen; Rita Mawuena Benissan; Phuong Thao Nguyen; Rosie McGinn; Tanya V. Abelson; Lorenzo Silvestri; Theo Triantafyllidis; Tony Albert; Yiannis Pappas and Liesel Burisch.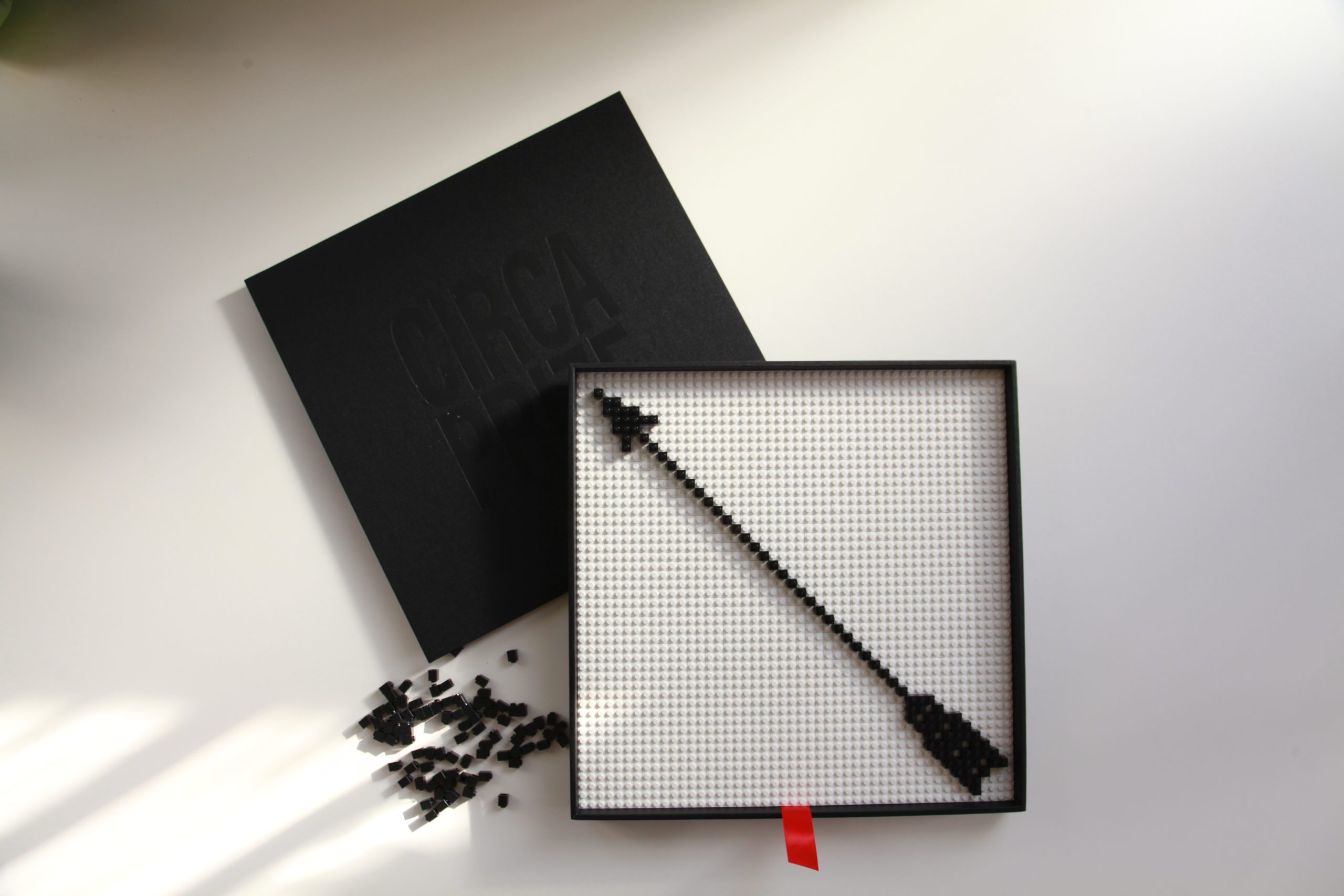 Derek Manns, Head of Commercialisation, Landsec comments ➳ "Landsec are extremely proud of the collaboration with CIRCA and bringing culture through accessible public art to Piccadilly Lights on a daily basis. Supporting the CIRCA PRIZE 2023, and giving the public a chance to vote for their winner is a reflection of the hugely positive engagement that this initiative has had and our way of recognising that and giving the public their voice."
The winner of the CIRCA PRIZE 2023 was selected by a prestigious jury of previous CIRCA artists and long-term collaborators including Sir Frank Bowling, Douglas Gordon, Anne Imhof, Michèle Lamy, Shirin Neshat, Hans Ulrich Obrist, Josef O'Connor, Olu Odukoya, Sir Norman Rosenthal and Nadya Tolokonnikova of Pussy Riot. The jury was supported by a Curators' Circle consisting of Erkan Affan, Nana Biamah-Ofosu, Vittoria de Franchis and Sooyoung Leam. Previous CIRCA PRIZE winners include Joseph Wilson (CIRCA 20:21) and Mary Martins (CIRCA 20:22).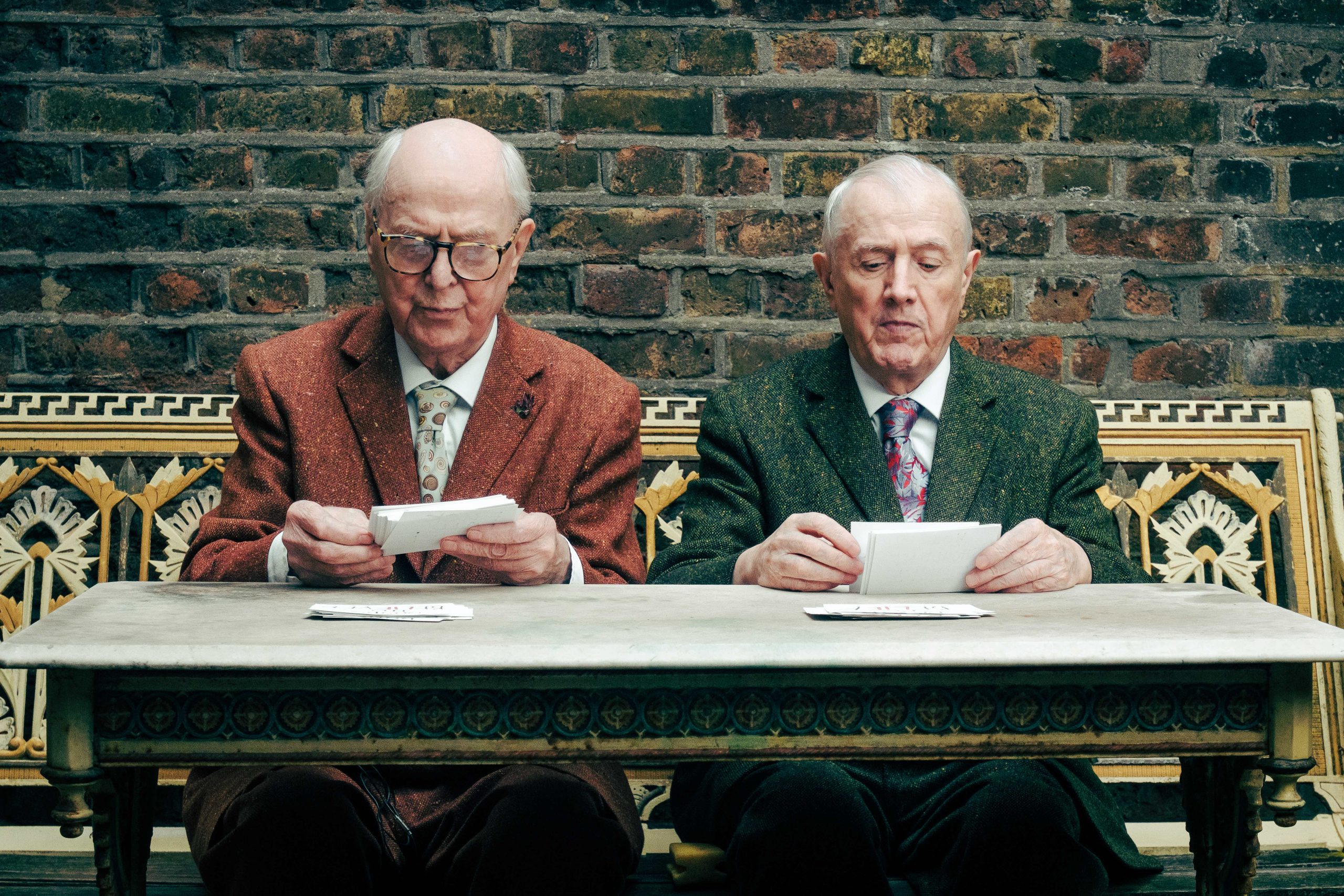 Marking three-years of generating funds in support of the #CIRCAECONOMY – a circular model designed to commission new public art and create life-changing opportunities for the community – CIRCA presents The Believing World, a specially commissioned 'living sculpture' by Gilbert & George. Broadcasting every evening at 20:23 (local time) on the world's most iconic screen, Piccadilly Lights, the five minute film will appear across the CIRCA platform in Berlin, Seoul, Tokyo and Los Angeles from 2 – 31 October, 2023.
Gilbert & George said, ➳ "Gilbert & George on Piccadilly – don't tell mother!"
Presented in collaboration with The Gilbert & George Centre — a free to enter exhibition space for their art and the artist's gift to the community of London — The Believing World was filmed by CIRCA in the nearby courtyard of their 18th-century home and studio, situated in the Brick Lane and Fournier Street Conservation Area. In characterful style and coordinated suits, the starring characters of their art are filmed reading aloud 144 hand-written statements. Deploying cryptic, fragmentary assertions, they reveal how lies and belief simultaneously play widely divergent roles in our daily lives—as the source of our identities, as a naive weakness, and as the wellspring of hope for the future. "Belief is beautiful. Believers are wankers," it begins. "Belief is shit. Belief can help."
NOTES TO EDITORS

ABOUT CEMILE SAHIN
Cemile Sahin was born in Wiesbaden, Germany, in 1990. She studied Fine Arts at Central Saint Martins College of Art and Design in London and at the Universität der Künste in Berlin. She lives and works in Berlin.
Cemile Sahin's artistic practice operates between film, photography, sculpture, and literature. Freely deploying different media, without privileging one or the other, her work embodies today's synchronicity of image- and text-based communications. Integrating images into her books and text in her image-world, Sahin moves with extraordinary agility between words and pictures, between still and moving image, between text as form, sign, and symbol. Deliberately elliptical and fragmentary, her work's narrative strategies draw on an episodic format of narration established by contemporary TV series and internet videos. In her practice, Sahin acknowledges the subjectiveness and codedness of all storytelling, and its instrumentalization by the media. Her works find a giddy rhythm in the knowing use of the dynamics of these processes, sweeping away her spectators to unexpected, and sometimes uncomfortable realizations, among them that the writing of history is, and always has been, determined by constantly shifting perspectives.
Her debut novel TAXI was published in 2019, followed by her book ALLE HUNDE STERBEN in 2020, both of which are integral parts of her artistic practice. For TAXI Sahin was awarded the Alfred Döblin-Medaille. In 2019 she was awarded the ars viva 2020 prize for Visual Arts. The same year she was a fellow of the JUNGE AKADEMIE at the Akademie der Künste Berlin. In 2021 Sahin received the AArtist in Residence-Stipend, awarded by the German Foreign Ministry in cooperation with the LVBG, the 2 Association of Berlin Galleries. In 2023, the artist will have a major solo presentation at the Kunstmuseum Stuttgart, entitled Sieh dir die Menschen an! featuring a new, site-specific installation.
The artist's exhibitions and projects include: Gewehr im Schrank – Rifle in the closet, Nassauischer Kunstverein Wiesbaden (2023); A Song of Tigris and Euphrates, Kunsthalle Osnabrück (2022); manifesto of fragility: 16th Lyon Biennale, Lyon (2022); A Song of Tigris & Euphrates, Kunsthalle Osnabrück, Osnabrück (2022); Identität nicht nachgewiesen, Bundeskunsthalle, Bonn (2022); Arbeit am Gedächtnis – Transforming Archives, Akademie der Künste, Berlin (2021); Laboratory of Contested Space / Art & Truthtelling, Akademie der Künste, Berlin (2020); ars viva 2020, Kunstverein, Hamburg (2020); Where the Story Unfolds, Akademie der Künste, Berlin (2020); Studio Berlin, Berghain, Berlin (2020); ars viva 2020, Galerie für Zeitgenössische Kunst, Leipzig (2019); Tell me about yesterday tomorrow, NS-Dokumentationszentrum, Munich (2019); Kurdisches Filmfestival, Babylon Cinema, Berlin (2019), and Die Kant, Uferstudios, Berlin (2017).

ABOUT GILBERT & GEORGE CENTRE
Launched in March 2023, The Gilbert & George Centre, located in the heart of Spitalfields in London's East End, comprises three state-of-the-art exhibition spaces over three levels of differing scale and feel. Founded by Gilbert & George to create a permanent exhibition space for their art and legacy and to enrich London's cultural offering, it is the artist's gift to the community of London.

In the words of Gilbert & George, "London is such a changing global population every day, and if somebody comes from Venezuela or from Wolverhampton, there will be a place in London where they can see our pictures, and for everyone to convene from across the world to see the art of Gilbert & George."

The inaugural exhibition at The Gilbert & George Centre is 'THE PARADISICAL PICTURES', exhibited in London for the first time. Gilbert & George take their place in this disquieting vision of a heavenly place in a manner resembling physical reports or transmissions from a journey deep into an enchanted forest or overgrown park. It is as though a psychedelic landscape, more given to poetic realism and Arthurian legend, had secretly envisioned science fiction.

The Centre, a registered charity, is committed to being accessible to everyone and does not intend on maintaining the gallery at a ticket price – in keeping with Gilbert & George's vision of an 'Art for All'. Open Thursday to Sunday from 11am – 6pm. (gilbertandgeorgecentre.org)

ABOUT CIRCA
The Cultural Institute of Radical Contemporary Arts (CIRCA) is a digital art and culture platform with a purpose. Every evening at 20:23, CIRCA stops the clock across a global network of public screens and mobilises the world's greatest creative minds to broadcast unique works of art that consider our world, circa now. Driven by purpose, funds generated from artist print sales enable the #CIRCAECONOMY – a circular model that supports the CIRCA free public art programme whilst also creating life-changing opportunities for a global creative community. Since launching in October 2020 on London's Piccadilly Lights, CIRCA has distributed over £800,000 in cash grants, scholarships and donations.

Previous CIRCA commissioned artists include Ai Weiwei, Cauleen Smith, Eddie Peake, Anne Imhof, Patti Smith, Tony Cokes, Emma Talbot, Vivienne Westwood, Yoko Ono, Marina Abramović, James Barnor, David Hockney, Cassandra Press, Shirin Neshat, Frank Bowling and more. (www.circa.art)
SOCIAL MEDIA
Instagram ➳ @circa.art
Twitter ➳ @circa__art
Facebook ➳ @circa.art.fb

#CIRCAPRIZE
#CEMILESAHIN
#CIRCA2023
PRESS
To watch the winning films, click here.
To download the media pack, click here.
For press enquiries, please contact: press@circa.art