Cemile Sahin
The Kurdish province of Dersim is now officially regarded as a territory in eastern Turkey, although it is actually a city in Northern Kurdistan. In the course of Mustafa Kemal Atatürk's occupation of the latter, his nationalist policies and proclamation of the Turkish Republic in 1923, the minorities of the newly founded state, among them the Kurds, were all 'turkicized' overnight. Ever since, Northern Kurdistan has been particularly hard hit by violence and repression – not only by the Turkish military but also by their nationalism that aims to erase everything foreign to their ideology.
Social media has made the complexity of the world tangible. However, the newly gained access also comes at a high price. Critics of regimes are identifiable by the regimes they critique. Media can be manipulated more easily, and the extent of historical revisionism is neither transparent nor foreseeable. The debates of this era and the writing of future histories have also to some extent shifted to social media. But knowing how social media works and which voices it amplifies, can we say whether the writing of history is still subject to a truth postulate?
In my work I deal with questions of how and where history is created and presented. My starting points are images, historical events, documentary materials and stories that deal with themes like nationalism, surveillance, armed conflict and military actors. A special focus lies on the way technology is used in wars.
CIRCA: HOW IS YOUR PROJECT TIED TO THE THEME OF 'HOPE'?
Due to the ongoing war in the region, which has been lasting now for exactly a century, Kurdish cinema has only really been able to develop on a broader level in recent years. Personally, it is an important motivation to contribute to an independent Kurdish cinema that amplifies stories that were or are yet to this day banned because of the cultural Turkish hegemony in this conflict.
Making a film means hope. Making a contribution to this precarious cinema means hope. Above all, it is "hope" that tells the stories in a language that belongs to 40 million people although the Kurdish language was forbidden in Turkey. Speaking comes with hope and becomes cinema: that this can be narrated in a film and thus be preserved. Everything that finds its way into a film is something which cannot be banned and therefore cannot be lost anymore. And this is for the future yet to come: that keeps growing and developing – with images that cannot be destroyed anymore. It is simple: this is the opposite of war and that is the greatest hope of all.
CIRCA: WHAT WOULD YOU CREATE/DO WITH THE £30K?
I would like to shoot a new film work which shall be a new cinematic chapter based on my film Spring. This time I would like to weave a special musical level into my cinematic work and collaborate with an orchestra. I would like to develop this even further and combine the classical orchestra with a women's choir. The starting point of my work this time would be the text of the women's choir, which would function as the basis for a cinematic scene between two people who nevertheless bring a dialogue component. Working with a classical orchestra has always been a big dream of mine and the prize money would allow me to do so.
CIRCA: WHAT DOES 'HOPE' MEAN TO YOU?
Hope is the opposite of stagnation. It is also the opposite of revenge and betrayal. Hope is my first attempt to understand what happened in the past. And it will also be my second attempt to contribute in the future.
FOLLOW CEMILE SAHIN ON INSTAGRAM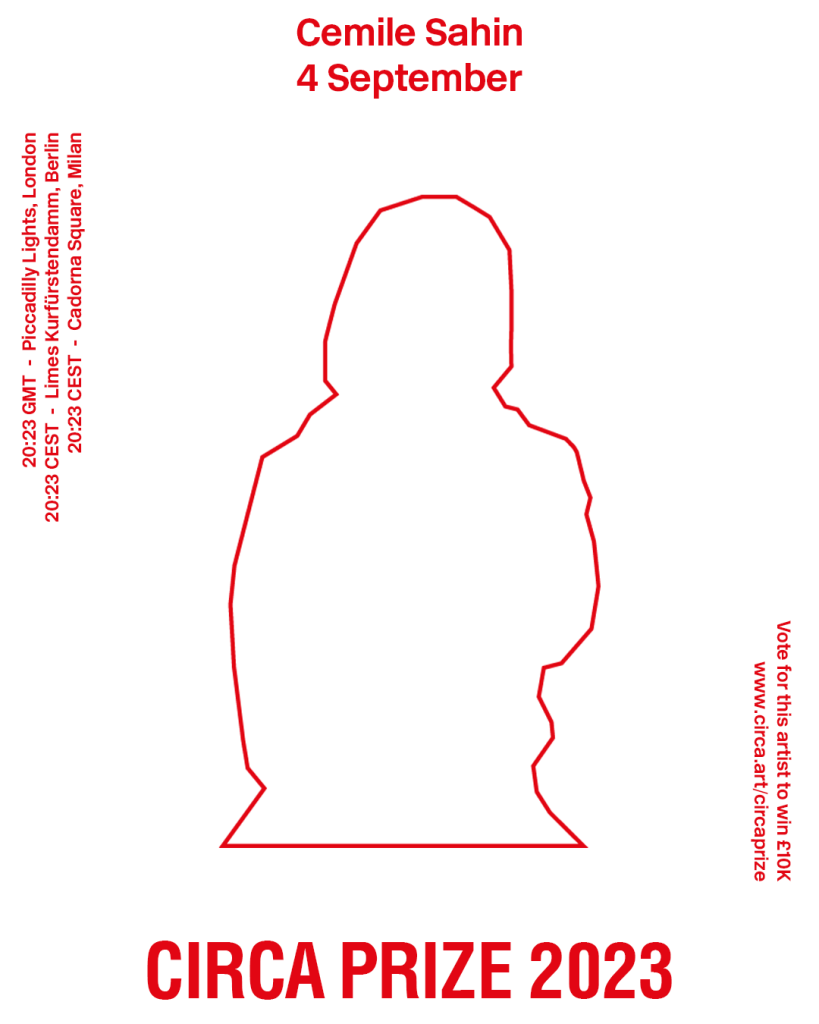 Vote for this artist