JJ Agcaoili & Xin Wen
EMERGE:NCY is a media architecture piece that traps a giant nameless and voiceless human in a box. Passersby below the Piccadilly Lights can watch the human's struggle to break through the box, and contemplate the entrapment of the unknown and the pursuit of what lies beyond. Its title comes from Rebecca Solnit's 'Hope in the Dark', which argues: "Inside the word "emergency" is "emerge"; from an emergency new things come forth. The old certainties are crumbling fast, but danger and possibility are sisters."
EMERGE:NCY expands upon Box Body, an interactive media art piece showcased on Ten Square Singapore's billboard during Singapore Art Week in January 2023. Our unique production method involves remapping filmed imagery from a built scaled model. It has the capacity for real-time interaction with 3D visuals tailored for the screen from a specific viewing angle, with minimal need for computer-generated imagery (CGI).
CIRCA: HOW IS YOUR PROJECT TIED TO THE THEME OF 'HOPE'?
The intense, massive visualisation of a giant human trying to break free from a box compels viewers to witness hope in raw action. As the human navigates the confining, suffocating space, their curiosity and confusion devolve into frustration, defeat, and helplessness—but their determination remains. This is hope's dynamic nature: sometimes apparent and fervent, other times dormant, yet never truly extinguished.
EMERGE:NCY captures the ebbs and flows of hope, not as a passive wish but as an active confrontation to challenge. The emotions are communicated through performance, as well as sound and music design. The human's final breakthrough, with light flooding the darkness of the now broken box, insists in a hope that is not fragile, and that there is always something beyond the boxes that trap us.
CIRCA: WHAT WOULD YOU CREATE/DO WITH THE £30K?
We dream to expand on our use of the screen as a space for performance in a way that involves more performers and sets to explore an urgent sociological vision of hope in our hopeless burning world.
With £30,000, we would elevate EMERGE:NCY from a solitary, personal exploration into a larger production about collective hope towards an inclusive and sustainable Solarpunk future. We would interweave multiple human performers in a larger narrative with multifaceted set designs curated to the unique geometry of the Piccadilly Lights screen. We are keen to potentially use our tested and proven Living Screen production technique to livestream awe-inspiring 3D anamorphic imagery, allowing Piccadilly viewers to interact with the performers to co-create a Solarpunk future together and daring them to discover hope in personal journeys.
This funding would be instrumental to creating larger box structures, elaborate sets, costume designs, and collaborating with relevant experts. The funds would also enable us to potentially create production sets suitable for similar 3D viewing experiences on global screens outside of Piccadilly Lights, further reimagining screens as public performance spaces.
CIRCA: WHAT DOES 'HOPE' MEAN TO YOU?
Hope is daring to be optimistic in the face of the unknown. Hope is not always knowing the path forward, but trusting that one exists. It is an intangible yet palpable force that drives every attempt, individually and collectively.
FOLLOW JJ AGCAOILI & XIN WEN ON INSTAGRAM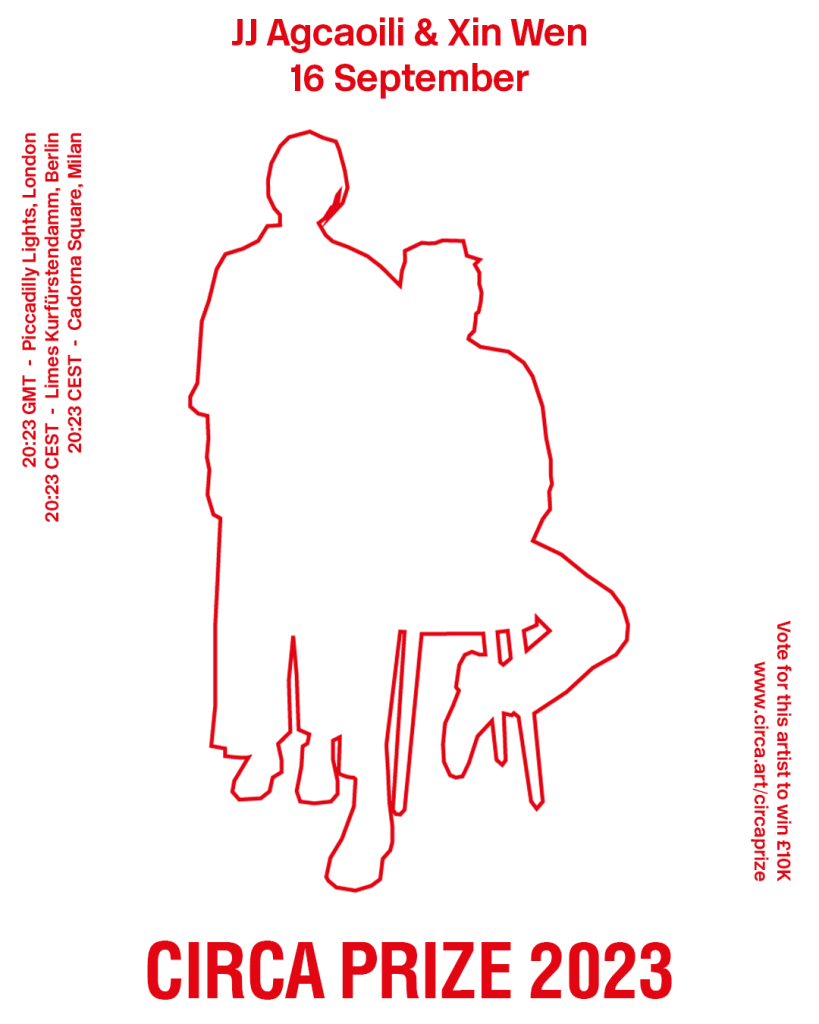 Vote for this artist