Press release: CIRCA PRIZE 2023 Finalists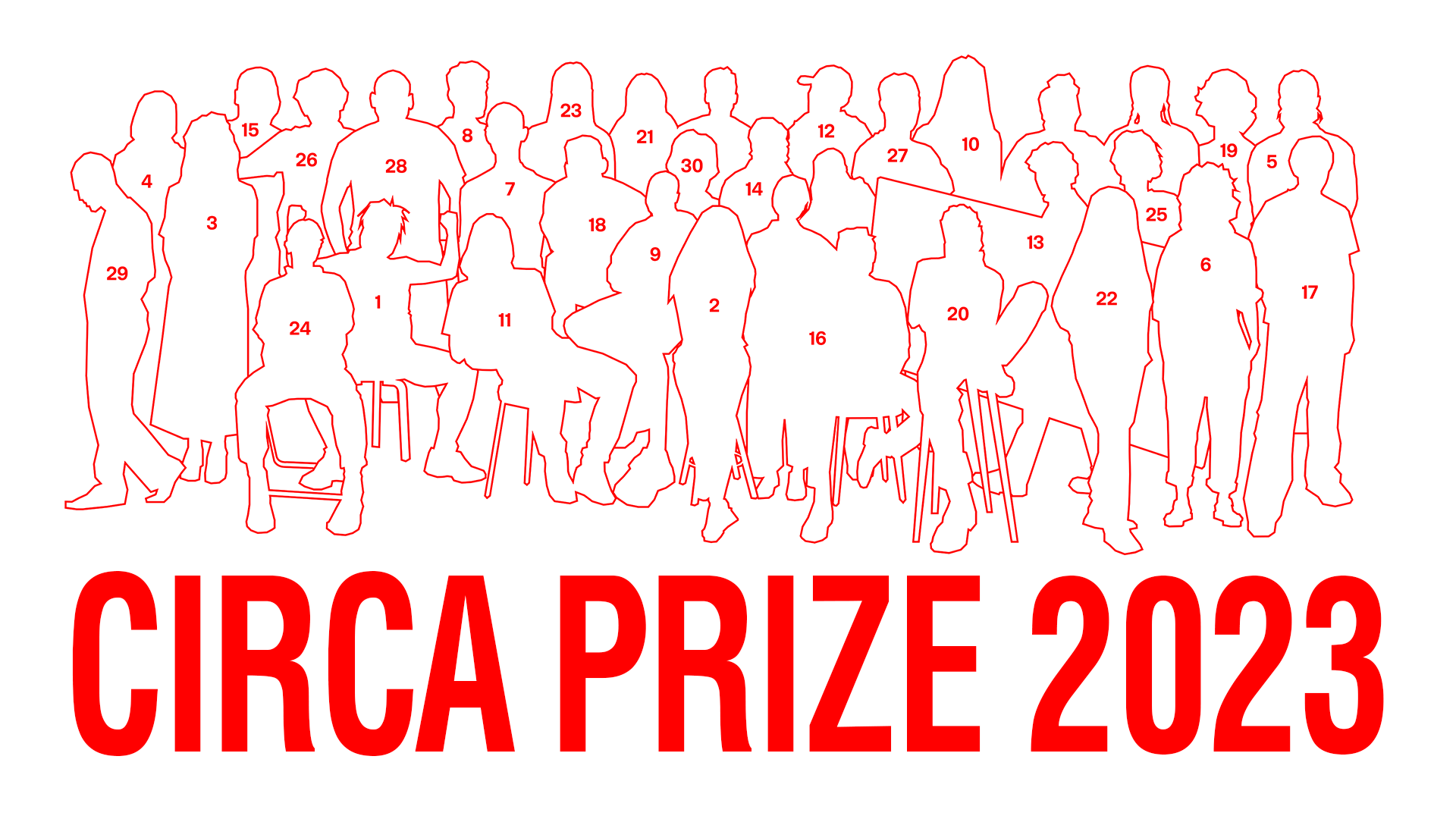 MEET THE CIRCA PRIZE 2023 FINALISTS

Press release
(Piccadilly Circus, London) 1 September, CIRCA 20:23 ➳ Today, CIRCA launches the CIRCA PRIZE 2023 — a global initiative funded by the sale of #CIRCAECONOMY prints that invests in the future of art and culture by awarding £40,000 to the next generation of creative talent.

The III edition of the prize unearthed over 1,000 films from across the planet, each a light shining amid the darkness in a constellation of collective belief. In response to the CIRCA 20:23 manifesto, 'Hope: The Art of Reading What Is Not Yet Written', 30 finalists were selected from over 20 countries including Ghana, India, Vietnam, Lithuania, Albania, France, the U.S. and the U.K, for producing work that broadened and deepened our sense of how hope is felt today: as freedom, as resilience, as unity, as embodied and transcendent belief, and as a creative force animating the struggle to build new worlds.

From 1 – 30 September 2023, each artist will have their artwork appear at 20:23 local time on London's Piccadilly Lights and broadcast across a global network of screens in Berlin and Milan. The shortlist includes:
1 September: Akış Ka (Turkish, based in London)

2 September: Annie Rockson (British, based in England)

3 September: Blerta Kambo (Albanian, based in Tirana)

4 September: Cemile Sahin (Kurdish, based in Berlin)

5 September: Conor Ackhurst (British, based in London)

6 September: Gabriella Hirst (Australian, based in Berlin)

7 September: Gaby Sahhar (French, based in London)

8 September: Harmeet Singh Rahal (Indian, based in London)

9 September: CB Hoyo (Cuban, Dominican and French, based in Dominican Republic)

10 September: Keiken (British, based in London and Berlin)

11 September: Prem Sahib (British, based in London)

12 September: Linyou Xie (Chinese, based in Shanghai)

13 September: Matthew Stone (British, based in the Wye Valley)

14 September: Tizintizwa (Moroccan, based in Marrakech)

15 September: Rashaad Newsome (African-American, based in Oakland)

16 September: JJ Agcaoili & Xin Wen (Filipino, based in London)

17 September: Deividas Vytautas (Lithuanian, based in London)

18 September: Jérémie Danon (French, based in France)

19 September: Joseph Noonan-Ganley (Irish, based in the U.K. and Ireland)

20 September: Rene Matić (Caribbean-British, based in London)

21 September: Revital Cohen & Tuur Van Balen (British and Belgian, based in London)

22 September: Rita Mawuena Benissan (Ghanaian, based in Accra)

23 September: Phuong Thao Nguyen (Vietnamese, based in France)

24 September: Rosie McGinn (British, based in London)

25 September: Tanya V. Abelson (Argentinian, based in London)

26 September: Lorenzo Silvestri (Italian, based in Rome)

27 September: Theo Triantafyllidis (Greek, based in Athens)

28 September: Tony Albert (Australian, based in Sydney)

29 September: Yiannis Pappas (Greek, based in Berlin)

30 September: Liesel Burisch (Danish and German, based in Copenhagen)

A prestigious jury bringing together previous CIRCA artists and long-term collaborators including Sir Frank Bowling, Douglas Gordon, Anne Imhof, Michèle Lamy, Shirin Neshat, Hans Ulrich Obrist, Josef O'Connor, Olu Odukoya, Sir Norman Rosenthal and Nadya Tolokonnikova of Pussy Riot will decide who wins the £30,000 prize alongside a new trophy designed by Ai Weiwei, who first launched the CIRCA free public art programme in October 2020.

In addition to this, an online public vote powered by Piccadilly Lights will determine the winner of an additional £10,000 prize. Global audiences are invited to watch the final 30 films online and cast their vote. Both prize winners will be unveiled at an award ceremony in Piccadilly Circus on Monday 9 October during Frieze Week, London.

Sir Norman Rosenthal, CIRCA Advisory Council Chairman, comments ➳ "I found myself looking for works that conveyed, figuratively or abstractly, the idea of hope – the theme of this year's competition. We received outstanding artworks from the next generation of artists around the globe – a testament to the future of art and culture. I am delighted that the shortlisted 30 artists will have the opportunity for their works to be shown on the CIRCA global art platform and a winner will receive £30,000 to develop their artistic practice, thanks to funds generated by the #CIRCAECONOMY."

This year's CIRCA PRIZE was supported by a specially formed Curators' Circle consisting of Erkan Affan, Nana Biamah-Ofosu, Vittoria de Franchis and Sooyoung Leam. Previous CIRCA PRIZE winners include Joseph Wilson (CIRCA 20:21) and Mary Martins (CIRCA 20:22). The CIRCA PRIZE is generated entirely from the sale of #CIRCAECONOMY prints.

NOTES TO EDITORS
SEPTEMBER PROGRAMME
CIRCA PRIZE
1 – 30 September, CIRCA 20:23
20:23 GMT ➳ London, Piccadilly Lights
20:23 CEST ➳ Berlin, Limes, Kurfürstendamm
20:23 CEST ➳ Milan, EssilorLuxottica, Cadorna Square

CIRCA MAP OF GLOBAL SCREENINGS

ABOUT CIRCA
The Cultural Institute of Radical Contemporary Arts (CIRCA) is a digital art and culture platform with a purpose. Every evening at 20:23, CIRCA stops the clock across a global network of public screens and mobilises the world's greatest creative minds to broadcast unique works of art that consider our world, circa now. Driven by purpose, funds generated from artist print sales enable the #CIRCAECONOMY – a circular model that supports the CIRCA free public art programme whilst also creating life-changing opportunities for a global creative community. Since launching in October 2020 on London's Piccadilly Lights, CIRCA has distributed over £800,000 in cash grants, scholarships and donations.

Previous CIRCA commissioned artists include Ai Weiwei, Cauleen Smith, Eddie Peake, Anne Imhof, Patti Smith, Tony Cokes, Emma Talbot, Vivienne Westwood, Yoko Ono, Marina Abramović, James Barnor, David Hockney, Cassandra Press, Shirin Neshat, Frank Bowling and more. (www.circa.art)

SOCIAL MEDIA
Instagram ➳ @circa.art
Twitter ➳ @circa__art
Facebook ➳ @circa.art.fb

#CIRCAPRIZE
#CIRCA2023
PRESS
To watch the 30 final films, click here.
To download the media pack, click here.
For press enquiries, please contact: Svetlana Leu | svetlana@circa.art