Cauleen Smith and the Journey to a Better Future
Written by Charlie Colville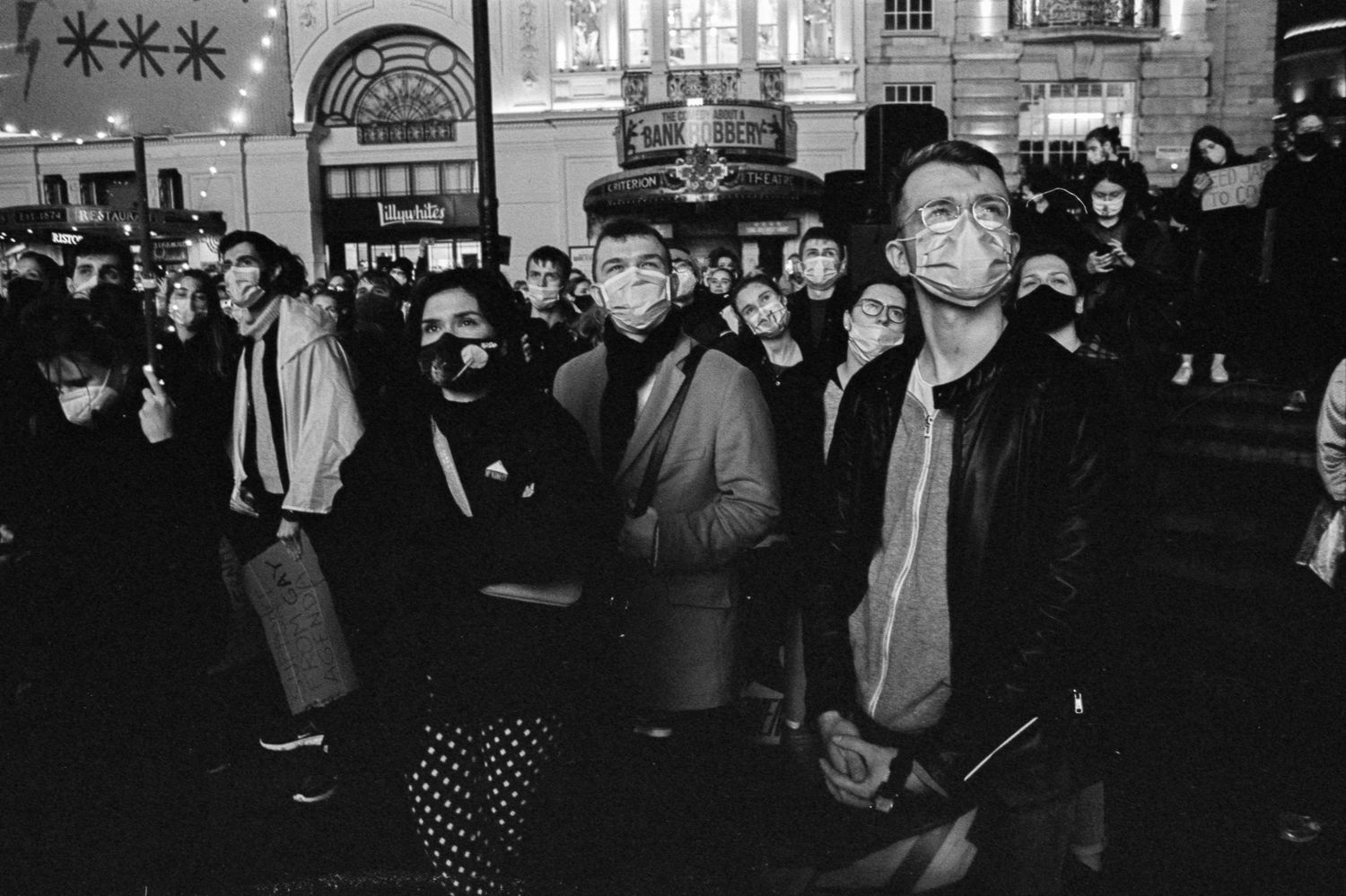 Responding to the lack of art available for public viewing since the start of the pandemic, a new platform for the creation and exhibition of digital art was launched in the heart of Piccadilly Circus. Known as CIRCA, the platform allows for artists to showcase their work and ideas in the form of a two-minute video on the Piccadilly Lights, one of London's most famous landmarks.
Following the success of last month's collaboration with Ai Weiwei, CIRCA continue to promote artists from across the globe. This month, we get to know the work of Cauleen Smith through a collaboration with London-based arts organisation The Showroom, marking CIRCA's first collaborative project with another public art space.
For those who haven't heard or seen much of her work, Cauleen Smith is an American filmmaker and multidisciplinary artist whose work primarily examines the African American identity with relation to both historical and current social, political, and economic circumstances. Using these themes to structure her practice, Smith often encourages her spectators to engage with their imagination to envisage possible futures and act on them.
Like many of us, artists all around the world have experienced a drastic change in their working conditions since lockdown. Smith, who sees her practice as "a very social activity" (see Gazelle Mba's article 'Cauleen Smith and the Black Radical Imagination'), was largely struck by the worry that her work would not be able to be experienced properly without human interaction. Echoing the sentiment of CIRCA's creation, Smith was adamant that art making and public space should be interconnected if art were to unlock its full potential.
The difficulties of moving many of our relationships from the real world to the internet is a recurring theme in Smith's COVID MANIFESTO, which the artist began earlier this year in response to lockdown. As a teaching fellow at the California Institute of the Arts, Smith not only felt the limitations on her practice but also on her ability to work alongside and guide her students (see MANIFESTO #3: "I do love seeing my students on the Zoom"). As such, Smith's revisit of her COVID MANIFESTO becomes a key marker of the lockdown experience.
Cauleen Smith's COVID MANIFESTO saw the artist take to Instagram during lockdown, using her platform to showcase handwritten notes which expressed the strange experiences that were shared by everyone at the time. From frustrations and reflections to inspirations and calls for action, Smith's series of tenets were a reaction to real-time events and issues both in the US and the world at large.
Smith's reflections didn't stop at the pandemic; they covered a wide range of social issues that were brought to the forefront during the quiet of lockdown, including police brutality and the Black Lives Matter protests, the teetering health of the planet, and the "racial illogics" of the capitalist system.
Sharing her handwritten notes, as well as protest information, bail fund databases, and educational materials comprised of playlists and reading lists, Smith's Instagram feed slowly became a space which disrupted the usual landscape of superficial imagery and instead invited action towards a better future.
In an interview with ARTnews, Smith indicated that the aim of her project was to disrupt dependency on social media as a means of escapism and comfort. Social media was perceived as a source of unwavering stability for most people – even though things in the real world were no longer familiar, online platforms remained largely unchanged.
With this in mind, Smith sought to redirect the meaning and focus of online platforms towards a greater engagement with the here and now – the main method being through experience and learning. As such, COVID MANIFESTO links social issues to the public spaces of everyday life, and seeks to use these issues to unite groups of people rather than divide them.
CIRCA's version of Cauleen Smith's COVID MANIFESTO is comprised of 23 pronouncements, 7 intermissions, and a list of reading materials whose covers have been illustrated by the artist. The videos covering Smith's manifesto announcements see her rewriting them at her desk, which becomes a 'living' still life of personal items, objects of daily ritual, and references to her practice.
"If we want to progress as a society, we need to engage our surroundings."
Many of these objects are listed beneath her videos on the CIRCA calendar, with links that you can follow to learn more about each item. Among these items are books that Smith has used to define her outlook on society, artistic implements and utensils, references to the pandemic in the form of face masks and drawings, as well as more mundane objects such as cups of tea and half-eaten meals. The overall result is an image that is somewhat familiar for the many of us who have had to work from our own desks during the past two lockdowns.
While Smith's desk forms a key part of the artwork and its visual language, the emphasis of the video series is the making and writing of each handwritten note. Starting with a blank page, each video encourages people to pause and watch as a message unravels onscreen. It is this development of meaning which captures the attention of the passing viewer, as they become invested in learning what the artist has to say.
As such, the use of the written word rather than just imagery expands on the relationship between artistic creation and conceptual meaning. Writing eliminates the stereotype that contemporary art is often elitist and confusing, and instead provides a direct message that is easily understood. By making her work more accessible in this respect, Smith fulfils her wish to encourage people to slow down and take in their surroundings. If they find something that they can grasp, then the viewer will maintain their curiosity and engagement.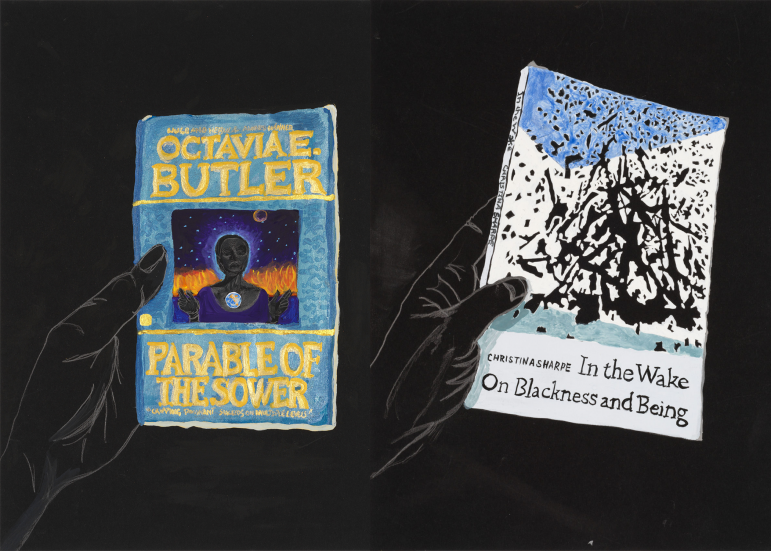 The reason why much of Smith's work can be referred to as "research projects" rather than just artworks is due to the role they play in not only being a subject for viewing, but also a means of encouraging action in the form of education and self-learning. The inclusion of Smith's illustrated reading lists, HUMAN_3.0 and the BLK FEMNNST Loaner Library, are a key means of activating audience participation in this respect.
HUMAN_3.0 was a reading list commissioned in 2015 by After Today, who were looking to bring together artworks which addressed the current social, political, and economic conditions in Chicago. Smith's response was a series of hand-drawn illustrations depicting the front covers of books that had changed her outlook on the world around her.
Speaking on the state of race relations and police brutality, many of the titles Smith selected in her reading list explore a breadth of African American narratives, Afro-nihilism, black feminism, and the impact of capitalism on black communities. In encouraging a new generation of viewers and readers to engage with these themes, Smith facilitates a deeper level of engagement between artist, artwork, and viewer which promotes the visualisation of a better future for all.
Smith extended her reading list into the BLK FMNNST Loaner Library in 2019, producing a new selection of hand-drawn and painted book covers. Smith's later reading list would expand on her previous one by encouraging an exchange of ideas and thoughts through book clubs.
However, little has changed since 2015 and the issues discussed by Smith then are even more prevalent now if the rise of the Black Lives Matter movement is anything to go by. In her opening statement for HUMAN_3.0, Smith indicated that many black people were forced into brutal submission in order to establish a sense of hierarchical control within American society; one that was dominated by race.
With much of the world's attention drawn to the Black Lives Matter protests earlier this year, it appears that Smith's statements continue to persist in their truth.
"I made the HUMAN_3.0 Reading List and the BLK FMNNST Loaner Library 1989-2019 out of a sense of urgency. I wanted these books to be noticed, and, in our photo-saturated world, drawing them slowed people down and invited renewed interest. One thing I can offer young people is information on how to use language to affect change. Police are not just killing Black men, they are killing Black people—men, women, and trans people."
The best means of arming yourself, according to Smith, is by educating yourself on society and its power structures. After study, conversation "with the intent of promoting RESISTANCE" is needed, so that ideas can be better circulated, and then imaginative possibilities of change can be accessed.
When combined with her COVID MANIFESTO videos, the presence of Cauleen Smith's reading lists in the CIRCA calendar further extends the artist's call to action, pushing a powerful message that a better future can be imagined for all groups of people.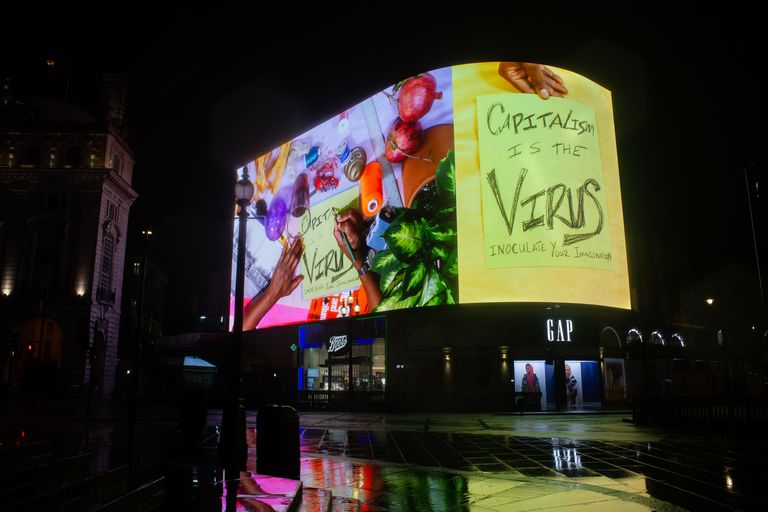 CIRCA's collaboration with Cauleen Smith and The Showroom has produced a month of art that is reflective of many of the issues we have faced not just in 2020, but in the years preceding it also. As such, the videos in Piccadilly Circus re-establish the artist's role in society as someone who sees the world through a specific lens and encourages others to do the same.
Smith's work continues to aid the education of not just young black people, but people everywhere. Using her platform as an artist not just for her own gain, but for the causes she believes in illustrates how artists are maintaining an awareness of the world around them and producing artworks in conjunction with this sentiment.
"Because the only reason to destroy a world is if we share the fundamental belief that a better world is possible."
The COVID MANIFESTO resonates with people everywhere due to its appeal to the shared experience of the pandemic, creating a space in which the artist's message can be directly received and understood. Each pronouncement is placed before the general public, who take on an active role in their engagement with each statement — whether they like, dislike, agree, or disagree with Smith's words, the importance is placed on the public's ability to uphold a discussion with these ideas in mind.
As further suggested by the reading suggestions scattered throughout the CIRCA calendar, the importance of discussion and imagining possibilities is paramount to Smith's calls for action. By igniting ideas in the minds of her viewers, Smith starts a relay of movement: her work encourages us to imagine a possibility, discuss it, believe it, and then finally build that motive into future society.
It is this aspect of Cauleen Smith's work which I personally find so appealing – it's interesting to see how someone can construct a space in which so much of the dialogue and conclusory decision-making are placed in the hands of people willing to stop and listen. Smith's manifesto isn't preachy or demanding of its viewers, rather, it's encouraging in its attempt to give people greater autonomy and education.
---
Charlie Colville is the current Arts Editor for Mouthing Off magazine, an online platform  designed to give young people the opportunity to find a new voice – a guttural scream loud enough to arouse fresh ideas, creative thought, and inspire artistic flair.