Arrival: In Honour of the Windrush Generation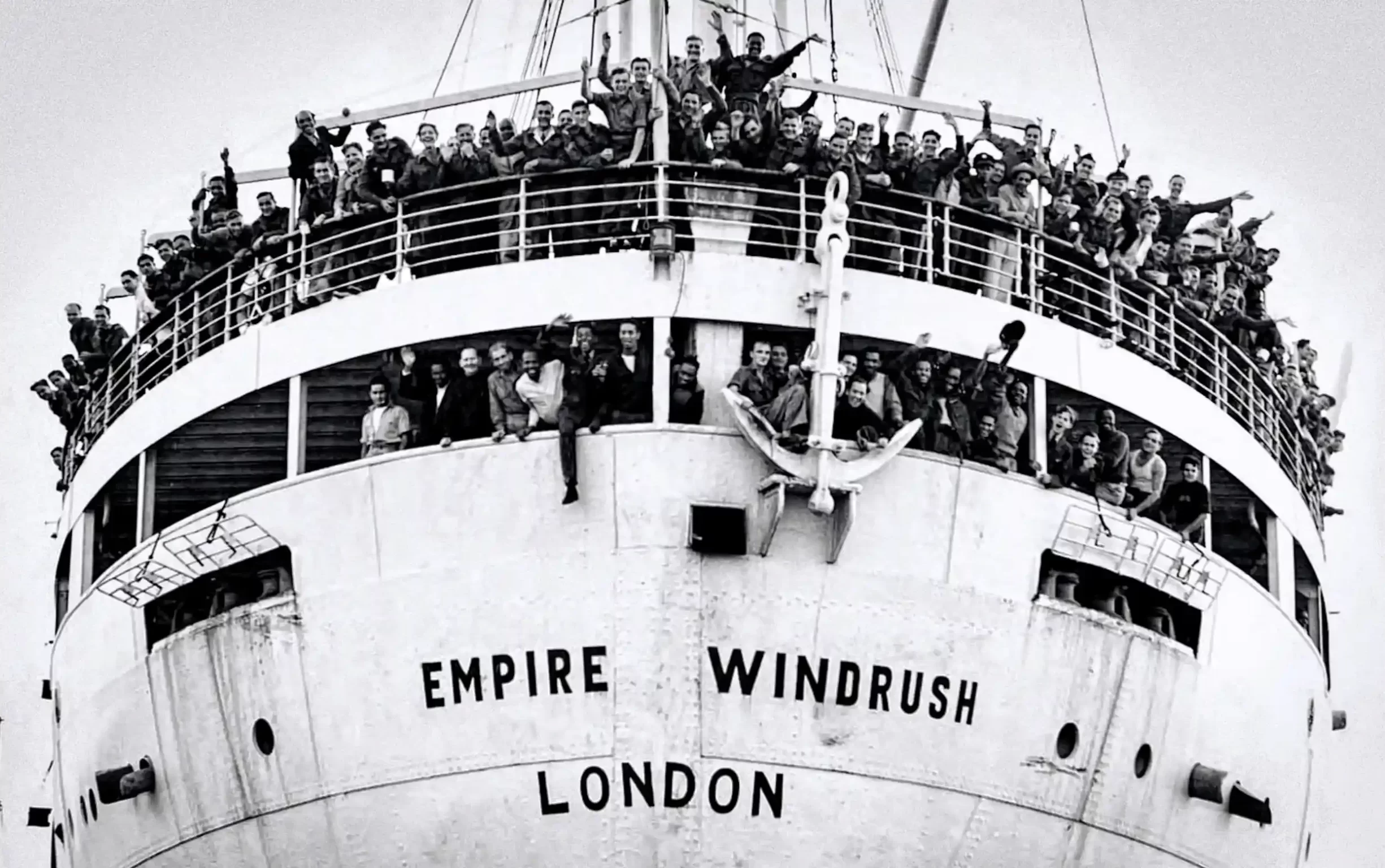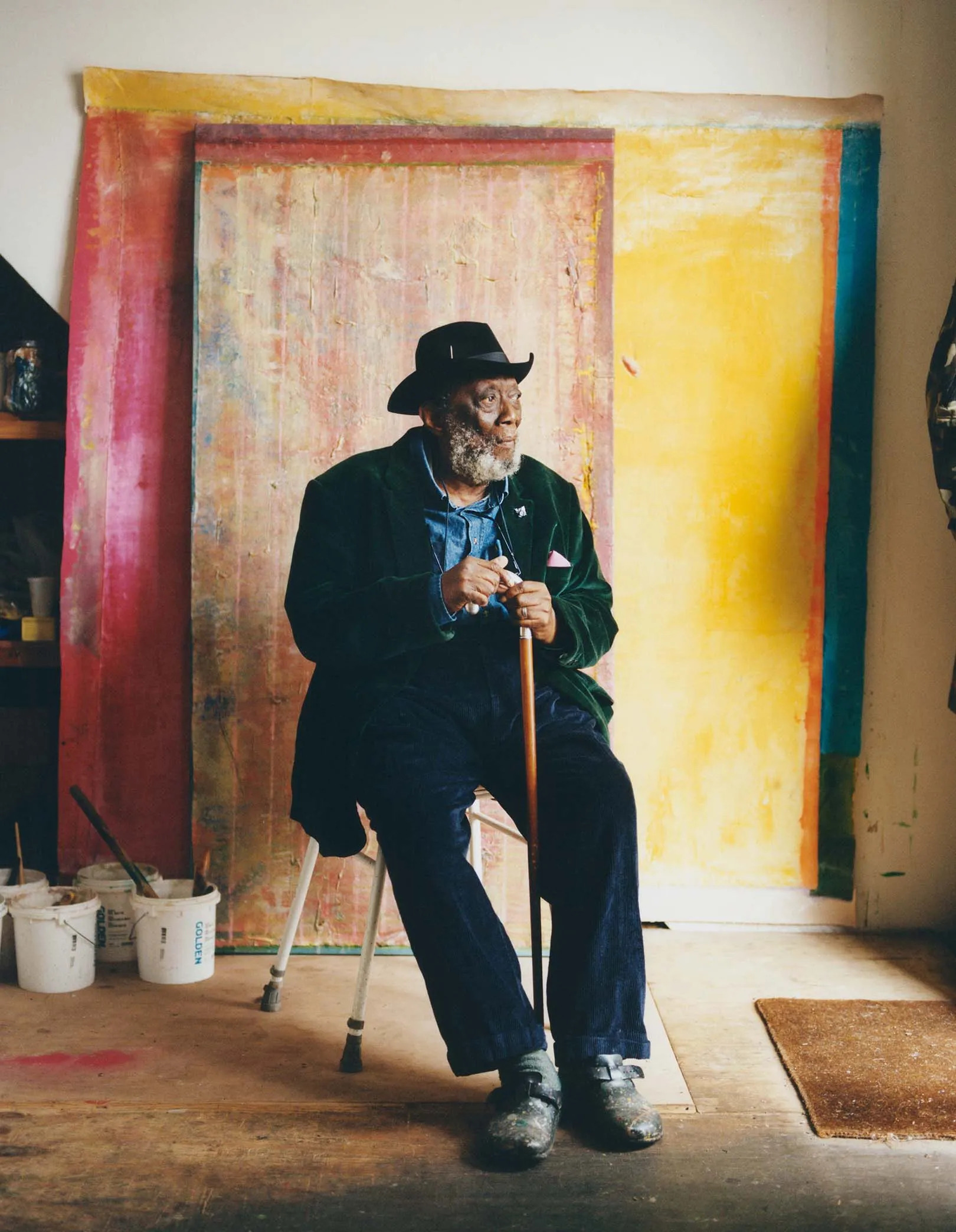 "The moment I arrived in London, I knew I was home.. My uncle met me at Waterloo, and we travelled by Tube to Finchley Road. I wasn't even listening to what he was saying, I was looking round. It was summertime, and the whole of London town was still into the Coronation. And I went all over London – even up past Piccadilly Circus – travelling on the buses, on the train. It was amazing." 
_
FRANK BOWLING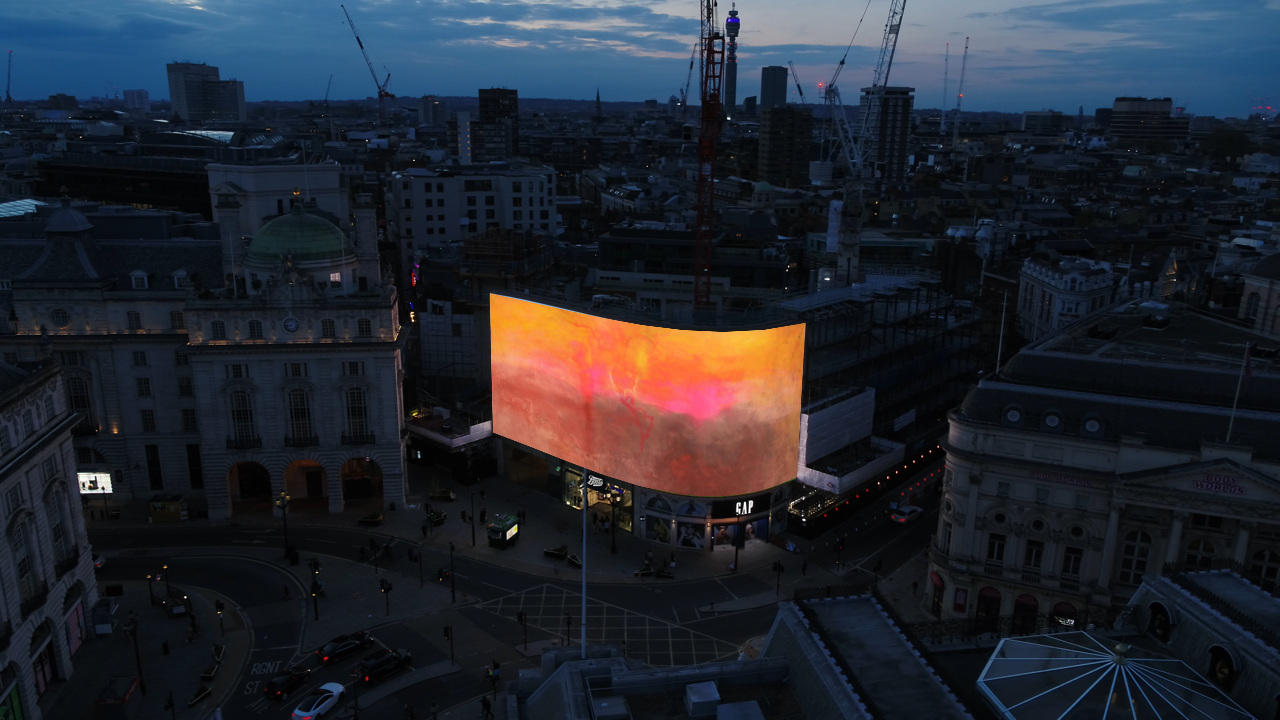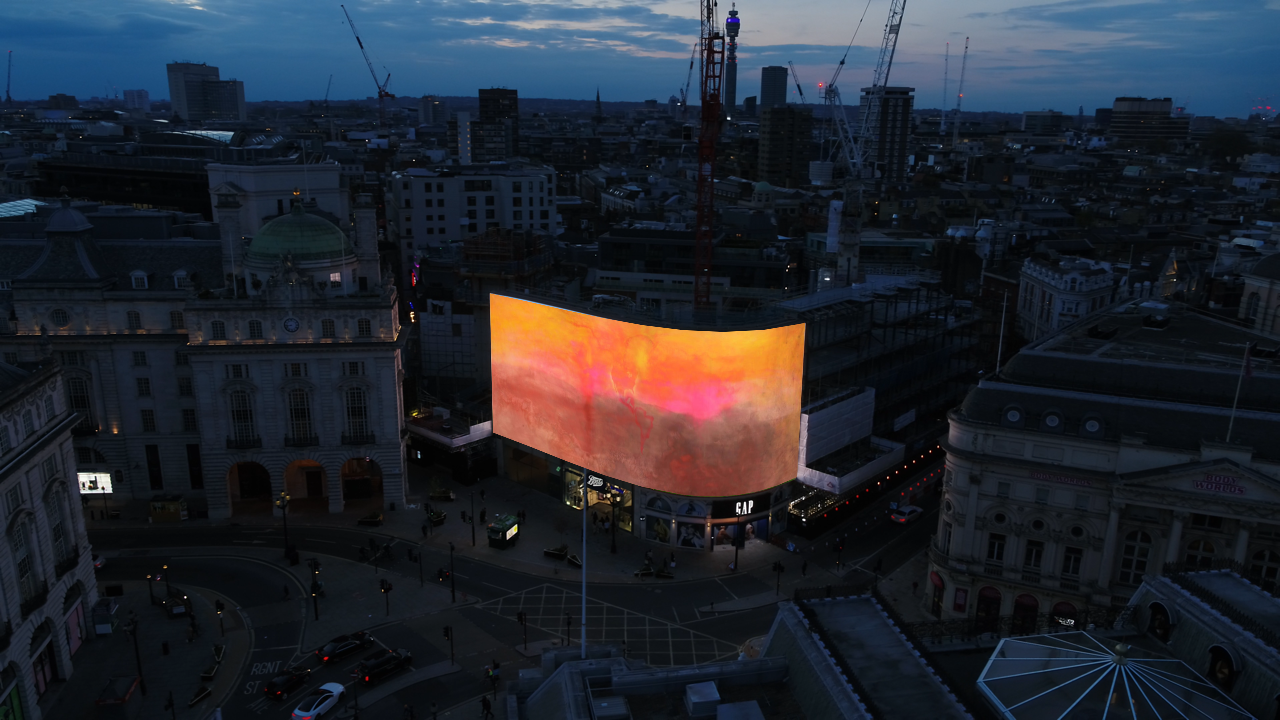 In light of the CIRCA 20:23 manifesto: 'Hope: The Art of Reading What Is Not Yet Written', Arrival provides a poignant opportunity for global audiences to reflect on the positive societal impact of migration, whilst the UK looks ahead and considers the nation it hopes to become.
One of the world's greatest living abstract painters, Frank Bowling has spent the last six decades of his career dedicated to the exploration of paint and colour, creating a powerful and original style that has influenced the art historical canon. Marking the first time that the artist's work has been shown in a digital context, Arrival tells the story of his journey from British Guiana to the UK in 1953. Through crossfading two works from his iconic Map Paintings series – Texas Louise (1971) and Australia to Africa (1969-70) – Bowling has created his first digital canvas featuring a cascade of colour:
"The subject of my art is paint—the way that colour washes, spreads, bleeds, and the way that paint-colour emits light. After many decades working on canvas, it was a pleasure to collaborate with CIRCA in creating my first digital artwork. It shows two of my Map Paintings flowing together. It's a whole world thing – 70 years in the making."
Bowling travelled to the UK at the age of 19 in May 1953, arriving in London during the Coronation of the late Queen Elizabeth II on 2 June. The presentation of Arrival on London's Piccadilly Lights also coincides with the 75th anniversary of the Empire Windrush arriving on 22 June. The ship brought a large group of Caribbean people to the UK to help rebuild Britain after WWII, with thousands more following in the decades thereafter – a moment which shaped the social and cultural fabric of modern Britain.
Justine Simons OBE, Deputy Mayor of Culture and the Creative Industries, said: "Sir Frank Bowling is a giant of British art, so it is fitting that his work will be featured at scale on Piccadilly Lights to mark 70 years since his arrival in London from Guyana. Immigration has played a central role in making London what it is today and we are immensely proud to be one of the most international cities on the planet, continuing to welcome people from around the world who now call London home."
CIRCA collaborated with Sir Frank Bowling to develop a series of two timed limited-edition prints. Available from 4 May – 30 June, the never before released prints of Texas Louise (1971) and Australia to Africa (1969-70) will be sold in support of the #CIRCAECONOMY – a circular model that funds the CIRCA free public art programme and creates life-changing opportunities for the wider creative community. Available here.
---
Black Cultural Archives' mission is to collect, preserve, and celebrate the histories of people of African and Caribbean descent in the UK.  We are a Black-led, Brixton-based, independent charity rooted in 40 years of educational activism. We are the nation's home of Black British history and a beacon for Black communities at home and abroad. From heritage seekers to future leaders, schoolchildren and young people to academics and elders, we serve people who seek a deeper understanding of British and world history.
We promote the importance of historical reflection as a powerful tool to help society learn from the past and work towards a more racially just and equitable future for all. We do this by providing a welcoming, safe space for people to celebrate positive representations of themselves in history and culture. We are a hub for conversations that disrupt traditional thinking and ignite empowered ideas that promote social progress and positive change.
Our archives, collections and exhibitions tell stories of inspiration and resilience. Our eclectic range of objects, ephemera, rare historical documents, photographs, and oral history testimonies cared for in our Collection bring histories to life from the 2nd century to the present day. We are a leader in the heritage sector, preserving and making accessible untold histories. We champion workforce development, teaching across London schools and universities, and organise public gatherings to showcase the achievements and impact of the Black community in the UK and worldwide.(blackculturalarchives.org)