Press release: Laurie Anderson, Notebook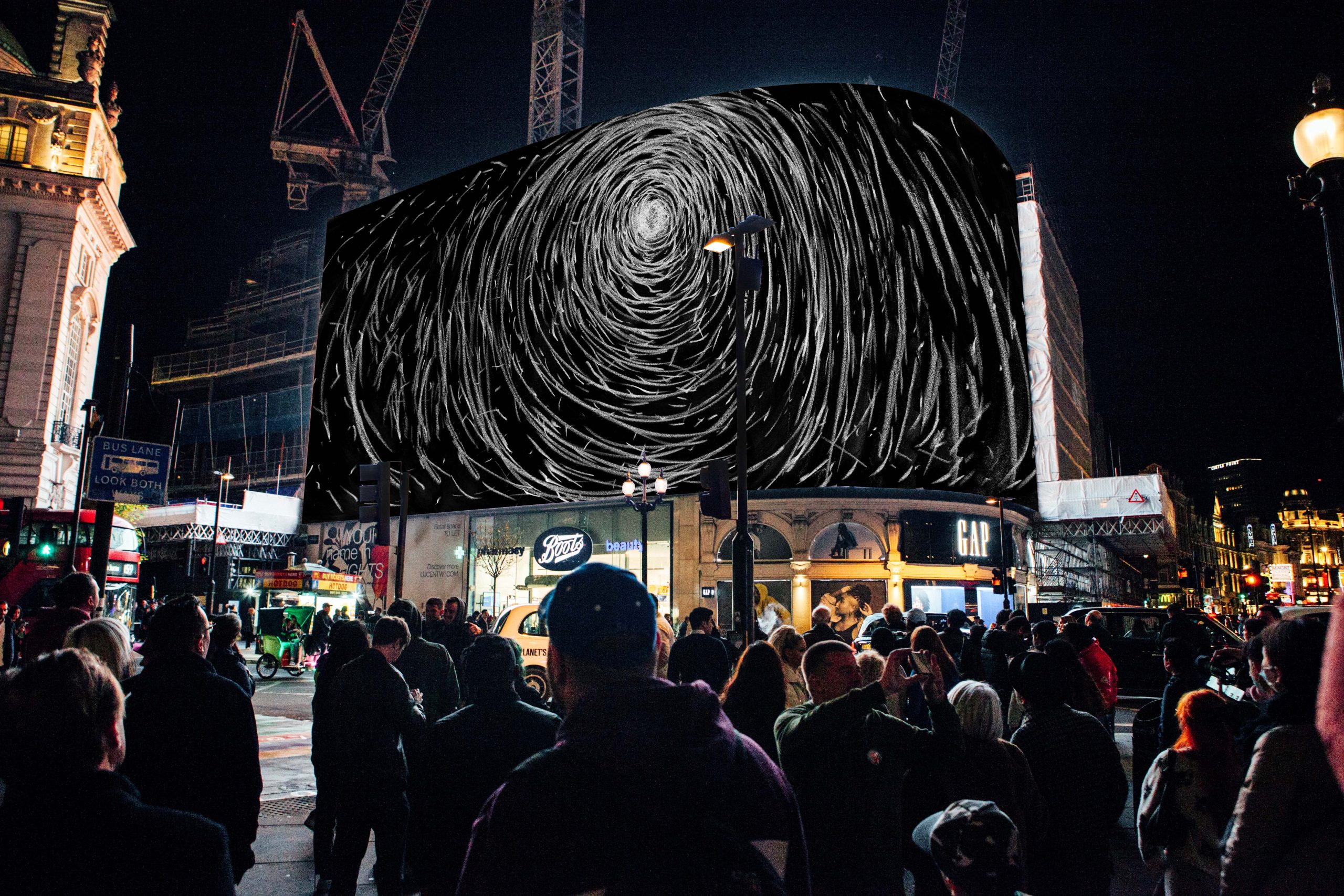 CIRCA 20:23 PRESENTS NOTEBOOK:
A NEW SERIES OF 25 ANIMATED PAGES
BY LAURIE ANDERSON

Press Release
(Piccadilly Circus, London) 3 April, CIRCA 20:23 ➳ The Cultural Institute of Radical Contemporary Arts (CIRCA) presents Notebook – a new series of 25 animated pages by groundbreaking multimedia artist, performer, musician and writer, Laurie Anderson. Launching on the full moon (6 – 30 April), Notebook will debut a different video work every evening throughout April at 20:23 on London's Piccadilly Lights and broadcast across a global network of digital screens in Berlin, Milan, Seoul and Tokyo. 
Highlighting her unique blend of the personal, the poetic and the political, Anderson created Notebook in response to the CIRCA 20:23 manifesto: 'Hope: The Art of Reading What Is Not Yet Written'. Drawing on CIRCA's distinctive monthly programme, the exhibition will unravel over 25 days as an ongoing narrative of words, drawings and stories. Featuring over 135 chalk-drawings from the artist's personal notebook, each photographed and edited in stop-motion, Anderson will guide members of the public on an intimate and personal journey.
Laurie Anderson, comments ➳ 'While I can't define hope in a few words, people using their own imaginations in the freest way possible makes me feel hopeful.'
As part of the #CIRCAECONOMY commitment to invest in the future of art and culture, CIRCA invited curator and author, Vittoria de Franchis, to write this month's CIRCA Essay in response to Notebook:
'Laurie Anderson's proposal for CIRCA 20:23, "Notebook", consists of 25 animations composed of 135 drawings from her notebook. When I ask her what they are about, she answers: "I prefer not to turn them into language or explicate. The world is already overexplained. Think of them outside of context. Thought balloons. Appearing out of nowhere." It is no coincidence that Anderson's piece inaugurates on April's full moon day. Raising our gaze to look at the sky has become an archaeological gesture, something we romantically associate with menhirs and ancient discoveries. Cities don't have a sky; the lights are too bright, and pollution veils the firmament. We sometimes have the sensation that nothing is beyond skyscrapers, dangerously becoming condensed cores of our destinies.'
Read the full CIRCA Essay here.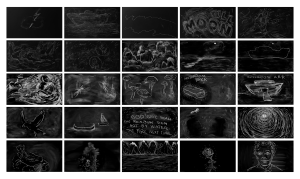 #CIRCAECONOMY PRINT
CIRCA collaborated with Laurie Anderson to develop a limited-edition series of 25 silkscreen prints in support of the #CIRCAECONOMY – a circular model that funds the CIRCA free public art programme and creates life-changing opportunities for the wider creative community. Available here.

NOTES TO EDITORS
APRIL PROGRAMME
Notebook by Laurie Anderson
6 – 30 April, CIRCA 20:23
20:23 BST ➳ London, Piccadilly Lights
20:23 CET ➳ Berlin, Limes, Kurfürstendamm
20:23 CET ➳ Milan, Cadorna Square, EssilorLuxottica
20:23 KST ➳ Seoul, COEX K-Pop Square
Hourly JST ➳ Tokyo, Shibuya Crossing
CIRCA MAP OF GLOBAL SCREENINGS

ABOUT LAURIE ANDERSON
As a Grammy Award-winning musician, performer, writer and artist, Anderson has an international reputation as an artist who combines the traditions of the avant-garde with popular culture. Anderson's theatrical works combine a variety of media, including performance, music, poetry, sculpture, opera, anthropological investigations and linguistic games, to elicit emotional reactions. As a visual artist, Anderson has been shown at the Guggenheim Museum, SoHo and extensively in Europe, including the Centre Georges Pompidou in Paris. Her largest exhibition to date was at The Smithsonian's Hirshhorn Museum of Modern Art in 2022 and her largest solo show in Europe "Looking into a Mirror Sideways" is currently open at Moderna Museet in Stockholm.  She has also released seven albums for Warner Brothers, including Big Science, featuring the song "O Superman," which rose to No. 2 on the British pop charts. She is currently Charles Eliot Norton Professor of Poetry at Harvard University.
ABOUT CIRCA
The Cultural Institute of Radical Contemporary Arts (CIRCA) is a digital art and culture platform with a purpose. Every evening at 20:23, CIRCA stops the clock across a global network of public screens and mobilises the world's greatest creative minds to broadcast unique works of art that consider our world, circa now. Driven by purpose, funds generated from artist print sales enable the #CIRCAECONOMY – a circular model that supports the CIRCA free public art programme whilst also creating life-changing opportunities for a global creative community. Since launching in October 2020 on London's Piccadilly Lights, CIRCA has distributed over £500,000 in cash grants, scholarships and donations.
Previous CIRCA commissioned artists include Ai Weiwei, Cauleen Smith, Eddie Peake, Anne Imhof, Patti Smith, Tony Cokes, Emma Talbot, Vivienne Westwood, Yoko Ono, Marina Abramović, James Barnor, David Hockney, Cassandra Press, Shirin Neshat, Dalai Lama and more. (www.circa.art)
SUPPORTERS
CIRCA has been made possible by Landsec, landlord of Piccadilly Lights. This April, we are especially grateful to our global screening partners, Limes OOH, EssilorLuxottica, Neo Shibuya TV and COEX K-Pop Square for their ongoing support of our free public art programme. 
CIRCA would especially like to thank Laurie Anderson and her studio for their trust and support.
SOCIAL MEDIA
Instagram ➳ @laurieandersonofficial | @circa.art
Twitter ➳ @circa__art
Facebook ➳ @circa.art.fb

#LAURIEANDERSON
#CIRCA2023
PRESS
To preview the film, click here.
To download the media pack, click here.
For press enquiries, please contact:
Svetlana Leu | svetlana@circa.art