Press release: Dick Jewell, War & Peace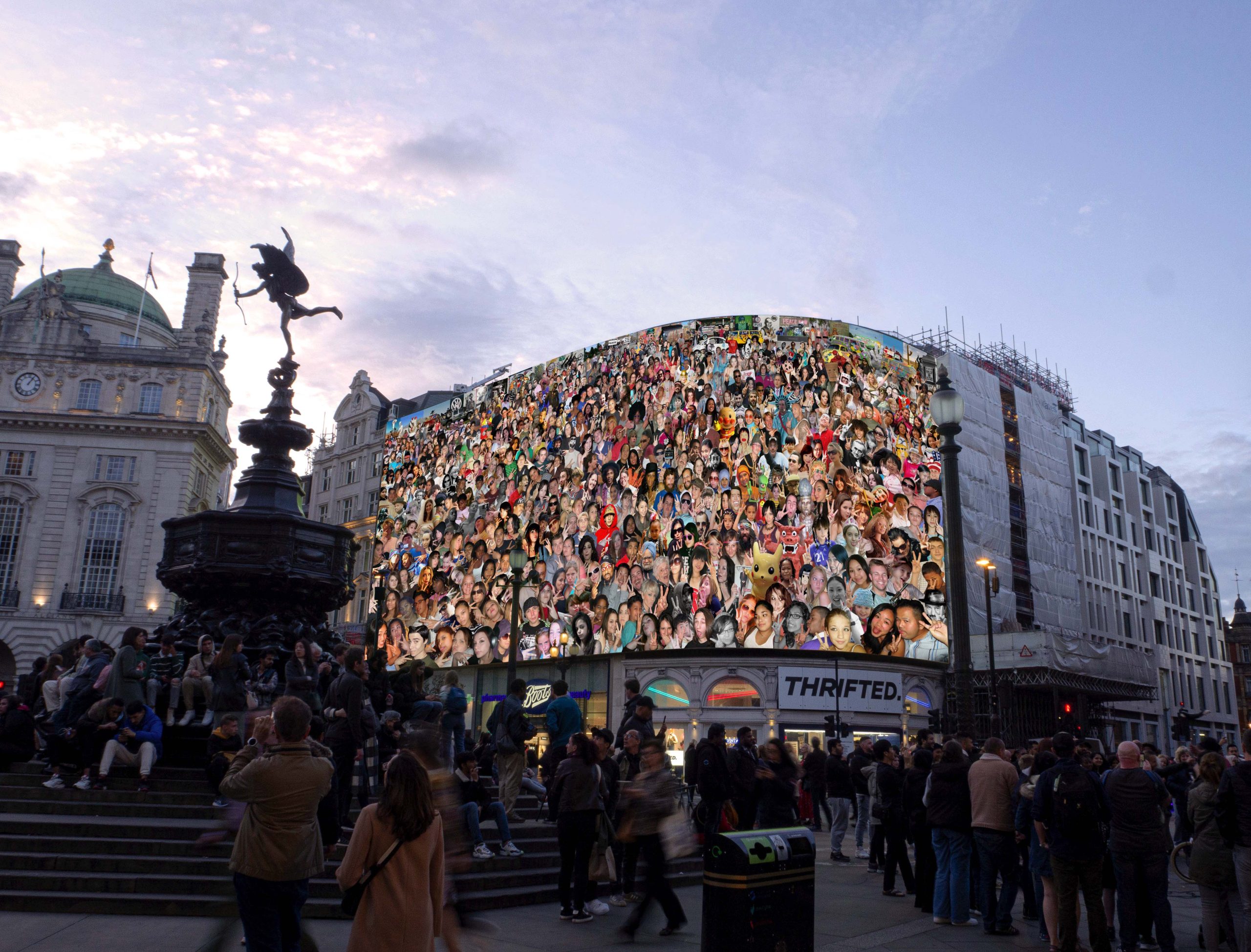 CIRCA PRESENTS WAR & PEACE BY CULT-FAMED MULTIDISCIPLINARY ARTIST DICK JEWELL

19 JULY – 31 AUGUST, CIRCA 20:23

Press release
(Piccadilly Circus, London) 18 July, CIRCA 20:23 ➳ The Cultural Institute of Radical Contemporary Arts (CIRCA) is proud to present WAR & PEACE, an audience participatory work by cult-famed multidisciplinary artist, Dick Jewell. 
Dick Jewell said ➳ "War and Peace considers the mixed messages received from common gestures. Through bringing together the different eras and cultures within which the ✌️ sign has been and still is used – from antiquity through to its contemporary use in the UK, Japan, etc – and those who use it from statesmen to the proletariat, I'm debunking the taboo that had been associated with the gesture by rendering it as virtually meaningless. However by blowing up the image with CIRCA and exhibiting it on the Piccadilly Lights and other screens around the world, I hope the public take photographs of themselves standing in front of it…imitating and adapting the gesture to become part of the work themselves."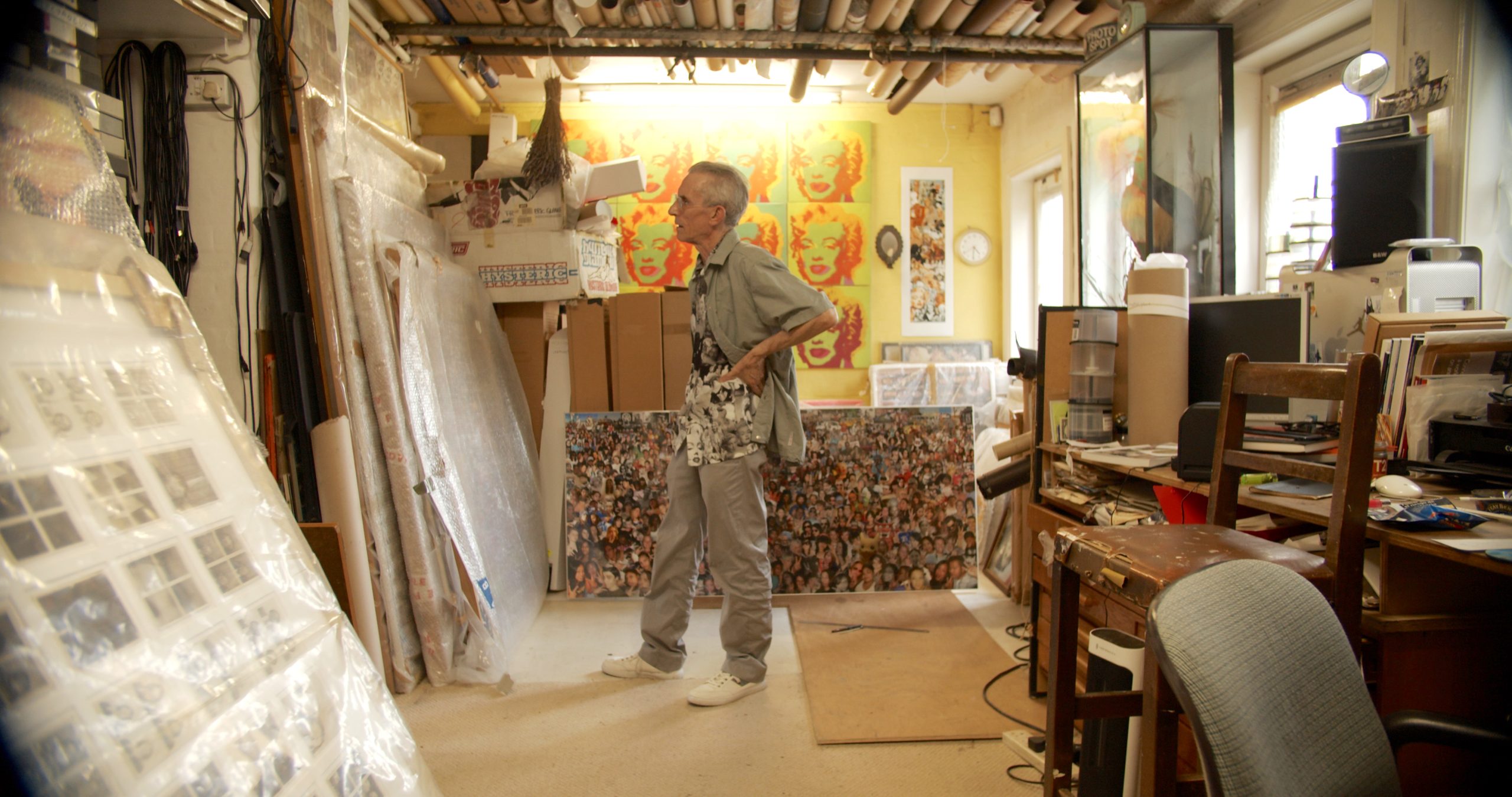 Launching 19 July on London's iconic Piccadilly Lights and broadcasting at 20:23 local time across a global network of screens until 31 August 2023, WAR & PEACE coincides with the first time Winston Churchill used the V for Victory sign on July 19, 1941. The 'V' sign – a hand gesture which has the palm outwards with the index and middle fingers open and all others closed – symbolised the first letter of French, Flemish and English words for 'victory' (victoire, vrijheid and victory, respectively) and became a rallying emblem for the Allies during World War II. In the USA during the 1960s, activists against the Vietnam War adopted the sign as an anti-war symbol of peace. More recently, it also became a gesture associated with fun used in photographs, especially in East Asia, where the gesture is also associated with cuteness.
WAR & PEACE emerges from Jewell's decades-long fascination with gathering, hoarding and reconfiguring images. This summer, global audiences are encouraged to participate by taking a ✌️ selfie and uploading their photo to social media using the hashtag #DJWARANDPEACE, with a selection of people receiving a free, hand-signed print by Dick Jewell. 
Josef O'Connor Founder & Artistic Director, CIRCA, said ➳ "Dick Jewell is a cult British icon. Using digital montage to create found narratives that trace the progression of visual perception, he captures the spirit of the times through one of the most accessible and immediate forms of art. Rendering symbols meaningless, WAR & PEACE effortlessly captures this divided moment in history. We are honoured to be presenting Dick Jewell on the CIRCA platform and promoting ideals of peace, hope and harmony once again."

#CIRCAECONOMY PRINT
A new hand-signed print by Dick Jewell titled Mixed Messaging will be sold for £120+VAT in support of the #CIRCAECONOMY – a circular model that funds the CIRCA free public art programme and creates life-changing opportunities for the wider creative community. Discover more here.
NOTES TO EDITORS
JULY – AUGUST PROGRAMME
WAR & PEACE by Dick Jewell
19 July – 31 August, CIRCA 20:23
20:23 GMT ➳ London, Piccadilly Lights
20:23 CET ➳ Berlin, Limes, Kurfürstendamm
20:23 CET ➳ Milan, Cadorna Square, EssilorLuxottica
20:23 KST ➳ Seoul, COEX K-Pop Square
CIRCA MAP OF GLOBAL SCREENINGS

ABOUT DICK JEWELL
Dick Jewell is an artist/printmaker and filmmaker who still continues to work commercially as a cameraman within both the fashion and music industries. Dick graduated from the Royal College of Art (Printmaking MA) in 1978.
In 1979 he published Found Photos and participated in Young British Photographers, New York, and Lives, Hayward Gallery, London. His first solo exhibition at Chapter Arts Centre Cardiff in 1980 was followed by group shows including the Stedelijk Museum, Amsterdam, and the 'Summer Show' at the Serpentine Gallery, London. In the 1980s he ran a record label, designing and releasing albums for artists including Gregory Isaacs and Prince Far I, and directed music promos for artists including Neneh Cherry and Massive Attack. Since then he has directed and made over 50 documentary films and videos, primarily on the subjects of artists, dance and club culture.

These films of the 1980s and early '90s have shown extensively at film festivals and also at art galleries including the Venice Biennale, Tate Liverpool, MOMA Sydney, the Victoria and Albert Museum and the ICA. His work is represented in public collections, including the Stedelijk Museum; Victoria and Albert Museum; Arts Council of Great Britain; Hayward Gallery Froebel Institute; Newport Museum; Whitworth Art Gallery; Leeds Art Gallery; Camden Libraries; Dudley Museum. (dickjewell.com) 
ABOUT CIRCA
The Cultural Institute of Radical Contemporary Arts (CIRCA) is a digital art and culture platform with  purpose. Every evening at 20:23, CIRCA stops the clock across a global network of public screens and mobilises the world's greatest creative minds to broadcast unique works of art that consider our world, circa now. Driven by purpose, funds generated from artist print sales enable the #CIRCAECONOMY – a circular model that supports the CIRCA free public art programme whilst also creating life-changing opportunities for a global creative community. Since launching in October 2020 on London's Piccadilly Lights, CIRCA has distributed over £500,000 in cash grants, scholarships and donations.
Previous CIRCA commissioned artists include Ai Weiwei, Cauleen Smith, Eddie Peake, Anne Imhof, Patti Smith, Tony Cokes, Emma Talbot, Vivienne Westwood, Yoko Ono, Marina Abramović, David Hockney, Cassandra Press, Shirin Neshat, Frank Bowling, Dick Jewell and more. (circa.art)
SUPPORTERS
CIRCA has been made possible by Landsec, landlord of Piccadilly Lights. We are especially grateful to our global screening partners Limes OOH, EssilorLuxottica and COEX K-Pop Square, for their support of our free public art programme. 
SOCIAL MEDIA
Instagram ➳ @dickjewell | @circa.art
Twitter ➳ @circa__art
Facebook ➳  @circa.art.fb

#DJWARANDPEACE
#CIRCA2023
PRESS
To download the media pack, click here.
For press enquiries, please contact:
Svetlana Leu | svetlana@circa.art