Press Release: Shirin Neshat, Woman Life Freedom

Press Release
CIRCA COMMISSIONS SHIRIN NESHAT TO FURTHER ECHO THE RALLYING CRIES OF IRANIANS ACROSS SCREENS IN LONDON AND LOS ANGELES 
1 – 4 October 2022
20:22 BST – London, Piccadilly Lights
20:22 PST – Los Angeles, Pendry West Hollywood
(London, Piccadilly Circus) 1 October 2022 – The Cultural Institute of Radical Contemporary Art (CIRCA) is proud to present WOMAN LIFE FREEDOM, an urgent public commission by celebrated Iranian artist and filmmaker Shirin Neshat, broadcasting 1-4 October 2022 across Europe's largest screen, Piccadilly Lights, and Pendry West Hollywood, Los Angeles at 20:22 local time.
Since CIRCA first broadcast on Piccadilly Lights with Ai Weiwei on  1 October 2020, a new conception of freedom and imagination has begun to take hold, one that reminds us of our collective potential to remake the world we inhabit. Together, emerging and established voices are recentering both art and social change, not as the fringe activities of elites or radicals, but as roles essential to human life. In an open letter published earlier this week, Shirin Neshat, Ali Abassi and Bahman Ghodabi invited people around the world to further echo the rallying cries of Iranians for freedom. Through this cross-atlantic response and countless others, hope prevails.
Our potential to create new worlds is not lost but sleeping. Influenced by the science fiction writer Octavia Butler, author adrienne maree brown argues that 'all organizing is science fiction'; that together, we imagine a better world, then fight to make it real. Through a combination of urgency and care, Shirin Neshat selected two pivotal works from her Women of Allah series (1993-1997) titled Moon Song and Unveiling. Coinciding with an eruption of international protests in solidarity with those risking their lives for basic human rights, WOMAN LIFE FREEDOM serves as a strong and symbolic accompaniment to the slogan being voiced across Iran.
Shirin Neshat, said: "As an artist devoted to making art that resonates to her people in Iran and internationally beyond just the art world, it feels like a perfect fit to work with CIRCA whose main premise is to make art accessible to a larger public, particularly in a time of crisis when people are looking for meaning and hope in the midst of chaos and political injustice."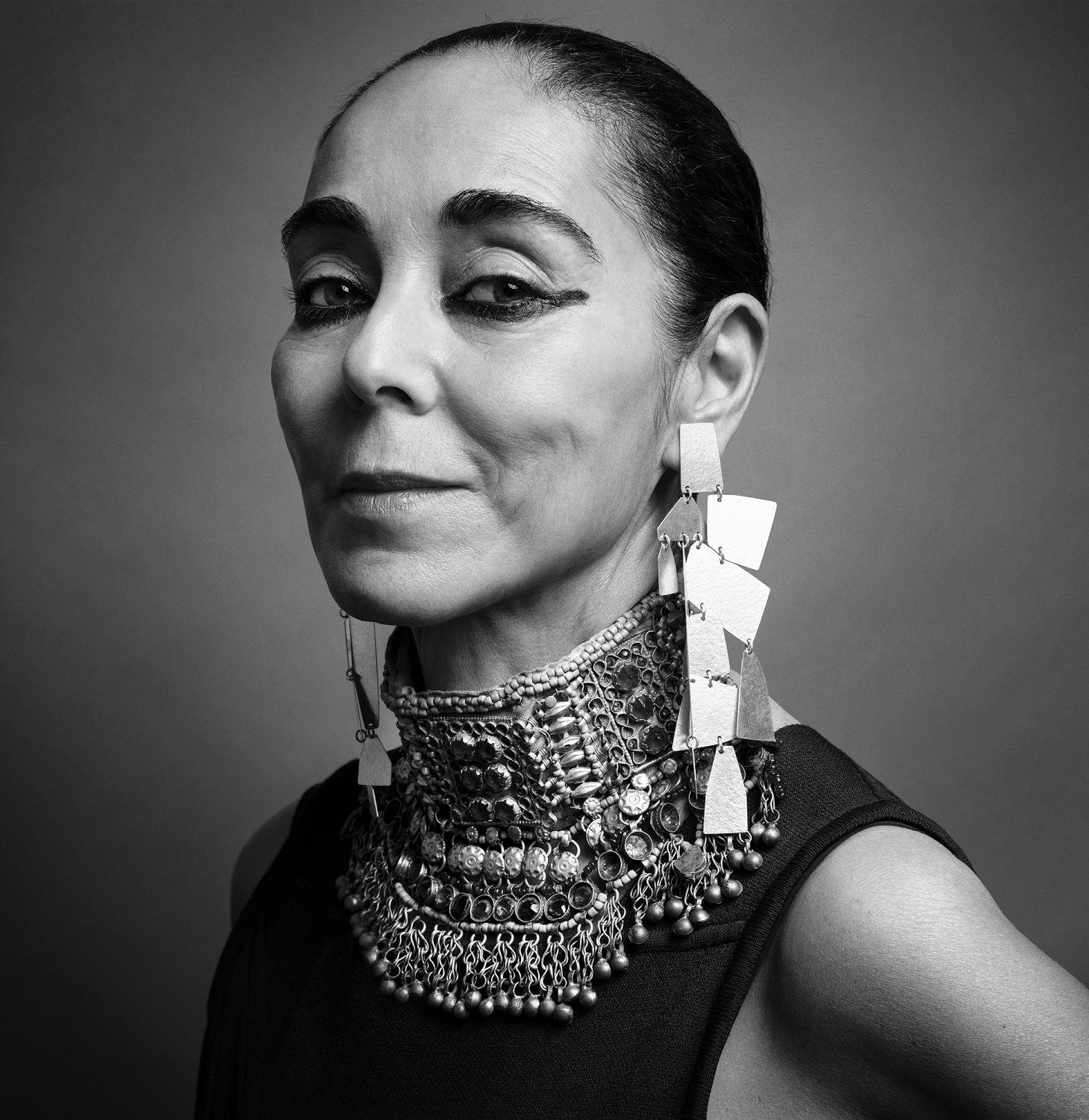 Moon Song forms part of Shirin Neshat's series Women of Allah, created between 1993 and 1997 after the artist's first return to Iran since the Islamic Revolution (1979) "In this work and in some of the other images in the series, I tried to capture the identity conflict that exists amongst Iranians, who are caught between their rich ancient Persian history, and a non-secular Islamic identity, which was brought by force after the Islamic Republic of Iran hijacked the 1979 Revolution."
"For me, the meaning of the text and the bullets suggests the modern and contemporary reality of Iran, while the paisley and other floral motifs are symbolic of Iranians' rich ancient Persian history.  In my view this cultural contradiction has been the Iranians' biggest grief and dilemma who are struggling between these two opposing identities. The majority of Iranians do not identify, nor feel comfortable abiding to such oppressive Islamic codes and laws."
The Farsi text inscribed on the left hand is an excerpt from the magic realist book The Drowned written by the Iranian female author Moniro Ravanipour. "I was inspired by the writer's visual and imaginative narrative that makes an allegorical analogy between a storm taking place under the sea and the political climate on land, as Iranians struggled with their life circumstances in turbulent times."
The Women of Allah series of photographs addresses the complexities of women's identity in the midst of a changing cultural and political landscape in Iran after the 1979 revolution.  Inspired by newspaper clippings circulating at the time of the Iranian Revolution and during the Iran-Iraq War, Neshat attempted to capture and question the contradictory nature of militant Muslim women, who stood at a peculiar intersection of love, devotion and faith yet violence, cruelty and death. Four symbolic elements recur in this work: the veil, the gun, the text and the gaze. The farsi inscribed texts, overlayed on the surface of the images are excerpts of poems written by Iranian female poets and writers.
In the black and white self-portrait Unveiling, part of Neshat's Women of Allah series, the artist is seen covered with verses from one of Forough Farrokhzad's poems, an iconic Iranian female poet known for her radical expression on female sensuality, strength and independence. The suggestive title of this piece resonates more than ever with the current movement of women's liberation in Iran through the act of unveiling, rising above the Pendry Hotel on Sunset boulevard within a Southern American state boasting the largest concentration of Iranians in the world, outside of Iran.
#CIRCAECONOMY PRINT
A time limited edition print by Cauleen Smith is available to purchase in support of the #CIRCAECONOMY – a circular model that supports the CIRCA free public art programme and creates life-changing opportunities for the art and culture community. 50% of the proceeds from each print sold will be donated to Human Rights Watch, official partners of this presentation. Click here to purchase.

Tirana Hassan, Active Executive Director, Human Rights Watch said: "More than ever are artists a powerful voice for the human rights movement towards a more equitable future where everyone's voice is elevated."
WOMAN LIFE FREEDOM
Giclèe Print on Hahnemüle Museum Etching  
Time-limited edition available 1 – 30 October 2022
297mm x 117mm
Numbered Certificate of Authenticity
£120 inc. VAT
WOMAN LIFE FREEDOM by Shirin Neshat, #CIRCAECONOMY print | CIRCA 2022

ABOUT SHIRIN NESHAT
Shirin Neshat (b. 1957, Qazvin, Iran) is an Iranian-born artist and filmmaker living in New York. Neshat's early photographic works include the Women of Allah series (1993–1997), which explored the question of gender in relation to Islamic fundamentalism and militancy. Her subsequent video works departed from overtly political content or critique in favor of more poetic imagery and narratives. In her practice, she employs poetic imagery to engage with themes of gender and society, the individual and the collective, and the dialectical relationship between past and present, through the lens of her experiences of belonging and exile. 
She has mounted numerous solo exhibitions at museums internationally, including: the Hirshhorn Museum and Sculpture Garden, Washington D.C.; Stedelijk Museum, Amsterdam; the Serpentine Gallery, London; Hamburger Bahnhof, Berlin; and the Musée d'art contemporain de Montréal. Recent solo exhibitions include: Kunstraum Dornbirn, Austria; Faurschou Foundation, Copenhagen; Kunsthalle Tübingen, Germany; and Museo Correr,Venice,  Italy, which was an official corollary event to the 57th Biennale di Venezia in 2017. A major retrospective of her work was exhibited at the Detroit Institute of Arts in 2013. Neshat was awarded the Golden Lion Award, the First International Prize at the 48th Biennale di Venezia (1999), the Hiroshima Freedom Prize (2005), and the Dorothy and Lillian Gish Prize (2006). In 2009, Neshat directed her first feature-length film, Women Without Men, which received the Silver Lion Award for "Best Director" at the 66th Venice International Film Festival. Dreamers marked her first solo show on the African continent, which exhibited at Goodman Gallery Johannesburg in 2016. That same year, Neshat featured in the New Revolutions: Goodman Gallery at 50 exhibition in Johannesburg and in the Summers group exhibition at Goodman Gallery Cape Town. In 2017, Neshat was awarded the prestigious Praemium Imperiale award for Painting. That same year, Neshat directed Giuseppe Verdi's Aida at the Salzburg. In 2017, Neshat was awarded the prestigious Praemium Imperiale award for Painting. That same year, Neshat directed Giuseppe Verdi's Aida at the Salzburg.  The Broad Museum in Los Angeles recently hosted a survey exhibition of the last 25 years of Neshat's work, which travelled on to Modern Art Museum of Fort Worth in 2021. This year Neshat was the feature artist and Master of Photography at Photo London festival which took place in Somerset House in September. 
Neshat has directed three feature-length films, Women Without Men (2009), which received the Silver Lion Award for Best Director at the 66th Venice International Film Festival,  Looking For Oum Kulthum (2017,) and most recently Land of Dreams (2021) which premiered at the Venice Film Festival.  
The artist lives and works in New York, USA.
HUMAN RIGHTS WATCH
Human Rights Watch investigates and reports on abuses happening in all corners of the world. We are roughly 450 people of 70-plus nationalities who are country experts, lawyers, journalists, and others who work to protect the most at risk, from vulnerable minorities and civilians in wartime, to refugees and children in need. We direct our advocacy towards governments, armed groups and businesses, pushing them to change or enforce their laws, policies and practices. To ensure our independence, we refuse government funding and carefully review all donations to ensure that they are consistent with our policies, mission, and values. We partner with organizations large and small across the globe to protect embattled activists and to help hold abusers to account and bring justice to victims.
ABOUT CIRCA
The Cultural Institute of Radical Contemporary Art (CIRCA) is a digital art and culture platform with purpose. We stop the clock on global media spaces every evening at 20:22 local time, mobilising the world's greatest creative minds to broadcast unique works of art that consider our world today, circa now. 
Funds generated from artist print sales drive the #CIRCAECONOMY – a circular model that supports our free public art programme and creates life-changing opportunities for the art & culture community. Since launching in October 2020 on London's iconic Piccadilly Lights, CIRCA has distributed over £500,000 in cash grants, scholarships and donations whilst commissioning new work from rising and established names including Ai Weiwei, Cauleen Smith, Eddie Peake, Anne Imhof, Patti Smith, Tony Cokes, Emma Talbot, Vivienne Westwood, Yoko Ono, Marina Abramović, James Barnor, David Hockney, and many more.
CIRCA SUPPORTERS
CIRCA has been made possible by Landsec, landlord of Piccadilly Lights, who have kindly donated media space, as a helpful boost to the cultural scene in London's West End.
CIRCA is grateful to Piccadilly Lights, Ocean Outdoor, Goodman Gallery and Pendry West Hollywood for supporting this incredibly important commission by Shirin Neshat. CIRCA would especially like to thank Laure Prouvost for granting us these 4 days from her October commission to present this urgent work.