Riffy Ahmed
I'm a Film Director, Writer, and Visual Artist based in London and my work has been screened and exhibited in both the art and film world. I trained as a visual artist at Central Saint Martins in Fine Art: New Media and recently graduated with a Masters Degree in Directing Fiction at the National Film and Television School. My work is interdisciplinary and I love to tell stories about the unlikely heroes that we don't often see on the big screen, particularly framed around women and diaspora identities. I am currently on the Cowboy Films / Netflix TOP BOY director mentoring scheme.
Scroll down to vote or click here to follow Riffy Ahmed on Instagram.
Q. How is your project tied to the CIRCA x Dazed Class of 2022 theme of 'A Future World'?
A. The film I have submitted is a short portrait piece I did about a Japanese Geisha pole-dancer a few years ago, as I was very interested in how a physical and imagined state can co-exist in one space and the way subcultures form, often with extreme lines of tradition and modernity. Ayumi Lanoire has multiple personas / acts and I feel this film ties in well to the theme as we are more and more seeing the blur between imagined spaces, characters and reality converging at the same time. We are more and more headed to a future world whereby we have avatars and multiple personalities and performances present in our everyday lives. We are a version of a version of something to someone and this world. I like to think this hybrid space can be enchanting and enlightening but also isolating and questioning our roots and where we belong. The performance I captured starts with presenting the strong tradition of the Geisha and then its immediate subculture, pole dance which can work hand in hand.
Q. What would you create with the £30,000 #CIRCAECONOMY cash prize?
A. If I have the privilege of receiving this opportunity, I would first love to use the prize to further research and explain on a project I have been looking to develop which is about digital spiritualism – whether superstitions, rituals and beliefs serve us for the better or are actually tools to disguise taboos in society that we struggle to talk about? I am extremely superstitious (purely by proxy that my family is very religious and spiritual) but equally sceptical. Yet I am intrigued by the fact that we have a society and world of technology that is more and more normalising for people to have blind faith in a world they can't touch physically, but can connect to through the internet and mind. I would love to make a triptych or single framed film that is hybrid documentary and fiction, exploring how some of these rituals are and aren't serving us and how multifaceted our identities are becoming.
Q. What does A Future World look like to you?
A. Humans, avatars and robots – not a great combo but that's where I feel it's heading.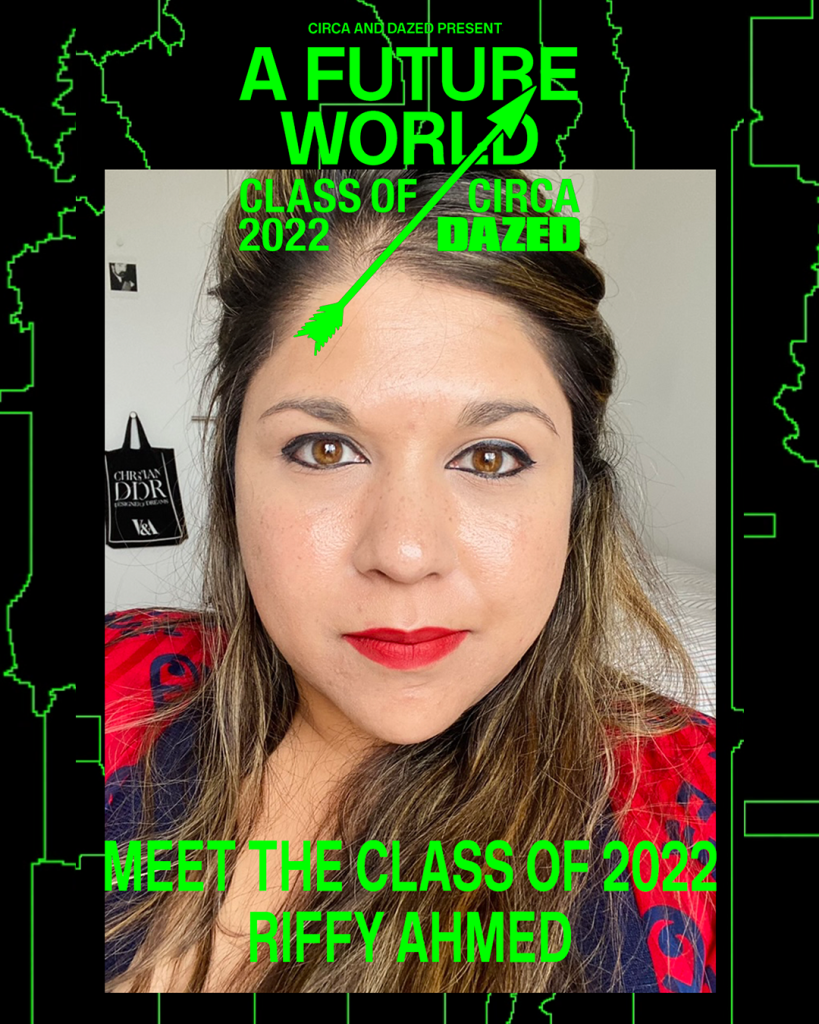 Vote for this artist
New for the Class of 2022, CIRCA and Dazed have introduced an additional cash prize of £10,000 powered by Piccadilly Lights that will be awarded to a finalist who receives the most public votes. Global audiences have until midday on 10 October to watch the final 30 films and vote for your favourite finalist to win the Piccadilly Lights Prize.