Daria Blum
As a London-based, Swiss Canadian visual artist, performer and musician, I explore autobiographical events in my work. Through the use of stereotypical characters and archetypes I choreograph live performance, music, text and moving image. I focus on the politics surrounding emotions and their expression and reception in contemporary culture and media. Through my training as a dancer, I'm invested in using movement and physical expression to challenge dominant theories through an engagement with embodied knowledge.
Scroll down to vote or click here to follow Daria Blum on Instagram.
Q. How is your project tied to the CIRCA x Dazed Class of 2022 theme of 'A Future World'?
A. Wanna Be Me Wanna shows me at two life stages: a five-year-old child and a present-day woman. Younger Daria performs an improvised dance while, next to her, older Daria attempts to copy her movements. The work emphasises the passage between two 'worlds' – childhood and adulthood, past and future. Philosopher Federico Campagna refers to 'world' as a 'likely story' about reality; we simplify raw perceptions to transform them into narratives we can recognize and navigate. Ageing is an erosion of a reality, the apocalypse of a world in which monsters hide under beds, and being a famous pop star constitutes the pinnacle of happiness. In emulating my childhood dance, I commune with my past and search for an alternative to a contemporary world view, recalling one that was imaginative, confident, generous. Through physical movement and improvisation I access an abstract knowledge usually out of reach: my younger self left a message on how to approach the future.
Q. What would you create with the £30,000 #CIRCAECONOMY cash prize?
A. Performing and releasing material on my own for several years, I now want to invest in the production of an EP, its rollout supported by a series of events. My music is enmeshed in my practice as a visual / live artist, and the upcoming project will embrace diverse contexts: theatre, dance, film, fashion, happenings; challenging the traditional release cycle, including music videos and gigs, to build a multiplicity of worlds. Showing on Piccadilly Lights will allow me to make parts of my project available to a new audience. Echoed by my use of a range of musical and artistic genres, the democratic and site-specific context of the advertising screen will be a major platform through which to subvert existing 'industries' or 'worlds', continuing CIRCA's philosophy. Presently, everything from production and recording to choreography and video editing has been done by me, and in this next chapter of my practice I would collaborate with other musicians and professionals.
Q. What does A Future World look like to you?
A. In my Future World, humanity will have connected more strongly to ancestors and be illuminated by the past, while retaining the tenderness of childhood, in acknowledgment of the vulnerability that gives strength through resilience, not brute force.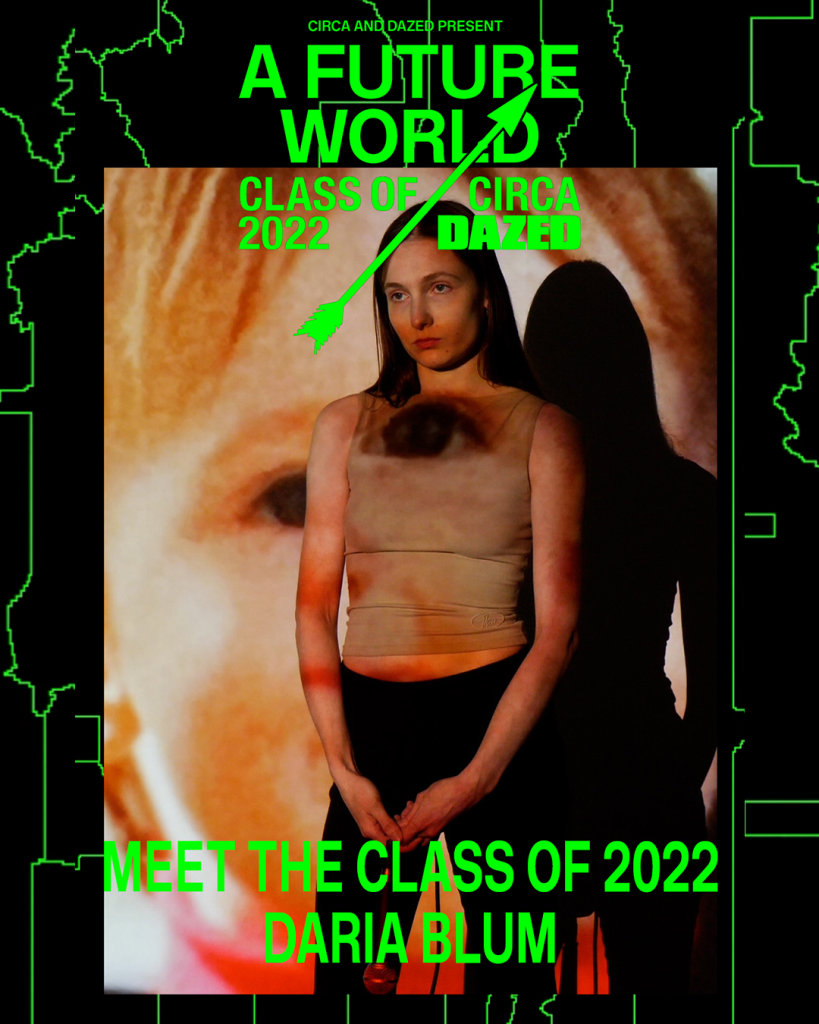 Vote for this artist
New for the Class of 2022, CIRCA and Dazed have introduced an additional cash prize of £10,000 powered by Piccadilly Lights that will be awarded to a finalist who receives the most public votes. Global audiences have until midday on 10 October to watch the final 30 films and vote for your favourite finalist to win the Piccadilly Lights Prize.