Bhebhe&Davies
Bhebhe&Davies is the collaborative practice of performer and choreographer Nandi Bhebhe and artist Phoebe Davies. Since 2017, their work has spanned moving image and live performance, often working with intergenerational groups of performers and non-performers alike. As an intersectional female duo, at the core of their collaboration is an interrogation of race, gender, sexual identity and power dynamics. In 2021 they founded the B&D Education Programme which focuses on promoting POC creative professionals in higher educational settings.
Scroll down to vote or click here and here to follow Bhebhe&Davies on Instagram.
Q. How is your project tied to the CIRCA x Dazed Class of 2022 theme of 'A Future World'?
A. Viscera uses choreography and subtitled lip sync to interrogate the slippery nature of emotions, and how our identities liberate or limit our behaviour. The work stems from a research process which deconstructed the subtleties and limits of rage in all its forms, physical, non physical and emotional, and the tensions between our outer body and the inner voice. Viscera was developed through our personal lived experiences in response to the political and cultural changes unfolding in society – shaped by anti-racist and feminist writing alongside choreographed defensive gestures. Made during the pandemic, the film was a space for us to re-imagine our performance practice for screen, searching for new possibilities and enacting future freedoms. It empowered us to explore a future reality of our fury and seek solace in interrogating how our emotions are held on our surfaces and vibrate deep in our core. Through a collaborative research process with dance artists, activists and academics we questioned who is entitled to fully express their emotions. What is liberating? What is dangerous? What tips you over the edge? And how do you spill out and claw your way back? Viscera is the first film in our Eloquent Rage series
Q. What would you create with the £30,000 #CIRCAECONOMY cash prize?
A. This prize money would be vital to our practice, enabling us to develop the second film in our Eloquent Rage series. Departing from the physicality of occupying communal competitive spaces, we would aim to work with a group of young amateur athletes, using body suspended cameras to explore the limits of stamina, physical and mental exhaustion inorder to find new freedoms. We aim to create an ambitious performance for the camera within a visual landscape that engulfs audiences' senses. Furthermore the prize money would support our collective studio development, providing crucial resources to test new ways of making video work, with a focus on accessible (disabled friendly) camera operating techniques. Due to recent health complications Phoebe has had a significant change in her mobility. In response to her access needs Bhebhe&Davies are currently re-focussing and expanding their creative possibilities as directors.
Q. What does A Future World look like to you?
A. We aim for futures where all bodies are celebrated and we are free to embody our visceral emotions. To quote Walidah Imarisha, writing in Octavia's Brood, "Once the imagination is unshackled, liberation is limitless."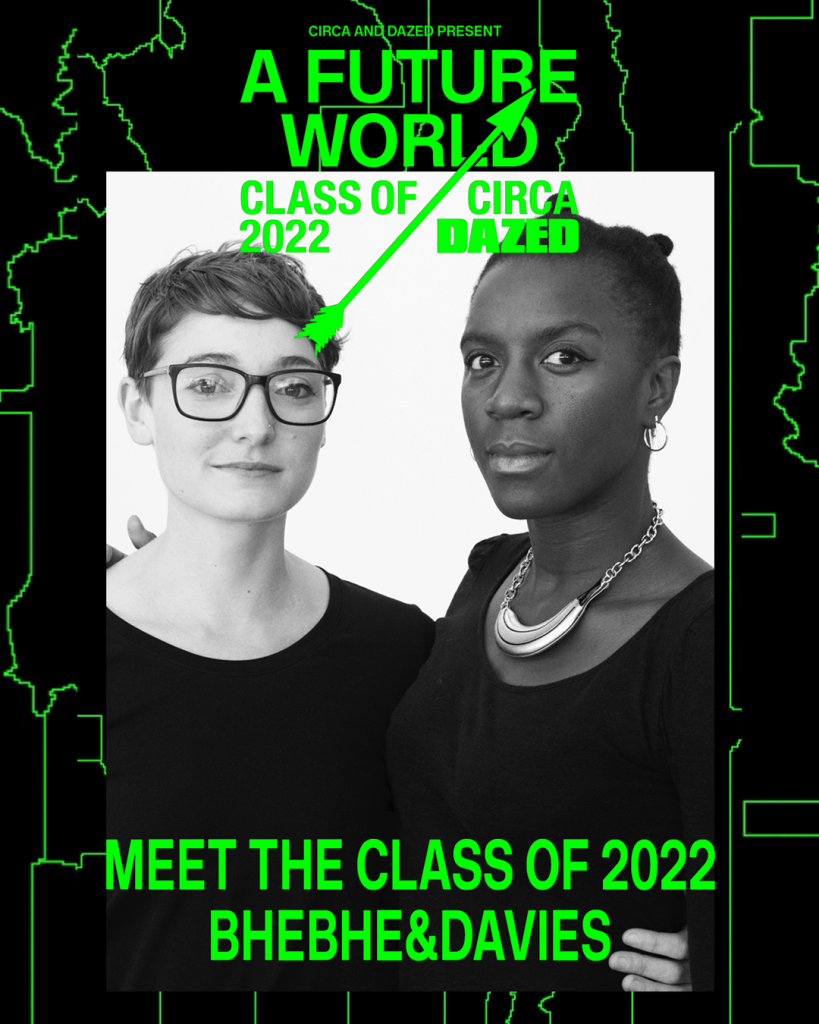 Vote for this artist
New for the Class of 2022, CIRCA and Dazed have introduced an additional cash prize of £10,000 powered by Piccadilly Lights that will be awarded to a finalist who receives the most public votes. Global audiences have until midday on 10 October to watch the final 30 films and vote for your favourite finalist to win the Piccadilly Lights Prize.