Rosie McGinn
My work as an artist explores the human tendency to chase moments of ecstasy, whether it's winning at bingo, scoring a goal or jumping from space. These rituals observed within my practice explore our relationship with transcendence and extreme human achievement. Based in London I primarily work with kinetic sculpture, installation and moving image. From a monstrous writhing 9ft Paul Gascoigne effigy [connected to a hand-winch] to stuffed Torvill and Dean figurines reliving the Boléro [on robot hoovers], the work has previously gravitated towards sport and leisure whilst observing the provincial areas and communities where rituals, such as bingo, going 'out out' and football, provide a fleeting sense of faith and collectivism. This curiosity with our cultural restlessness has recently shifted towards the human obsession with flight and space travel. Climbing higher, scratching that itch, reaching the furthest corners of our universe before turning on the last rung of the ladder, looking back down at the planet below and surrendering ourselves to the complete mercy of nature.
CIRCA: HOW IS YOUR PROJECT TIED TO THE THEME OF 'HOPE'?
God is a DJ (2019) combines appropriated footage of orchestra conductors with a mixed soundtrack from live DJ sets. Two worlds momentarily collide as the conductor's movements respond to the slow build in the set and both simultaneously reach the drop / the finale / the apex. Conductor and DJ; both channelling the power of music to transform the mood in a room, taking listeners to a higher level, moving bodies and stirring minds.
I think, like most of my work, this project observes our inadvertent obsession with chasing a state of ecstasy. To feel the shuddering crescendo.. a complete loss of self-consciousness, a state of flow… is to feel alive and without worry. It is, of course not sustainable to feel this endlessly but it is within these moments of flow where hope and optimism lie.
CIRCA: WHAT WOULD YOU CREATE/DO WITH THE £30K?
More recently my focus has moved towards a research-based exploration of the phenomena 'The Overview Effect', which is a cognitive shift in awareness reported by some astronauts while viewing the Earth for the first time from outer space. In response to this I have begun a new video work that centres itself around a found clip of William Shatner attempting to describe his experience of leaving Earth as a passenger in Jeff Bezos' Blue Origin spacecraft. I believe winning the CIRCA PRIZE and the £30k prize would give me the opportunity and momentum to fully commit to this project. I have always had a part-time job in order to fund my practice but I have found myself struggling to afford a consistent stretch of time in the studio to make this new body of work. I believe this incredible opportunity would give me the time and resources to push myself into unknown territory for both current and future projects.
CIRCA: WHAT DOES 'HOPE' MEAN TO YOU?
Hope pushes us forwards and upwards.
To anticipate that something might happen doesn't necessarily mean it will but it gives you a starting point; the door is ajar, the jars lid is loose, the curtains are drawn and the day is less daunting.
FOLLOW ROOSIE MCGINN ON INSTAGRAM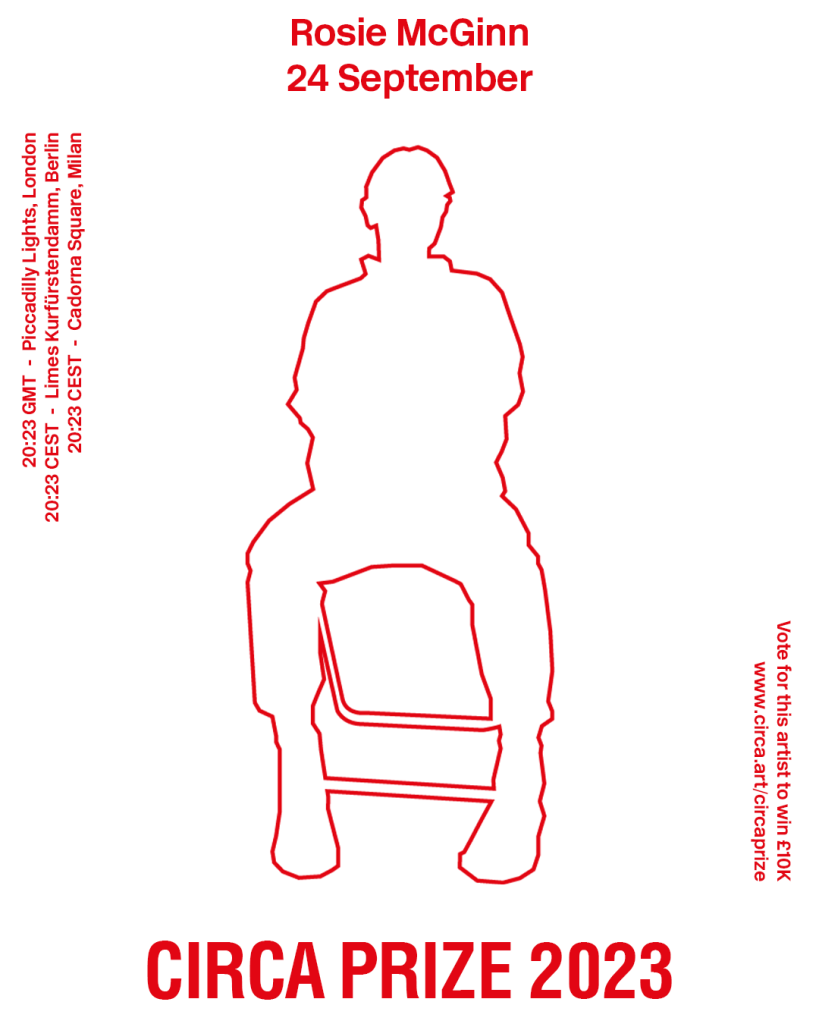 Vote for this artist