Keiken
Our collective title is taken from the Japanese word for 'experience'. We are collaboratively building and imagining speculative futures to simulate and present alternative ways of existing, particularly by interrogating the  nature and future of consciousness. We achieve this through filmmaking, gaming, installation, Extended Reality (XR), blockchain, and performance. Along the way, we also develop our own tools and technologies, and are always seeking opportunities to further connect to audiences' consciousness. We are currently working on our ongoing worldbuilding project, Morphogenic Angels. It is a video game narrative series, set in an ever-evolving universe 1,000 years from now. Morphogenic Angels unfolds in a radically different time and space that transcends our current political, societal, financial, and subjective reality, and human beings have biologically merged with other species on the cellular level.
CIRCA: HOW IS YOUR PROJECT TIED TO THE THEME OF 'HOPE'?
The Bubble Theory explores a speculative future set 1000 years from now. Neither a Utopia or Dystopia, it is a Protopia (a world that strives to be better but not perfect) that embraces a dialectal dialectal alchemy of benevolence and malevolence; benevolence and malevolence; acknowledging an oscillating state of flux of the universe. By imagining a future so far ahead, we can radically reimagine the laws and structures of today, allowing hope to transform our reality, and recognising there is hope to be found within positive but also negative perspectives.
The film explores this by presenting a fictional technology that allows a post human being, 'Mother', to play with 'Uber 3000'; a talking, self-driving car with inbuilt therapy. The technology enables Mother's past selves (derivatives) to meet each other. From a bird's eye view they can see the consciousness bubble of each past self and how they communicate. By visually depicting how perspectives are formed by an alchemy of perspectives they make equations out of their feelings. It is an emancipatory technology that strives to understand the self as multiple consciousness in a state of flux.
CIRCA: WHAT WOULD YOU CREATE/DO WITH THE £30K?
We would like to research the theory of morphogenesis from more precise perspectives that are often challenging to access from an artistic process; for example by having 1:1 explorations with scientists and specialists in this field, such as biologist Michael Levin. These additional perspectives will  inform collective conversations that speculate on contemporary research in science and technology, and use this as a springboard to imagine how these advances and impacts could evolve over the next millennium. We will also continue to research and generate speculative technologies, systems, embodied intelligence, and knowledge and that will become the foundation for our artistic practice and in turn, lead to the ongoing development of characters, stories and environments.
Once this conceptual and research foundation is established,  we will create a corresponding virtual production pipeline that is symbiotic to supporting proposed narratives; working with collaborators to create a CGI film inside a game engine, that narrates an overview of our universe in 1000 years time. Additional resourcing will also provide more robust;
Prototyping and securing expert technical advice (Game Engine Developers, Narrative Designers, Technical Production). Some examples on our wishlist include Ivaylo Getov, Meghna Jayanth and Jira Duguid

Broader collaboration with cross-disciplinary creatives (Musicians, Dancers, Actors, Producers etc.) to continue building out our aligned creative direction – noting this is an established strategy within our practice already; previous examples include George Jasper Stone, Sophie Mars, Wavesovspace, Alex Boyes
We want to create a visually rich and narrative-driven journey that allows the audience to imagine a protopian future!
CIRCA: WHAT DOES 'HOPE' MEAN TO YOU?
The cells of humans come from the material of the universe. Hope is understanding that the self and the universe are entwined. To nurture and understand the consciousness of self is to also nurture and understand all that exists in the universe.
FOLLOW KEIKEN ON INSTAGRAM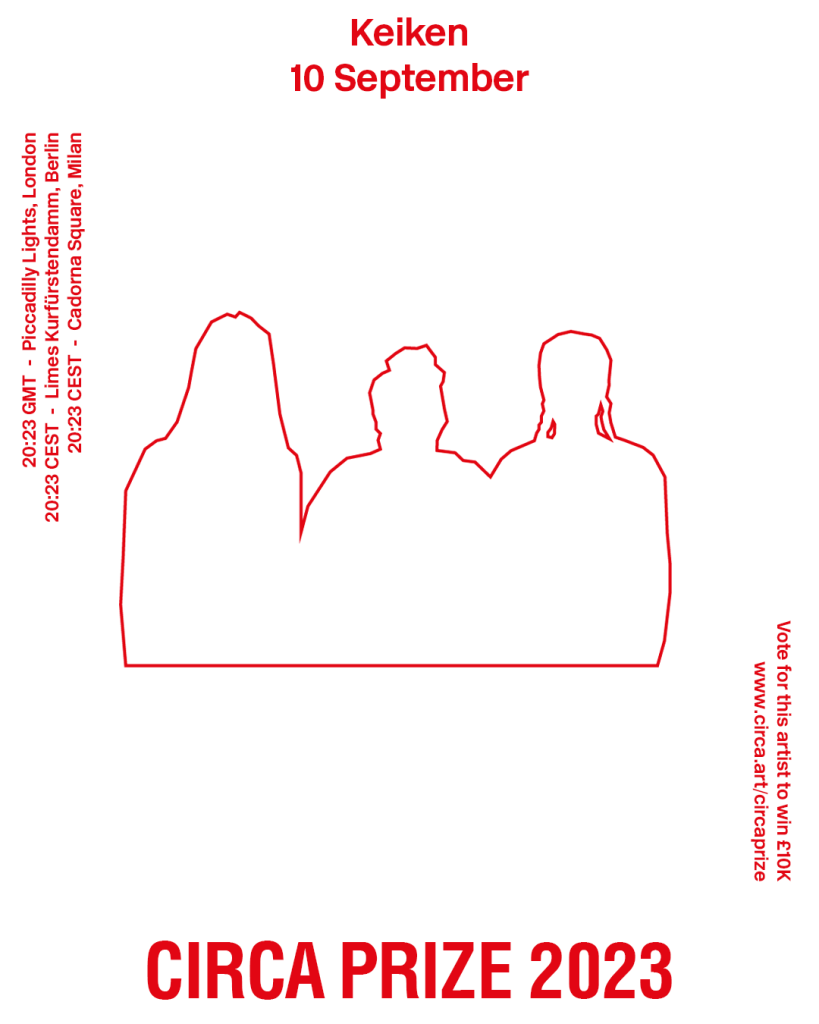 Vote for this artist