Press release: Pussy Riot, Nadya Means Hope

CIRCA 20:23 CELEBRATES INTERNATIONAL WOMEN'S DAY WITH PUSSY RIOT CREATOR
NADYA TOLOKONNIKOVA 

Press Release
(Piccadilly Circus, London) 3 March, CIRCA 20:23 ➳ The Cultural Institute of Radical Contemporary Arts (CIRCA) presents a new work by renowned women's rights activist Pussy Riot (Nadya Tolokonnikova). Launching on London's Piccadilly Lights (8 March – 5 April 2023) and broadcasting across a global network of digital billboard screens in Tokyo and Berlin, Nadya Means Hope coincides with an all-female-identifying auction which will support sexual and reproductive health and rights organisations, including Planned Parenthood Federation of America.
Influenced by the landmark overturning of Roe v. Wade on 24 June 2022 – a historic Supreme Court decision which had granted women the right to an abortion in the United States since 1973 – Tolokonnikova responds to the CIRCA 20:23 manifesto 'Hope: The Art of Reading What Is Not Yet Written'. With the name Nadya or Nadezhda meaning "hope" in many Slavic languages, the punk icon sparks a global conversation surrounding patriarchy at a time when women's rights are being challenged all over the world.
Pussy Riot (Nadya Tolokonnikova), notes  ➳ "The pain of so many reverberates across the globe – women in the USA watch their granddaughters born with less rights than they themselves had, brave protestors in Iran facing death and jail, and the endless atrocities in Ukraine. 
But in this violent crescendo of suffering, can we as humanity begin to trust to hope, or has it truly forsaken us?
I see the bravery of young women in Iran, of the entire unbreakable spirit of the nation and people of Ukraine, of young activists who continue to fight. 
For the aggressors, I wish them no hope, only oblivion… may hope be the exclusive boon for those that fight on the side of truth, of justice and of peace."
Characteristically dressed in a white balaclava, Tolokonnikova stares definitely into the camera before striking a match and lighting the tip of an Eggplant emoji (🍆) candle sculpture in the video. The new 2.5-minute video work created especially for CIRCA 20:23 arrives 11 years after Nadya was sentenced to two years in prison for performing a punk prayer in protest against the Russian Orthodox Church's support for Vladimir Putin, and voicing strong feminist lyrics.
In March 2022, Tolokonnikova helped raise $7.1 million for Ukraine relief with the sale of a 1/1 NFT depicting the Ukraine flag. Twelve months later, building on her commitment to creating art that challenges existing power structures, promotes gender equality, and celebrates the diverse experiences and perspectives of women, the purple wax candle sculpture titled Fragile Masculinity Genesis will be auctioned at Sotheby's as part of the online sale 'My Body My Business' (7 – 11 March).
Marina Abramović comments ➳ "I couldn't be happier to see Nadya and CIRCA collaborate. I support every woman's decision regarding planning parenthood."
Curated by Tolokonnikova and featuring donated works from Jenny Holzer and Marina Abramović, the auction coincides with Planned Parenthood and Endaoment's recently launched PPFA.eth – a wallet that will enable donors to direct their crypto donations to support the fight to ensure that people have access to the care and resources they need to make informed decisions about their bodies, their lives, and their futures.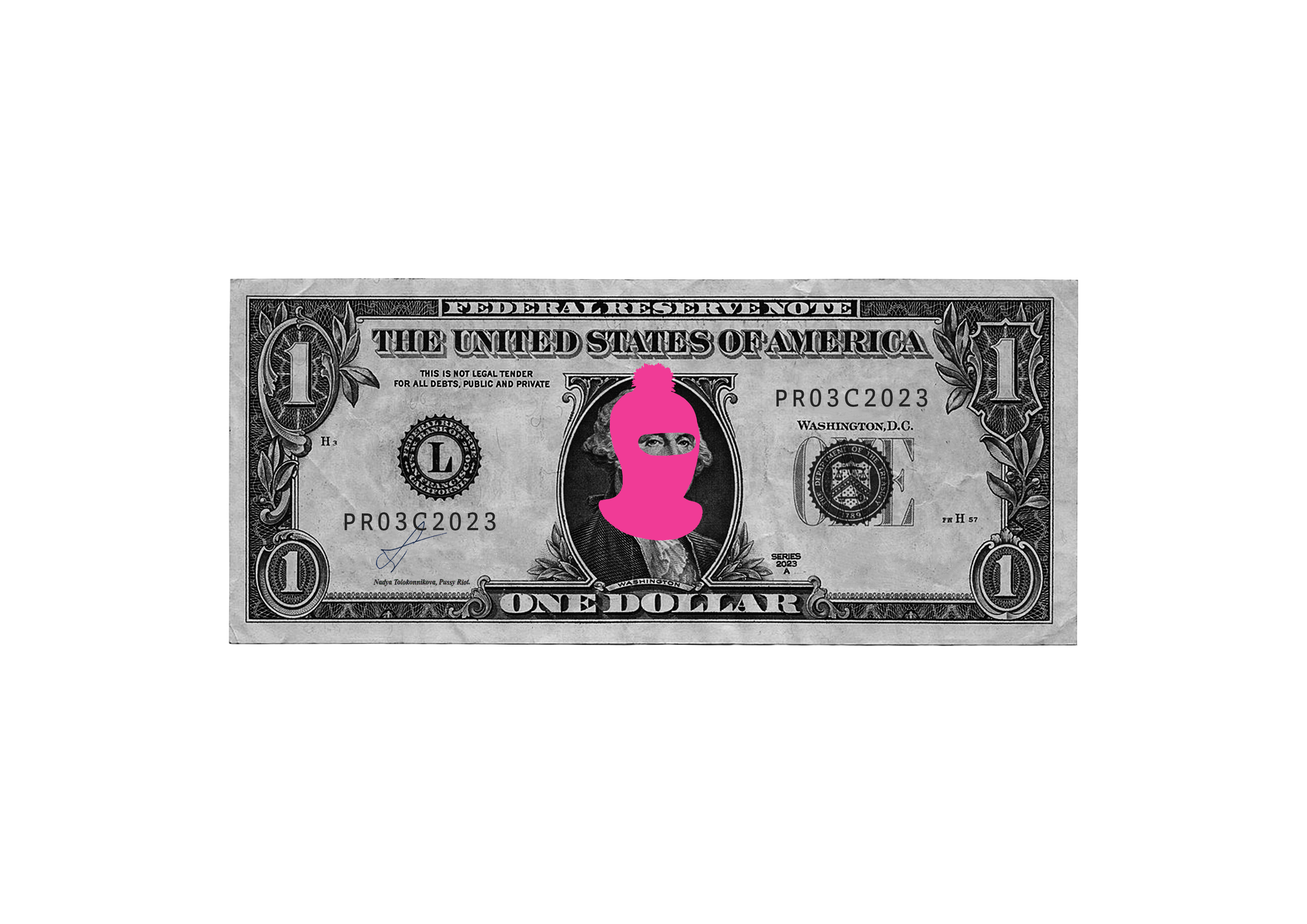 #CIRCAECONOMY PRINT SERIES
CIRCA has collaborated with Pussy Riot (Nadya Tolokonnikova) to develop a series of hand-signed prints featuring seven male faces on US paper notes disguised anonymously in balaclavas. A woman has not been featured on US paper money in over 100 years since Martha Washington's portrait was featured on the one silver dollar note in the 1880s and 90s. There are currently seven bills in circulation $1, $2, $5, $10, $20, $50 and $100 – all featuring men, and each one a symbol of the patriarchy. Each screen print in the PU$$Y RIOT series will display a different paper note and coloured balaclava. Proceeds will support the #CIRCAECONOMY – a circular model that funds the CIRCA free public art programme and creates life-changing opportunities for the wider creative community. Visit CIRCA.art for more information.

NOTES TO EDITORS
CIRCA 20:23 MARCH PROGRAMME
Nadya Means Hope by Pussy Riot (Nadya Tolokonnikova)
8 March – 5 April, CIRCA 20:23
20:23 GMT ➳ London, Piccadilly Lights
20:23 CET ➳ Berlin, Limes, Kurfürstendamm
20:23 JST ➳ Tokyo, Shibuya Crossing (13-19 March)
CIRCA MAP OF GLOBAL SCREENINGS

ABOUT NADYA TOLOKONNIKOVA
Nadezhda "Nadya" Andreyevna Tolokonnikova is a Russian musician, conceptual artist, author and political activist. She is a founding member of the anarchist feminist group Pussy Riot and has a history of political activism with the street art group Voina. Her staunch activism in her home country of Russia saw her imprisoned in 2012 following a work of political performance art inside the Moscow Cathedral of Christ the Saviour. Throughout her career, she has published books, written essays, released music and fought against corruption and human rights violations.​​ Co-founder of the independent news service and media outlet, Mediazona, she has spoken before the US Congress, British Parliament and European Parliament. Awards include Time magazine, Women of the Year, 2012; LennonOno Grant for Peace, 2012; The Guardian, Best Art of the 21st Century, for 2012; The Punk Prayer political art piece, in 2019; and OutRight Action International Outstanding Award for her effort raising $7M in donation for Ukraine with the NFT Project Ukraine DAO, 2022. (www.instagram.com/nadyariot)
ABOUT CIRCA
The Cultural Institute of Radical Contemporary Arts (CIRCA) is a digital art and culture platform with a purpose. Every evening at 20:23, CIRCA stops the clock across a global network of public screens and mobilises the world's greatest creative minds to broadcast unique works of art that consider our world, circa now. Driven by purpose, funds generated from artist print sales enable the #CIRCAECONOMY – a circular model that supports the CIRCA free public art programme whilst also creating life-changing opportunities for a global creative community. Since launching in October 2020 on London's Piccadilly Lights, CIRCA has distributed over £500,000 in cash grants, scholarships and donations.
Previous CIRCA commissioned artists include Ai Weiwei, Cauleen Smith, Eddie Peake, Anne Imhof, Patti Smith, Tony Cokes, Emma Talbot, Vivienne Westwood, Yoko Ono, Marina Abramović, James Barnor, David Hockney, Cassandra Press, Shirin Neshat, Dalai Lama and more. (www.circa.art)
SUPPORTERS
CIRCA has been made possible by Landsec, landlord of Piccadilly Lights. This March, we are especially grateful to our global screening partners for their support of our free public art programme.

CIRCA would especially like to thank Nadya Tolokonnikova, Chanel Verdult and her team for their trust and support.
SOCIAL MEDIA
Instagram ➳ @nadyariot | @circa.art
Twitter ➳ @circa__art
Facebook ➳ @circa.art.fb

#NADYAMEANSHOPE
#PUSSYRIOT
#CIRCA2023
PRESS
To preview the film, click here.
To download the media pack, click here.
For press enquiries, please contact:
Svetlana Leu | svetlana@circa.art
For more on Pussy Riot and Nadya Tolokonnikova, please contact:
Gold Atlas | Inge Colsen |  inge@goldatl.as