Press release: Koo Jeong A, Odorama Cities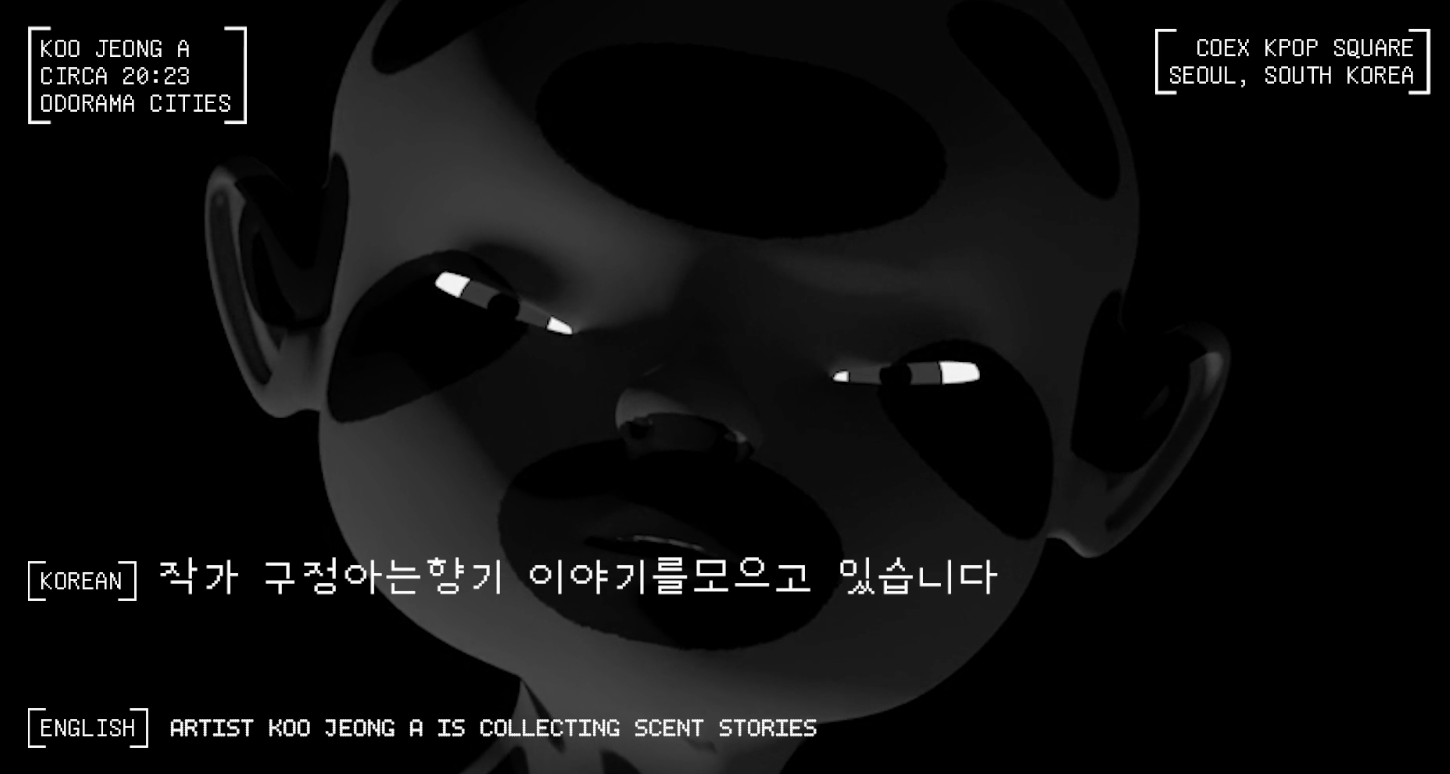 CIRCA PRESENTS ODORAMA CITIES BY INTERNATIONALLY ACCLAIMED SOUTH KOREAN ARTIST, KOO JEONG A

Press release
(Seoul, South Korea) 6 September, CIRCA 20:23 ➳ Launching tonight at 20:23 KST, CIRCA presents Odorama Cities, a new video work by internationally acclaimed Korean artist Koo Jeong A, inviting audiences to share Smell Stories of their city or hometown which will contribute to an installation for the 60th Venice Art Biennale. 
Coinciding with Frieze Seoul, 3D animations will be shown across four screens in the Gangnam District, broadcasting for three minutes each evening at 20:23 local time until 30 September 2023. Audiences will be encouraged to scan a QR code and submit Smell Stories on the CIRCA.ART website that will inspire a new fragrance which will be unveiled at the 60th Venice Art Biennale in 2024, where Koo Jeong A will present 'Odorama Cities' at the national Korean Pavilion.
Koo Jeong A will transform the Korean Pavilion into an immersive Korean scent journey that features smells which represent different rural areas, towns, and cities in South and North Korea. The Pavilion will create a captivating environment of intimacy, and through this scent journey make a national portrait of the Korean peninsula. 
Josef O'Connor, Founder & Artistic Director, CIRCA, said ➳ "Koo's work emphasises a poetic mundaneness that seduces the viewer to look closer.. 'Odorama Cities' captures this contemplation on human perception through both the archiving and creation of scent. In celebration of her upcoming commission at the 60th Venice Art Biennale, CIRCA is honoured to collaborate in extending this invitation to the Korean public to contribute towards the creation of this new fragrance."
Odorama Cities by Koo Jeong A coincides with the second edition of Frieze Seoul, which takes place 6 – 9 September 2023. Discover how to share your #SmellStory here.

NOTES TO EDITORS
SOUTH KOREA SEPTEMBER PROGRAMME
Odorama Cities by Koo Jeong A
6 – 30 September, 20:23 KST
➳ COEX K-Pop Square, Samsung Station 6 gate, Samseong-dong, Yeongdong-daero
➳ Gangnam Station 11 gate , Gangnam-daero, Gangnam-gu
➳ 90, Namdaemun-ro, Jung-gu
➳ 50, Eulji-ro, Jung-gu

ABOUT KOO JEONG A
Born in 1967, Seoul, Koo Jeong A is internationally acclaimed for her poetic interventions into pre-existing spaces, which were once described as "signposts to the inaccessible" that make the space "soul" visible. In her practice, architectural elements such as walls, door sills, and windows are combined with texts, drawings, paintings, sculptures, films, and installations, also scent, temperature, and sound like invisible elements, play a significant role in many of her works.
To Koo, art functions as a transformer that constantly incites the surprise of discovery, audience involvement, extending towards an unstoppable state of dynamism that is always oscillating, trembling, and vibrating. Koo Jeong A creates and masters both small intimate experiences and large scale impressive works – like the Glow-in-the-dark Skatepark series – but her minimal and conceptual approach is always elegant, engaging, aesthetically pleasing and most importantly it is thought provoking. Through the installations she engages audiences, and triggers their senses in multiple ways like no other artist.  (koojeonga.com)
ABOUT CIRCA
The Cultural Institute of Radical Contemporary Arts (CIRCA) is a digital art and culture platform with  purpose. Every evening at 20:23, CIRCA stops the clock across a global network of public screens and mobilises the world's greatest creative minds to broadcast unique works of art that consider our world, circa now. Driven by purpose, funds generated from artist print sales enable the #CIRCAECONOMY – a circular model that supports the CIRCA free public art programme whilst also creating life-changing opportunities for a global creative community. Since launching in October 2020 on London's Piccadilly Lights, CIRCA has distributed over £500,000 in cash grants, scholarships and donations.
Previous CIRCA commissioned artists include Ai Weiwei, Cauleen Smith, Eddie Peake, Anne Imhof, Patti Smith, Tony Cokes, Emma Talbot, Vivienne Westwood, Yoko Ono, Marina Abramović, David Hockney, Cassandra Press, Shirin Neshat, Frank Bowling, Dick Jewell and more. (circa.art)
SUPPORTERS
CIRCA has been made possible by Landsec, landlord of Piccadilly Lights. We are especially grateful to our global screening partner CJ CGV for their continued support of our free public art programme in Seoul. 
SOCIAL MEDIA
Instagram ➳ @koojeonga | @circa.art
Twitter ➳ @circa__art
Facebook ➳  @circa.art.fb

#KOOJEONGA
#CIRCA2023
PRESS
To download the media pack, click here.
For press enquiries, please contact:
Svetlana Leu | svetlana@circa.art