Press Release: Gilbert & George, The Believing World
Press release
ART FOR ALL! CIRCA CELEBRATES THREE YEARS OF INVESTING IN THE FUTURE OF
ART AND CULTURE WITH NEW LIVING SCULPTURE BY GILBERT & GEORGE
(Piccadilly Circus, London) 2 October ➳ Marking its three-year anniversary, CIRCA presents The Believing World, a specially commissioned 'living sculpture' by Gilbert & George. Broadcasting for five minutes every evening at 20:23 (local time) on the world's most iconic screen, Piccadilly Lights, and broadcasting across the CIRCA platform in Berlin, Seoul, Tokyo and Los Angeles, the global takeover celebrates their famous motto, 'Art for All', as a universal language, from 2 – 31 October 2023.
Gilbert & George said, ➳ "Gilbert & George on Piccadilly – don't tell mother!"
Presented in collaboration with The Gilbert & George Centre — a free to enter exhibition space for their art and the artist's gift to the community of London — The Believing World was filmed in the nearby courtyard of their 18th-century home and studio, situated in the Brick Lane and Fournier Street Conservation Area. In characterful style and coordinated suits, the starring characters of their art are filmed reading aloud 144 hand-written statements. Deploying cryptic, fragmentary assertions, they reveal how lies and belief simultaneously play widely divergent roles in our daily lives—as the source of our identities, as a naive weakness, and as the wellspring of hope for the future. "Belief is beautiful. Believers are wankers," it begins. "Belief is shit. Belief can help."
Bringing their characteristically playful 'living sculpture' to Piccadilly Circus' iconic screen, Gilbert & George played homage to the grid formation used in many of their best-known works, while mimicking the subdivided geometry of Piccadilly Lights' iconic advertising space through its history, with this multi-angle 'video sculpture' combining three camera frames to create one unique perspective.
Reinforcing the friendship between the viewer and their vibrant catalogue of pictures, this October commission begins with a cosmic time-walk-through Gilbert & George's path-breaking oeuvre to celebrate their position as one of the city's most iconic Londoners.
Sir Norman Rosenthal, CIRCA Council Chairman, says ➳, "For well over half a century, Gilbert & George have made constantly startling images that, once seen, remain forever in the mind. Like Hogarth, their work focuses on London, and, for virtually all their lives, the East End of London, as the centre of the world from where they investigate 'truth' in all its multifaceted forms. They have built up an unparalleled vision of modern life. Here, in this new work created especially for CIRCA, they give us a "video sculpture" that questions the nature of BELIEF that gives rise endlessly to prejudice and misunderstanding—but also to comfort. Like all their work, but in an utterly new way, it shows them asking universal and uncomfortable questions, here sitting together side by side on a garden bench."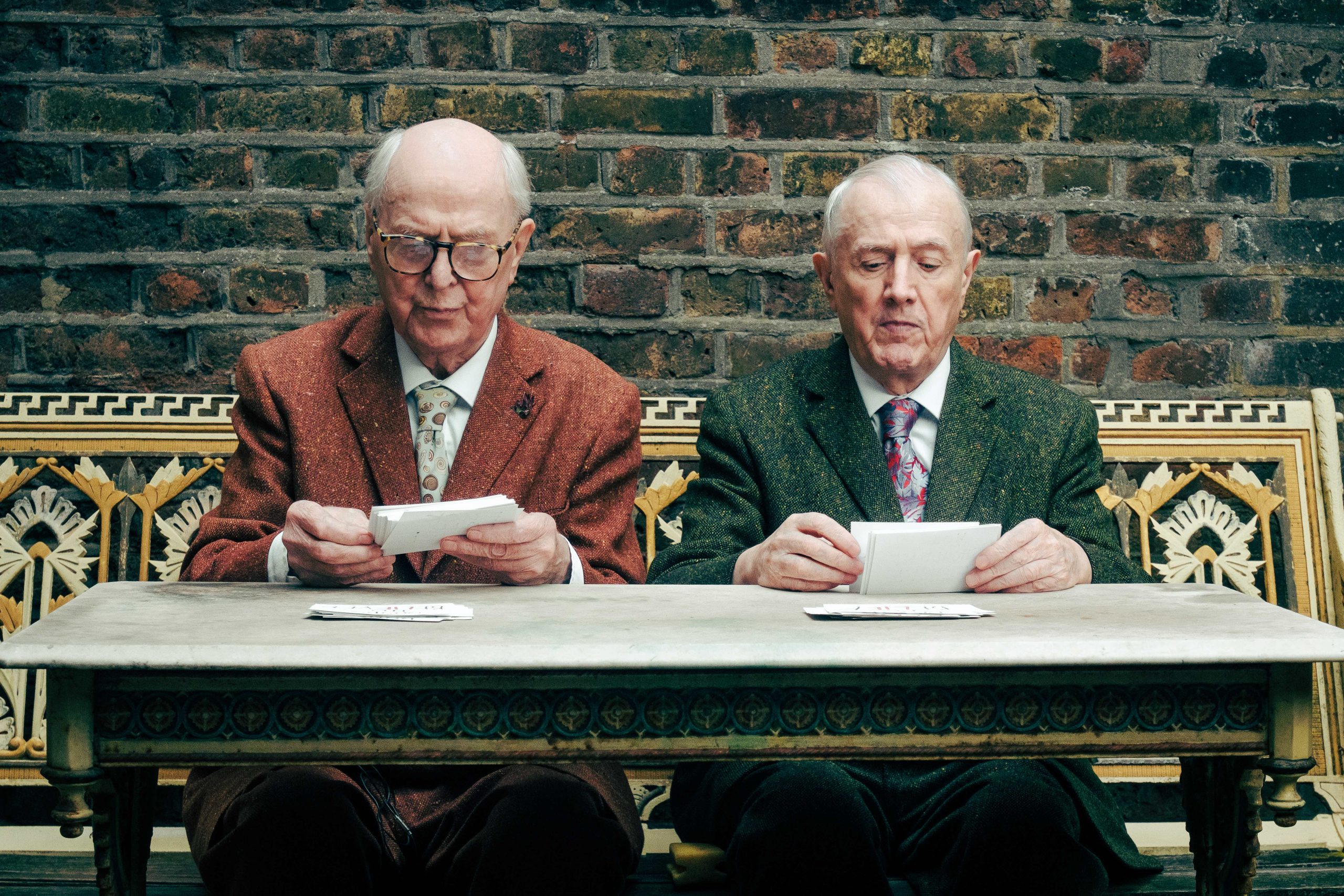 In recognition of the London Creates campaign, led by a collective of leaders from across London's visual arts and creative industries to support London's place as a world leading creative capital, CIRCA will present its longest ever nightly takeover. Pausing the adverts on the iconic Piccadilly Lights for five minutes every evening, the 'living sculpture' will also appear at 20:23 (local time) across the CIRCA global network of screens in Berlin, Los Angeles, Tokyo and Seoul. Sharing their message on the world stage, The Believing World coincides with a new trophy designed by CIRCA 20:20 artist, Ai Weiwei, being awarded to the winner of the £30,000 CIRCA PRIZE 2023 on Monday 9 October at 8pm in Piccadilly Circus.
Josef O'Connor, Founder and Artistic Director of CIRCA, said, ➳ "Since meeting on the advanced sculpture course at St. Martins School of Art in 1967, Gilbert and George have embodied the spirit of what it means to be a Londoner. Created in collaboration with CIRCA, this new 'video sculpture' reveals the tumultuous now, in a collision of feeling and experience, romance and reality, playtime and confession. We are honoured to mark our three-year anniversary of Investing in the Future of Art and Culture' by collaborating with The Gilbert and George Centre and echoing our shared belief that art serves as a universal language for all."
NOTES TO EDITORS
OCTOBER 2023 PROGRAMME
The Believing World by Gilbert & George (1 – 31 October, 2023)
20:23 BST/GMT ➳ London, Piccadilly Lights
20:23 CET ➳ Berlin, Limes, Kurfürstendamm
20:23 KST ➳ Seoul, COEX K-Pop Square
20:23 PST ➳ Los Angeles, StandardVision
20:23 JPY ➳ Tokyo, Shibuya TV
To view the map, click here
ABOUT GILBERT & GEORGE
Gilbert & George have created art together since 1967 when they met at Saint Martin's School of Art in London and decided that their art should be understood as emerging from a single source. Theirs would be, in their words, 'art for all', in contrast to what they saw as the overly cerebral and elitist Minimalist and Conceptual work that was dominant at the time. In practical terms, this has resulted in a rich body of art defined by its focus on the world we live in from the perspective of the windows of the artists' homes in the multi-layered, diverse culture of Spitalfields, as well as their attitudes to the human being, sex, religion, race, money and death.
Gilbert & George's art encompasses charcoal on paper, sculpture and films, but their best-known works are large-scale, highly coloured pictures. This format developed from similar early pictures, which were mostly executed in black and white. With brief or single-word titles, usually included in bold capital letters within the picture, these images are direct and highly graphic explorations of life in the late 20th and early 21st centuries.
Gilbert & George have exhibited internationally since 1970. They were awarded the Turner Prize in 1986, represented the UK at the 2005 Venice Biennale and were the subject of a large retrospective, titled Major Exhibition, at Tate Modern, London, in 2007. More recently, their art has been the subject of solo exhibitions at institutions including Luma Westbau and Kunsthalle Zürich (both 2020); Moderna Museet, Stockholm (2019); Metropolitan Arts Centre, Belfast (2018); Ludwig Museum of Contemporary Art, Budapest (2017); The Museum of Modern Art, New York (2015); Nouveau Musée National de Monaco (2014); Lentos Kunstmuseum, Linz (2010); and Brooklyn Museum of Art, New York (2008), among others. (gilbertandgeorgecentre.org) 
ABOUT GILBERT & GEORGE CENTRE
Launched in March 2023, The Gilbert & George Centre, located in the heart of Spitalfields in London's East End, comprises three state-of-the-art exhibition spaces over three levels of differing scale and feel. Founded by Gilbert & George to create a permanent exhibition space for their art and legacy and to enrich London's cultural offering, it is the artist's gift to the community of London.
In the words of Gilbert & George, "London is such a changing global population every day, and if somebody comes from Venezuela or from Wolverhampton, there will be a place in London where they can see our pictures, and for everyone to convene from across the world to see the art of Gilbert & George."
The inaugural exhibition at The Gilbert & George Centre is 'THE PARADISICAL PICTURES', exhibited in London for the first time. Gilbert & George take their place in this disquieting vision of a heavenly place in a manner resembling physical reports or transmissions from a journey deep into an enchanted forest or overgrown park. It is as though a psychedelic landscape, more given to poetic realism and Arthurian legend, had secretly envisioned science fiction.
The Centre, a registered charity, is committed to being accessible to everyone and does not intend on maintaining the gallery at a ticket price – in keeping with Gilbert & George's vision of an 'Art for All'. Open Thursday to Sunday from 11am – 6pm. (gilbertandgeorgecentre.org)
LONDON CREATES CAMPAIGN
The campaign is led by a collective of leaders from across London's visual arts and creative industries and includes Justine Simons OBE, London's Deputy Mayor for Culture and the Creative Industries, Dylan Jones OBE Editor-in-Chief, Evening Standard and Jane Boardman CEO M&C Saatchi Talk. The London Creates communications strategy and branding and has been created by M&C Saatchi London. 
ABOUT CIRCA
Every evening at 20:23, CIRCA stops the clock across a global network of public screens and mobilises the world's greatest creative minds to broadcast unique works of art that consider our world, circa now. Funds generated from artist print sales enable the #CIRCAECONOMY – a circular model that supports the CIRCA free public art programme whilst also creating life-changing opportunities for a global creative community. Since launching in October 2020 on London's Piccadilly Lights, CIRCA has distributed over £700,000 in cash grants, scholarships and donations.

Previous CIRCA-commissioned artists include Ai Weiwei, Cauleen Smith, Eddie Peake, Anne Imhof, Patti Smith, Tony Cokes, Emma Talbot, Vivienne Westwood, Yoko Ono, Marina Abramović, David Hockney, Cassandra Press, Shirin Neshat, Frank Bowling, Gilbert & George, and more. (circa.art)
CIRCA SUPPORTERS
CIRCA is especially grateful to Gilbert & George, Julia Peyton Jones, Thaddaeus Ropac, White Cube, Lehmann Maupin, Sprüth Magers, Yu Yigang, Daniel Saward and everyone from The Gilbert & George Centre for their passion and support of this special October commission. 
The CIRCA free public art programme has been made possible by Landsec, landlord of Piccadilly Lights, London, and our global screening partners in Berlin (Limes OOH), Los Angeles (StandardVision), Tokyo (Neo Shibuya TV), and Seoul (COEX K-Pop Square). 
SOCIAL MEDIA
Instagram ➳ @gilbertandgeorgecentre | @circa.art
Facebook ➳  @circa.art.fb
X ➳ @circa__art

#GILBERTANDGEORGE
#CIRCA2023
#LONDONCREATES
PRESS
To watch the film, click here
To download the media pack, click here
For press enquiries, please contact: press@circa.art