Press release: David Hockney, Glastonbury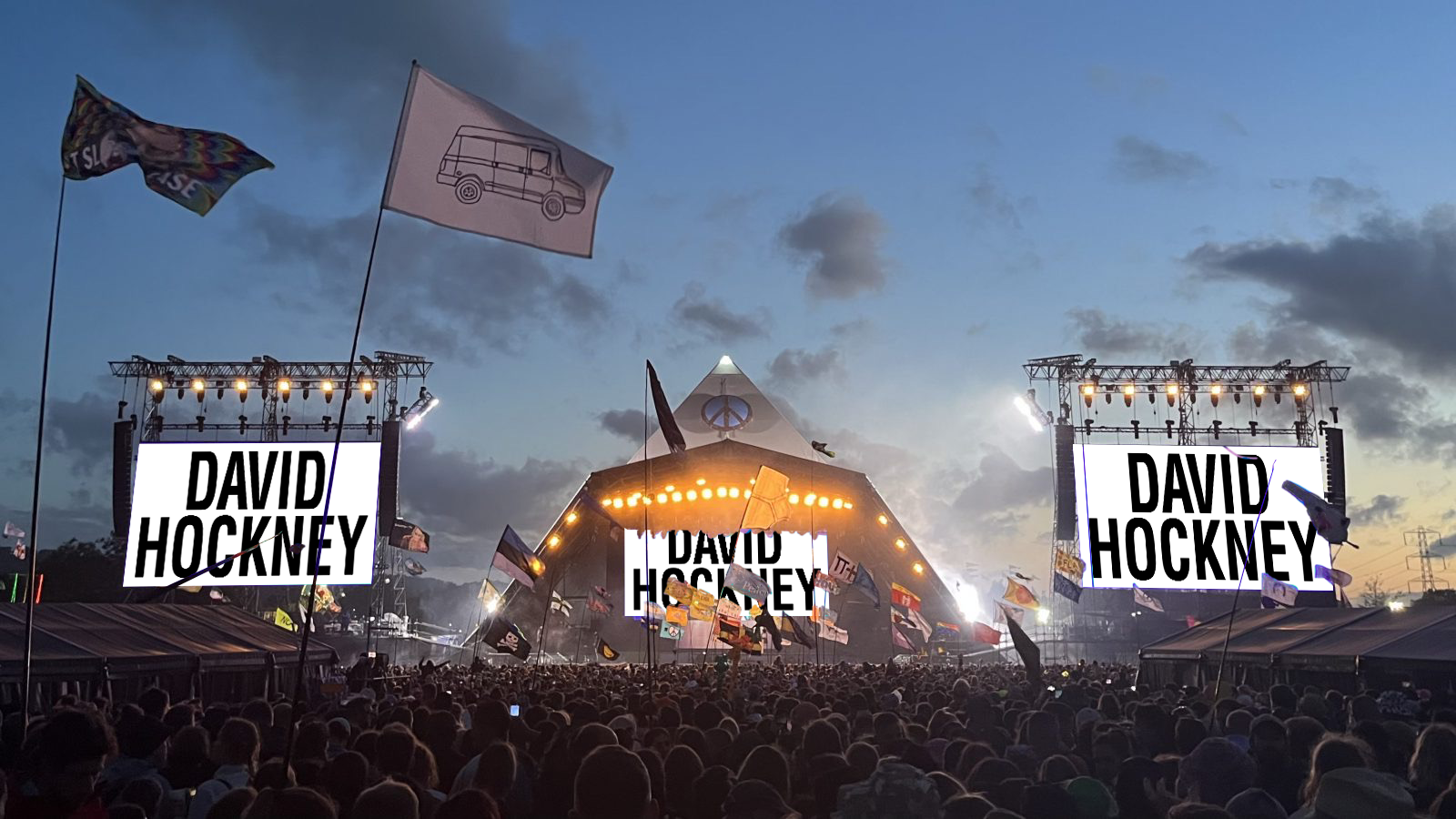 CIRCA PRESENTS NEW DIGITAL WORK BY DAVID HOCKNEY ON THE MAIN STAGE AT GLASTONBURY FESTIVAL
23 – 25 JUNE, CIRCA 20:23
(Piccadilly Circus, London) 22 June, CIRCA 20:23 ➳ CIRCA is proud to present a new digital artwork at Glastonbury Festival by the iconic British painter, David Hockney, launching 6pm on Friday, 23 June, on the Pyramid Stage screens.
Incorporating AI (Artificial Intelligence) into his practice for the first time, Hockney collaborated with CIRCA to remove the figures from his acrylic painted series The Dancers (2014), replacing them with an empty, computer-generated landscape. Created by the celebrated artist on his iPad in Normandy, France, the new 1-minute video titled, I LIVED IN BOHEMIA BOHEMIA IS A TOLERANT PLACE recalls the work of Matisse. Continuing from their first collaboration in May 2021, when a global network of billboard screens in six major cities presented his digital sunrise, Hockney's second collaboration with CIRCA will transform the Glastonbury Festival stage – with a combined audience of over 20 million live streams worldwide – to promote ideals of togetherness and Bohemianism.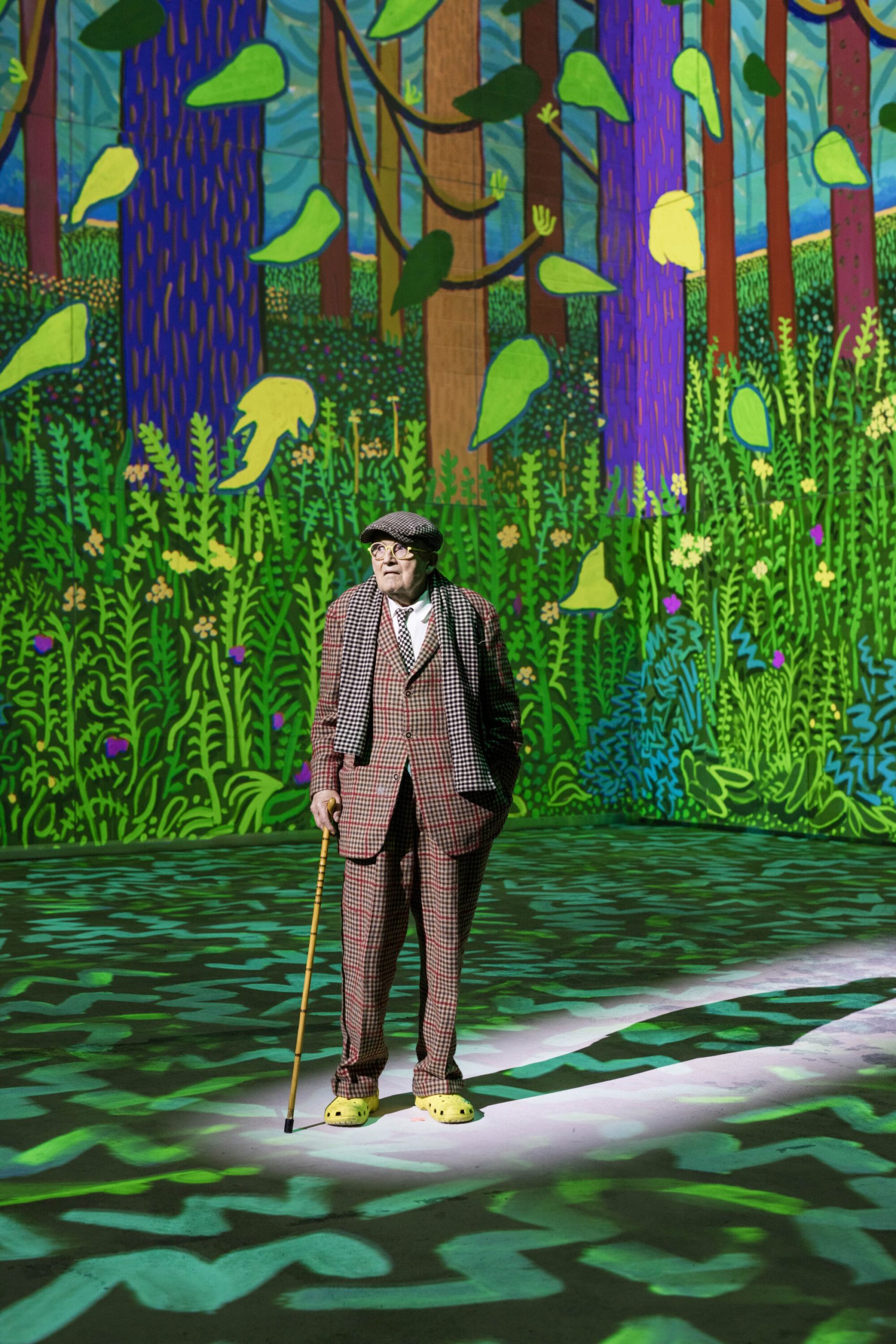 Curated by Josef O'Connor, the new digital AI work extends Hockney's sixty-year search for new ways to consider perspective, part of which, he says, has involved an inquiry into the relationships between media. "It's been one hundred years since perspective was last discussed, with Cubism. I suppose now that things are being generated by robots, we have to look even closer with entirely fresh eyes."
Emily Eavis, Co-organiser of Glastonbury Festival, comments  ➳ "Really cannot believe that we have the living legend that is David Hockney creating these wonderful paintings for our stages this year. We are truly honoured to show this work for the first time immediately before our very special guests on the Pyramid Stage this evening, and then across our main stages over the weekend. Thank you to CIRCA for bringing this fantastic project to life."
Josef O'Connor, Founder and Artistic Director of CIRCA, comments ➳ "David Hockney and Glastonbury is a match made in heaven. Following our global sunrise in 2021, CIRCA is honoured to collaborate once again with the iconic British artist and reach new audiences with the presentation of this new digital-AI work on the equally iconic Pyramid Stage. We're proud to promote bohemia's unconventional ideas and celebrate notions of hope and togetherness that are echoed in this new work."

NOTES TO EDITORS
ABOUT DAVID HOCKNEY
David Hockney (b. 1937) is one of the world's most influential and celebrated living artists. From the 1960s, when he first burst onto the art scene in London, he has remained a significant force in the art world, not only for his paintings, drawings and printmaking but also for his interrogation of photography and new media in addition to stage design. Long associated with recording life in Los Angeles, the past two decades have seen a re-engagement with the European landscape and the natural world.
In 2008, David Hockney began expanding his practice from a decades-long reliance on analogue mediums to that of digital drawings. What began with a stylus on a computer, then his thumb on an iPhone quickly shifted to complex compositions on the newly released iPad: "There was great advantage in this medium because it's backlit and I could draw in the dark. I didn't ever have to get out of bed," (www.hockney.com)
ABOUT CIRCA
The Cultural Institute of Radical Contemporary Arts (CIRCA) is a digital art and culture platform with a purpose. Every evening at 20:23, CIRCA stops the clock across a global network of public screens and mobilises the world's greatest creative minds to broadcast unique works of art that consider our world, circa now. Driven by purpose, funds generated from artist print sales enable the #CIRCAECONOMY – a circular model that supports the CIRCA free public art programme whilst also creating life-changing opportunities for a global creative community. Since launching in October 2020 on London's Piccadilly Lights, CIRCA has distributed over £500,000 in cash grants, scholarships and donations.
Previous CIRCA commissioned artists include Ai Weiwei, Cauleen Smith, Eddie Peake, Anne Imhof, Patti Smith, Tony Cokes, Emma Talbot, Vivienne Westwood, Yoko Ono, Marina Abramović, James Barnor, David Hockney, Cassandra Press, Shirin Neshat, Frank Bowling and more. (www.circa.art)
SUPPORTERS
CIRCA would especially like to thank David Hockney, his studio, Bolton & Quinn, Glastonbury Festival, Emily Eavis and Nick Dewey for their unwavering support of this historical presentation.
SOCIAL MEDIA
Instagram ➳ @circa.art ➳ @glastofest
Twitter ➳ @circa__art ➳ @glastonbury
Facebook ➳ @circa.art.fb ➳ @circa.art.fb
#DAVIDHOCKNEY
#CIRCA2023
PRESS
To download the media pack, click here.
For press enquiries, please contact:
Erica Bolton ➳ erica@boltonquinn.com
Svetlana Leu ➳ svetlana@circa.art