Press Release: Alfredo Jaar, Tonight No Poetry Will Serve
Press release
CIRCA PRESENTS A LAMENT FOR OUR DARK TIMES
BY LEADING CHILEAN ARTIST ALFREDO JAAR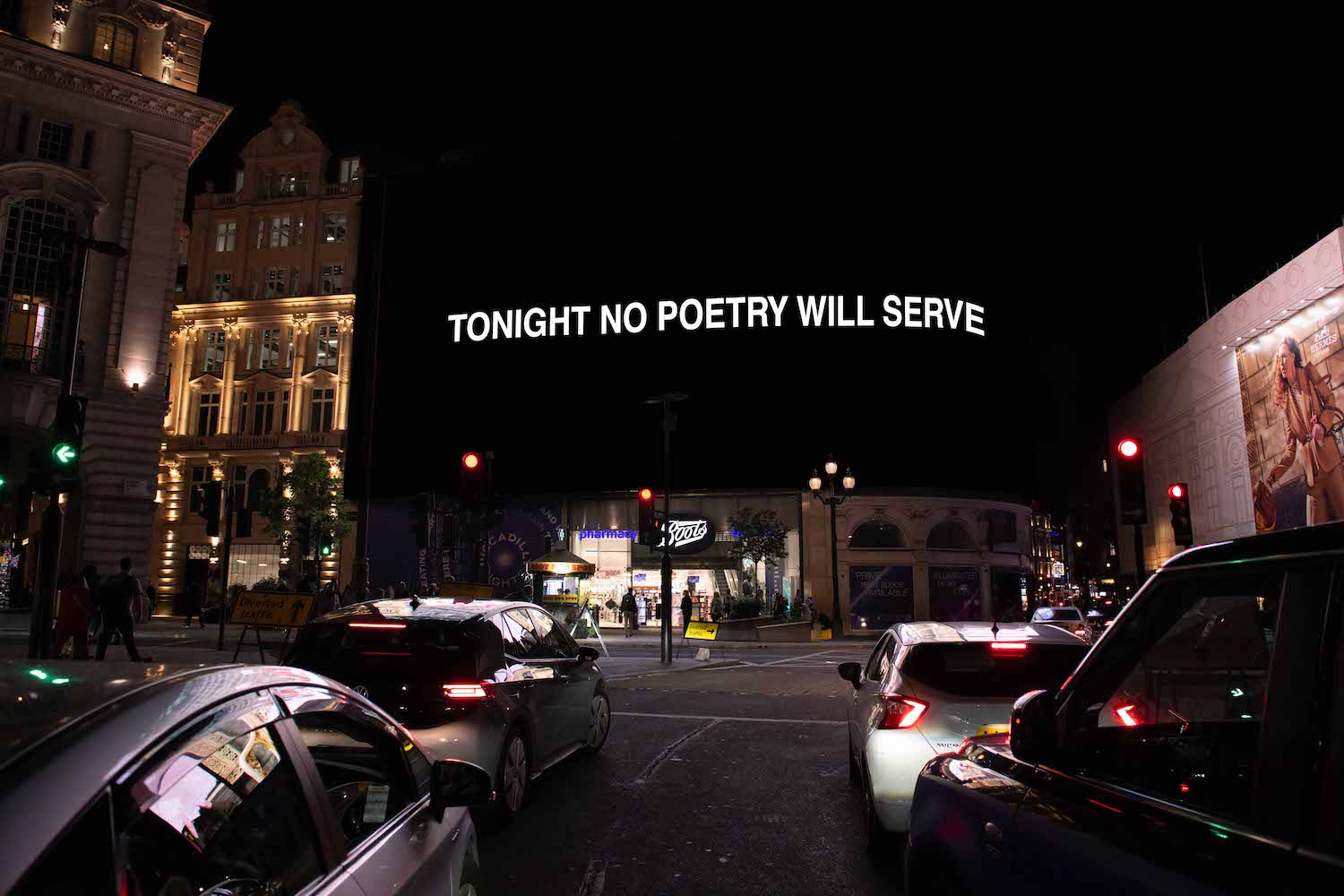 (Piccadilly Circus, London) 3 November ➳ CIRCA presents Tonight No Poetry Will Serve, a powerful reflection on the limits of language and the role of creative expression in times of tragedy by Chilean-born, New York-based artist Alfredo Jaar.
Launching tonight (3 November at 20:23GMT) on London's Piccadilly Lights, Jaar has developed a bold new public intervention he describes as a lament for today's darkness and a call to find the words to confront these tragic hours. The work displays the arresting title of a poem by Adrienne Rich (1929–2012), a figure of inspiration for Jaar since the 1980s, who observed the limits of words in times of unthinkable violence: "no poetry can serve to mitigate such acts, they nullify language itself," she wrote in 2011. Throughout November, CIRCA and Jaar will invite dialogue through poetic commissions from international writers and speakers to be published online. Giving voice to those who find themselves silenced or without words, the poems hope to achieve Rich's ambition that creative expression can reconcile conflicting realities.
Tonight No Poetry Will Serve confronts the harrowing loss of life the world is witnessing live on our screens since October 7. Throughout November, proceeds from the sale of a #CIRCAECONOMY print created by Jaar will be donated to Médecins Sans Frontières/Doctors Without Borders, an international humanitarian organisation providing medical and psychological assistance to people affected by the long-term conflict and occupation in Palestine and 75 other countries. Exclusivey available to purchase on CIRCA.ART until 30 November 2023 by clicking here.
Alfredo Jaar is the recent winner of the 11th Hiroshima Art Prize, which recognizes the achievements of artists who have made the greatest contribution to the peace of humanity in the field of art in order to spread understanding of the "Spirit of Hiroshima" throughout the world. He is an architect, filmmaker and conceptual artist whose four-decade career has tackled social injustice, humanitarian crises and polarization. This has included spotlighting self-censorship in his native Chile during the military dictatorship of Pinochet and raising public and political consciousness with his 6-year-long Rwanda Project about the 1994 Rwandan genocide.
Describing his project for CIRCA, the artist said: "Across the world, the public's shock and compassion for the victims of violence first in Israel on October 7th and in occupied Palestine for the last 27 days has been joined, for many, by feelings of impotence and rage that we cannot do more — and our leaders will not do more — to stop the bloodshed. Our demands for a ceasefire, even warnings by the resigned Director of the New York Office of the United Nations High Commissioner for Human Rights that we must act now to prevent a genocide in occupied Palestine, have resulted in speakers facing reprimand or censorship, rather than determined actions being taken to make peace.
We are going through a very repressive moment, when nuance is lost and free speech is threatened. But I strongly believe that the spaces of art and culture must remain spaces of freedom. Artists will not be intimidated. In this environment, I have turned to the words of anti-war campaigner and poet Adrienne Rich to reflect both the limits of language and the frustration felt by many that voices for peace and justice cannot sound out as clearly as we wish. And, as part of the CIRCA commission, I am turning to today's poets, writers, and artists, to support a forum for creative expression where the clear-sighted demands of humanity and empathy can be heard. In these times when politics have failed us miserably, art and culture are our only hope. Art is like the air we breathe, without art, life would be unlivable. Art creates spaces of resistance, spaces of hope."
Tonight No Poetry Will Serve is the latest in more than 100 interventions in public space that Jaar has made over 42 years. The singular statement is the result of Jaar's ambition to strip language to stark essentials, which has already produced his landmark A Logo for America, which lit up Times Square (1987) and also appeared on Piccadilly Lights (2016) as well as the Beckett-inspired I Can't Go On, I'll Go On (2016).
Josef O'Connor, Founder and Artistic Director of CIRCA, said, ➳ "CIRCA is honoured to present this powerful reflection on the world today by Alfredo Jaar — an artist who has shone a light on social injustice, humanitarian crises and polarization throughout his career. How can we find the words to express what is happening in the world today? We hope that by inviting voices in and sharing our platform, that we can listen and understand the suffering of others whilst raising vital funds for Doctors Without Borders/Médecins Sans Frontières. Art will not stop missiles. Poetry will not end human suffering. But culture is not powerless."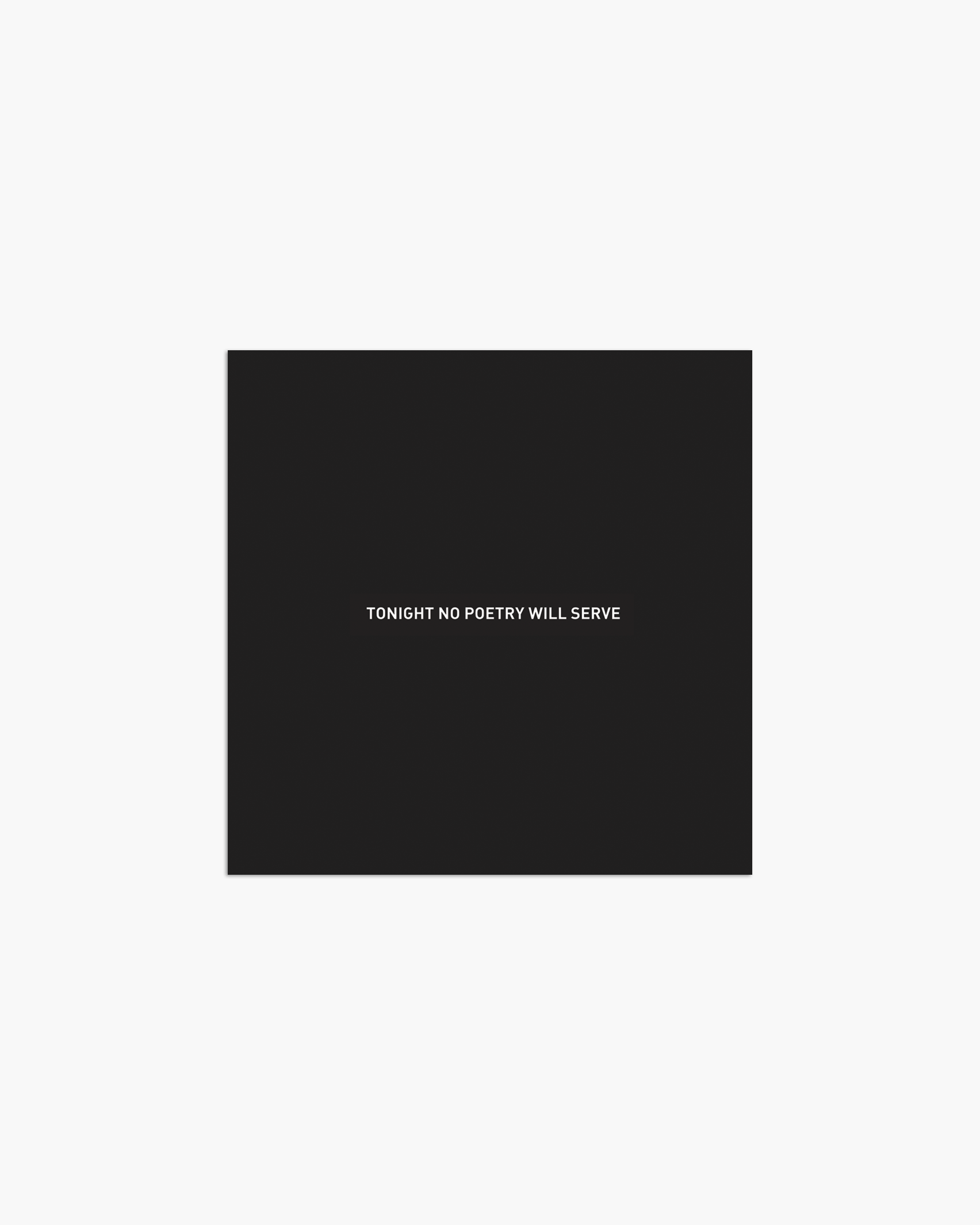 #CIRCAECONOMY PRINT
Throughout November, a time limited edition print by Alfredo Jaar is available on CIRCA.ART for £120+VAT. Proceeds will be donated to Médecins Sans Frontières/Doctors Without Borders, an international humanitarian organisation providing medical and psychological assistance to people affected by the long-term conflict and occupation in Palestine and 75 other countries. Available here.  
NOTES TO EDITORS
NOVEMBER 2023 PROGRAMME
Alfredo Jaar (3- 30 November, 2023)
 20:23 GMT ➳ London, Piccadilly Lights
20:23 CET ➳ Berlin, Limes, Kurfürstendamm
20:23 CET ➳ Milan, Cadorna Square
20:23 KST ➳ Seoul, COEX K-Pop Square
20:23 JPY ➳ Tokyo, Shibuya TV
To view the map, click here
ABOUT ALFREDO JAAR
Alfredo Jaar is an artist, architect, and filmmaker who lives and works in New York. His work has been shown extensively around the world. He has participated in the Biennales of Venice (1986, 2007, 2009, 2013), São Paulo (1987, 1989, 2010, 2021) as well as Documenta in Kassel (1987, 2002).
Major exhibitions this year were held at the Pinakothek der Moderne in Munich, the Hiroshima City Museum of Contemporary Art and the Museo Nacional de Bellas Artes in Santiago, Chile.
The artist has realized more than seventy five public interventions around the world. Over sixty five monographic publications have been published about his work. He became a Guggenheim Fellow in 1985 and a MacArthur Fellow in 2000. He received the Hiroshima Art Prize in 2018 and the Hasselblad Award in 2020.
His work can be found in the collections of The Museum of Modern Art and Guggenheim Museum, New York; Art Institute of Chicago and Museum of Contemporary Art, Chicago; MOCA and LACMA, Los Angeles; MASP, Museu de Arte de São Paulo; TATE, London; Centre Georges Pompidou, Paris; Nationalgalerie, Berlin; Stedelijk Museum, Amsterdam; Centro Reina Sofia, Madrid; Moderna Museet, Stockholm; MAXXI and MACRO, Rome; Louisiana Museum of Modern Art, Humlaebeck; MAK and MUMOK, Vienna; Hiroshima City Museum of Contemporary Art and Tokushima Modern Art Museum, Japan; M+, Hong Kong; MONA, Tasmania; and dozens of institutions and private collections worldwide.
ABOUT CIRCA
CIRCA is an art and culture platform with purpose. Every evening at 20:23, CIRCA pauses a global network of public advertising screens and mobilises the world's greatest creative minds to broadcast unique works of art that consider our world, circa now. Funds generated from artist print sales enable the #CIRCAECONOMY – a circular model that supports free public art whilst also creating life-changing opportunities for the wider community. Since launching in October 2020 on London's Piccadilly Lights, CIRCA has distributed over £700,000 in cash grants, scholarships and charitable donations.
Previous CIRCA-commissioned artists include Ai Weiwei, Cauleen Smith, Eddie Peake, Anne Imhof, Patti Smith, Tony Cokes, Emma Talbot, Vivienne Westwood, Yoko Ono, Marina Abramović, David Hockney, Cassandra Press, Shirin Neshat, and Frank Bowling, and more. (circa.art)
CIRCA SUPPORTERS
CIRCA is extremely grateful to Alfredo Jaar and his studio for supporting this urgent commission. 
CIRCA is an independent art and culture platform with purpose. Our global presence is made possible thanks to Landsec, landlord of Piccadilly Lights, and our global network of screening partners in Berlin (Limes OOH), Tokyo (Neo Shibuya TV), and Seoul (COEX K-Pop Square).

SOCIAL MEDIA
Instagram ➳ @circa.art
Facebook ➳  @circa.art.fb
X ➳ @circa__art

#ALFREDOJAAR
#TONIGHTNOPOETRYWILLSERVE
#CIRCA2023

PRESS
To watch the film, click here
To download the media pack, click here

For press enquiries, please contact: press@circa.art