Dick Jewell: War & Peace
By Kemi Alemoru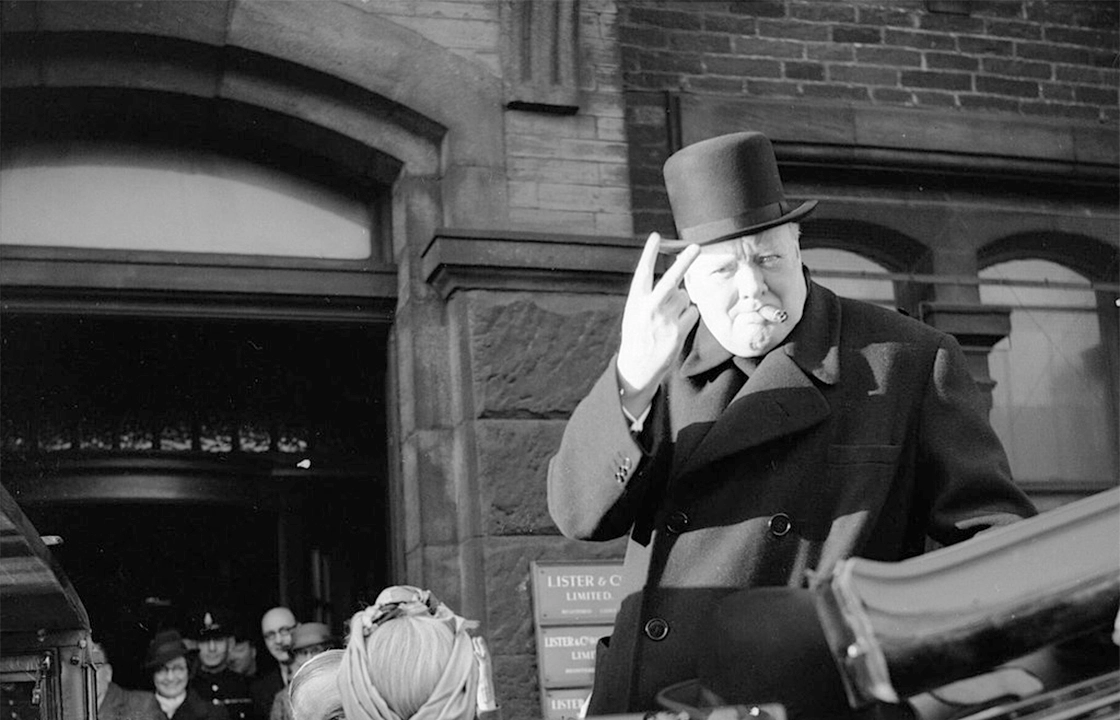 On 19 July 1941, Winston Churchill threw up his V for Victory – his index and middle finger spread apart while all his other fingers rested on his palm. The gesture spread as a rallying emblem for Europeans fighting Germany and its allies in the second world war. But if a driver were to overtake you today and stick two fingers up at you, you wouldn't receive that as a symbol of solidarity and peace. You'd be rightly insulted. 
When asked whether he minds whether passers-by throw their fingers up at his latest project, "War & Peace", which will be displayed by CIRCA this evening, Dick Jewell laughs. "There's a shot of me throwing them up backwards to Donald Trump," he says. "But that's a reflection of him throwing the same gesture."
Airing at 20:23 local time across the world in iconic locations like London's Piccadilly Lights, Berlin, Milan and Seoul, "War and Peace", originally a 36-foot collage, focuses on how simple gestures spread between people, across borders and shift over time. In his research, he found the symbol in many different contexts. "I was surprised to find a hippy Barbie doll, for one, and also by how many world leaders were still throwing two fingers one way or another. Like India's Manmohan Singh and Iran's Mahmoud Ahmadinejad, loved Saddam Hussein in particular in that respect, throwing the double Peace gesture," he explains. "But as for intrigue, one of my favourites is Viggo Mortensen with the fingers going into his neck. What is that about?" 
Though he has five decades of producing thought-provoking work crossing multiple disciplines (art, fashion, and music), Jewell is hesitant to use the word "career". He says he's really an artist "for my sanity", his driving force for creation being that it allows him to explore the world around him and to make sense of it. "I certainly don't look at art as a way to pay my rent or put food on the table." Jewell also believes that art can be a powerful tool for communication and understanding. The 71-year-old British artist and filmmaker is known for his work exploring the semiotics of popular culture. "I want to encourage people to look and think, you know?" he says. Initially, he was moved to look at the symbolism within advertising to lift the lid on how people were constantly being influenced. "I wanted to create work that you don't need a PhD in art to understand." 
It is this that makes Jewell the artist's artist. Currently teaching at the Royal College of Art, his passion for the craft is clear, and his work is critical and analytical of the world where he sits. He is the only artist that CIRCA has worked with so far that isn't repped by a gallery, and his approach seems to focus on raising public consciousness rather than fine-tuning his art to be sold to the highest bidder.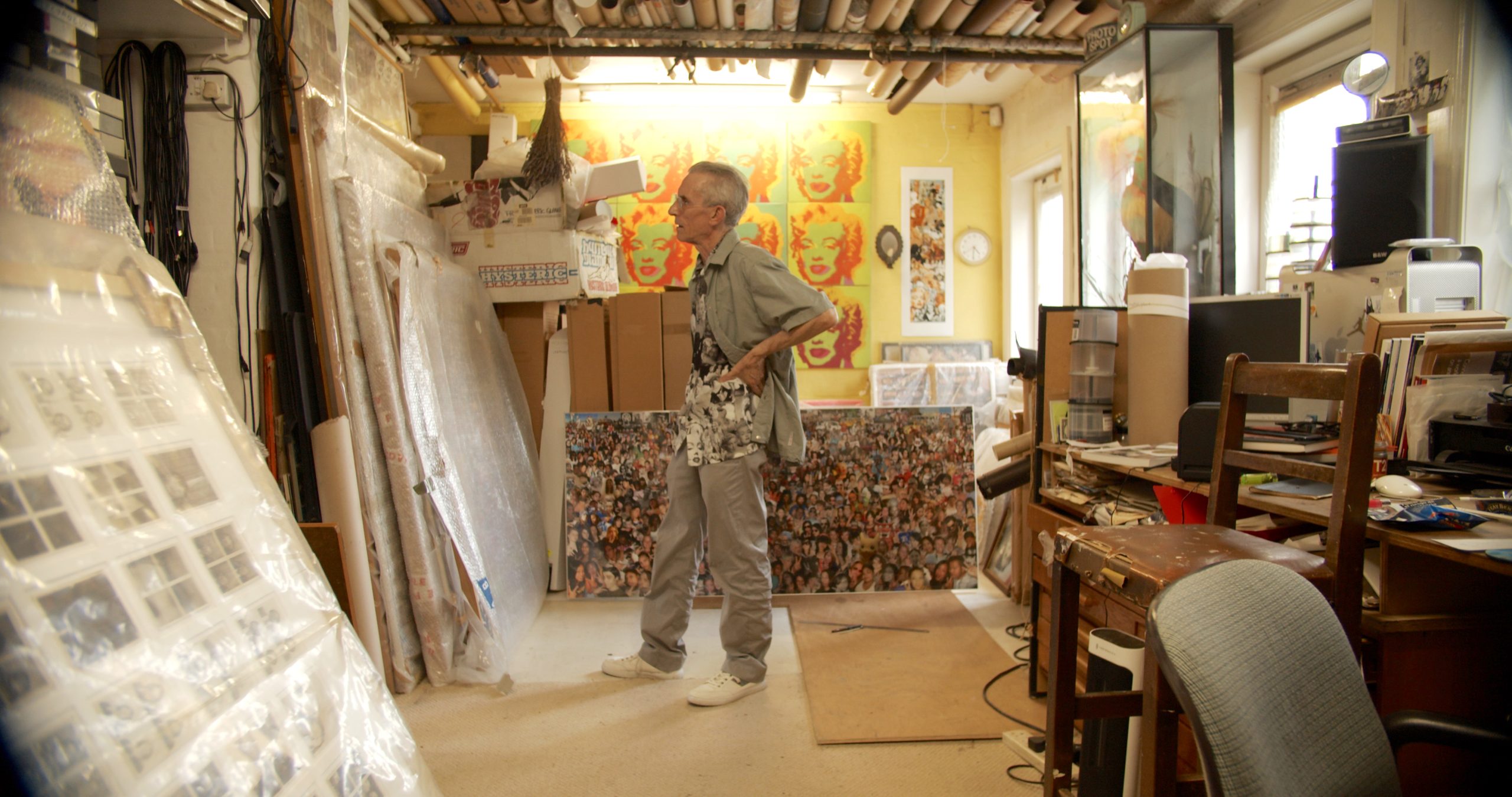 He's been publishing photography since 1979, which led to his first solo exhibition at Chapter Arts Centre Cardiff in 1980. During that decade, he started his own record label and worked with artists like Gregory Isaacs, Prince Far I, Neneh Cherry and Massive Attack. He's since created over 50 documentary films and videos that focus on artists, dance, and club culture. 
Jewell's style is vivid and cumulative and draws on the fact that the mind "does not think laterally". It strives to make connections between disparate pieces of information. This layered approach is evident in his photomontage and collage work, and also his book Four Thousand Threads. He expertly puts human behaviour under a microscope by drawing links between how images from popular culture are used to construct our identities and impact our behaviour. His impressive and expansive resume has notes of levity but also dives deeper with forensic intrigue into the minutiae of culture that is overlooked. For example, he is one of the first filmmakers to identify club culture as a petri dish of creativity, tracing the influence of club kids like London's Buffalo Collective who were immortalised by Neneh Cherry's immortal single Buffalo Stance. His confronting style and maverick practice have established him as a pioneer in creative circles, leading to him being revered by Kim Jones, and cited as an influence by photographer and filmmaker Tyrone Lebon.
Trying to pin down Jewell's working style is tricky as it is reactive, sprawling, and constantly evolving. "I'm always working on you know, more than one project at a time," he says. "I don't know where [a project] is gonna take me until I've done it." Currently, he has other work on display at the Royal Academy of Arts Summer Exhibition, which touched on the theme of war, but initially, it was a deep dive of the toys given to children – dolls for girls, guns for boys. It led him to think about how we as a society process the atrocity of war, gifting toy soldiers to little boys almost as a way of preparing them for an occupation they may one day have to bear. He adds: "I had to simplify the idea and focus on the aspect that my grandfather gave me his lead soldiers that he had played with before eventually fighting in the first World War," he says. 
Given that he is always in dialogue with the signs of the time, "War & Peace" can be seen as a dissection of our modern conditions. The world is increasingly divided, and the smallest things can be used to inflame those conflicts. However, it also poses the question of whether we can allow simple gestures to unite us also. As a symbol so often replicated, its meaning is really down to each of us.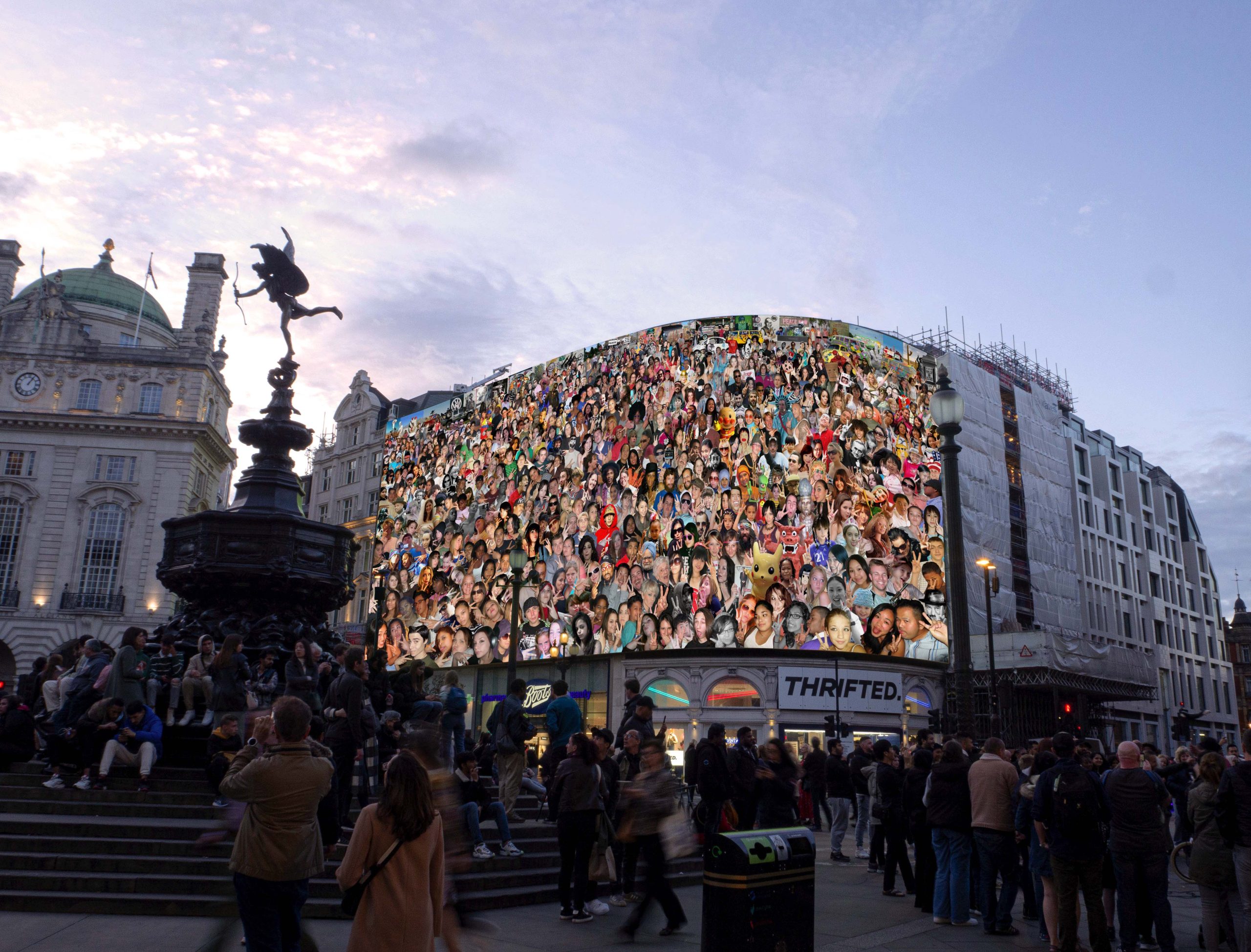 Symbols mutate over time. It's happened over and over again throughout history when an image or gesture is repeated so many times that it almost begins to lose its meaning. Perhaps that's why the hippy Barbie is so significant, flexing her two fingers as an emblem of peace while she embodies hypercapitalism, consumption and an almost total lack of consciousness as a plastic doll. 
But who amongst us hasn't mindlessly reached for a two-fingered gesture in a photograph just because it's now so culturally pervasive? In environments of peace divorced from from the horrors of war, it can be anything from silly and "kawaii" to completely nonchalant, physical and digitised via a two-fingered emoji. Meanwhile, in 2022 a sculpture holding up two fingers was placed outside the Russian embassy in Prague in response to the Ukrainian invasion.
With screening this work internationally, he's also encouraging viewers to "get involved" by taking a selfie, putting their fingers up and sharing them online with the hashtag (#DJWARANDPEACE) to demonstrate further how images and symbols can influence viewers' actions, and unify us all through collective international participation. The cycle continues. ✌️
---
Kemi Alemoru is a London-based, Manchester-born writer, editor, host, and consultant. She writes about pop culture, art and photography, music and social commentary for publications including GQ, Rolling Stone, Vogue, Dazed, and Vice. Kemi has interviewed many international celebrities including Alicia Keys, Jada Pinkett-Smith, Michael B. Jordan, Lupita Nyong'o and several others. She is the former Culture Editor at gal-dem and has written cover stories for Crack, CR Fashion Book, Clash, and Brick magazine and has hosted a regular talks programme at Soho House.