Rene Matić
My practice spans photography, film, and sculpture, converging in a meeting place they describe as "rude(ness)" – an evidencing and honouring of the in-between. I draw inspiration from dance and music movements such as Northern soul, Ska, and 2-Tone as a tool to delve into the complex relationship between West Indian and white working-class culture in Britain, whilst privileging queer/ing intimacies, partnerships and pleasure as modes of survival."It's about what saves us – if anything – in the end"
CIRCA: HOW IS YOUR PROJECT TIED TO THE THEME OF 'HOPE'?
Born British, Die British emulates and adopts this right-wing statement and aesthetic signifier, staking a claim in a Britishness that is often denied of me – the myth of a 'pure' and 'unadulterated' Britishness.
By reclaiming this body marking as my own, I signal and celebrate my skin as a subversive surface that not only undermines what it means to be born British and to die British but overrides it, creating an undefinable, (HOPEful) utopia – without limits.
By committing to bearing this patriotic, nationalistic statement that is usually reserved for white Britons, I at once get the chance to recognise and reconcile the discomfort surrounding my own Britishness, inserting myself into an extremist, right-wing (sub)culture which seeks to eradicate their very existence.
CIRCA: WHAT WOULD YOU CREATE/DO WITH THE £30K?
For some time now I have wanted to tell my sister-in-law's story. Vicky was born with a rusty spoon in her mouth, and she's used it to build herself a castle. Her late mother was a drug addict, and she was in and out of care until she had her baby, Junior when she was 17. Now, at the age of 33 she owns a successful cleaning business and has two beautiful children. I want to tell her story for her and only her – to give her and people like her/us what we deserve in this country – a moment of celebration and reflection – somewhere to rest. I am in awe of marginalised people and the things that save us, even just for a moment, even if we do not make it. Vicky is making it and hope seems to be the driving force.
This is not a rags-to-riches story – and I do not want to perpetuate the violent voyeurism we so often see in the depiction of small-town, working-class people. This is a story of self-definition and defiance – despite it all. The 30k will go towards the production of making this film and whatever Vicky and our family need to do that.
CIRCA: WHAT DOES 'HOPE' MEAN TO YOU?
Hope is about imagining and knowing the self outside of the situations we are burdened with. We would not be here without hope. It is a smart move – a call to action – it is all some of us have. It runs through the veins of my practice. It is my reference point.
FOLLOW RENE MATIĆ ON INSTAGRAM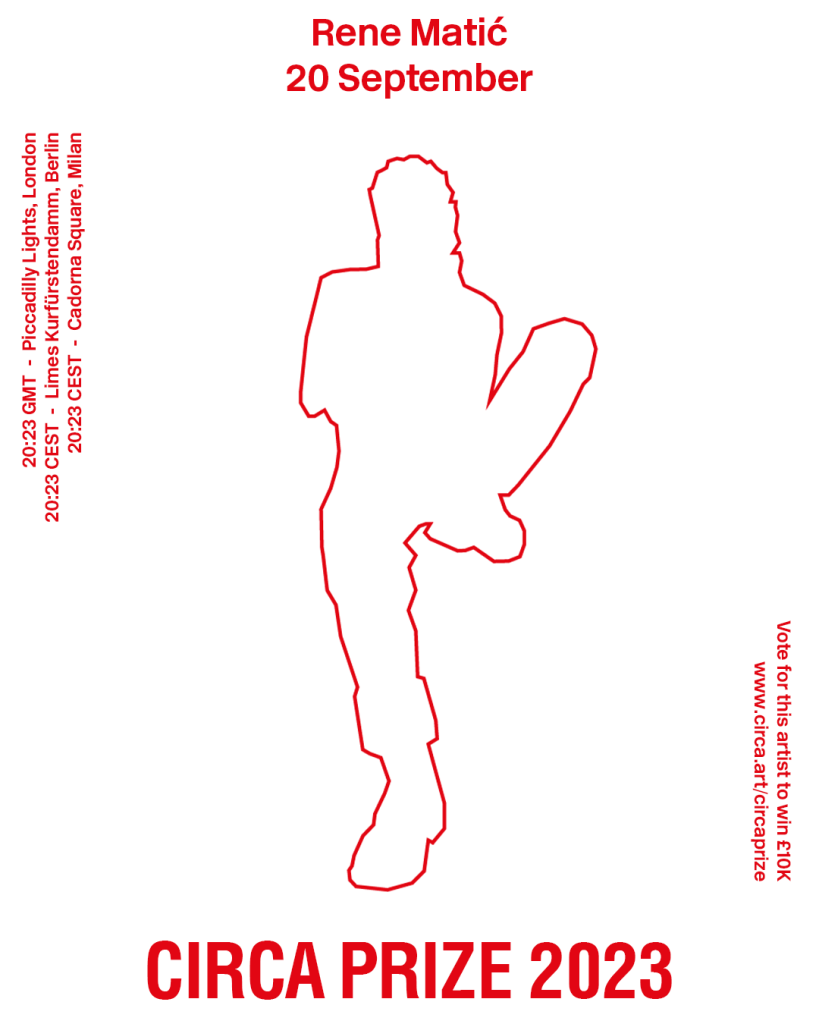 Vote for this artist