Pussy Riot: 50 One Dollar Bills
LIVE NOW! CIRCA PRESENTS A LIMITED EDITION OF 51 HAND-SIGNED PRINTS BY NADYA TOLOKONNIKOVA (PUSSY RIOT) WITH PRINT 51/51 BEING GIVEN AWAY
Created in collaboration between Nadya Tolokonnikova (Pussy Riot) and CIRCA, 50 One Dollar Bills belongs to an ongoing series of screen-printed artworks by the iconic artist, activist and musician.
A woman has not been featured on US paper money in over 100 years since Martha Washington's portrait was featured on the one silver dollar note in the 1880s and 90s. Representative of Tolokonnikova's iconic style of blending art with activism, the uncut currency sheet depicts a uniform 5-by-10 grid of $1 bills with the first president's face disguised anonymously in a pink balaclava – a distinctive nod to Punk Prayer.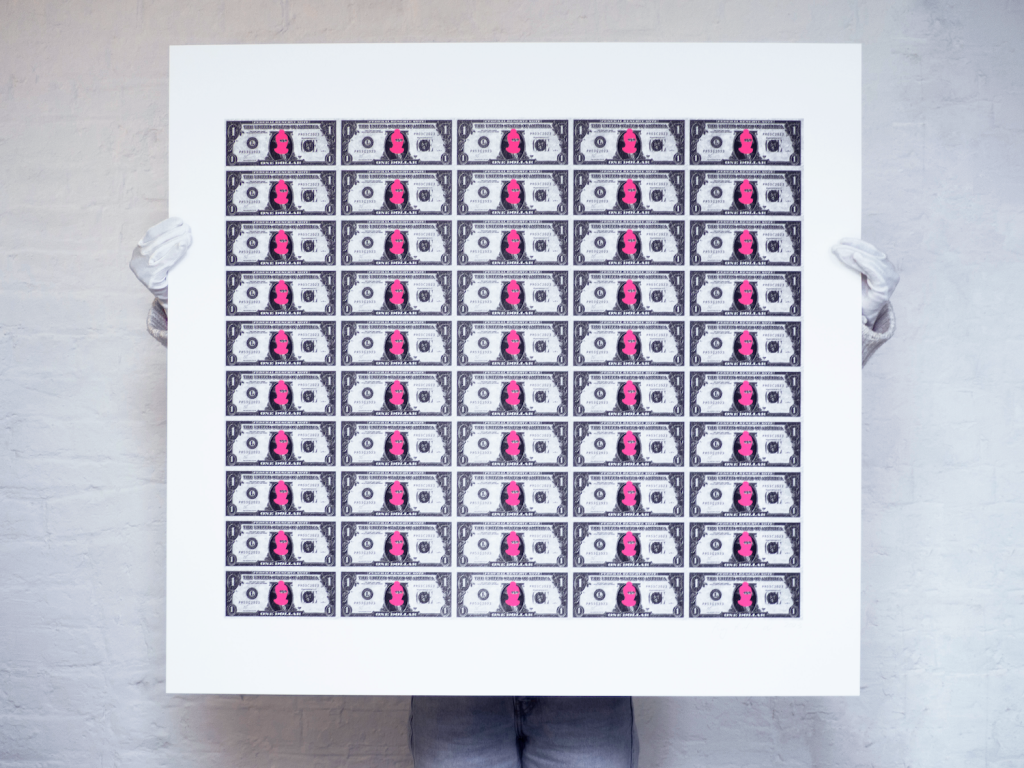 Stylistically, the vibrant work screen-printed in two layers on a silk screen press is an ode to Andy Warhol's aptly named '200 One Dollar Bills', marking the first instance of Warhol's use of the silk-screening method. In 2022, the essential 20th-century artist topped the auction world with a turnover total of $590 million, representing an art market dominated by males, as female artists represented just 2% of total sales that same year.
Proceeds from this limited edition release will be shared between Art Riot Fund, which supports Pussy Riot's unwavering commitment to fighting against patriarchal oppressive systems, and #CIRCAECONOMY – a circular model that supports free public art and creates life-changing opportunities for the wider community.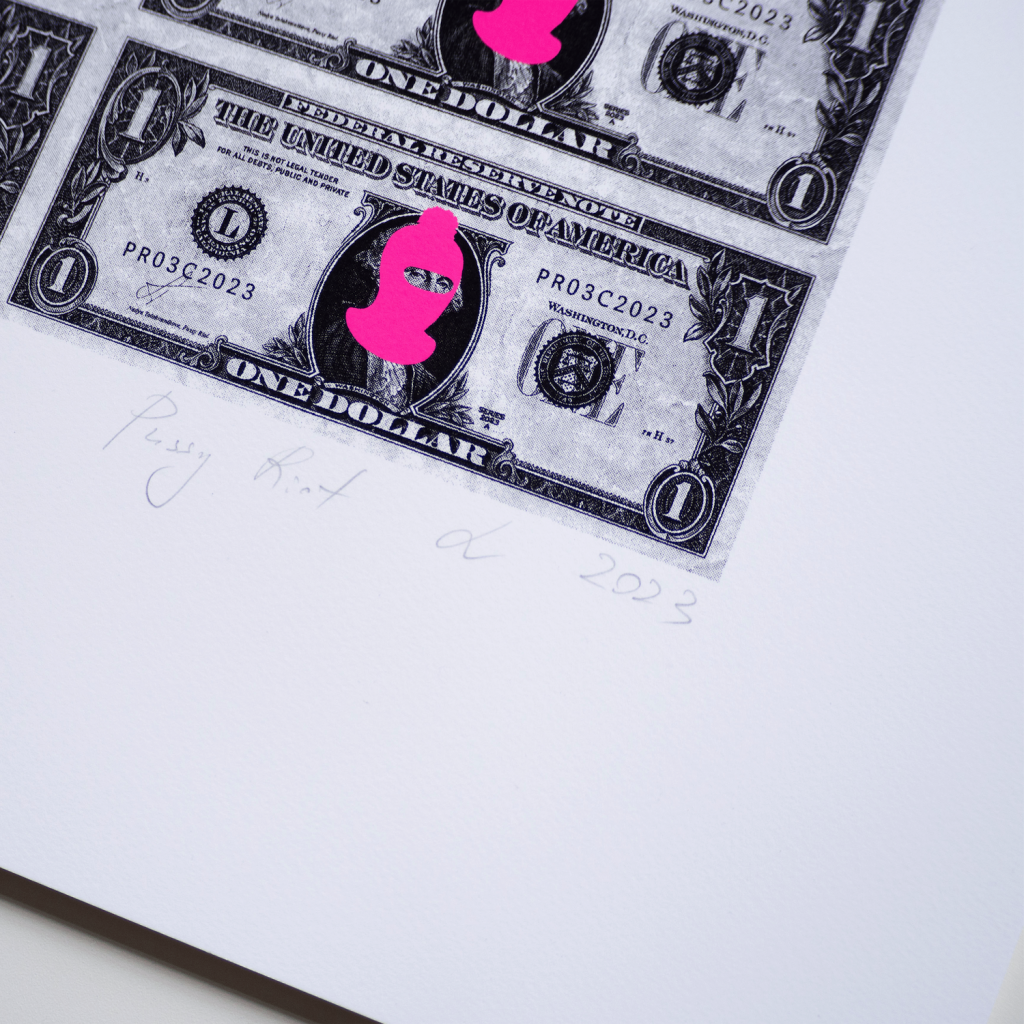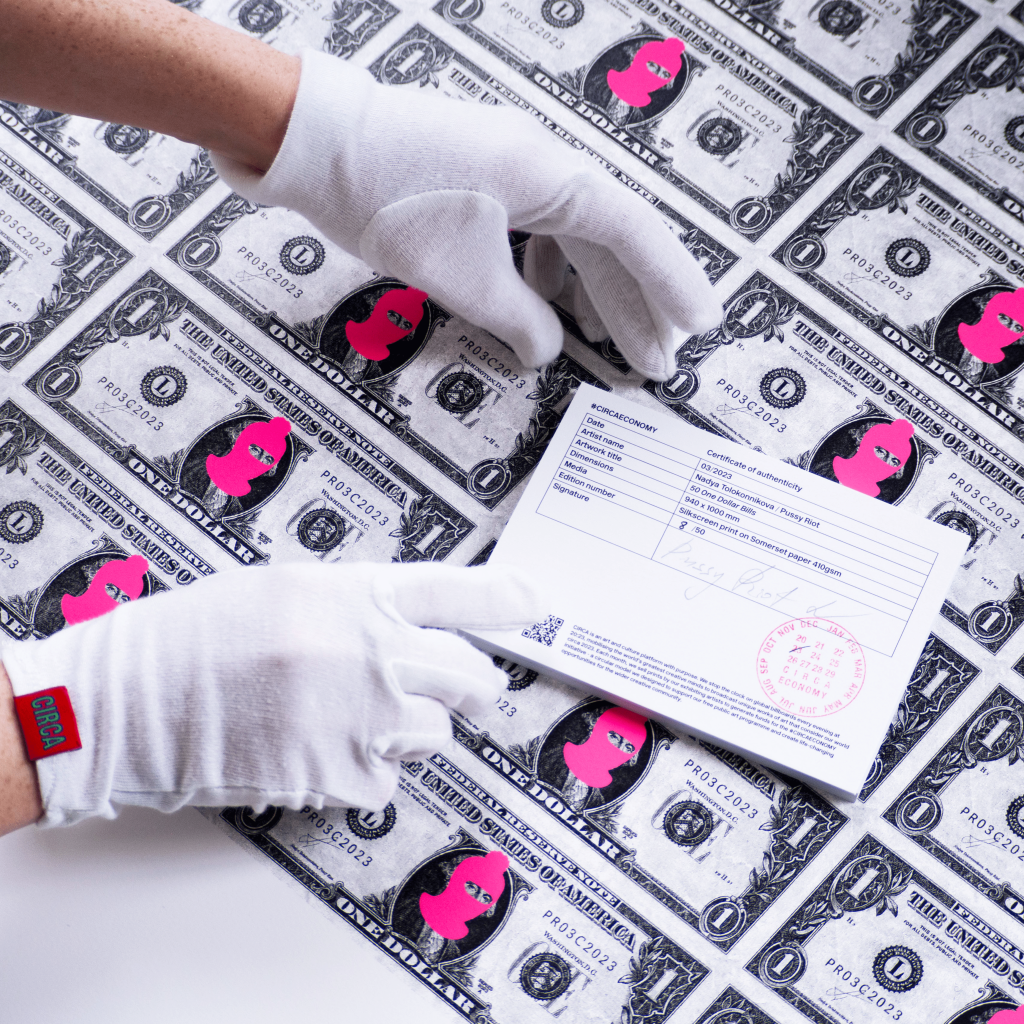 REGISTER TO WIN PRINT 51/51
To enter with the chance of winning print 51/51 by Pussy Riot (Nadya Tolokonnikova) simply register below and follow the instructions before midnight 1 December, aka Pink Friday.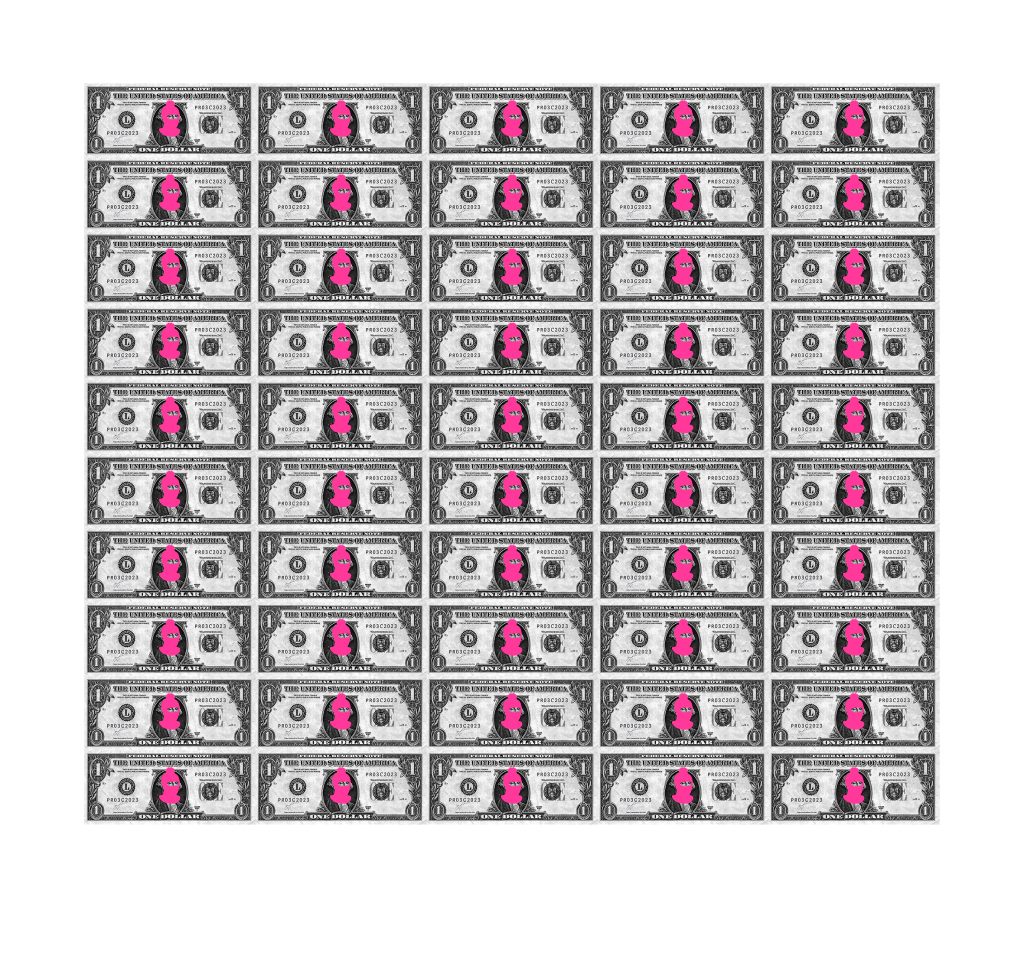 The Bold And The Hopeful
Written by Mimi Nguyen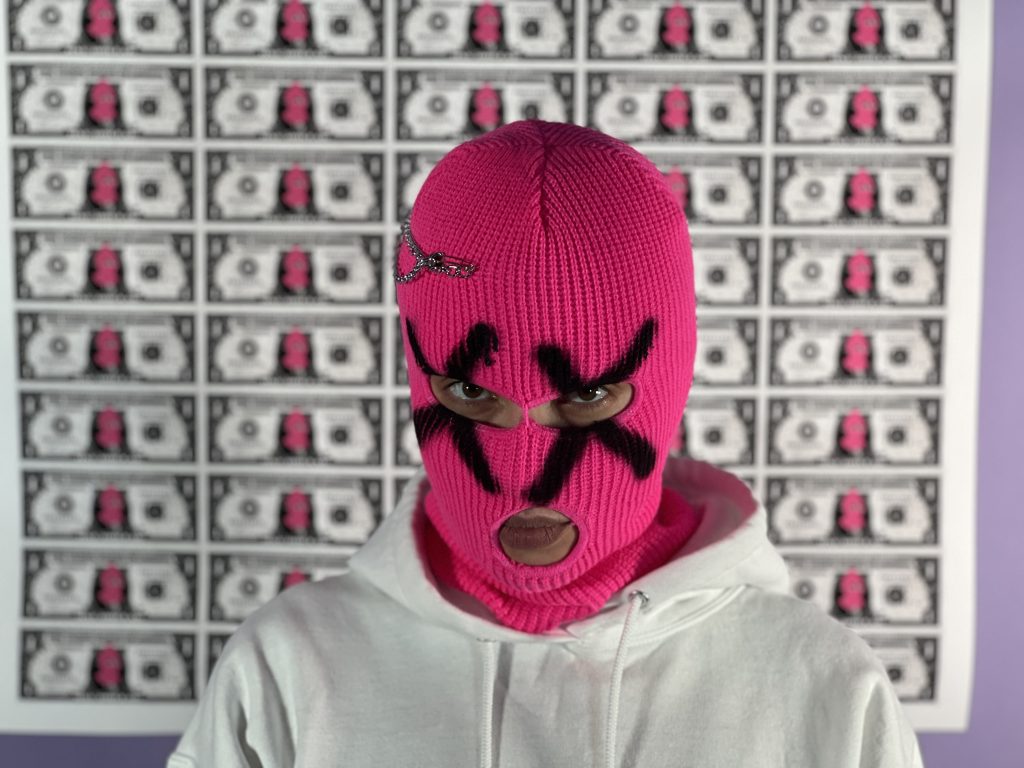 In her new CIRCA 20:23 commission, 'Nadya Means Hope,' the artist and activist Nadya Tolonnikova reckons with how artistic gestures can achieve so much more than just aesthetic pleasure.
"I know that so many people in Russia actually want to choose the Western way of living. Which is more pleasant and civilised. I mean, I wouldn't say civilised, fuck this word, more pleasant, to me personally. I'm not gonna get shot in the street for expressing my freedom of speech, right?" – said artist and activist Nadya Tolokonnikova, who was jailed in 2012 with two other members of Pussy Riot after they staged a protest against the Russian Orthodox Church's and the Russian government. Tolonnikova traces back to me the rich Russian feminism history, with women fighting and successfully achieving the right to vote in 1917, following the revolution. The early socialist government also implemented progressive reforms for gender equality. However, with the rise of Stalinism, the government became violent, oppressive, and patriarchal. Tolokonnikova sees echoes of the early feminist movement in Russia today.
Last year, I attended her talk with the legendary Judy Chicago at ICA Miami, launching their "What if Women Ruled the World". The project was a participatory artwork that invited people from all walks of life to envision a world where women were in positions of power and leadership. "I'm a workaholic," she admits. "I just bury all of my problems back in work." While this coping mechanism may be effective in the short term, she acknowledges that it is not a sustainable model in the long term. She also acknowledges that there are still issues with the double workday, a legacy of the Soviet Union. Women were encouraged to work, but there was no strong movement for equality in parenting, resulting in a double workday for many women. "We are still haunted by this spirit inherited from the Soviet Union," she says. She notes that some social scientists even consider Russia a country of domestic matriarchy. "In my family, my mom distributed the finances; she was in charge of all the money," she explains. Her sold out #CIRCAECONOMY collection of prints showcased seven male faces on US paper notes, concealed by balaclavas and bearing their signatures. It has been over a century since Martha Washington appeared on the one silver dollar note in the 1880s and 90s, making it the last time a woman was featured on US paper money. Currently, all seven bills in circulation, ranging from $1 to $100, portray men and serve as emblems of the patriarchy.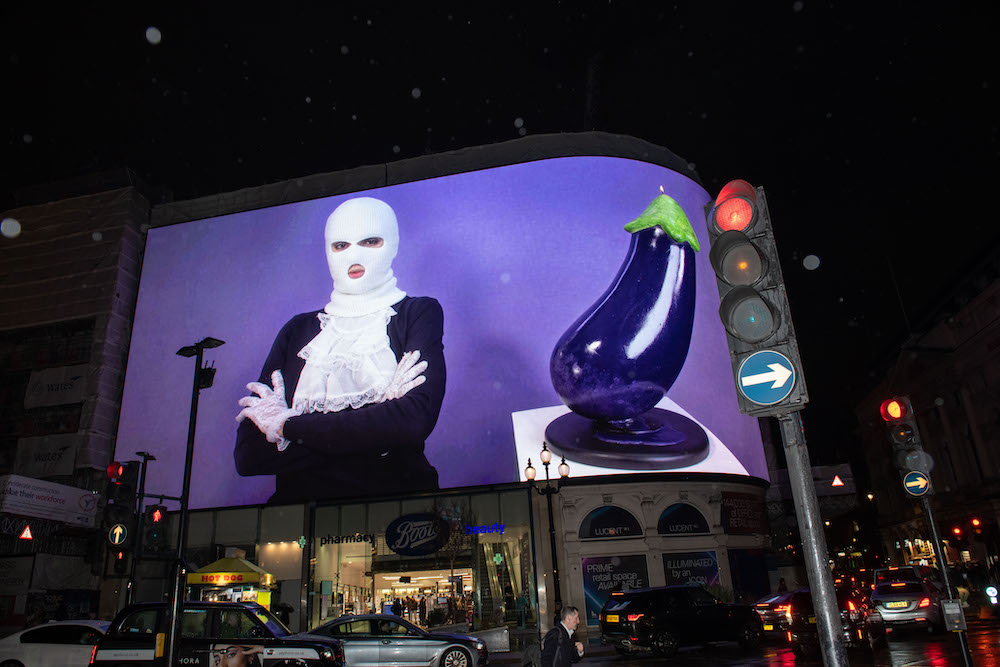 As she continues to use her art and her unwavering commitment to fighting against oppressive systems, she remains a powerful voice in the fight for gender equality and social justice. "It does not translate into a lot of women in power, but it still gives us a lot of power", she told me. This she has placed just beneath the seemingly rational and ideological topsoil, as she found to be determined to participate in historical processes and fight against oppressive political regimes. "I realised that while there is no really a clean way out of it because if you really want to at least attempt to participate in historical processes and change history, that's a dangerous undertaking," she explains. "And you have to face the consequences and know that it's not going to be easy, but it's your decision. Nobody else made you do this."
As a raised Pole, I have witnessed in recent years stories of millions of Ukrainian women and children that have been forced to flee their homes and seek safety in the neighbouring country. Similarly, my mother fled the aftermath of the Vietnamese War. It is often women who bear the responsibility of leading their families through the often perilous journey of emigration or escaping war zones. Nadya in Slavic languages means hope, and in Polish, it is, in fact, "Nadzieja". We discussed our struggles as women and mothers and the cultural differences between the Slavic and western worlds. Although our lives are ostensibly disparate in subject matter, they all plumb themes of everyday battles and societal pressures. "I struggle as well", she told me, and she opened up about her battles with mental health and the unrealistic expectations placed on individuals in modern society. "I personally struggled with major depressive disorder ever since I was diagnosed when I got out of jail, and never went away." – she recalls. She explained that throughout her feminist life, not career, she has encountered people who believe that women already have all the rights they need and should not be asking for more.
Tolokonnikova notes that culture changes much slower than laws, and toxic masculinity is still deeply ingrained in our society. "You cannot just sign one law and assume that the culture is going to change with it," she said. "And I see toxic masculinity penetrating our society, every level at every level of society. And it hurts me, hurts me personally, it hurts me to see other people suffering just because of their gender, sexuality." The issue hits close to home for Tolokonnikova, as her 15-year-old daughter has faced bullying in school for being a feminist in their home country of Russia. "It's a shame", she told me, "It's not what people have to encounter in this day and age."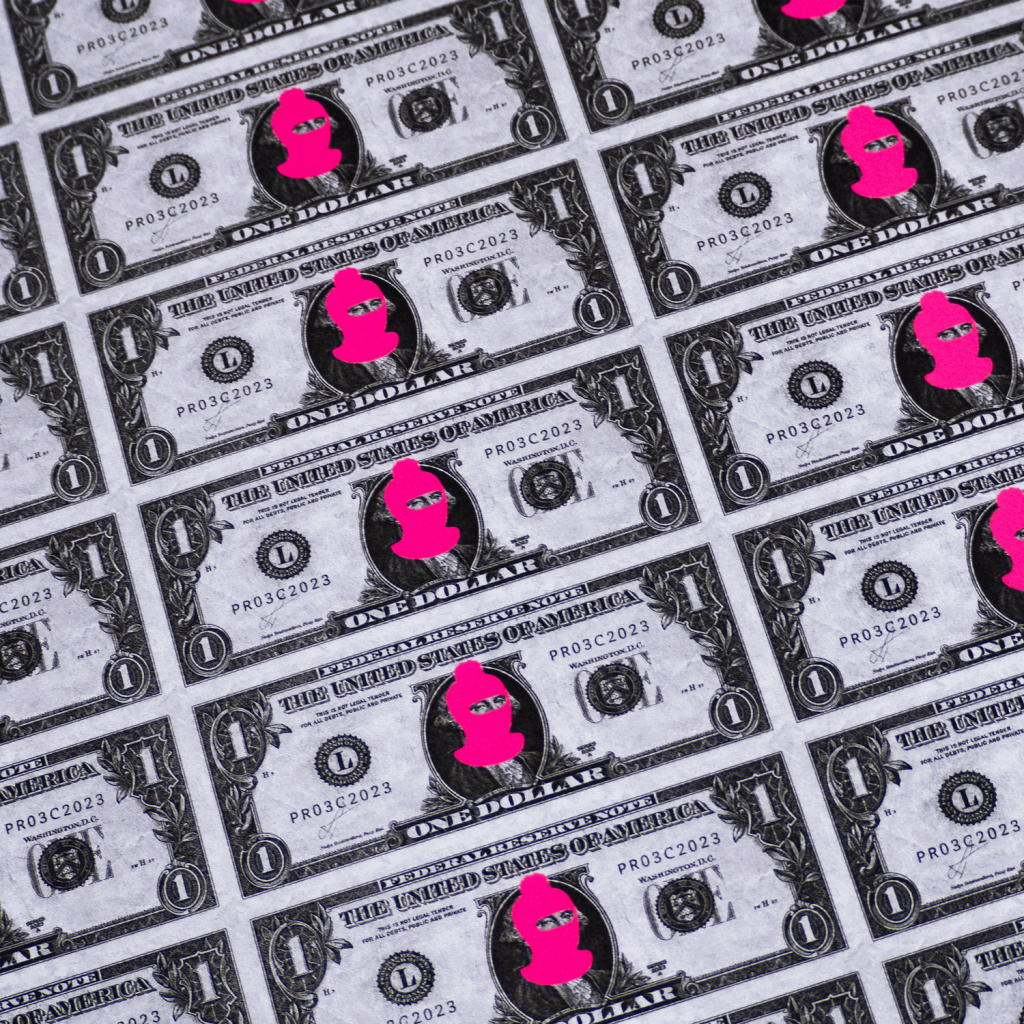 "In itself, a woman is already something of a scandal," wrote Simone de Beauvoir in her seminal work 'The Second Sex', a now foundational tract of contemporary feminism from 1949 that encapsulates the riddles of women's oppression that persisted throughout history. De Beauvoir's work challenged the prevalent notion that women were inferior to men and were primarily defined by their reproductive capacity. She argued that women's second-class status in society was not a result of biology but rather a product of social and cultural norms that perpetuated patriarchal systems of power and oppression. When Amnesty was founded 50 years ago, it was a phenomenon in itself. But nowadays, global warming, the environment, and water are fashionable, and human rights are not so sexy anymore. Yet, some absurdness and cultural retrogress are self-evident and quotidian that they lose their capacity to enrage. Since late June, when the Supreme Court overturned Roe v. Wade, thirteen states in the US have implemented strict abortion bans. Some states resurrected laws dating back to the nineteenth century. In Texas, providing assistance for an abortion has been classified as a felony offence, carrying a lengthy prison sentence.
Reproductive rights and women's autonomy have been hotly contested issues for decades, with the majority of reproductive bills being passed by men. The recent 'My Body My Business' auction at Sotheby's, curated by Tolonnikova, serves as a platform for female artists to share their voices and perspectives on this topic, which is often overlooked or misrepresented in mainstream discourse. To be fully transparent, I must admit, I've been, at times, against a few all-female shows, especially in digital art. They are often female artists lumped together under an overarching theme oscillating around 'coding' and 'digital' words. They could have been simply put as "Female creators who do something with computers". The bias inherent in these shows — the direction of curation that is solely based on gender, rather than the works themselves — rejects to be at odds with some of the rising of positive discrimination1, and I suggested as much to her. But this wariness doesn't reflect her bent toward attention and a hopeful sensibility that was ingrained throughout her life, "This is what I have been fighting for. I believe we need more radical ideas here, and unfortunately, I have not seen any results in my country yet. However, I remain hopeful that change will come." The show unfolds as a kind of heightened seminar, in which multi-media debates about sexual and reproductive health and rights, and systemic injustice are presented within the collective representation of a diverse group of female artists, including works from Jenny Holzer, Marina Abramović, Sputniko!, or Sofia Crespo. The auction raised over $100,000 in supporting organisations, including Planned Parenthood Federation of America.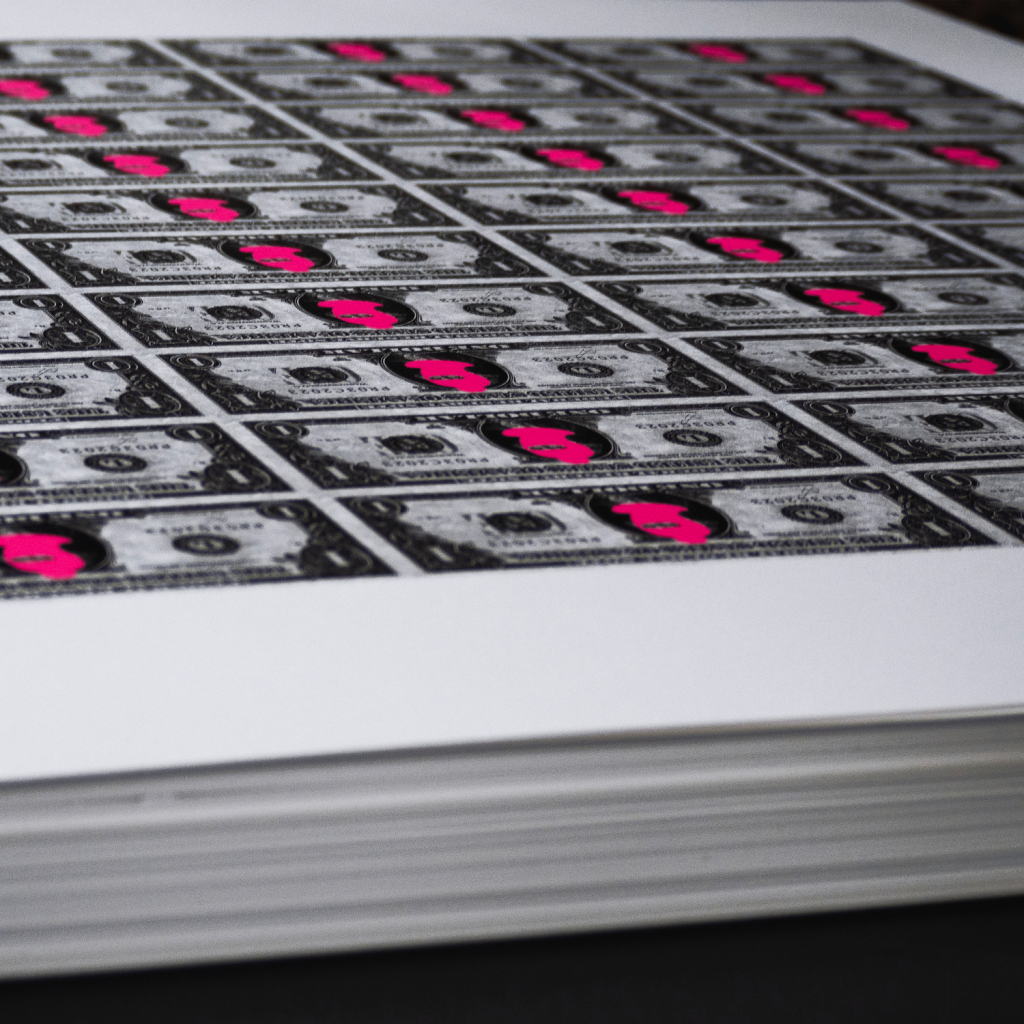 This capacity for quizzical scrutiny underlies much of her works. With "Nadya Means Hope", her new work presented by CIRCA, where she lights the tip of an Eggplant, emoji-shaped candle, Tolokonnikova hopes to start a conversation and provoke thought about the damaging effects of toxic masculinity. The screening launched on London's Piccadilly Lights and broadcast across a global network of digital billboard screens in Berlin and Tokyo on March 8th, 2023. Less than two weeks later, an arrest warrant was issued by the International Criminal Court in The Hague for Vladimir Putin and his children's rights commissioner, Maria Alekseyevna Lvova-Belova. This Warrant is a response to allegations of their involvement in abducting Ukrainian children. Tolokonnikova's work emphasises the importance of engaging with public spaces as a means of promoting social change. By collaborating with other artists like Chicago, curating collective voices like "My Body My Business', and bringing art into public spaces like streets and public squares, she seeks to challenge traditional notions of what art is and who it is for. In doing so, she hopes to create a space for dialogue and engagement that challenge authoritarian systems of power and amplifies unheard voices. She believes that hope is essential in helping to combat the systems of oppression that have existed for thousands of years. "The intention was which I'm bringing my artworks into the world. So hopefully, once we burn this candle, it will start this magic process of de-cleansing the system of firewall world from the patriarchy," Tolokonnikova said.
When asked about the eggplant emoji, the candle-sculpture 'Fragile Masculinity', she said, "I love emojis. I use them all the time."  Tolokonnikova emphasised the universality of this language, "Emojis transcend old languages. And it is a new language to speak." As an artist, Tolokonnikova finds it crucial to speak the language of the people to stay relevant and critically examine the culture around her. She noted, "If you want to be current, and if you want to analyze current culture, you want to use the language that people use."
Using the Eggplant emoji (🍆) frequently in her communication with followers on OnlyFans, a popular subscription-based platform for adult content creators, the Pussy Riot founder sees the eggplant as more than just a suggestive symbol. She explained, "The eggplant itself, to me, symbolises a post-structuralist concept called phallogocentrism." While Tolokonnikova does not see the eggplant itself as problematic, she takes issue with the culture that revolves around it. "The emoji itself is not a problem for me, but our culture that revolves around the penis and about having a penis is problematic to me," she explains.
Tolokonnikova's art is about hope, above all. She believes that an artistic gesture can achieve so much more than just aesthetic pleasure. "You can echo and have a ripple effect on people all around the globe if you do it right," she said. "And I think that would happen with 'Fragile Masculinity.' You obviously cannot expect it to happen with every one of your artworks. But this is the intention with which I'm bringing my artworks into the world."
1 For example, female academics cannot be assured they have their jobs on their own merit because many institutions insist on female candidates into shortlists, said John Marenbon, honorary professor of Cambridge University, to the Times last year.
---
Mimi Nguyen is an Associate Lecturer at MA Innovation Management, Central Saint Martins and a PhD candidate at the Dyson School of Design Engineering, Faculty of Engineering at Imperial College London, with a joint initiative with the Royal College of Art. Her research seeks to improve shared mental models in virtual collaboration to enhance creativity and innovation amongst diverse teams.
Her background is in tech consulting, with experience at fintech start-ups, game development and high-profile organisations such as Accenture and the Boston Consulting Group. A regular contributor to TIME Magazine, she studied Media Arts at the University of Arts Berlin, earned an MA in Innovation Management at Central Saint Martins and a bachelor's degree in Quantitative Methods and Information Systems at the Warsaw School of Economics.