Press release: Yoko Ono, Imagine Peace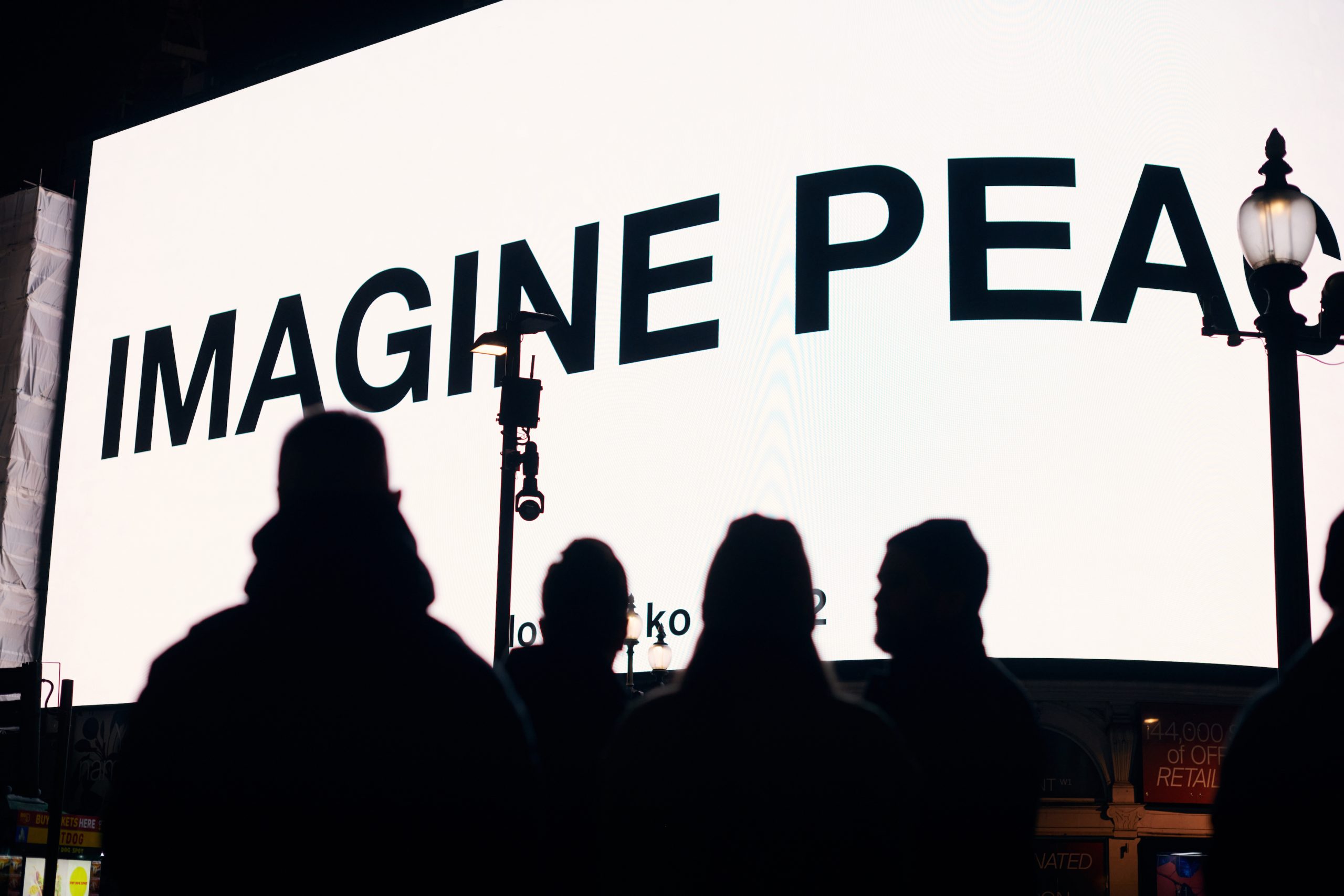 Yoko Ono invites the world to IMAGINE PEACE 
CIRCA: March 2022 

Fifty-three years after Bed-In, Yoko Ono stages a new global intervention by pausing commercial advertisements on the world's most prominent digital screens to share a message of peace with the global community. An invitation for the world to unite, Ono will broadcast her powerful, universal mantra IMAGINE PEACE every evening at 20:22. 
The public art installation presented by CIRCA in collaboration with Serpentine, will feature local translations of Yoko Ono's message to the world. IMAGINE PEACE launched 3 March on London's Piccadilly Lights and is screening across the CIRCA network in London, Los Angeles, Milan, Melbourne, New York, Seoul and Tokyo every evening throughout March 2022. 
IMAGINE PEACE is a concept born from Yoko Ono and John Lennon's tireless work as peace activists. In March 1969, the couple staged their first Bed-In – a weeklong peace protest from their honeymoon suite at the Amsterdam Hilton Hotel, boldly communicating their commitment to social justice. This new declaration for peace also marks Ono's return to London's Piccadilly Circus, twenty years since she installed a poster carrying the message "Imagine all the people living life in peace" taken from the Lennon-Ono anthem – "Imagine" in March 2002. 
Yoko Ono's invitation to IMAGINE PEACE has been expressed since the early 2000s through billboards, advertisements, posters and tweets. "Imagining," said Ono, "is something that we can all do, even when we have different opinions about how to get there." In 2007, in memory of John Lennon Ono conceived the IMAGINE PEACE TOWER on Viðey Island off the coast of Reykjavík, Iceland, a tower of beaming light, which represents wisdom and love, and acts as a beacon for all those wishing to contribute to world peace. 
A limited edition print by Yoko Ono is available to purchase on CIRCA.ART for £100. 100% of proceeds will be donated to the United Nations CERF. 
The United Nations Central Emergency Response Fund (CERF), one of the fastest and most effective ways to ensure that urgent humanitarian assistance, including food, clean water, medicine, education and shelter, reaches people in need whenever and wherever crises strike.
-ENDS-
IMAGINE PEACE BY YOKO ONO BROADCASTING 3-31 MARCH AT: 
20:22 GMT LONDON PICCADILLY LIGHTS
20:22 CET BERLIN LIMES, KURFÜRSTENDAMM
20:22 PST LOS ANGELES PENDRY WEST HOLLYWOOD
20:22 ACT MELBOURNE FED SQUARE
20:22 UTC MILAN LUXOTTICA, PIAZZALE CADORNA
20:22 EST NEW YORK LUXOTTICA,TIMES SQUARE
20:22 KST SEOUL COEX K-POP SQUARE
DAILY TOKYO NEO SHIBUYA TV
20:22 GMT ONLINE CIRCA.ART
More screens will be announced throughout the world. 

NOTES TO EDITORS: 
CLICK TO DOWNLOAD IMAGES AND ASSETS

For media enquiries please contact:
Reece Prince Watson
E: reece@circa.art T: + 00 44 7899 043357 
Join the conversation: @CIRCA.ART | @YOKOONO 
– 
SUGGESTED SOCIAL MEDIA COPY 
IMAGINE PEACE – love, Yoko, 2022 
Throughout March, @YokoOno pauses advertisements on digital screens around the world to share an urgent message of global peace in partnership with @circa.art & @SerpentineUK. 
In aid of humanitarian crises, Yoko Ono has donated a time-limited edition print, available to purchase on CIRCA.ART for £100 until 31 March 2022. 
100% of the proceeds raised by the sale will be donated to the United Nations' emergency fund (UNCERF), one of the fastest and most effective ways to ensure that urgent humanitarian assistance, including food, clean water, medicine, education and shelter, reaches people in need whenever and wherever crises strike. 
Think PEACE, Act PEACE, Spread PEACE every evening at the following times and locations: 
London: @PiccadillyLights, 20:22 GMT
Berlin, @Limes_ooh, Kurfürstendamm, 20:22 CET (from 9 March)
Melbourne: @Fed.Square, at 20:22 AEDT
Milan: @luxottica Piazzale Cadorna, 20:22 UTC
Los Angeles: @pendrywesthollywood, 20:22 PST
New York: @luxottica Times Square, 20:22 EST
Seoul Coex, K-POP Square, 20:22 KST (from 7 March)
Tokyo, @neoshibuyatv (from 7 March) 
With additional screens to follow 
Discover more on CIRCA.ART 
– 
Yoko Ono is an artist, musician, and activist. 
Born in Tokyo, 1933, Ono was the first woman admitted to the philosophy program at Gakushuin University, Tokyo, where she studied before moving to New York in 1953. 
By 1960 Ono had become a vital part of the New York avant-garde and the international Fluxus movements. Her boundary-pushing early works include the pioneering feminist performance work Cut Piece, and her book of collected conceptual instructions, Grapefruit, both 1964. By 1968, Ono began collaborating in art, music, and peace activism with her partner and husband John Lennon. 
As a singer and songwriter, Ono has released fourteen studio albums and eight collaborative albums, including the 1981 Grammy award winning Album of the Year, Double Fantasy. Ono's artworks and films are widely exhibited internationally and are included numerous prestigious museum and private collections. In 2009 she was awarded the Golden Lion for Lifetime Achievement from the Venice Biennale.
Yoko Ono currently lives and works in New York City.
CIRCA is a digital art and culture platform with purpose. We stop the clock on global media spaces every evening at 20:22 and mobilise the world's greatest creative minds to broadcast unique works that consider our world today, circa 2022. The funds we generate from artist print sales drive the #CIRCAECONOMY – a circular model that supports our free public art programme and creates life-changing opportunities for the art & culture community. 
Since launching in October 2020 on London's iconic Piccadilly Lights, CIRCA has commissioned new work from rising and established artists including Ai Weiwei, Cauleen Smith, Eddie Peake, Anne Imhof, Patti Smith, Tony Cokes, Emma Talbot, Vivienne Westwood, James Barnor, David Hockney, and more. 
CIRCA SUPPORTERS
CIRCA has been made possible by Landsec, landlord of Piccadilly Lights, who have kindly donated media space, as a helpful boost to the cultural scene in London's West End.
CIRCA is grateful to Piccadilly Lights, Ocean Outdoor, Yunika Vision, Luxottica, CJ Powercast, Fed Square, Pendry West Hollywood and Serpentine Galleries for their support this month in supporting our free public art programme. 
United Nations Central Emergency Response Fund (CERF)
CERF is a fund for all and by all managed by the UN Office for the Coordination of Humanitarian Affairs (UNOCHA). It is one of the fastest ways to get urgent aid to the world's most vulnerable people whenever and wherever crises hit. From the global COVID-19 crisis, to ongoing crises in places like Ukraine and Yemen, to the earthquake in Haiti and cyclones in Mozambique, CERF was there – impartially, efficiently and immediately.
CERF pools contributions from across the globe into a single fund and allocates money quickly and at the most critical phases of an emergency. 
Your contribution will help to save lives and reach the millions of people trapped in disasters and conflict by providing them with urgently needed food, water, health care and much more.
–