Press Release: Marina Abramović, The Hero

Press Release
CIRCA PRESENTS MARINA ABRAMOVIĆ:
A CALL FOR NEW HEROES ON SCREENS WORLDWIDE
13 June – 31 August 2022
20:22 BST – London, Piccadilly Lights
20:22 CET – Berlin, Limes, Kurfürstendamm
20:22 UTC – Milan, Luxottica, Piazzale Cadorna
20:22 EST – New York, Luxottica, Times Square
20:22 KST – Seoul, COEX K-Pop Square
(London, Piccadilly Circus) 8 June 2022 – Marina Abramović leads an unprecedented three-month CIRCA presentation of The Hero, a global call for courageous new heroes at a pivotal moment in our collective history. Set against today's backdrop of global instability, rising tensions and climate breakdown, the figure of a steadfast woman astride a white horse holds symbolic charge on a world stage dominated by masculine power and escalating conflict.
Instigating an extended three-month pause throughout June, July and August, broadcasting across the CIRCA network of screens (London, Seoul, Milan, Berlin and New York), Abramović invites a global audience to consider and assume new definitions of heroism.
Our planet needs uncorrupted heroes with morality, who embody courage and bring real change. Every day in this world is a shaky, uncertain, constantly changing landscape. For CIRCA 2022, we have this white horse. This white flag. This beautiful land. We need heroes that can bring new light to illuminate us. Heroes that can inspire us to be better, and to work together, not against each other. Heroes who care.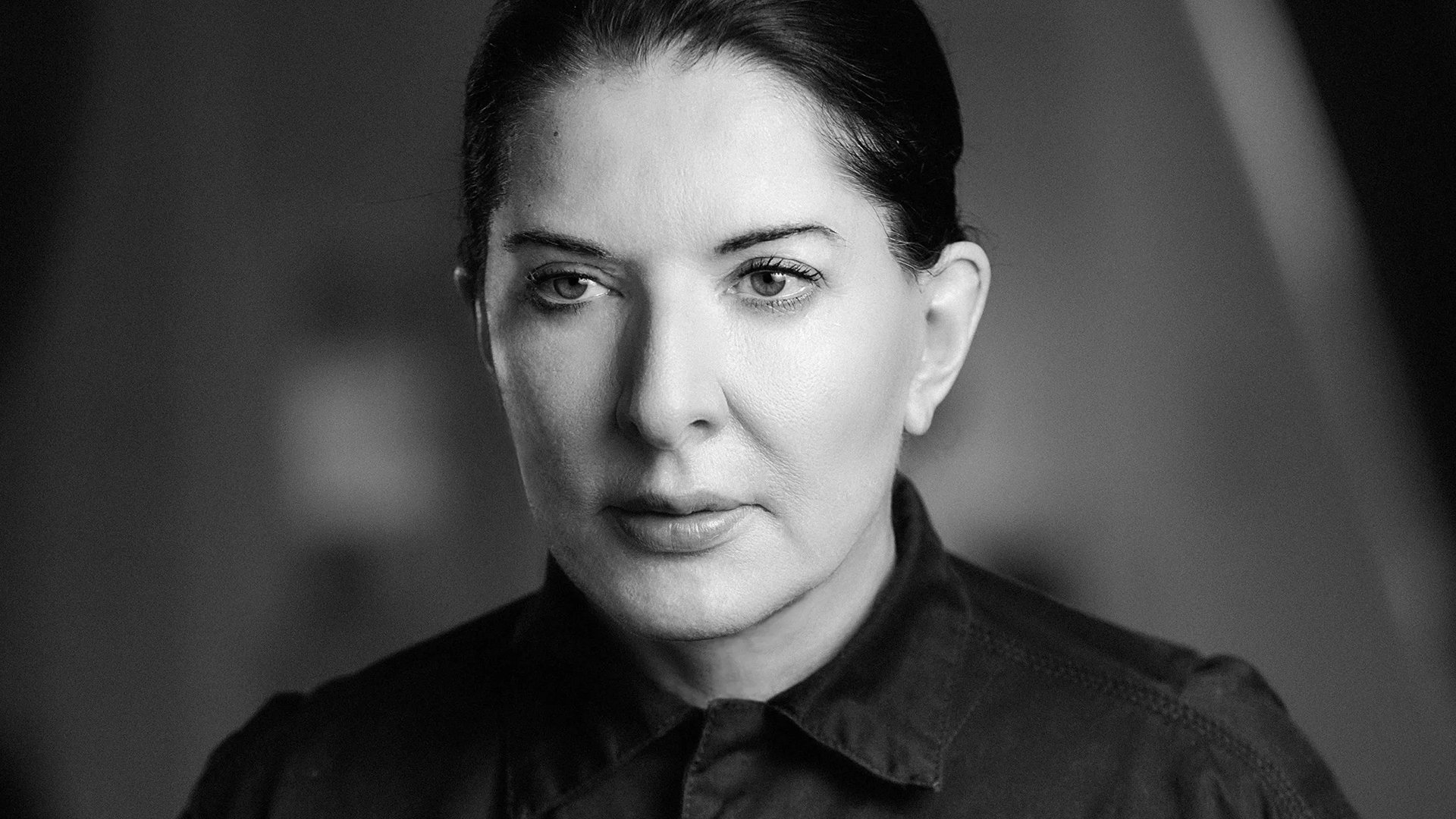 One of Abramović's most personal and autobiographical works made after the death of her father, who was a national hero, The Hero was originally recorded in the summer of 2001, a few weeks before the events of 9/11 shook the world and shaped the reality of the coming generation. Like Rhythm 0 (1974) and The Artist Is Present (2010), The Hero emphasises the aspect of stillness and endurance that runs like a thread through much of her work. Transcending time in a rallying, durational display from one of the world's greatest living artists, Abramović questions whether heroism survives, and what shape or form it takes today.
In recognition of this pivotal moment, Abramovic has penned The Heroes' Manifesto, echoing her 2011 An Artist's Life Manifesto, yet rewritten to reflect today's urgent need for heroism over artistry. This new call to arms explores the importance to the hero's journey of solitude, forgiveness, and recognition of one's own mortality:
THE HERO MANIFESTO (CIRCA 2022)

Heroes should not lie to themselves or others
Heroes should not make themselves into an idol
Heroes should look deep inside themselves for inspiration
The deeper they look inside themselves, the more universal they become
Heroes are universe
Heroes are universe
Heroes are universe
Heroes create their own symbols
Symbols are the Heroes' language
The language must then be translated
Sometimes it is difficult to find the key
Heroes have to understand silence
Heroes have to create a space for silence to enter their soul
Silence is like an island in the middle of a turbulent ocean
Heroes must make time for the long periods of solitude
Solitude is extremely important
Away from home
Away from family
Away from friends
Heroes should have more and more of less and less
Heroes should have friends that lift their spirit
Heroes have to learn to forgive
Heroes have to learn to forgive
Heroes have to learn to forgive
Heroes have to be aware of their own mortality
For the Heroes, it is not only important how they live their life but also how they die
Heroes should die consciously, without anger, without fear
Heroes should die consciously, without anger, without fear
Heroes should die consciously, without anger, without fear
Embodying the CIRCA 2022 manifesto 'AND NOW WE BUILD WORLDS', the heroes that Abramović seeks today are champions of a new way of thinking and living. Calling on brave figures to restore peace and reverse the destruction of the planet, the iconic vision of a rider holding a white flag invites contrasting ideas of heroism celebrating pacifism over conflict; femininity over machismo; self-sacrifice over dominance; and collectivity over individualism.
Josef O'Connor, Artistic Director, CIRCA, comments:

This is a landmark three-month intervention for the CIRCA platform and there is no artistic voice more vital at this moment than that of Marina Abramović. With tensions escalating around the world, it is the right time for us all to redefine heroism. This is not a moment for inaction; instead, in collaboration with one of the ​​world's greatest living artists, we are honoured to invite radical new visions of those who will lead us all into the future.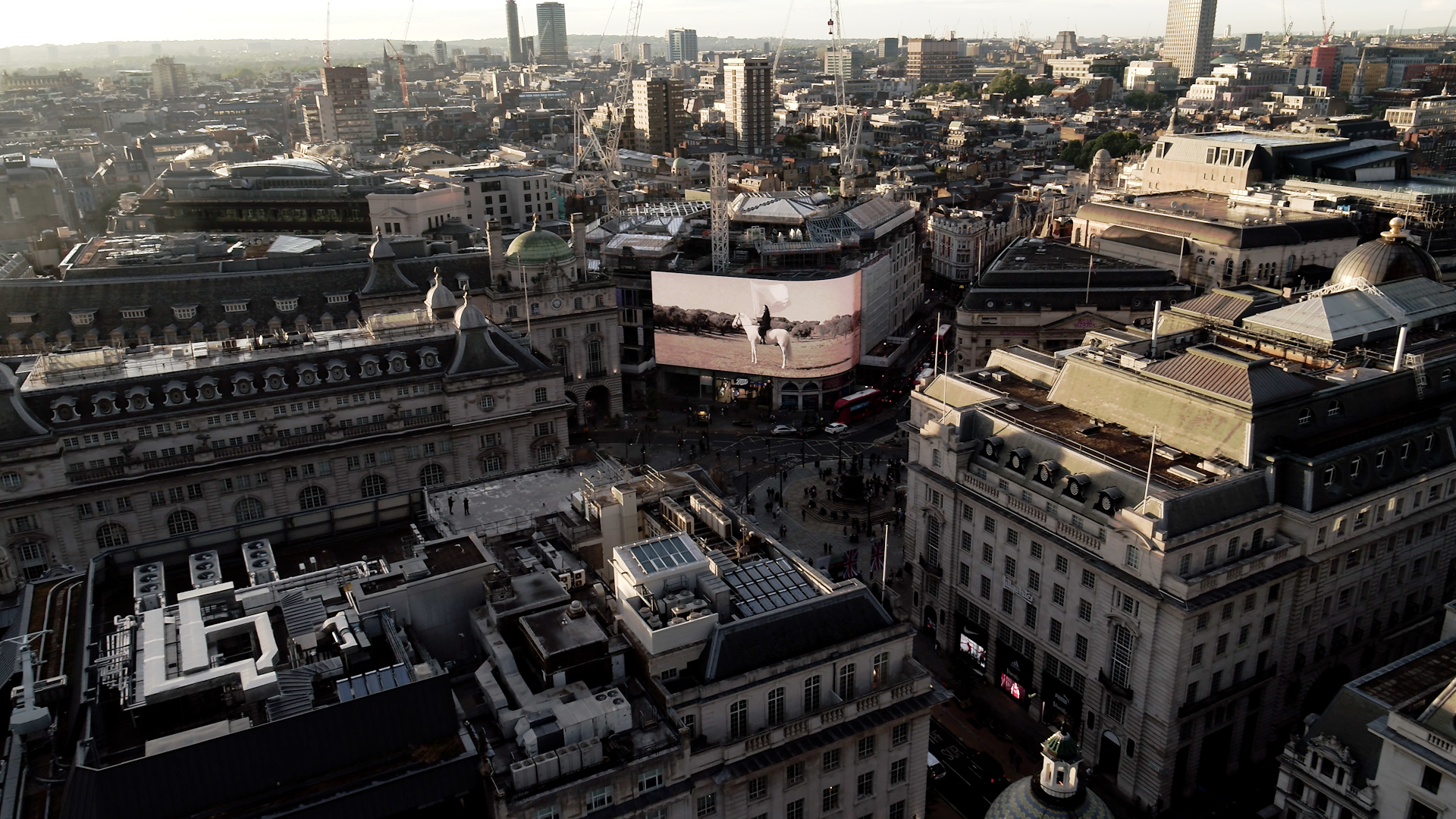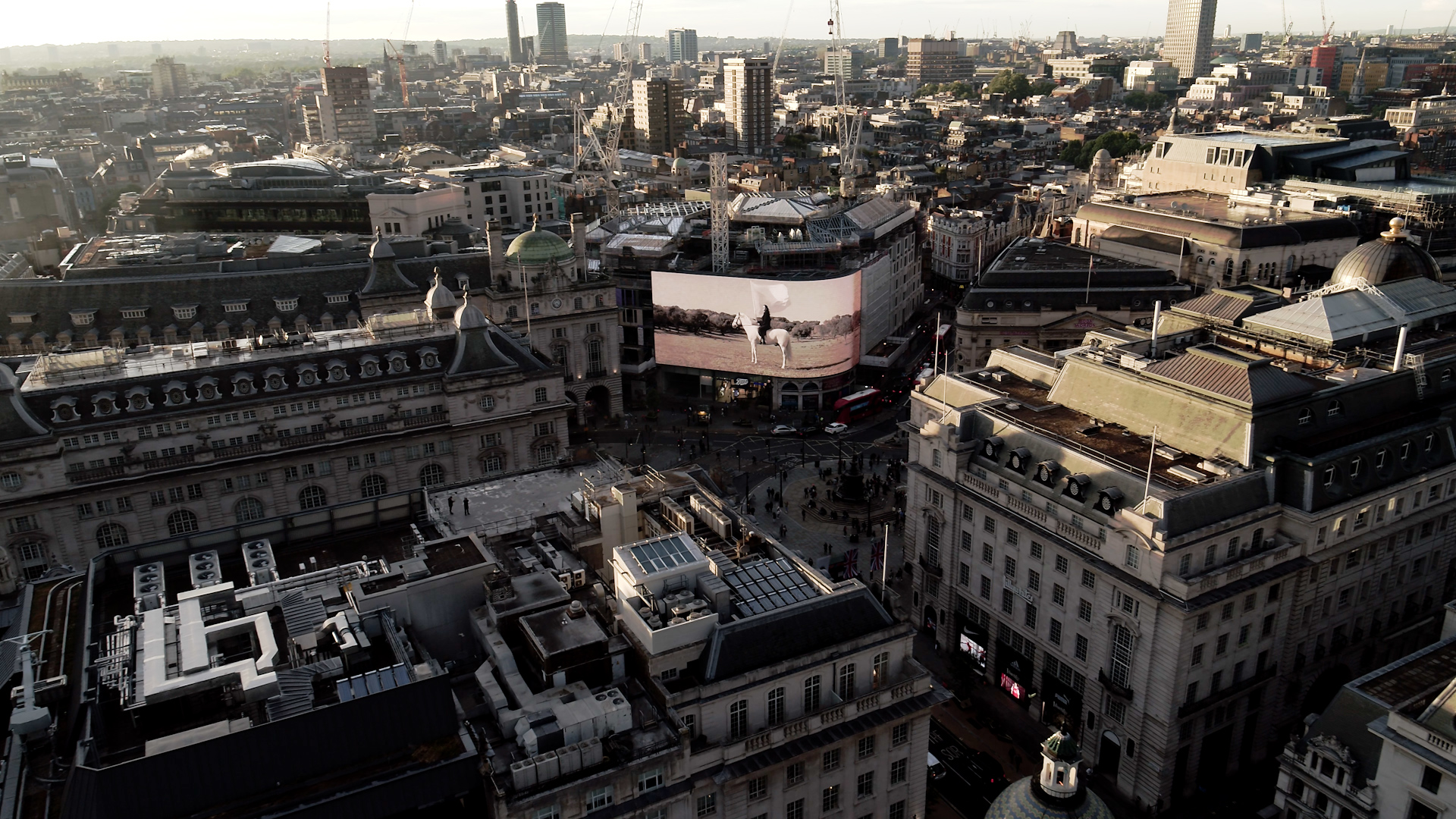 MARINA ABRAMOVIĆ NFTs


Marina Abramović has pioneered landmark works that have recast the audience-artist relationship, with this durational CIRCA commission instigating a timely connection between disparate audiences around the world. Expanding on her iconic use of time-based media for a digital age,
The Hero
will be presented by CIRCA on the energy-efficient Tezos blockchain. Renowned for embracing new mediums and technologies, the artist will announce details of her first ever NFT during a live panel discussion at Art Basel in Basel on 19 June.
Diane Drubay

, Arts & Culture in the Tezos ecosystem, TZ Connect, comments:

NFTs are the ideal medium to share Marina Abramović's and CIRCA's view of a new paradigm through innovative ways of thinking and experiencing art. We are thrilled to witness Marina Abramović's work brought to life for the first time in Web3 on Tezos. Abramović's creation The Hero is perfectly at home in the thriving and diverse Tezos Art community.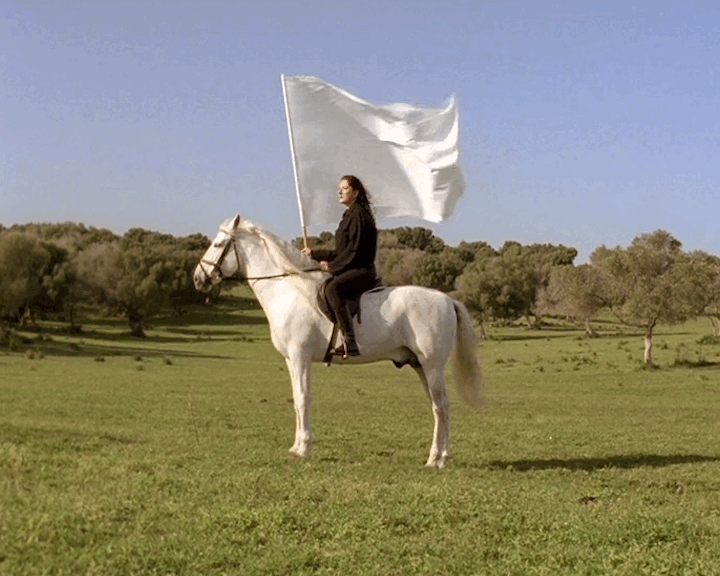 #CIRCAECONOMY PRINT

A time limited edition print by Marina Abramović is available to purchase in support of the #CIRCAECONOMY – a circular model that supports the CIRCA free public art programme and creates life-changing opportunities for the creative community. From new public art commissions to university scholarships, donations and cash grants – CIRCA is committed to breaking down barriers and exponentially increasing everyone's chances of being seen and heard on a global platform.
The Hero
Lenticular print
Time-limited edition available 1 June – 31 August 2022
210 x 210mm
£120 inc.VAT
NOTES TO EDITORS
ABOUT THE ARTIST
Since the beginning of her career in Belgrade during the early 1970s, Marina Abramović has pioneered performance as a visual art form. She created some of the most important early works in this practice, including Rhythm 0 (1974), in which she offered herself as an object of experimentation for the audience, as well as Rhythm 5 (1974), where she lay in the centre of a burning five-point star to the point of losing consciousness. These performances married concept with physicality, endurance with empathy, complicity with loss of control, passivity with danger. They pushed the boundaries of self- discovery, both of herself and her audience. They also marked her first engagements with time, stillness, energy, pain, and the resulting heightened consciousness generated by long durational performance.
In 2012, she founded the Marina Abramović Institute (MAI), a non-profit foundation for performance art, that focuses on performance, long durational works, and the use of the 'Abramović Method'. MAI is a platform for immaterial and long durational work to create new possibilities for collaboration among thinkers of all fields.
Abramović was one of the first performance artists to become formally accepted by the institutional museum world with major solo shows taking place throughout Europe and the US over a period of more than 25 years. In 2023, Abramović will be the first female artist to host a major solo exhibition in the Main Galleries of the Royal Academy of Arts in London. Her first European retrospective 'The Cleaner' was presented at Moderna Museet in Stockholm, Sweden in 2017, followed by presentations at the Louisiana Museum of Modern Art in Copenhagen, Denmark, Henie Onstad, Sanvika, Norway (2017), Bundeskunsthalle, Bonn, Germany (2018), Centre of Contemporary Art, Torun (2019), and concluding at the Museum of Contemporary Art Belgrade, Serbia (2019). In 2010, Abramovic had her first major U.S. retrospective and simultaneously performed for over 700 hours in "The Artist is Present" at the Museum of Modern Art in New York.
In 1997, Abramovic was awarded the Golden Lion Award for Best Artist for her performance Balkan Baroque at the Venice Biennale. In 2006, Abramovic received the U.S. Art Critics Association Award for Best Exhibition of Time Based Art for her performance Seven Easy Pieces at the Guggenheim in New York City. In 2008, Abramovic received the Austrian Decoration of Honor for Science and Art in Vienna. In 2011, she was awarded Honorary Royal Academician status by The Royal Academy in London. In 2013, Abramovic was awarded the Ordre des Arts et des Lettres Officer for her work in Bolero, Paris. In 2014, Abramovic was named one of The 100 Most Influential People by TIME Magazine. In 2021, Abramovic was awarded the Princess de Asturias Award for the Arts, in Spain.
ABOUT CIRCA
CIRCA is a digital art and culture platform with purpose. We stop the clock on global media spaces every evening at 20:22 and mobilise the world's greatest creative minds to broadcast unique works that consider our world today, circa 2022. The funds we generate from artist print sales drive the #CIRCAECONOMY – a circular model that supports our free public art programme and creates life-changing opportunities for the art & culture community.
Since launching in October 2020 on London's iconic Piccadilly Lights, CIRCA has commissioned new work from rising and established artists including Ai Weiwei, Cauleen Smith, Eddie Peake, Anne Imhof, Patti Smith, Tony Cokes, Emma Talbot, Vivienne Westwood, James Barnor, David Hockney & Yoko Ono.
ABOUT TEZOS
Tezos is smart money, redefining what it means to hold and exchange value in a digitally connected world. A self-upgradable and energy-efficient blockchain with a proven track record, Tezos seamlessly adopts tomorrow's innovations without network disruptions today. 
For more information, please visit https://tezos.com
SOCIAL MEDIA
Marina Abramović Instagram
Marina Abramović Twitter
HASHTAGS: #CIRCA2022 #MARINAABRAMOVIC #THEHERO
FOR PRESS ENQUIRIES, PLEASE CONTACT:

press@circa.art