Press release: Laure Provoust, No More Front Tears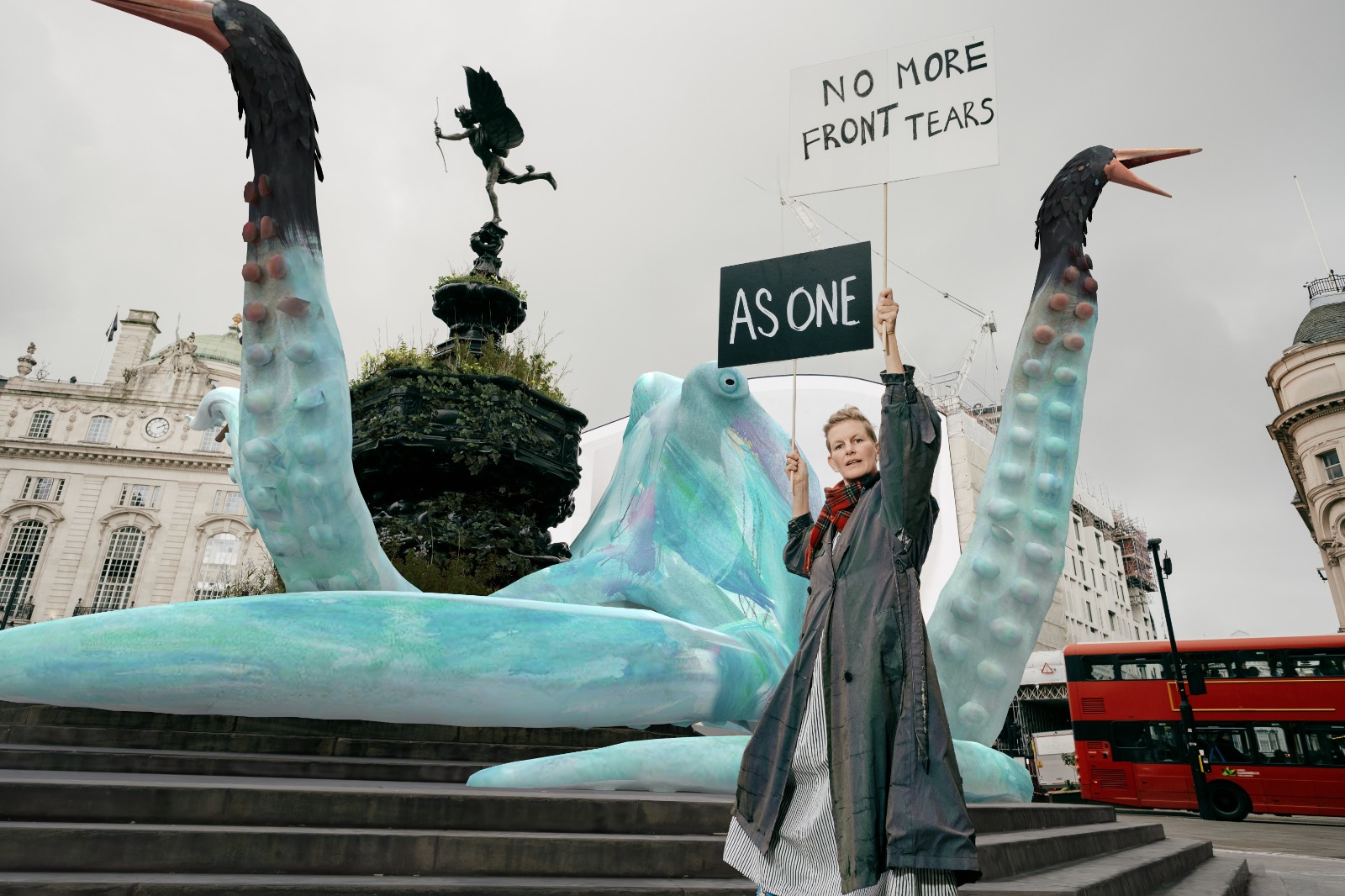 CIRCA PRESENTS NO MORE FRONT TEARS BY ARTIST
LAURE PROUVOST

BROADCASTING GLOBALLY THROUGHOUT OCTOBER 2022, coinciding with Frieze London and CIRCA's second anniversary, Laure Prouvost will take centre stage on the CIRCA platform with a new 2.5min video work that explores the migration of other-than-humans, poetically navigating and providing deeper context surrounding questions of borders and immigration.
LAUNCHING 13th OCTOBER, complementing the global video presentation and in conjunction with Frieze week, Prouvost will activate her first AR experience in Piccadilly Circus, London that brings to life a giant, painterly octopus. Wrapping around the Anteros Statue, she is resting after her long march to London, following a protest gathering of other-than-human compatriots. Marching together, through unscripted encounters between this world's manifold, they seek to develop infrastructures for deep futurity.
PARTNERING WITH CHOOSE LOVE, who support refugees and displaced people globally, this month's #CIRCAECONOMY print by Prouvost will power a £5000 donation to the charity. Further information below.
Laure Prouvost says 
"Could we be birds, sea animals who belong to no nation? Free to follow our own migration routes? This work for CIRCA addresses urgent questions of earthly survival, such as other-than-human and human rights. 
The video presentation will address the passer by, suggesting the possibility to become one another in empathy with all materiality. In conjunction, the Piccadilly Circus activation is an octopus (visible on AR) taking rest, taking a break after a long voyage marching with placards and protest signs from a gathering she held of other-than-human comrades on a ride seeking togetherness in union.
 Could one become a bird flying across continents, or an octopus swimming across oceans thinking through touch. Giving us a moment to pause and imagine a more fluid future. Could we imagine migration routes for all species, humans and non humans. WE AS ONE  belonging to one world, could we dream of NO MORE FRONT TEARS?"  
AS CIRCA CELEBRATES ITS SECOND ANNIVERSARY, the Frieze Art Fair will take hold of London. CIRCA launched with Ai Weiwei in October 2020 and in October 2022 we are proud to provide Laure Prouvost with this platform. In conjunction, Lisson Gallery's Frieze booth will present a solo presentation by the artist.

#CIRCAECONOMY PRINTS
Laure Prouvost has created a new artwork in support of CHOOSE LOVE and the #CIRCAECONOMY – a circular model that funds the CIRCA free public art programme, creates life-changing opportunities for the art & culture community and this month will power a £5000 donation to the charity CHOOSE LOVE. Signed, screen printed edition of 1000 available to purchase for £120 exclusively on CIRCA.art

CIRCA Screen Locations:
20:22 BST – London, Piccadilly Lights
20:22 CET – Berlin, Limes, Kurfürstendamm
20:22 ACT – Melbourne, Fed Square
20:22 UTC – Milan, Luxottica, Piazzale Cadorna
20:22 EST – New York, Luxottica, Times Square
20:22 KST – Seoul, COEX K-Pop Square

For press enquiries please contact:
Hannah Ridley
E: hannah@circa.art
T: + 00 44 7786 518 165
Notes To Editors
Laure Prouvost portrait, artwork images and extended bio for press are here.
LAURE PROUVOST (b.1978) is a French artist currently based in Brussels. She received her BFA from Central St Martins, London in 2002 and studied towards her MFA at Goldsmiths College, London.
The 2013 Turner Prize winner is known for her immersive films and mixed-media installations. Her films are composed of a rich assortment of pictures, sounds, and spoken and written phrases, which appear and disappear in quick cuts. These are often shown nestled into installations filled with found objects, sculptures, paintings, drawings, furniture, signs, and architectural assemblages, based on the themes and imagery in her films.
Prouvost won the MaxMara Art Prize for Women in 2011 and represented France at the 58th International Art Biennial, Venice 2019.
CIRCA is a digital art and culture platform with purpose. We stop the clock on global media spaces every evening at 20:22 and mobilise the world's greatest creative minds to broadcast unique works that consider our world today, circa 2022. The funds we generate from artist print sales drive the #CIRCAECONOMY – a circular model that supports our free public art programme and creates life-changing opportunities for the art & culture community.
Since launching in October 2020 on London's iconic Piccadilly Lights, CIRCA has commissioned new work from rising and established artists including Ai Weiwei, Cauleen Smith, Eddie Peake, Anne Imhof, Patti Smith, Tony Cokes, Emma Talbot, Vivienne Westwood, James Barnor, David Hockney & Yoko Ono.
CHOOSE LOVE does whatever it takes to provide refugees and displaced people with everything from lifesaving rescue boats to food and legal advice. Their work has reached over 3 million people across Europe, the Middle East and along the US-Mexico border. Everything they do is powered by a vision of a world that chooses love and justice every day, for everyone.   
CIRCA SUPPORTERS
CIRCA has been made possible by Landsec, landlord of Piccadilly Lights, who have kindly donated media space, as a helpful boost to the cultural scene in London's West End.
CIRCA is grateful to Piccadilly Lights, Ocean Outdoor, Limes, CJ Powercast, Fed Square, Luxottica and Pendry West Hollywood for supporting our free public art programme.