Press release: Eddie Peake, A Dream Of A Real Memory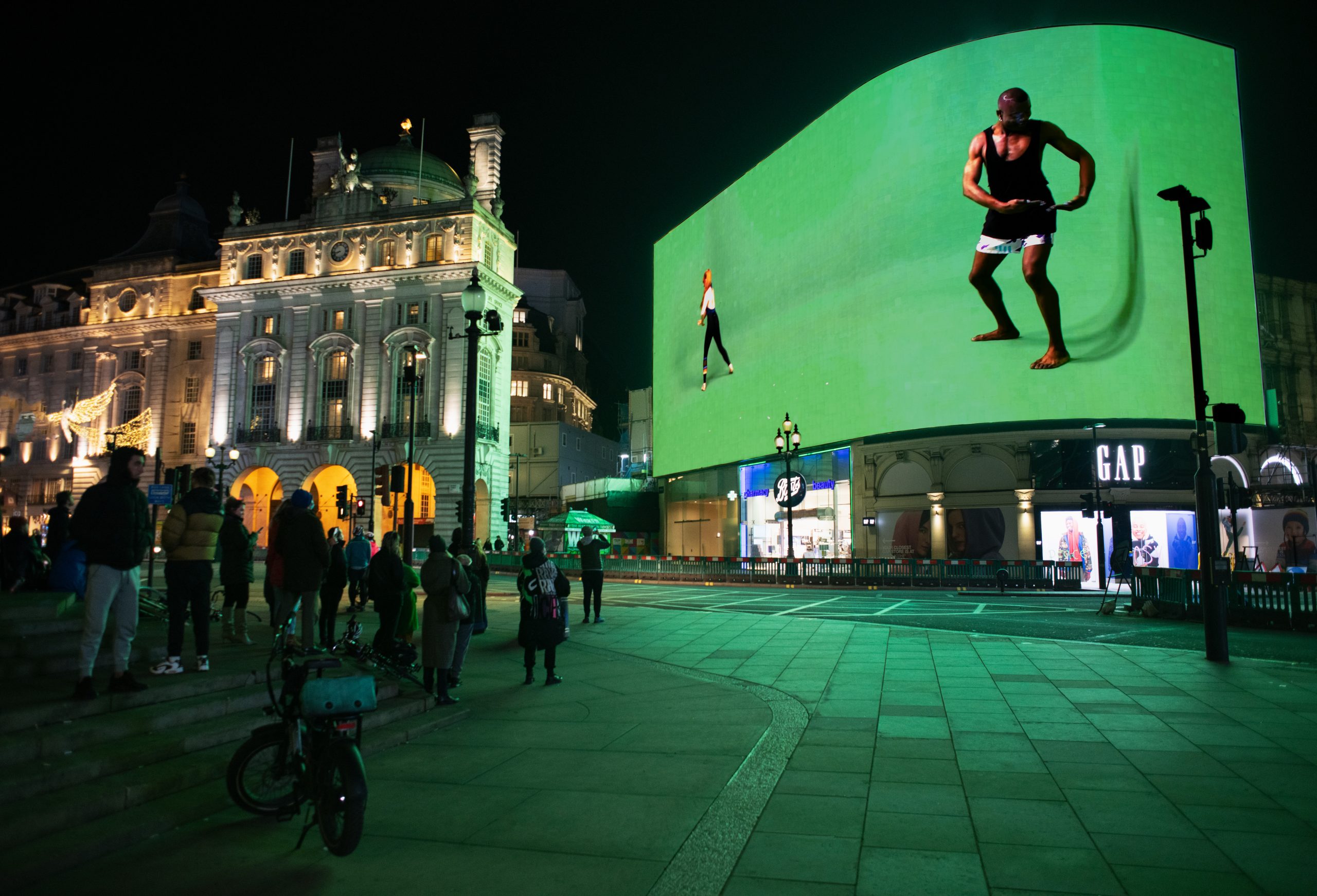 LONDON EMERGES FROM LOCKDOWN WITH NEW COMMISSION 'A DREAM OF A REAL MEMORY'  BY EDDIE PEAKE ON THE ICONIC PICCADILLY CIRCUS SCREEN. 
1-31 December, 2020
CIRCA, Piccadilly Circus, W1
For its third installment, CIRCA invites one of London's most seminal artists, Eddie Peake, to strip back the adverts and immerse Piccadilly Circus in a wash of green light, every evening throughout December, at c.20:20 – 20:22GMT.
A Dream Of A Real Memory is a devised drama featuring three characters set within a green screen cyclorama. Primarily, abstract movement and dance are employed as metaphoric means to engage ideas of tension and power dynamics implicit in relationships between people, or in individuals' internal pursuit of their own self-identity. The footage of the sixty-two-minute video work, screened in daily two-minute episodes over 31 days, is reversed, beginning at "the end" of the performance, showing the performers' tired bodies and messy makeup, and ending at "the beginning" of the performance. The backwards motion of the work is analogous with the distorted and fantastical-seeming realm of both dreams and memories, which though connected to reality can also warp and misrepresent it. Also, by revealing the filmmaker himself, the fracturing of the fourth wall emphasises the deceptive boundaries which dreams, memories, and reality possess. 
'The work employs the specific characteristics of the Piccadilly screen to create a narrative work that also criticises (laterally, not explicitly) the manipulative means by which capitalist machinery such as advertising entwines itself within our lives, deliberately playing on our desires, our anxieties and so on. I like that this is a work about relationships (in the broadest possible sense of the word) and the looping thought patterns of an obsessive, depressive or psychotic mind, placed within that context.'  
A Dream Of A Real Memory is a development of Peake's live performance and performance-to-camera works, as well as a continuation of his interest in the screen as a physical object and conduit for the blending of multiple realities. The green screen is featured as a deliberate visible element and could be a fourth character within the drama, or perhaps even its protagonist. Normally an unseen functional device of cinema, TV and advertising, the green screen is experienced here as prominently as the performers, a block of infinite green framing their movements. 
Created by artist Josef O'Connor, CIRCA commissions a different artist each month to present new ideas that consider our world circa 2020. Each artist is invited to create a new work for Europe's largest screen that offers an innovative and exciting way for people to engage with art, both outside and online, in a safe and socially distanced way.
Visitors to Piccadilly Circus can connect their headphones to WWW.CIRCA.ART and receive a fully immersive audio-visual experience. The website also streams the artwork every evening at c.20:20GMT and hosts supporting content alongside past archives of CIRCA commissioned works from Cauleen Smith and Ai Weiwei. 
Having generated over 4 million hits since its launch in October 2020, CIRCA is using its digital platform throughout December to support the work of London-based charity 'Choose Love' where visitors can buy essential items such as sleeping bags, warm winter clothes and waterproof tents for refugees.
CIRCA has been made possible by Landsec, landlord of Piccadilly Lights, who have kindly donated media space, as a helpful boost to the cultural scene in London's West End.
 Sir Norman Rosenthal quote: 'Eddie's work exists in the traditions of both performance and surrealism. He invents extraordinary images – in this case a dance for two in a mad green void – that manifests the absurdities of both death and life.' 
Josef O'Connor quote: 'Stripped of its identity and purpose – like so many of us have felt this year – Piccadilly Circus has been quietly transformed into a 'non-place' that effortlessly captures and defines the drama of the now. We're honoured to have Eddie involved and end this challenging year with a reminder of our dreams.'
NOTES TO EDITORS
EDDIE PEAKE
Eddie Peake's art includes performance, video, photography, painting, sculpture, sound and installation. It has tended to take the form of non-linear, immersive exhibitions, usually presented as a web of incongruously and yet inextricably connected discrete objects. Looping or repetitive forms are a prominent element, as is the theme of the inadequacy of verbal language in representing phenomena such as emotions, or modes of communication which are not verbal. Another of its foci is the implicit drama within relationships between people, whether they are familial, professional, romantic, sexual or social, and how desire, sexuality, socio-political and cultural constructs, as well as psychological states such as depression impact on them. Peake also DJs under a pseudonym and runs a record label called Hymn.
SUPPORTERS
CIRCA is made possible with the kind support of individuals, institutions and galleries. We are especially grateful to Piccadilly Lights, Collezione Maramotti, The Art Newspaper, Lisson Gallery, Gagosian, Whitechapel Gallery, The Showroom, Art Rabbit, The Barbican, ICA and the Museo della Merda (Italy) for their support of the programme.
For more information, please contact:
press@circa.art