Press release: CIRCA PRIZE 2022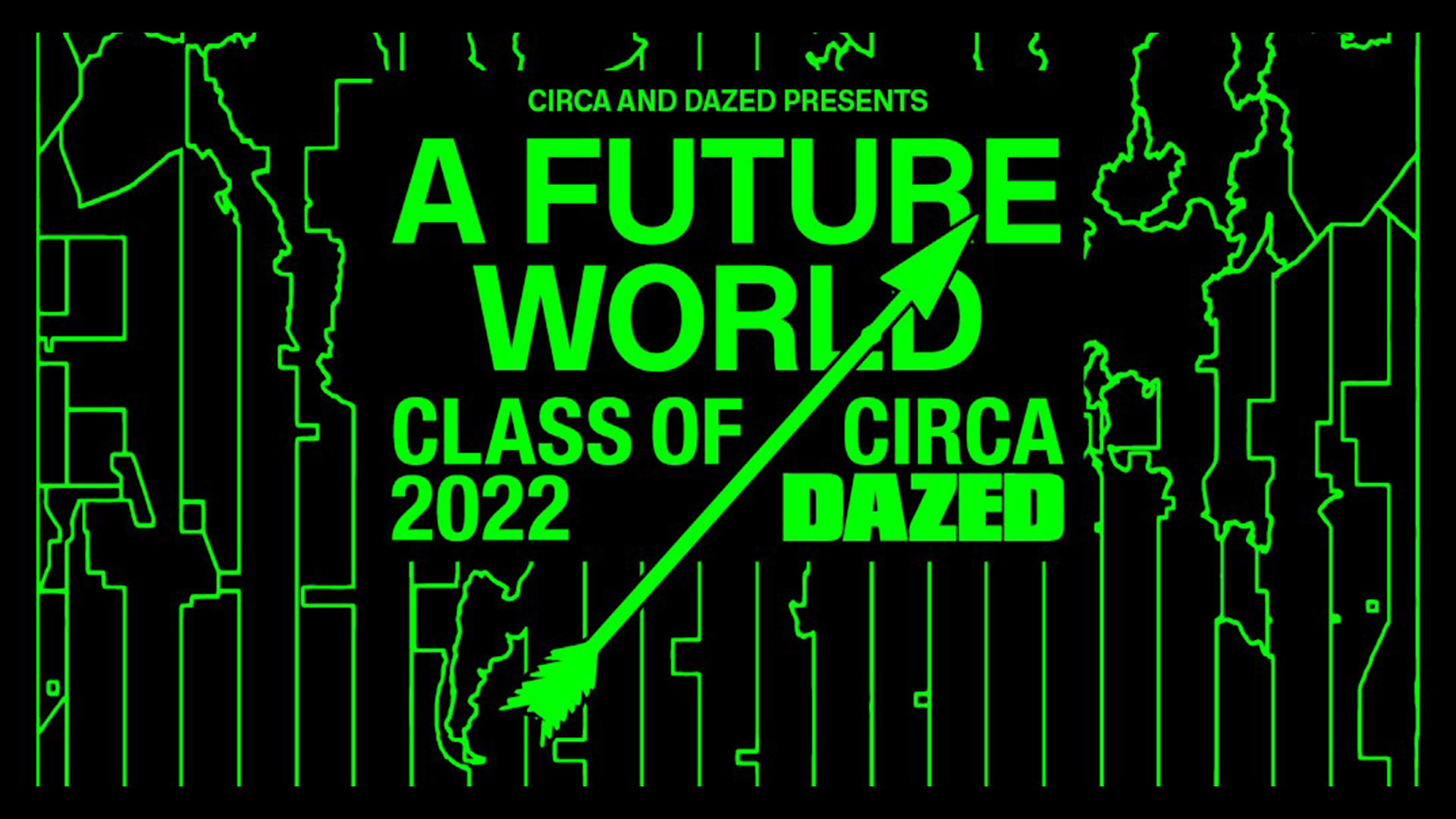 CIRCA x Dazed Class of 2022 
presents 
A Future World
An open call for the next generation of new media creators

Thursday 23 June, London, UK – Today CIRCA x Dazed Class of 2022 returns with an open call for new media creators to respond to the theme 'A Future World' with a two-and-a-half minute piece of new or pre-existing moving image work. The Class of 2022 is global and open to all – from aspiring filmmakers and creators, budding artists and activists, to performers, poets and gamers – in a bid to discover, platform and celebrate the new visionaries shaping our future through creativity. 
30 finalists – The Class of 2022 – will be selected by a jury of fourteen industry leaders that includes Martine Syms, Precious Okoyomon, Jefferson Hack, Josef O'Connor, Honey Dijon, Arca, Norman Rosenthal, Kandis Williams, Hans Ulrich Obrist, Kay Pallister, Anika Meier, Ruth Waters, Laure Prouvost, Guido Gregorio Daminelli and Amar Ediriwira.
The finalists' work will be screened on London's Piccadilly Lights and other major screens around the world on a dedicated day throughout this September at 20:22 (local time) alongside having their work and stories platformed each day across Dazed's channels to a global audience of millions. 
One finalist selected by the jury will receive the £30,000 #CIRCAECONOMY fund – a cash prize generated from the sale of affordable prints by CIRCA artists including Marina Abramović, Patti Smith, Ai Weiwei and David Hockney – to put towards a future 10-minute commission to be presented on the Piccadilly Lights in 2023. 
Submissions will close at midnight on Sunday 31 July. Click HERE to apply. 
The #CIRCAECONOMY prize will be announced during a live ceremony in Piccadilly Circus followed by a reception and screening at the Dazed Space Studio during Frieze London this October. 
Jefferson Hack, Co-Founder, Dazed Media says "After last year's success when we launched this brilliant initiative with CIRCA, we are thrilled that the Class of 2022 is back. This is a chance for next generation creatives, anywhere in the world, to be discovered, championed and defined as an important new media maker. Dazed has always been passionate about being a talent launch pad, breaking new names into the mainstream. This year the theme A Future World speaks to our founding principle – the voice of the tomorrow is in the hands of the next generation. 
Josef O'Connor, Founder, CIRCA says, "45 years ago Johnny Rotten leaned over a microphone and screamed: No Future! Today, with climate breakdown, cost of living and global tensions escalating – the need for new ideas is greater than ever. This is an opportunity to present your vision of A Future World on the Piccadilly Lights. We couldn't be more honoured to join forces again with Dazed and invite this incredible jury to platform the future generation and reinforce the mission of the #CIRCAECONOMY." 
Joseph Wilson, Winner of Class of 2021 says, "Still feeling the joy of winning Class of 2021. So grateful to have had my work screened across such impactful platforms and to see important queer narratives shared around the world. Thank you to CIRCA, Dazed and Marina Abramović for making this life changing moment possible. The prize has enabled me to continue celebrating our stories and bringing marginalised communities to the forefront of mainstream media." 
The #CIRCAECONOMY fund is generated from the sale of affordable prints by CIRCA artists including Marina Abramović, Patti Smith, Ai Weiwei and David Hockney. #CIRCAECONOMY profits are circulated back into helping build an economy that commissions new public art in our communities, nurtures more diverse cultural industries, and supports emerging creative potential. 
The CIRCA x Dazed Class of initiative was co-created by CIRCA and Dazed in 2021 to spotlight and support the next generation of artists working in moving-image. With public art spaces diminishing, investment in arts education being cut and artist communities at risk, the joint initiative aims to empower youth through creativity and platform new voices and points of view from local communities on a global level, giving them unrivalled media exposure and access to CIRCA and Dazed's combined networks. The 2021 winner of the #CIRCAECONOMY fund was Joseph Wilson. 
Submissions will close at midnight on Sunday 31 July. 
ENDS
CONTACTS
Marc MacDonald, Communications Executive, Dazed Media
marc.macdonald@dazedmedia.com 
ABOUT CIRCA
The Cultural Institute of Radical Contemporary Art (CIRCA) in London commissions new ideas from emerging and established artists. Broadcasting across a global network of screens, each month we sell limited edition prints by our exhibiting artists to generate funds for the #CIRCAECONOMY – a circular model designed to support our free public art programme and create life-changing opportunities for the creative community. 
The largest public art project in Europe, CIRCA commissions new work that considers the world in response to the present year: CIRCA 2020, 2021, etc. Since launching in October 2020, CIRCA has commissioned new work from rising and established names including Ai Weiwei, Cauleen Smith, Eddie Peake, Anne Imhof, Patti Smith, Tony Cokes, Emma Talbot, Vivienne Westwood, James Barnor, David Hockney, Yoko Ono, Marina Abramović a.o., together circulating over £600k back into the community through cash grants, donations and scholarships. 
ABOUT DAZED
Dazed is an independent British fashion, culture and arts magazine with a reputation for groundbreaking photography, fashion and editorial. It was founded by Jefferson Hack and photographer Rankin as Dazed & Confused in 1991.
Contributors include photographers Harley Weir, Rafael Pavarotti, Ryan McGinley, Walter Pfeiffer, Hugo Comte, Collier Schorr and Willy Vanderperre. Cover stars have included Harry Styles, Billie Elish, Lil Nas X, Selena Gomez, Frank Ocean, Lana Del Rey, Rihanna, Nicki Minaj, Bjork and Pamela Anderson. 
Ib Kamara is the Editor-in-Chief, Kacion Mayers, Editorial Director, Gareth Wrighton, Art Director, Imruh Asha, Fashion Director and Lynette Nylander, US Editorial Director, Alongside AnOther, Dazed Beauty, Nowness and Dazed Studio, it is part of Dazed Media.