Press release: Cauleen Smith, Covid Manifesto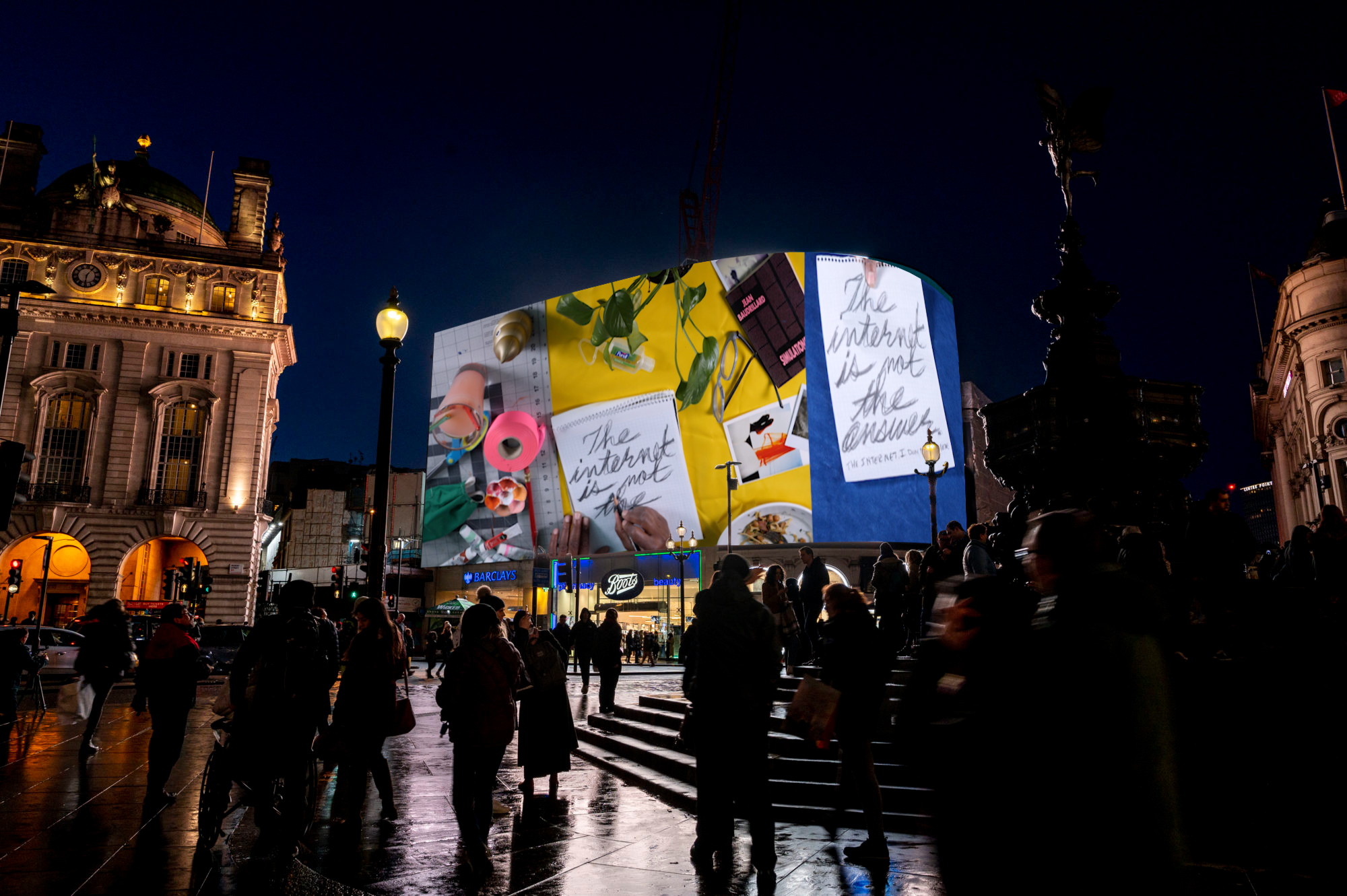 CIRCA PRESENTS CAULEEN SMITH IN COLLABORATION WITH THE SHOWROOM AND BROADCAST ON PICCADILLY LIGHTS
1 – 30 November 2020
20:22 BST – London, Piccadilly Lights
Press Release
(London, Piccadilly Circus) 1 November 2020 – One of America's leading artists Cauleen Smith will present her COVID MANIFESTO curated in collaboration with The Showroom, London, directed by Elvira Dyangani Ose on the Piccadilly Lights giant screen every night throughout November 2020.
Throughout the month of November, Cauleen Smith will rewrite and reveal 23 pronouncements from her manifesto written during lockdown. In a sort of living still life, the artist's desk will become the tableau in which personal items, remnants of daily rituals, and key references to her practice will accumulate, appear and disappear. The project will unfold in a sequence, a crescendo, that will be punctuated by 7 intermissions selected from Smith's existing works. Over the month, the personal and poetic, the eventful and now historical, will feature as Smith responds to Covid-19 and its multiple aftermaths.
Elvira Dyangani Ose, Director of The Showroom: COVID MANIFESTO is a timely narrative providing insight into an individual's intimate experience as shared through social media— a form of storytelling that holds a mirror up to society, one daily pronouncement at a time. Moreover, CIRCA offers a groundbreaking approach to communicate aesthetic disruptions on an almost unimaginable global scale. We are honoured to have Cauleen Smith's experimental practice and powerful vision for radical utopias fill the epic Piccadilly Lights, as well as the limitless digital ether of CIRCA's website.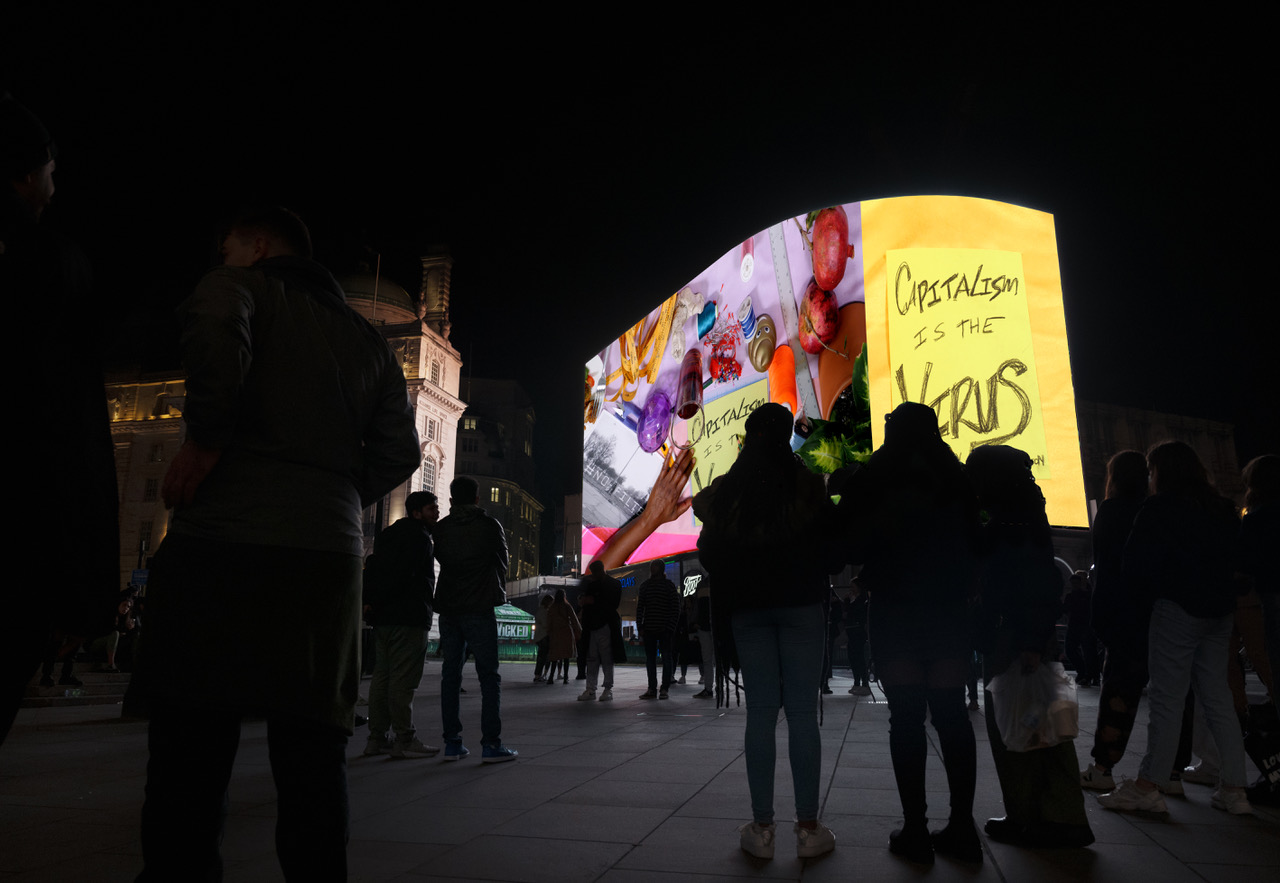 Created by artist Josef O'Connor, CIRCA commissions a different artist each month to present new ideas that consider our world CIRCA now. Each artist is invited to create a new work for Piccadilly Lights, Europe's largest screen, that offers an innovative and exciting new way for London to engage with art, both outside and at home, in a safe and socially distanced way.
Visitors to Piccadilly Circus will be able to connect their headphones to WWW.CIRCA.ART and receive a fully immersive audio-visual experience. The website will also stream the artwork every evening (20:20 BST/GMT). Exhibiting artists are invited to upload supporting content such as images, text and videos throughout the month, to expand on their ideas and engage a wider digital community from around the world.
The CIRCA website will be transformed into an extraordinary archive of past projects from the artist's trajectory, references from her ongoing research and allusions to her revolutionary imaginary, constituting a virtual mid-career survey curated in collaboration with The Showroom, London.
Chaired by Sir Norman Rosenthal, The CIRCA Advisory Council has been established to consult on the curatorial and compliance process, with representatives from a diverse range of backgrounds including the arts, communications, broadcasting, law and political journalism.


Josef O'Connor: We are honoured to be sharing the CIRCA platform this month with Elvira and The Showroom. History is being written both on and off the Piccadilly screen this November, with Cauleen Smith's COVID MANIFESTO providing an intimate underscore to a month which will undoubtedly define our collective future for years to come.
#CIRCAECONOMY PRINT
A time limited edition print by Cauleen Smith is available to purchase in support of the #CIRCAECONOMY – a circular model that supports the CIRCA free public art programme and creates life-changing opportunities for the art and culture community. Click here to purchase.


The Internet Is Not The Answer
Silver silkscreen on pink notepaper
Time-limited edition available until midnight 30 November 2020
14.8 x 21cm
£120 including VAT
Hand-signed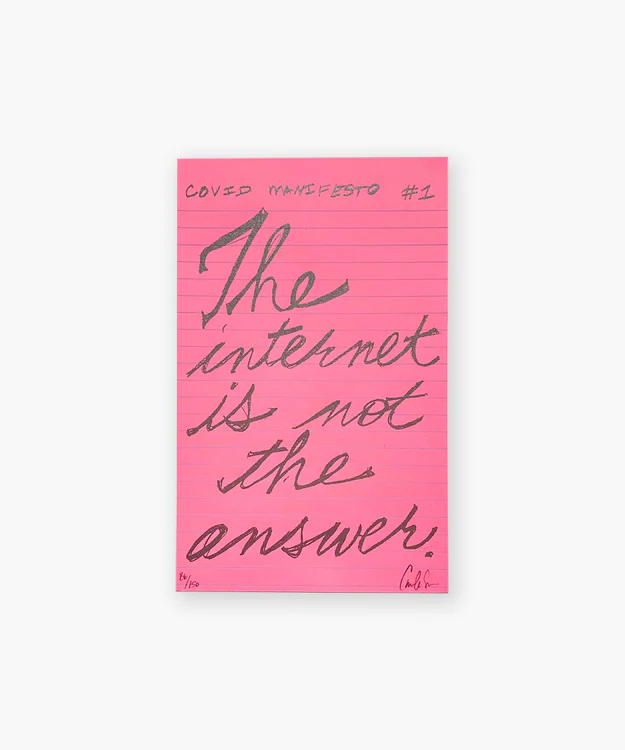 NOTES TO EDITORS
ABOUT THE ARTIST
Born in Riverside, California, and educated at San Francisco State University (BA) and the UCLA School of Theater, Film, and Television (MFA), Cauleen Smith lives and works in Los Angeles and serves on the faculty of the California Institute of the Arts. In addition to her solo exhibitions at MASS MoCA and the Whitney, she has received single-artist shows at the Art Institute of Chicago, the Museum of Contemporary Art, Chicago, and ICA Philadelphia. Her short films, a feature film, an installation, and a performance work were showcased in 2019 at the Rotterdam International Film Festival. Her 2018 work Sojourner is currently featured in the exhibition Future Histories: Theaster Gates and Cauleen Smith at SFMOMA. In 2016, Cauleen Smith was the inaugural recipient of the Ellsworth Kelly Award from the Foundation for Contemporary Art. Other honors include the 2016 Herb Alpert Award for Film/Video, a Rockefeller Media Arts Award, a Creative Capital Award, an Artadia Award, a United States Artists Fellowship, a Chicago 3Arts Grant, and residencies at the Robert Rauschenberg Foundation and Artpace. Smith has been announced as the winner of this year's Joyce Alexander Wein Art Prize by the Studio Museum in Harlem.
IN COLLABORATION WITH
For over thirty-seven years The Showroom, London has been committed to serving as a platform for emerging practices and ideas where collaboration, criticality and learning are integral to the production of unconventional art and discourse. Its ground-breaking approach fosters experimental practices and reflects upon everyday life through its engagement with the local community. The Showroom also advocates for international transdisciplinary forms of art and education, and remains a key agent bringing together projects around art and social justice. For the past two years The Showroom has been under the leadership of Director and Chief Curator Elvira Dyangani Ose. She is currently affiliated to the Department of Visual Cultures at Goldsmiths, University of London and the Thought Council at the Fondazione Prada.
CIRCA SUPPORTERS
CIRCA is made possible with the kind support of individuals, institutions and galleries. We are grateful to Piccadilly Lights, Lisson Gallery, The Showroom, Gagosian, Whitechapel Gallery, Imperial War Museums, ICA, Museo della Merda (Italy) and the Collezione Maramotti (Italy) for their support of the programme.                                      
For more information, please contact: