Press release: Anne Imhof, ONE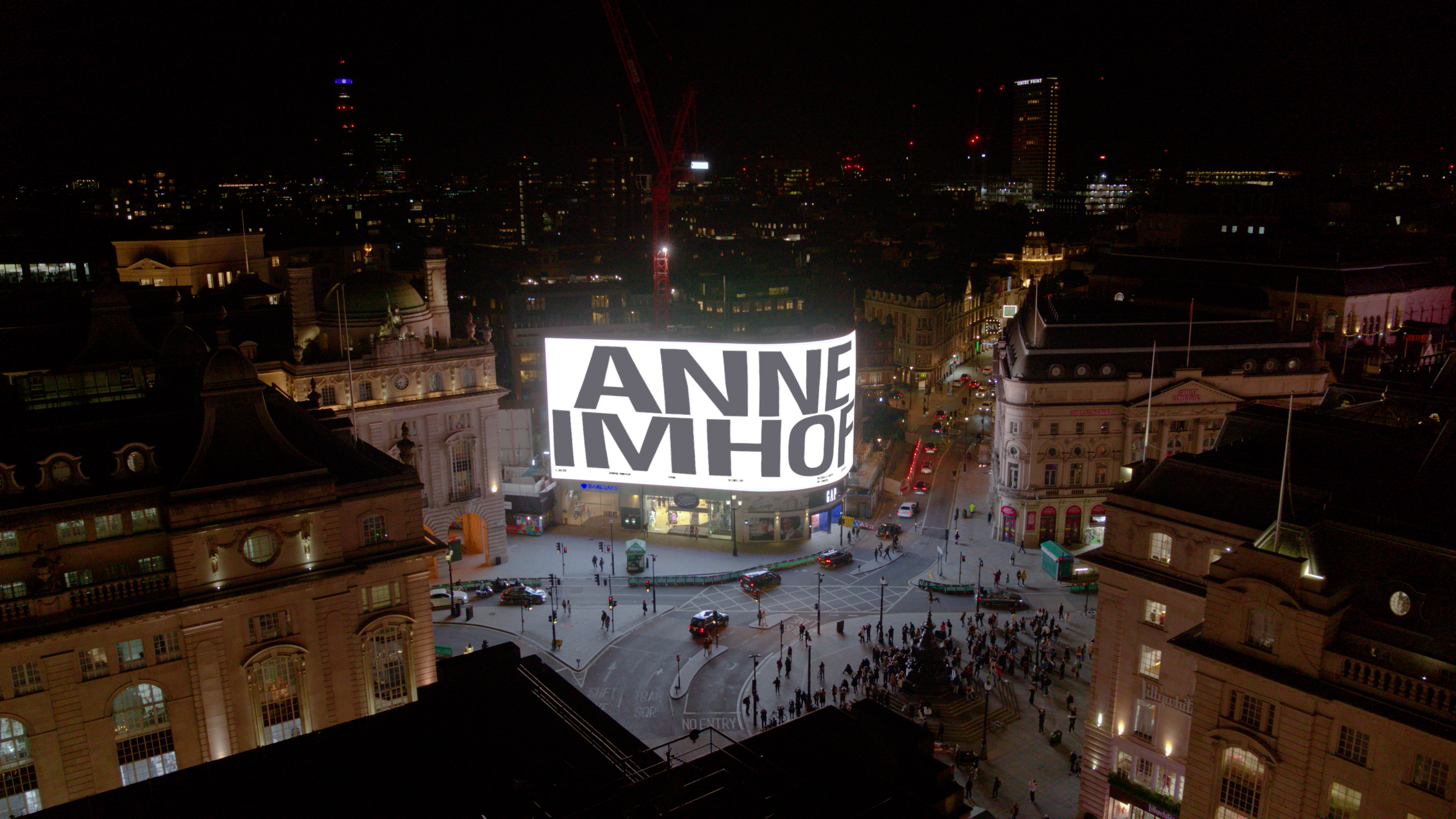 PATTI SMITH TO RING IN THE NEW YEAR WITH MIDNIGHT PERFORMANCE ON EUROPE'S LARGEST SCREEN 
MAJOR NEW COMMISSION BY LEADING GERMAN ARTIST
ANNE IMHOF IN RUN UP TO MIDNIGHT
High-resolution images available for download: https://bit.ly/38C1sCc
Patti Smith and Anne Imhof premiere can be viewed: https://youtu.be/y4majZOZtJ8

Ringing in the New Year with a moving tribute to 100 NHS and healthcare workers who passed away this year from COVID-19, Patti Smith and her Band will mark the beginning of 2021 with a 10-minute performance at midnight on the iconic Piccadilly Lights screen, presented by the innovative digital art platform, CIRCA. A gift to London, the city that Smith loves, the event will be streamed around the world for free, via the CIRCA YouTube channel.
In a run-up to midnight, CIRCA will present 'ONE' a major new 10-minute commission by the winner of the Venice Art Biennale 2017, Anne Imhof using footage filmed at the Tate Modern during the artist's large-scale installation and performance in 2019. Piccadilly Circus will be washed in the glow of a setting sun, whilst the video counts down to midnight and the arrival of a new year. With the Brexit transition period coming to an end, the solitary and iconic image of Eliza Douglas whipping up the waves on the beaches of Normandy offers a poignant and hypnotizing emblem for the ending of the year.
Created by artist Josef O'Connor, CIRCA pioneered a new model for outdoor exhibitions by inviting a different artist each month to present new ideas on the iconic Piccadilly Lights screen. Following the success of their first c.20:20 exhibition, which launched in October 2020 with a 30 film commission by Ai Weiwei, c.20:21 will begin with Patti Smith who has created new work for the month of January.  
Starting 1 January 2021, CIRCA will be screened every evening at the new time of  20:21GMT. Patti Smith has also created 4 limited edition prints in support of the #CIRCAECONOMY costing £100 each. They are only available to buy on WWW.CIRCA.ART/CIRCAECONOMY, 1 – 31 January 2021. 
This special New Year's Eve event will be streamed on the CIRCA YouTube Channel (23:30 – 00:10GMT) whilst visitors to Piccadilly Circus are encouraged to wear a face mask and adhere to social distancing guidelines. Headphones are required for a fully immersive audio-visual experience, delivered via theWWW.CIRCA.ART website to your phone. 

CIRCA Fundraiser
To help raise money in support of their free public programme, CIRCA is offering 1,000 people the opportunity to #CYOURNAMEINLIGHTS on the iconic Piccadilly Lights screen next year, for just £100. Visit the CIRCA website for more info.
CIRCA has been made possible by Landsec, landlord of Piccadilly Lights, who kindly agreed to extend the donation of free media space into 2021, as a helpful boost to the cultural and economic community in London's West End.
CIRCA would like to acknowledge the support of Gagosian. Throughout January, the gallery will be publishing related content on its social media platforms, including streaming video on its YouTube channel.
Anne Imhof quote: 'It is an honour to show my piece 'ONE' on the iconic screens of Piccadilly Circus leading up to midnight on New Year's Eve as part of the c.20:20 project. The opportunity to take over Europe's largest advertising display and open a portal to hope in the final moments of 2020 is humbling. Peace, freedom and respect for everyone in 2021.'
Josef O'Connor quote: 'These remarkable works by two of the world's leading artists are a great gift to London. Piccadilly Lights, generously donated to artists by LandSec, is a wonderful new platform for their work which has assumed an even greater resonance during the pandemic. We are proud that CIRCA has played its part in making art more accessible to audiences across London when it is more important than ever before.'
NOTES TO EDITORS
About Anne Imhof
Anne Imhof (b. 1978) lives and works in Berlin and Frankfurt am Main, Germany. She represented Germany at the 2017 Venice Biennale, where she was awarded the Golden Lion for best national participation and has won the Absolut Art Award (2017) and the Preis der Nationalgalerie (2015). Imhof's performances have been staged in solo exhibitions at major international venues including the Hamburger Bahnhof, Biennale de Montréal, Kunsthalle Basel and Portikus Frankfurt (2016), MoMA PS1, New York (2015) and the Musée d'art Contemporain, Nîmes (2014). Her work has also been featured in numerous group exhibitions, including at the Palais de Tokyo, Paris; the Centre Pompidou, Paris (2015); and the Museum für Moderne Kunst, Frankfurt am Main (2014).
About Patti Smith
Patti Smith (b. 1946) lives and works in New York City. She is a singer-songwriter, poet, and visual artist, known for her revolutionary merging of poetry and rock. In 1971, her first poetry reading at St Mark's Church would go onto influence her debut album, Horses, which has been hailed as one of the top one hundred albums of all time by Rolling Stone. Her books include Just Kids, winner of the National Book Award in 2010, Wītt, Babel, Woolgathering, The Coral Sea, and Auguries of Innocence. In 2005, the French Ministry of Culture awarded Smith the title of Commandeur des Arts et des Lettres. She was inducted into the Rock and Roll Hall of Fame in 2007. 
Special Thanks
CIRCA would especially like to thank Kay Pallister and Mark Francis from Gagosian for their time and generosity in helping bring this exciting collaboration with Patti Smith to life.
Supporters
CIRCA is made possible with the kind support of individuals, institutions and galleries. We are especially grateful to Piccadilly Lights, Collezione Maramotti, The Art Newspaper, Lisson Gallery, Gagosian, Whitechapel Gallery, The Showroom, Art Rabbit, The Barbican, ICA and the Museo della Merda (Italy) for their support of the programme.

For more information, please contact:
press@circa.art
Dennis Chang / Erica Bolton
Bolton & Quinn
dennis@boltonquinn.com / +44 7854 242 801