Press release: Agnes Denes, Another Confrontation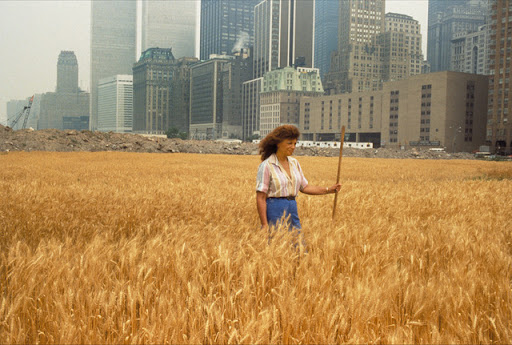 CIRCA PRESENTS ANOTHER CONFRONTATION BY PIONEERING ENVIRONMENTAL ARTIST, AGNES DENES
PREVIEW FILMS *Password: 2022
DOWNLOAD IMAGES AND ASSETS

BROADCASTING GLOBALLY, MAY 2022 – Forty years since pioneering environmental artist Agnes Denes (b.1931) first sowed the seeds of her prophetic public artwork Wheatfield – A Confrontation (May 1982),  transforming the land that became New York's Battery Park City into a two-acre wheat field, CIRCA presents 'Another Confrontation'. With this new commission, Denes transforms Piccadilly Lights and other major screens around the world into platforms for change. Featuring three new video works alongside a specially created interactive AR wheat field on Instagram, Denes alerts audiences once again to the planet's continuing humanitarian and environmental challenges.
"PLANT HOPE – HARVEST PEACE" – Agnes Denes
Denes, whose work is currently on view in The Milk of Dreams, the main exhibition at the 2022 Venice Biennale, rose to international attention in the 1960s and 1970s, creating work influenced by science, mathematics, philosophy, linguistics, ecology, and psychology to analyse, document, and ultimately aid humanity. Her theories about climate change and life in an ever-changing, technologically-driven world demonstrate a deeply prescient understanding of society today.
Another Confrontation traverses over 1000 years of humanity (1982-3022) to debut a series of videos created by the artist for CIRCA alongside a questionnaire highlighting Denes's focus on ecology, her fear of our present environment's decay and hope for future survival in the following three acts:
PAST: Wheatfield–A Confrontation, 1982 (1-10 May)
An act of protest, Denes planted an expansive wheat field in a landfill in lower Manhattan in 1982, two blocks from Wall Street and the World Trade Center and facing the Statue of Liberty, as a comment on the mismanagement of world hunger, food, waste, energy, commerce, trade, land use, and economics.
PRESENT: Tree Mountain–A Living Time Capsule (11-20 May)
The man-made mountain was conceived by Denes in 1982. Measuring 420 meters long, 270 meters wide, 38 meters high, it was planted with 11,000 trees by 11,000 people from all across the globe at the Pinzio gravel pits near Ylojarvi, Finland in 1996. A living time capsule, the land upon which Tree Mountain is planted cannot be touched for 400 years.
FUTURE: 2022 Questionnaire and Time Capsule (21-31 May)
A new global survey inviting the public to answer 11 questions set by Denes concerning humanity in the year 2022. Submitted responses will be buried in a time capsule to be opened in the year 3022, a thousand years from now. Click here to view the Questionnaire.
"Agnes Denes is a pioneer who alerted the world to humanitarian and environmental issues when very few people were paying attention." said Josef O'Connor, Artistic Director of CIRCA. "Pushing boundaries once again, we are honored to be marking the 40th anniversary of Wheatfield–A Confrontation with Another Confrontation, combining video with augmented reality to present her timely message on a global stage and introduce her prophetic legacy to a new generation."
CIRCA and Piccadilly Lights have commissioned an AR wheat field to commemorate the 40th anniversary of Denes's best known public artwork Wheatfield—A Confrontation. Expanding the experience into mobile devices, a special collaboration with Meta Open Arts has enabled the development of an AR-generated wheat field by AR Outdoor Media Company, Darabase, with the advanced camera filter enabling global Instagram users to tap and grow their very own augmented wheat field.
Coinciding with Agnes Denes' 91st birthday on 31 May 2022, a curated selection of AR wheat field photos generated by the public will be presented by CIRCA on London's iconic Piccadilly Lights. Visit @circa.art on Instagram to step inside the AR wheat field. Upload and hashtag #AnotherConfrontation before 20th May 2022 for a chance to see your image appear on the world famous screen.
Tina Vaz, Head of Meta Open Arts, commented: "Today more than ever, Agnes Denes' work is an urgent call to our society. Meta Open Arts is honored to support CIRCA in bringing her message to such a broad audience across the globe."
Dominic Collins, CEO of Darabase, commented: "Darabase is delighted to have designed and built the augmented reality experience to accompany Agnes Denes new project Another Confrontation. This augmented reality filter is an interpretation of her famous NY Wheatfield project. The idea of re-wilding Piccadilly was particularly appealing and a great example of how world scale augmented reality delivers new experiences of famous places all delivered through the visitor's mobile phone."
#CIRCAECONOMY PRINTS
Agnes Denes has created two new artworks in support of the #CIRCAECONOMY – a circular model that funds the CIRCA free public art programme and creates life-changing opportunities for the art & culture community. Available to purchase exclusively on CIRCA.ART until 31 May.

CIRCA Screen Locations:
20:22 BST – London, Piccadilly Lights
20:22 CET – Berlin, Limes, Kurfürstendamm
20:22 PST – Los Angeles, Pendry West Hollywood
20:22 ACT – Melbourne, Fed Square
20:22 UTC – Milan, Luxottica, Piazzale Cadorna
20:22 EST – New York, Luxottica, Times Square
20:22 KST – Seoul, COEX K-Pop Square

Social Media:
Instagram: @CIRCA.ART
Hashtags: #CIRCA2022 #AGNESDENES #ANOTHERCONFRONTATION
For press enquiries please contact:
press@circa.art

Notes To Editors
Agnes Denes was born in Budapest, raised in Sweden, and educated throughout the United States. She has participated in more than 600 exhibitions at galleries and museums internationally. Her solo shows have been presented at venues including Institute of Contemporary Arts, London (1979) and Corcoran Gallery of Art, Washington, DC (1974), among retrospective surveys at Firstsite, Colchester, United Kingdom (2013); The Living Pyramid, Socrates Sculpture Park (2015); Ludwig Museum, Budapest (2008); Samek Art Gallery, Bucknell University, Lewisburg, PA (2003); and Herbert F. Johnson Museum of Art, Cornell University, Ithaca, NY (1992) and a major, critically acclaimed solo exhibition at The Shed, New York (2019-2020).
Denes's work, currently on view in The Milk of Dreams, the main exhibition at the 2022 Venice Biennale, has also been featured in Programmed: Rules, Codes, and Choreographies in Art, 1965 – 2018, The Whitney Museum of American Art (2018); Thinking Machines: Art and Design in the Computer Age, 1959 – 1989, The Museum of Modern Art (2017); documenta 14, Kassel (2017); SITElines: New Perspectives on Art of the Americas – Unsettled Landscapes, SITE Santa Fe (2014); Light Years: Conceptual Art and the Photograph: 1964 – 1977, Art Institute of Chicago (2012); Ends of the Earth: Land Art to 1974, Museum of Contemporary Art, Los Angeles (2012); Materializing Six Years: Lucy R. Lippard and the Emergence of Conceptual Art, Brooklyn Museum (2012); Erre: variations labyrinthiques, Centre Pompidou-Metz (2011 – 12); Systems, Actions & Processes: 1965 – 1975, PROA Foundation, Buenos Aires (2011); 38th Venice Biennale (1978); documenta 6, Kassel (1977); the 2nd Biennale of Sydney (1976) and many other important group shows and international surveys. Her works are in the collections of the Museum of Modern Art, New York; Metropolitan Museum of Art, New York; Whitney Museum of American Art, New York; Hirshhorn Museum and Sculpture Garden, Washington, D.C.; Art Institute of Chicago; San Francisco Museum of Modern Art; Moderna Museet, Stockholm; Israel Museum, Jerusalem; Kunsthalle Nürnberg, Nuremberg; National Gallery of Art, Washington, D.C.; and 28 other major art institutions worldwide.
Denes has completed public and private commissions in North and South America, Europe, Australia, and the Middle East, and has received numerous honors and awards including four fellowships from the National Endowment for the Arts, four grants from the New York State Council on the Arts, the DAAD Fellowship (1978), the American Academy of Arts and Letters Purchase Award (1985), the prestigious Eugene McDermott Award in the Arts at MIT (1990), the Rome Prize from the American Academy in Rome (1998), the Jill Watson Award for Transdisciplinary Achievement in the Arts from Carnegie Mellon University (1999), the Anonymous Was a Woman Award (2007), and the Ambassador's Award for Cultural Diplomacy (2008) from the American Embassy in Hungary. Denes received a Guggenheim Fellowship in 2015.
CIRCA is a digital art and culture platform with purpose. We stop the clock on global media spaces every evening at 20:22 and mobilise the world's greatest creative minds to broadcast unique works that consider our world today, circa 2022. The funds we generate from artist print sales drive the #CIRCAECONOMY – a circular model that supports our free public art programme and creates life-changing opportunities for the art & culture community.
Since launching in October 2020 on London's iconic Piccadilly Lights, CIRCA has commissioned new work from rising and established artists including Ai Weiwei, Cauleen Smith, Eddie Peake, Anne Imhof, Patti Smith, Tony Cokes, Emma Talbot, Vivienne Westwood, James Barnor, David Hockney & Yoko Ono.
Meta Open Arts empowers artists and builds community through creativity. Founded in 2010, Meta Open Arts partners with cultural organizations and collaborates with artists and designers around the world, providing resources to maximize creativity and bring people closer together in an increasingly tech-driven and digitally based world. Meta Open Arts believes that art has the ability to offer new ways of thinking about ourselves, our communities and the world at large.
Learn more at fb.com/metaopenarts and @MetaOpenArts on Instagram.
Darabase is the AR Outdoor Media Company whose turnkey platform and solution enables brands, property companies and retailers to run immersive location-based Augmented Reality experiences, layered on the real world.
Darabase augments existing outdoor media screens and billboards with world-scale AR content, delivers AR activations in iconic locations and provides scale geographic coverage through a "Run of World" AR inventory network.
Darabase's platform enables property owners and retailers to protect, monetise and display AR content on their own properties to drive footfall, engagement and sales.  Through a unique permission-based system, Darabase can also help companies understand what AR content is being placed and viewed in their locations, mitigating risk and leveraging the opportunity of this fast-growing medium.
CIRCA SUPPORTERS
CIRCA has been made possible by Landsec, landlord of Piccadilly Lights, who have kindly donated media space, as a helpful boost to the cultural scene in London's West End.
CIRCA is grateful to Piccadilly Lights, Ocean Outdoor, Limes, CJ Powercast, Fed Square, Luxottica and Pendry West Hollywood for supporting our free public art programme.