London Zeitgeist: The Spirit of the Times
Written by Norman Rosenthal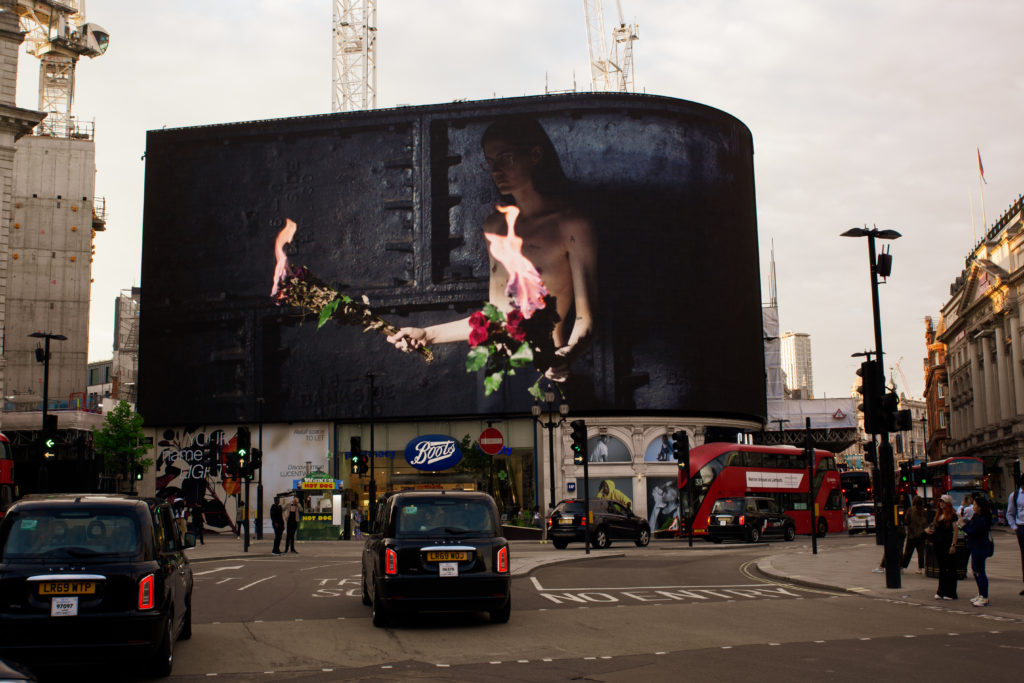 David Hockney, the great star of the Piccadilly Lights and all round the world this last May ("Sunrise at Sunset" I called it, has often stated there is no longer a Bohemia like he used to know – a lot to do in his mind with bans on smoking and perhaps even a new puritanism that seems to be infecting the world at this time. Well I would, with all due respect to the master, maintain it is not quite as simple as that. certainly as far as the visual arts are concerned, indeed  in culture generally, every new generation, in each place where young artists live and work, will form its own new Bohemia. This is one definition of the Zeitgeist – the Spirit of the Times – a largely German philosophical concept and composite word, that has now entered the English language just like Kindergarten/ Garden for Children!
In spite of the terrible nationalist misunderstandings that underline Brexit, London remains still a great cosmopolitan largely tolerant mega city – beautifully so, and  it still attracts artists to live, work, interact with each other, support each other too. Since 1945 at least many such groups of artists and their hangers on  have come and gone – one thinks of worlds around Francis Bacon Lucian Freud and the Colony Room; Richard Hamilton, David Hockney and Allen Jones walking up and down the Kings Road in the Swinging Sixties, the Sculptors who gathered around the Lisson Gallery up the Edgware Road and the Nigel Greenwood Gallery in Sloane Square in the Seventies – Gilbert and George, Richard Long, Anish Kapoor, Antony Gormley and others, only to be succeeded in the happy Hoxton Square Days by the YBA's, lead by Damien, Sarah, Tracey, Angus, The Chapman Brothers and a host of others.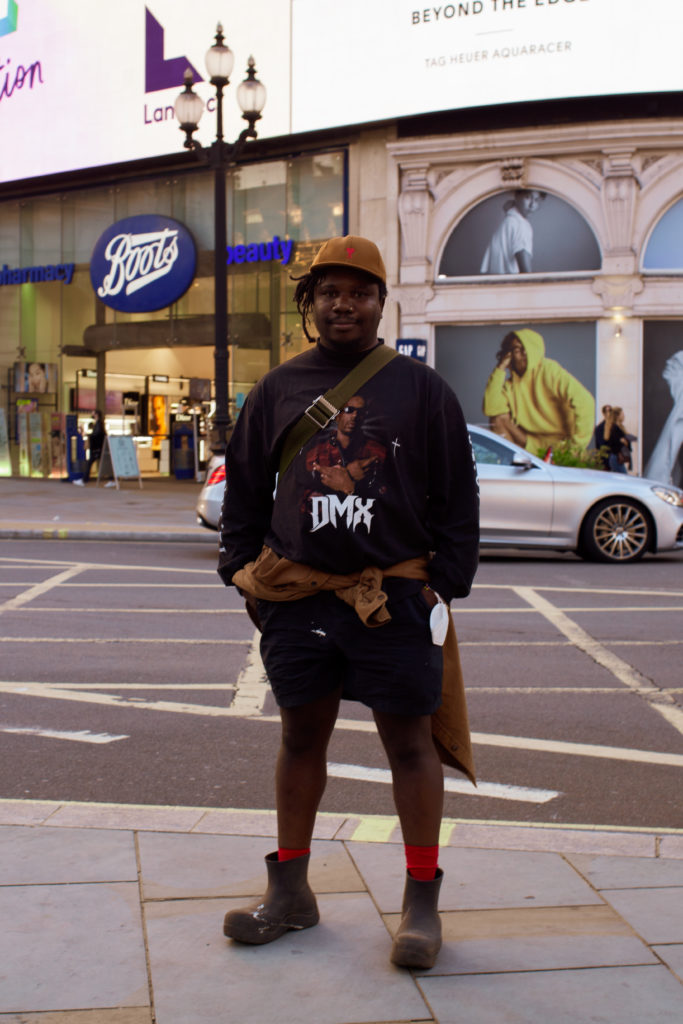 But now a new generation is once more bursting forth all affected – dare one say in a positive sense "infected" in their art making by new and ubiquitous ideas around political issues of gender fluidity and/or BLM not to mention issues such as the state of the planet. Just before the pandemic I had the privilege of co-curating an exhibition in the Ca Pesaro – the Museum which we called perhaps prophetically "Breathless", little knowing what lay around the corner for the world at large. I had wanted to call the show just "OUT!" referencing the two very contrasting meanings that lay in the expletive – the "Out" associated with Brexit and the fact that being "OUT" personally and in a positive way is a big part of todays cultural identity. However art exists within a wide political and socially determined reality but equally in a private personal space of dreams and stylish subjectivity.
The exhibition in Venice was only on for three weeks ( though a printed catalogue exists) because before the pandemic struck Italy down, Venice itself was overwhelmed with disastrous floods. Four artists from that show have been selected to make their own week long "picture" for the great wide screen in Piccadilly, then to be seen on the other side of the world in Seoul and Tokyo. They are Alvaro Barrington, Matt Copson, Larry Achiampong, and the artist duo Hannah Quinlan and Rosie Hastings. At one level the choice of these young "new" artists is inevitably somewhat random given the huge pool of creative visual talent that hovers all over London today if one is on the look out. All four by now already have pretty established careers and are more than worth investigating further by those interested in "The New" of today and taken together are contrasted enough in their approach to art making to at least suggest a London Zeitgeist.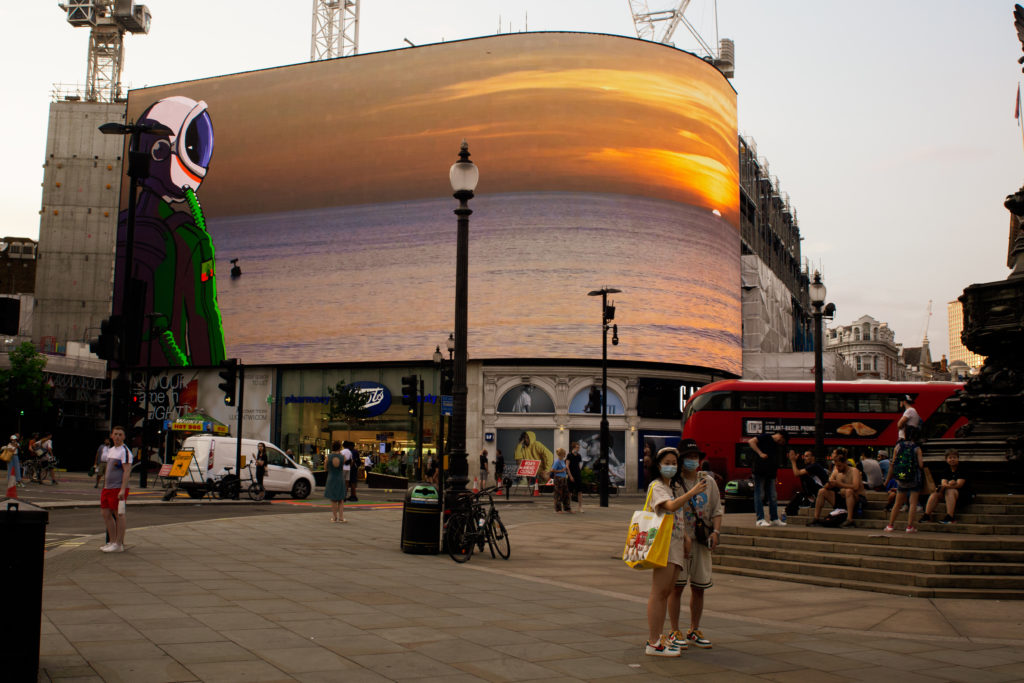 Alvaro Barrington is essentially a painter – a highly original one in that his work is essentially expressionist but whose originality lies in his special ability to give his abstraction unpretentious yet clear "political" meaning to do with his own identity as a New York Black Male living in London. His paintings of Clouds on the screen with its gentle but clear appeal to trust your neighbour could hardly be a more relevant message to hail from the skies. Matt Copson's "Gargoyle" spewing its venom in its own evil way is its own medieval/modern way is another kind of warning and admonition to the worlds from an artist who has often taken his inspiration from ancient/ medieval tales like that of Reynard the Fox.
By chance both Alvaro and Matt studied art until quite recently at the Slade School of Art where I came across them. Larry Achiampong is another artist whose Ghanian heritage plays a big part in his London based work as he references via photography, film and installation, performance and music – often combined together issues of identity via flags, colour symbolism, dress always presented without forced pretension, even with humour. Look out now for his installations on certain London Tube stations for example at Westminster. Finally Hannah Quinlan and Rosie Hastings whose drawings and fresco paintings  unselfconsciously  to reference old masters as with their film and installation work they nostalgically describe the perhaps slowly vanishing gay male subcultures of London – dance clubs and the like and who have poignantly recalled  Giuseppe Verdi's tragic heroine, Violetta in Act I of La Traviata – "Everything is Folly in this World that does not give us Pleasure!". The message ties  in perfectly with Alvaro's beautiful precept  from the clouds.
On three nights during the month we are complimenting the four artists of London Zeitgeist by showing Anne Imhof's film first shown on the Piccadilly lights on 31 December 2020 "Striking at the Sea" that ironically and with sadness  seems to symbolise that great cutting off from Europe by our so-called "Island Nation" – that culturally is indeed the greatest of lies and misunderstandings – it will never be!
---
Norman Rosenthal is a London-based freelance curator. He first rose to prominence as the director and chief curator of the Royal Academy, a position he held between 1977 and 2008. During his tenure he worked towards assembling a variety of prodigious exhibitions, including Italian Art of the Twentieth Century (1989), the controversial Sensation: Young British Artists from the Saatchi Collection (1997), and the well-regarded Anish Kapoor retrospective of 2009. He is Chairman of the CIRCA Advisory Council.