Yukako Tanaka
The main feature of my practice and research is the fusion of art, science and philosophy by undertaking cross-disciplinary research, like astrophysics, neuroscience, biology, and philosophy. I translate the beauty of scientific evidence and phenomena into the Fine Art context. My belief is that art can be a potential vessel that flexibly accepts ideas and concepts from a wide range of academic disciplines. This can then provide an alternative perspective to those answers elicited by science, and possibly predict and create the future. I have previously worked as a director in the commercial music industry in Tokyo.
Scroll down to vote or click here to follow Yukako Tanaka on Instagram.
Q. How is your project tied to the CIRCA x Dazed Class of 2022 theme of 'A Future World'?
A. The work illustrates a more multifaceted view of time and memory in humanity and universe by moving back and forth between macroscopic and microscopic perspectives and temporal axes. In this work, speculative narrative of migration to Mars and brain data storage system examines long-term time, evolution, history of the universe and humankind, and 'Future memory' within the context of speculative narrative. I consulted with Dr Masataka Watanabe, Neuroscientist at Tokyo University, who develops the actual usage for brain data transfer to devise and explore the notion of universe in the brain. Additionally, through documentation of grandmother's dementia, called disorientation, which is a symptom of losing recognition of space-time, the word 'existing' is considered from the viewpoint of presentness. While losing her physical memory, she remembers her memories of songs vividly. Her body is existing in the present, but her consciousness is floating in her past memories
Q. What would you create with the £30,000 #CIRCAECONOMY cash prize?
A. Currently, I am thinking of renewing the content of Recalling the future and making it into a film while keeping the concept, and I have started thinking of a script / concept sheet. Therefore, the #CIRCAECONOMY cash prize can be used to cover the production costs of research, actors, filming, location, props and 3DG development. In 2023 a 10 minute film will be published as the first stage. The story…When a woman migrates to Mars, she transfers her brain data to a device and aims to migrate as data. Through the conflicts and issues that arise while transferring, the film examines eternal life, the reproduction / breed of spices, and the gene / genome editing problem (which I am currently working on in another project).
Q. What does A Future World look like to you?
A. Migration to Mars is supposed to start in 75 years. Due to tremendous development of technology such as humanoid AI and the space industry, the 'Future' we currently think of has already been realised in 'A little ahead of present'; connected to the current era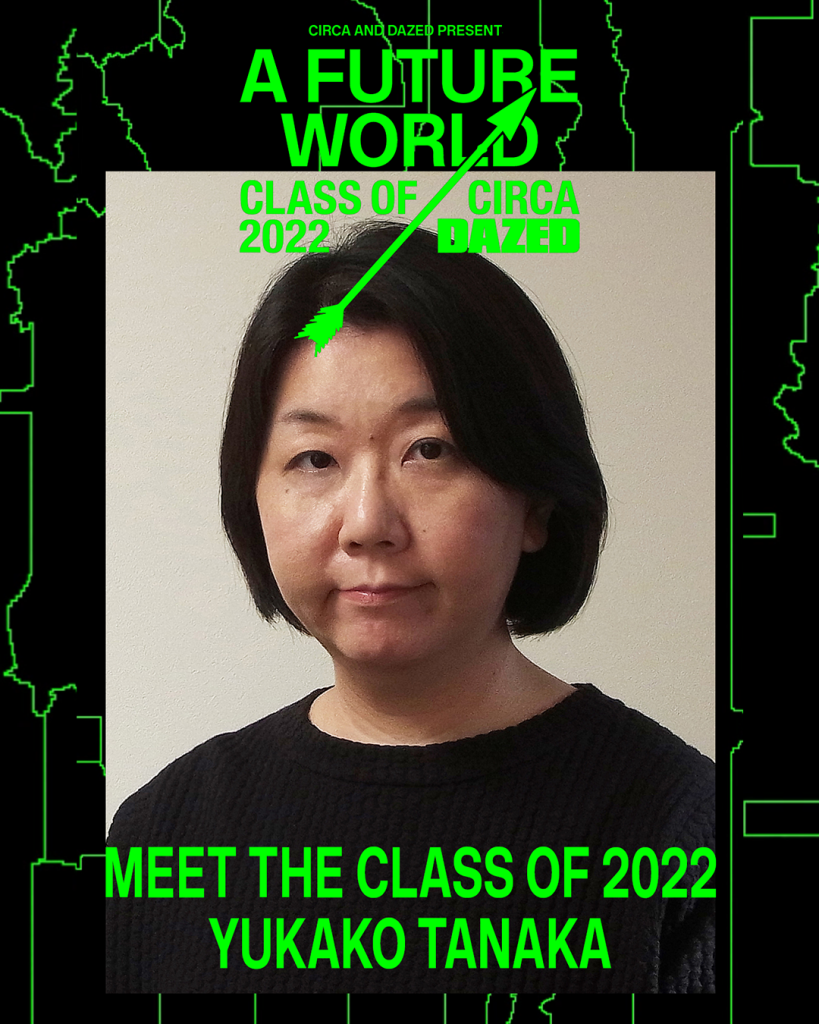 Vote for this artist
New for the Class of 2022, CIRCA and Dazed have introduced an additional cash prize of £10,000 powered by Piccadilly Lights that will be awarded to a finalist who receives the most public votes. Global audiences have until midday on 10 October to watch the final 30 films and vote for your favourite finalist to win the Piccadilly Lights Prize.