Sandi Hudson-Francis
I am a self-taught multi-disciplinary artist whose work is underpinned by the issues surrounding immigration and how modern-day immigrant culture shapes contemporary life. As a Biracial woman of colour raised in a single parent, working class and uneducated environment I am committed to exploring ideas of identity, race, colour, class, gender and community. My first film Super Sam was screened at the National Portrait Gallery in 2019 and CAFE (2018) is currently being exhibited at Whitechapel London's Open 2022.
Scroll down to vote or click here to follow Sandi Hudson-Francis on Instagram.
Q. How is your project tied to the CIRCA x Dazed Class of 2022 theme of 'A Future World'?
A. A furious dance is an imagined interpretation of Bell Hooks' collection of essays 'BELONGING, A CULTURE OF PLACE' that addresses themes of place, environmental and cultural sustainability, black agrarianism and radical politics. 'We have forgotten the black farmer, the ancestors that gave to black folk from slavery on into reconstruction an oppositional consciousness'. Recalling the legacy of ancestors and their deep connections to the land and nature, what has survived and what has been lost in migration. A furious dance revisits the past to uncover, restore and deconstruct so that new paths are possible. It draws on beliefs and traditions that emerged within the middle passage. Spiritual healing ceremonies that evoke communication with ancestral spirits, addressing individual, communal and social issues that set in motion the means for putting things in order in the world and in nature. 'When we love the earth, we are able to love ourselves more fully." – Bell Hooks
Q. What would you create with the £30,000 #CIRCAECONOMY cash prize?
A. I would like to create a new artwork that is a continuation of the themes about collective and personal invisible histories, the future, black self-recovery and the environmental crisis. The work proposed here is an experimental fiction moving image work about the symbiosis of two species and their struggle to survive against a common enemy in a planet destroyed, abandoned and then invaded by alien forces. The film will experiment with visceral and abstract visuals using film manipulation techniques like engraving and fungus growing. It will utilise natural and preserved materials and found objects to build peculiar figurines and disquieting environments. The financial support would also enable me to continue the production and completion of my next film that focuses on the relationship between Dexter, my Jamaican uncle in his 60s who has been impacted by the Windrush scandal. The work explores how the past and the present intersect and shape our cultural identities.
Q. What does A Future World look like to you?
A. One where we can construct social realities that celebrate and acknowledge differences. One without borders, a connection with nature through Love and community, without capitalist white supremacist patriarchal culture.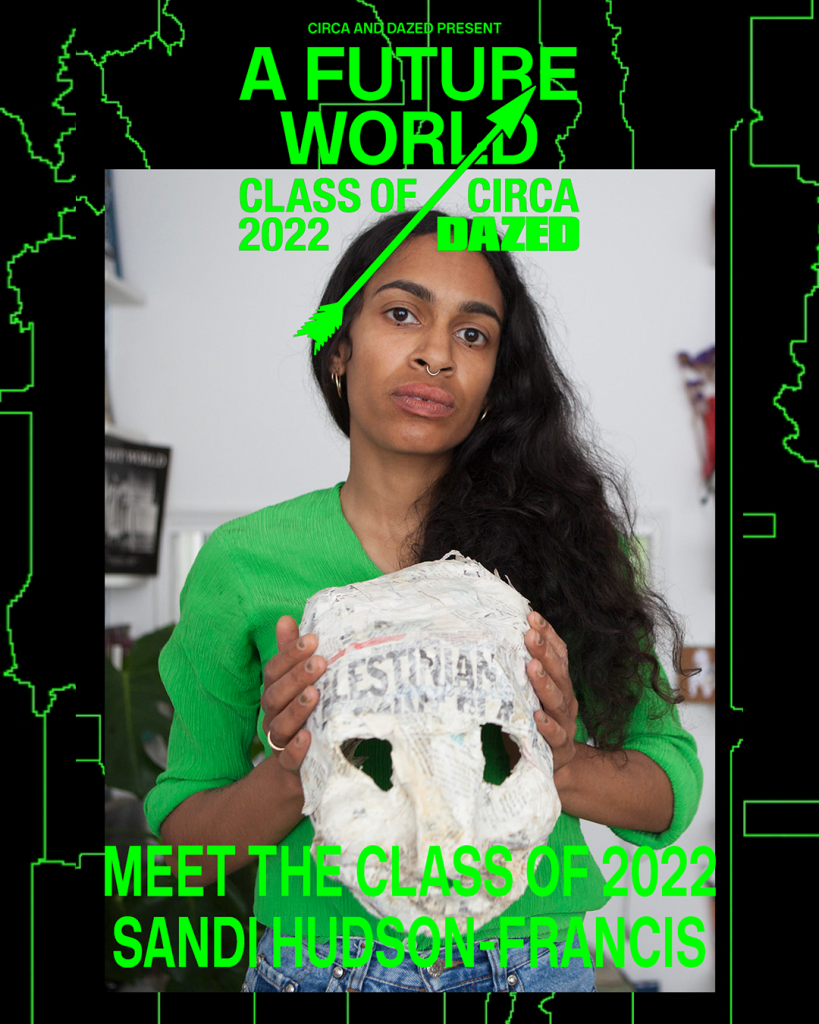 Vote for this artist
New for the Class of 2022, CIRCA and Dazed have introduced an additional cash prize of £10,000 powered by Piccadilly Lights that will be awarded to a finalist who receives the most public votes. Global audiences have until midday on 10 October to watch the final 30 films and vote for your favourite finalist to win the Piccadilly Lights Prize.