Nina Davies
Nina Davies is an artist who considers the present moment through observing dance in popular culture; how it's disseminated, circulated, made, and consumed. She recently graduated from Goldsmiths MFA Fine Art where she was awarded the Almacantar Studio Award and the Goldsmiths Junior Fellowship position. Her work has been exhibited and shown at Overmorrow House, Battle, Alchemy Film and Moving Image Festival, Hawick and SEAGER Gallery, London.
SCROLL DOWN TO VOTE OR FOLLOW NINA DAVIES ON INSTAGRAM
Q: HOW IS YOUR PROJECT TIED TO THE CIRCA X DAZED CLASS OF 2022 THEME OF 'A FUTURE WORLD' ?
Stepping Into Machine presents a future of society's changing relationship to technology – changing from being linked to labour, to a coexistence with technical devices. With the advent of cognitive automation services, an aesthetic and kinetic gap is inaugurated for human dancers. The presented case of the 'bionic step' is an illustration of how permeable dance cultures relate to technological developments. These dances, in turn have shaped a new canon for how movement is performed, across digital spaces and bodies / avatars; in front of our phones and stepping into our machine selves. While machines keep progressing in their quest to understand 'feelings', they leave behind a trace of images and movement that are constantly reincorporated by human performers to engage in choreography as a medium, as a pledge and as an expression of faith – not in its spiritual sense – but as an action you take with your whole body to try to engage with another entity, a network, a consciousness or a device.
Q: WHAT WOULD YOU CREATE WITH THE £30,000 CIRCA PRIZE?
The video submitted is a short version of a 10 minute video to conform with the required length. With the £30,000, I would produce a second part to this video that follows another conversation between characters from this future world. I would further explore this future-anthropological study of humans coexistence with technology, and the role of the arts in a post administrative-work world. With this budget I propose to work with influential dancers found on TikTok who have pioneered slow-motion dance challenges. Their voices would contribute to this narrative in ways that will broaden the scope of this project. The cash prize would provide me the funding to travel to the USA and pay the dancers appropriate fees for their contribution to the project.
Q: WHAT DOES A FUTURE WORLD LOOK LIKE TO YOU?
When I consider a future world, I begin with considering the present. The present is advancing at a fast pace, making it difficult to comprehend, and I believe it is important to look at the present as neither a utopia or dystopia.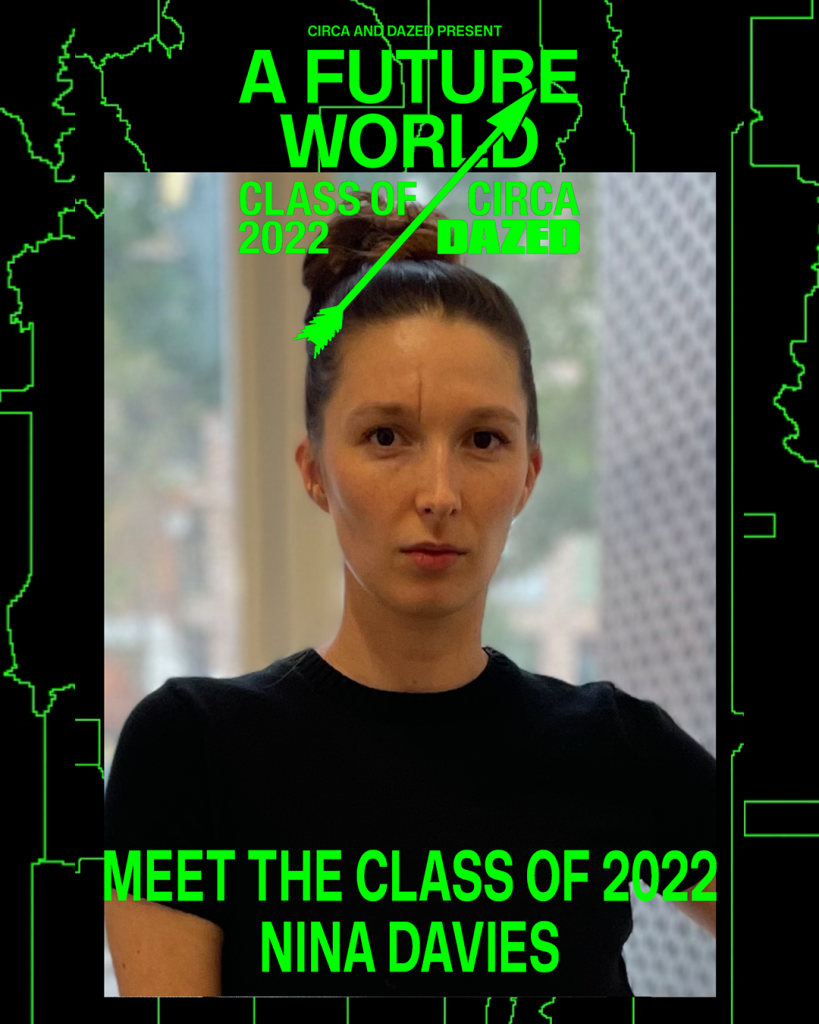 New for the Class of 2022, CIRCA has introduced an additional cash prize of £10,000 powered by Piccadilly Lights that will be awarded to a finalist who receives the most public votes. Global audiences have until midday on 10 October to watch the final 30 films and vote for your favourite finalist to win the public vote.