Nadia Coppola
I am a video artist based in London, specialising in text animation, motion graphics and digital collage. My work focuses on themes of belief and identity, in an attempt to challenge and dismantle the rigid ideologies of what we think these are and how we interact with them. I graduated with a First Class Degree in BA Fine Art from Goldsmiths College in 2021. Since graduating I have been working for film artist Nina Danino and LUX film and video archive.
Scroll down to vote or click here to follow Nadia Coppola on Instagram.
Q. How is your project tied to the CIRCA x Dazed Class of 2022 theme of 'A Future World'?
A. An Optic Liminality is tied to the theme of 'A Future World' through the process of untangling the way we think about beliefs and the prejudice this holds. The work employs text to reference a stream of consciousness and ruminating thoughts and a constant questioning of the state of being which creates a liminal space of existing for the viewer to contemplate these questions. As the video goes on, the words get more distorted to the point where they just become patterns, extracting the meaning from these overwhelming ideas and leaving the viewer with a sense of uneasiness. This point of liminal existence, between being and not being, thinking and not thinking, understanding but not understanding, is where I feel the world exists when we discuss belief and identity, but the intentions of this work are for the viewer to take these questions inwards and consider their own connections to them and how they can dismantle the systematic prejudices they may uphold for a better future.
Q. What would you create with the £30,000 #CIRCAECONOMY cash prize?
A. With the prize money I would firstly invest in some equipment and space, which I do not currently have available to me such as a Mac and a studio, enabling me to make new work. I would also use this money to complete a project which is very personal to me. My ancestors are from small villages within the Comino Valley in Italy, where there is a historical tradition of a pilgrimage from the village of Scanno to Gallinaro for the feast of Saint Gerdard. This pilgrimage began over 800 years ago due to a point of conflict between the villages as they both felt that Saint Gerard should be their patron saint. The villagers of Scanno's journey would take over two days of walking to Gallinaro as a form of protest, to reclaim and prove their devotion; but now the modern villagers take a coach down the mountain and only walk the final 3km procession into the village. I would use this prize money to experience this phenomena first hand, and further explore the future of beliefs.
Q. What does A Future World look like to you?
A. I am hopeful that in our future world we will become more accepting and understanding. However we must now come together to ensure that we can survive on this planet and this be an enjoyable and safe place for everyone.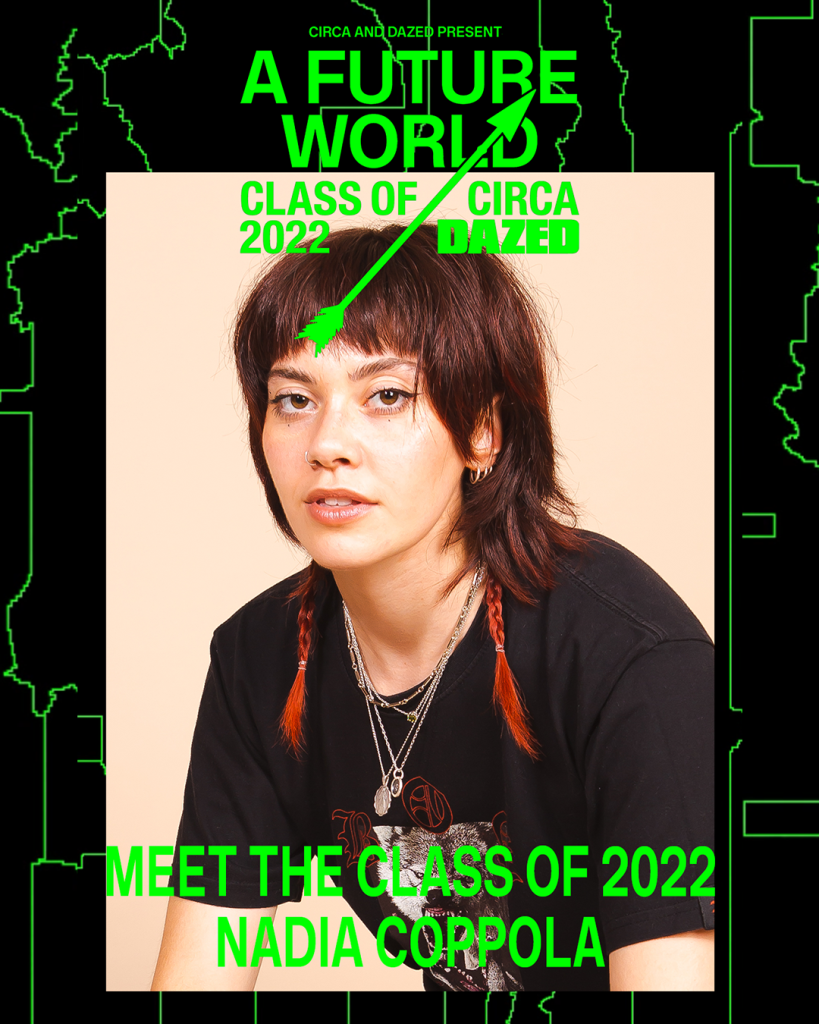 Vote for this artist
New for the Class of 2022, CIRCA and Dazed have introduced an additional cash prize of £10,000 powered by Piccadilly Lights that will be awarded to a finalist who receives the most public votes. Global audiences have until midday on 10 October to watch the final 30 films and vote for your favourite finalist to win the Piccadilly Lights Prize.