Laila Majid + Louis Blue Newby
We were drawn together through the desire to imagine the space in which our individual practices intersect, with our collaboration attempting to unlock an unbounded visual language. Our influences sprawl through a variety of subcultural spaces such as science-fiction, cult-cinema, fetish and leather subcultures and pornography as well as more scientific languages such as zoological and marine photography. With a general disinterest in the here and now, our practice, whether taking the form of video, image or sculpture, points towards the reimagined potential of the not yet.
Scroll down to vote or click here and here to follow Laila Majid + Louis Blue Newby on Instagram.
Q. How is your project tied to the CIRCA x Dazed Class of 2022 theme of 'A Future World'?
A. south florida sky reimagines the comic hero Swamp Thing. Our interest in this character stems from the notion that its physical form is rendered fluid – enmeshed within the biologically diverse space of the swamp. The work breathes life into a found comic frame, paying homage to the hand-drawn context of the comic strip whilst also providing a queered unravelling of the character. This process of disidentification portrays both the swamp and the body as a site of radical interconnectivity. Through the inclusion of a variety of practitioners working across animation (Alice Bloomfield) and sound (Jennifer Walton, Dan S. Evans) alongside our own material input (script generation and 16mm capture), the work generates its own network, a swamp of queered collectivity. Drawing from natural systems of interconnectedness – slimy mycelium networks, siphonophores and the primordial ooze – the project rejects individualised modes of production in favour of a more polyphonic approach.
Q. What would you create with the £30,000 #CIRCAECONOMY cash prize?
A. Continuing from south florida sky, we aim to develop the character of Swamp Thing. Proposing a work comprising vignetted sequences in which our character inhabits and breathes life into found images within our personal archive of fetish magazines. Bringing this character of science-fiction together with the subcultural space of fetish will generate a queered visual language centered around transformative desire. In our reimaginings, we would like to use a combination of both analogue and digital filming technologies as well as both physical prosthetics and digital effects. The tension produced through this juxtaposition will create a slippery and unbounded visual landscape that will catalyse the interconnective potential of Swamp Thing. Reframing this character and the spaces in which they reside will embody Munoz's queer utopian performativity. The mixing of past and present through imagery, spaces, and technology will allow us to create something which feels truly future-facing.
Q. What does A Future World look like to you?
A. A future world is one that can interrogate and challenge the essentialized and stable identity of the individual; holding close a utopian promise that facilitates connectedness, a lexicon of collaboration that feels more politically urgent than ever.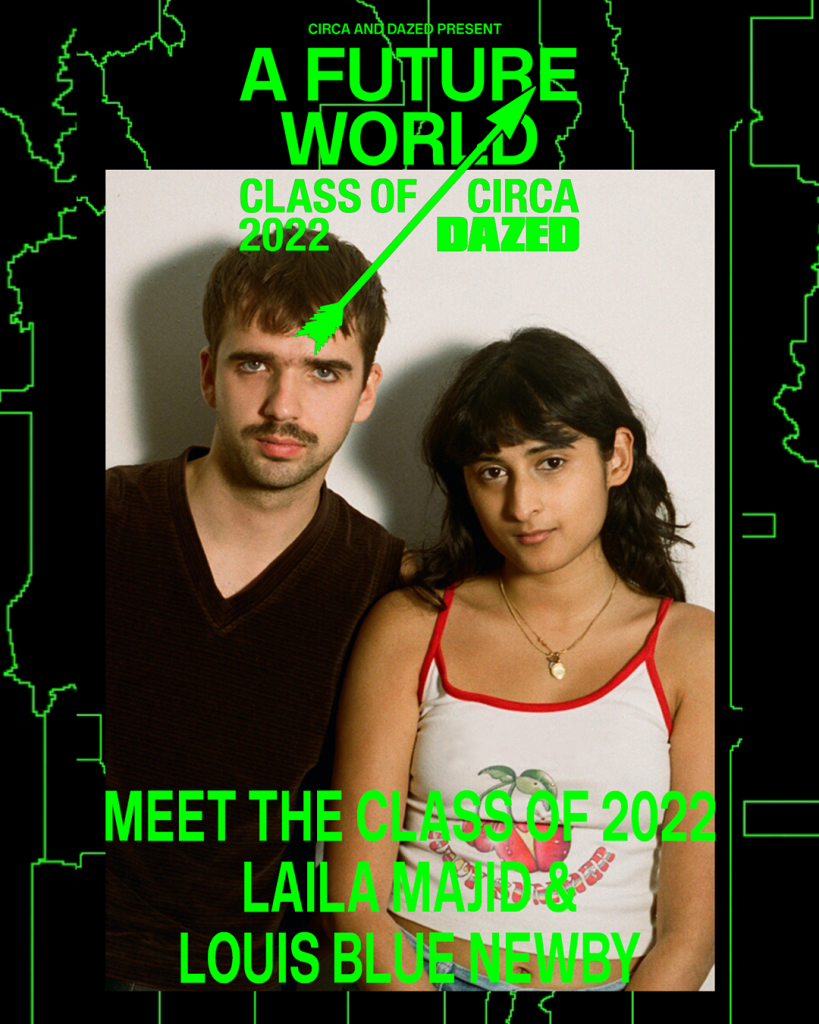 Vote for this artist
New for the Class of 2022, CIRCA and Dazed have introduced an additional cash prize of £10,000 powered by Piccadilly Lights that will be awarded to a finalist who receives the most public votes. Global audiences have until midday on 10 October to watch the final 30 films and vote for your favourite finalist to win the Piccadilly Lights Prize.