Katayoun Jalilipour
I am an Iranian born, multidisciplinary artist working in a variety of mediums including moving image, installation and text. Moving image is the language I often use to communicate my practice, through various lenses, often centring speculative queerness and queer identity within my Iranian heritage. My work has been shown across the UK and internationally including Whitechapel Gallery, ICA and Nottingham Contemporary. Through humour, provocation and storytelling, my practice discusses race, gender identity and sexuality, often by looking at the body.
Scroll down to vote or click here to follow Katayoun Jalilipour on Instagram.
Q. How is your project tied to the CIRCA x Dazed Class of 2022 theme of 'A Future World'?
A. Inspired by Tāj al-Saltaneh, born 1884, a member of Qajar dynasty and a feminist activist, who is often the subject of racist memes today, due to her middle-eastern features. Using 3D animation, based on paintings and photographs, this piece brings to life portraits of her and Queen Maria Anna of Spain, born1606. Two women from two different times and ethnicities, who's portraits have been mistaken for each other's on the internet. My own portrait is inserted as a nod at the relationship between the past, present and future. Questioning, if it is possible to be fully represented in the future, as who we were, once we no longer exist. Our old methods of archiving often censored women and queer people. Now, in the age of the internet, information is even more easily manipulated, especially of people of colour, often resulting in harmful narratives. I have archived Taj's story for the future generation, perhaps as a resource for a better approach to digital archiving in the future world.
Q. What would you create with the £30,000 #CIRCAECONOMY cash prize?
A. With the prize I would create a period style, moving image piece, set in the past and future. Exploring queer Iranian ancestry and traditions.This will be part historical and futuristic fiction and part exploration of new technologies. Following two Iranian women preparing for their wedding, based on historical practices of temporary marriages between women during the Qajar era, resembling a traditional Iranian wedding. The cast will feature queer Iranian and other SWANA performers. The setting is based on historically accurate Qajar style, inspired by paintings and photographs from this era, through the beginning and middle, but it will be revealed that the story is set in the future. The costumes are removed and futuristic clothing evealed as it becomes apparent that the women were only playing out a fantasy of what a queer wedding might have looked like for their ancestors. I will be incorporating hologram projection of Taj's 3D bust, sampling music made by Qajar women and using Farsi poetry as text / dialogue.
Q. What does A Future World look like to you?
A. I would like to live in a future world where the planet isn't dying, and trans, racialised, disabled people have access to free and fast healthcare. A hopeful future to me looks like a world where marginalised people aren't afraid for their lives.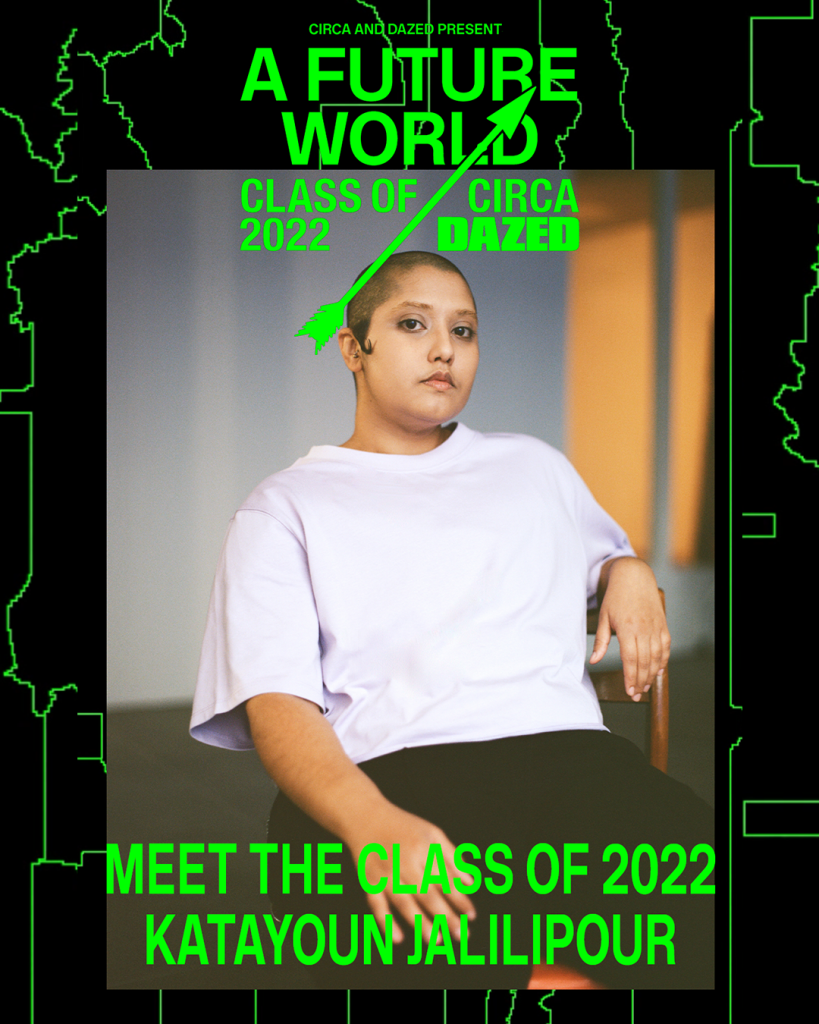 Vote for this artist
New for the Class of 2022, CIRCA and Dazed have introduced an additional cash prize of £10,000 powered by Piccadilly Lights that will be awarded to a finalist who receives the most public votes. Global audiences have until midday on 10 October to watch the final 30 films and vote for your favourite finalist to win the Piccadilly Lights Prize.