Daria Pugachova
I see my art as an invitation. Whether it is a performance or video, I want to create a space for people to take part. They become active participants, so the boundaries between the viewer and the artist disappear. Art created in such a collaborative way is unpredictable. Thinking about a place for the performance, I am focused on spots where we live our daily lives: streets, markets, underground, parks, or sleeping quarters. By performing in public places, I want to connect with all people without exception. I believe art should step out of galleries and become a part of everyday life, thereby changing it.
Scroll down to vote or click here to follow Daria Pugachova on Instagram.
Q. How is your project tied to the CIRCA x Dazed Class of 2022 theme of 'A Future World'?
A. MICROCOSMOS is a documentary project about life in the post-Soviet neighbourhood in Poltava, Ukraine, at the end of 2021. I explored Polovky neighborhood as an astronaut, talking with residents about their dreams, life and childhood memories in these yards. After meeting the inhabitants, I performed at the stadium and symbolically launched their dreams into space. "The yard is a model of the universe. People are like planets in it; each has its orbit. Microcosmos form and intertwine, and stars are born and go out. And every city in Ukraine has its courtyard—its microcosmos. Tell me about your yard; tell me about your dream. We will launch it into the sky. I am a part of the cosmos, just like you". In this short cut people imagine their flight into space. Some of them dream of it, some don't believe it is possible. However, they all appear in the movie sharing their visions of the future. After two months, war came in Ukraine and life in "microcosmos" has changed forever.
Q. What would you create with the £30,000 #CIRCAECONOMY cash prize?
A. After the war started I left Ukraine and came to Bulgaria to continue my work. There I came up with the idea of the second part of the MICROCOSMOS movie, which I want to create with the prize. Cosmos would be a documentary project that explores the lives of Ukrainian children who left the country because of the war. Cosmos is a new unknown world in which children are now lost. How do they feel in this space? Will they find their way back home? They tell stories about their life in Ukraine, they remember their family and houses they had to leave. They also imagine the future – this is the world which they have to create. It will be filmed in Plovdiv, Bulgaria, in front of abandoned 'Cosmos' cinema from the Soviet period. The building symbolises a bygone era, lost ideals and dreams. Some of the houses in Ukraine during the war look like the destroyed Cosmos cinema. At the end of the movie children make a metaphorical space journey – to find their microcosmos again.
Q. What does A Future World look like to you?
A. The world of the future will be the world of creators. It is kind of a network, where everyone does what they love. Being independent and connected together, we will work as one organism. Everyone will have a place to create, everyone will have freedom.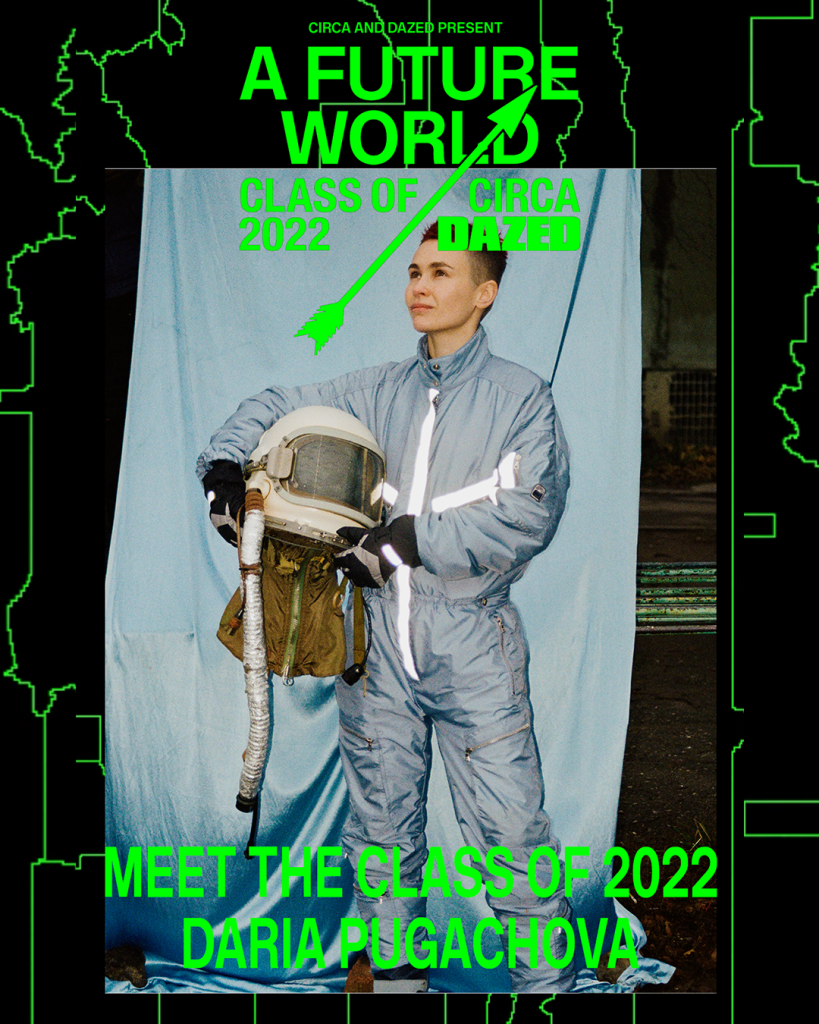 Vote for this artist
New for the Class of 2022, CIRCA and Dazed have introduced an additional cash prize of £10,000 powered by Piccadilly Lights that will be awarded to a finalist who receives the most public votes. Global audiences have until midday on 10 October to watch the final 30 films and vote for your favourite finalist to win the Piccadilly Lights Prize.