Danielle Brathwaite-Shirley
Artist and game developer Danielle Brathwaite-Shirley weaves the lived experiences of Black Trans people into the fabric of their fictional space.Through animation, sound, and performance, they pay reverence to the many creative narratives of those living, those who have passed, and those who have been forgotten. Much like a Black Trans archive, their practice cements the posterity of Black Trans people's existence. Danielle Brathwaite-Shirley's work has been shown in Albright Knox, David Kordansky Gallery, Quad, Arebyte Gallery, MU, Barbican and Tate among others.
SCROLL DOWN TO VOTE OR FOLLOW DANIELLE BRATHWAITE-SHIRLEY ON INSTAGRAM
Q: HOW IS YOUR PROJECT TIED TO THE CIRCA X DAZED CLASS OF 2022 THEME OF 'A FUTURE WORLD' ?
BEFORE THERE WERE NONE explores a world where all bodies share a single soul. A single Identity spread throughout millions of other bodies. In this world all bodies serve a mass identity sharing ideals and dreams. Yet some of those bodies begin to feel like they owned their right to lead their own lives. Seperate from the group. Our world is on fire. It has always been on fire. The ashes of the earth are steeped in secrets and new ways of living. Find yourself in this ash. Live your truth. BEFORE THERE WERE NONE is about a new world being born from fire. That slowly a new and better world is being built by us. The memory of those that sacrificed themselves for a better world for us. We will live on. We will get stronger as we carry their memories into the new world.
Q: WHAT WOULD YOU CREATE WITH THE £30,000 CIRCA PRIZE?
I would use this prize to design a murder mystery game that is played online. The aim of the game would be both to archive Black Trans people and an Agatha Christies murder mystery story. This project would allow me to further my continuation into documenting and storing the memories of Black Trans people globally. Black Trans people have historically been erased by the archives. I want to build interactive community archives that react to how you act within them. This game called would be based in a world where all bodies share a single soul and must use that connection to figure out which player is the murderer. For the launch of the game I would love to make a 10 minute video introducing the world we have designed and launching the game online at the end of the video's duration. This way we would be able to celebrate the launch with Circa and show everyone what we have been working on as they test the game from their phones.
Q: WHAT DOES A FUTURE WORLD LOOK LIKE TO YOU?
I want to live in a future that feels safe to live in. That feels easy to breathe in. My future holds Black Trans people proudly. It tries to member those who have been forgotten. It strengthens itself by holding on tighter to each other.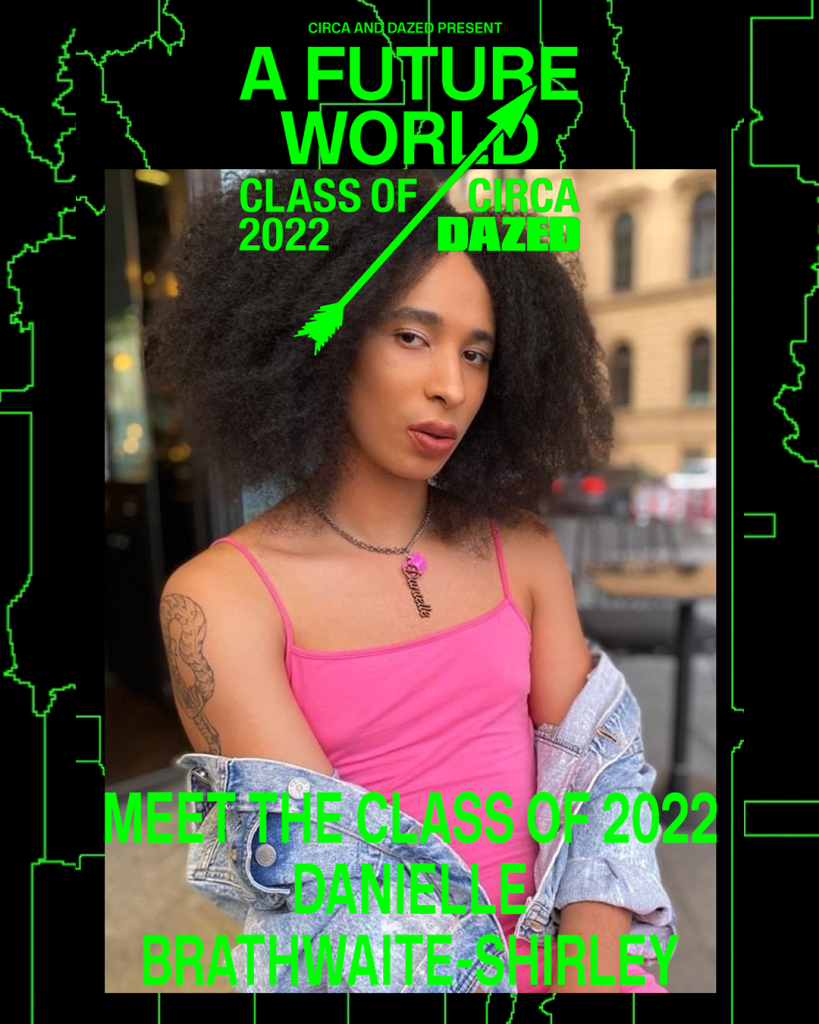 New for the Class of 2022, CIRCA has introduced an additional cash prize of £10,000 powered by Piccadilly Lights that will be awarded to a finalist who receives the most public votes. Global audiences have until midday on 10 October to watch the final 30 films and vote for your favourite finalist to win the public vote.