Agnes Questionmark
Using performance, installation, sculpture and photography, Agnes Questionmark (Agnes?) creates immersive habitats and performances that question the human body and its relationship with the non-human world. By placing her body in an environment that is unnatural, Questionmark brings the viewer on a journey towards it's root, questioning their genesis and presenting uncertain future potentialities. Questionmark poses – will we evolve according to environmental events? Will organic post-humanism, or the idea of self-enhancement through biological means, become a viable future?
SCROLL DOWN TO VOTE OR FOLLOW AGNES QUESTIONMARK ON INSTAGRAM
Q: HOW IS YOUR PROJECT TIED TO THE CIRCA X DAZED CLASS OF 2022 THEME OF 'A FUTURE WORLD' ?
TRANSGENESIS is a series of fictional scientific experiments unfolding in three genetic stages: larvae, embryo, foetus. It represents the evolutionary process of perpetual self-transformation which culminates in Agnes?'s long-durational performance: 184 hours of performance over the course of 23 consecutive days, 8 hours each day. TRANSGENESIS is a term used for the process of transferring genes from one organism to another; it has the potential to change the physical characteristics or traits of an organism. This technology is developing quickly and is expected to become the most significant actor in the future of human speciation. As a species we already cultivate transgenic animals and plants for pharmaceutical applications and human consumption. TRANSGENESIS aims to explore the idea of future becomings, a destruction and re-construction of the human-self. A condition in which our bodies become hybrids in a post-human world. TRANSGENESIS becomes our inevitable future world.
Q: WHAT WOULD YOU CREATE WITH THE £30,000 CIRCA PRIZE?
I intend to create a new installation and performance: to recreate an operating room with a surgical bed where I'll perform for a long duration of time, becoming the object and subject of a new interspecies experiment. Doctors will frenetically apply and remove silicone prosthetics to my body, evoking elements of marine creatures – fins, tails, swords or sails. My body will carry the effects of this long and painful process, dragging it within the space. I surrender to the inevitable metamorphoses, a process of destruction and creation. If evolution is a never ending process and humans have the ability of controlling it via medical and technological advances, where are we going to? What will be of our bodies? This project celebrates transformation as a basic human need, intrinsic in our nature; it brings pain and self-harm as fundamental elements of life, evolution and adaptability within a society that pushes to consume, produce and entertain. The project is presented live and filmed.
Q: WHAT DOES A FUTURE WORLD LOOK LIKE TO YOU?
In a Future World we sleep in amniotic tanks, our lungs breathe liquids, our houses are helium lead capsules and we inject ourselves a transgenic dose to survive the morning walk within interspecies colonies at 600m deep ocean.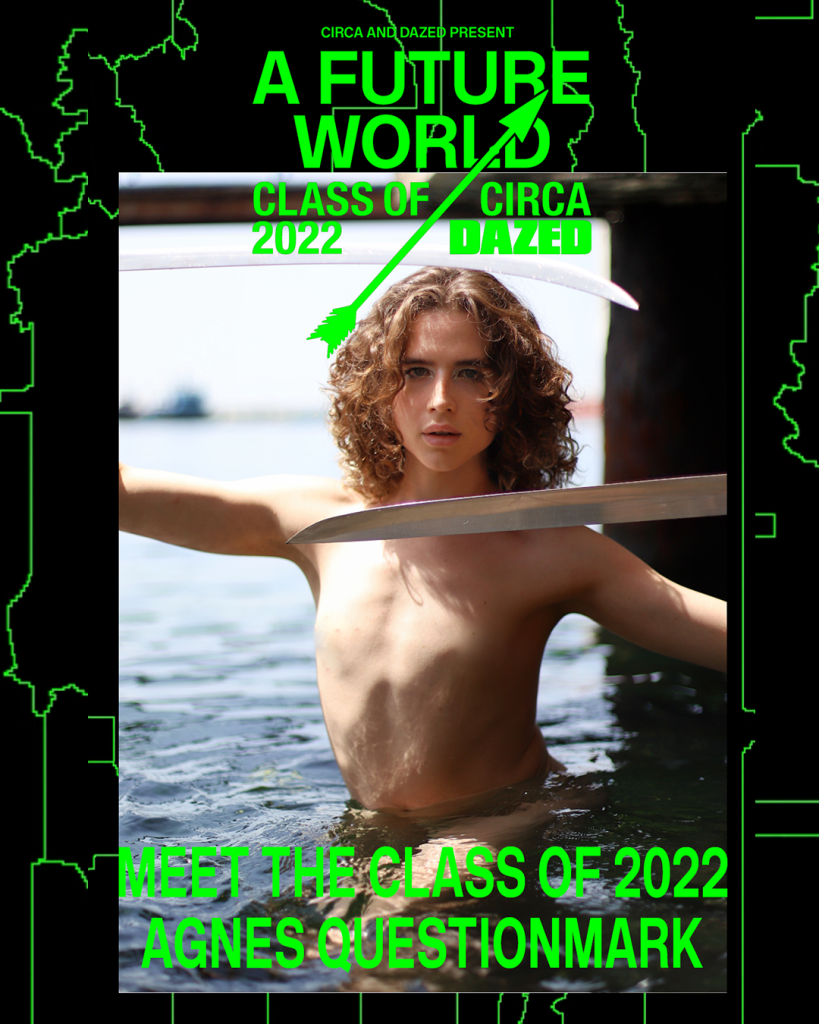 New for the Class of 2022, CIRCA has introduced an additional cash prize of £10,000 powered by Piccadilly Lights that will be awarded to a finalist who receives the most public votes. Global audiences have until midday on 10 October to watch the final 30 films and vote for your favourite finalist to win the public vote.