Tanya V. Abelson
My field is the border 
My guide is in the core
My drive is to unfold possibilities
In my artistic practice, the body and its materiality are in constant use. I explore its presence and its absence. I arm myself with forms that transform the narrative of the human body and evoke a fairy but possible reality using recycled materials such as rubber and truck tires, combining them with wax, metal, textiles, leather, and wood. Air, fire, and water also have a crucial role as conductors of the transformation. I disarm, cut, and sew contradictions or complements that bring back the notion of motion, of freedom. The appeal of touching and the nonlinear shapes contribute to the symbolic oscillation I look for in the field of sculpture and fashion; or the literal oscillation I explore through the field of luthiery. In these mediums, I work to become the channel that connects the ends. Like a bridge that ties two shores. The body, its volume, and its limits construct my alphabet and language.
CIRCA: HOW IS YOUR PROJECT TIED TO THE THEME OF 'HOPE'?
In&Out (Breathing) is an audiovisual self portrait where the body is translated into landscape.
There are no artifices, no veils, there is nothing else in front of the camera than the power of a deep breath. The video captures from a deconstructive angle, how the body of the artist performs as an airbag, catching the air with the lungs, temporarily redefining the limits of the body, stretching organs and tissues while oxygenating and even reaching the microstate of peace -where nothing else is needed- to shortly after, have to start all over again. The breath weaves time at its own pace, merging the future within its presence.
By establishing breath and aliveness as one, the film proposes to dissolve the distance between individual and collective organisms and shows how in the mechanism of breathing lies the genesis of our life without exception. Regardless of any distinction, our existence needs the air as humanity needs HOPE to define and link the here and now with its imminent future.
CIRCA: WHAT WOULD YOU CREATE/DO WITH THE £30K?
With the £30K prize, I would develop a new audiovisual piece that would participate in 'Hope: The Art of Reading What Is Not Yet Written' at Piccadilly Lights in 2024. I imagine the upcoming work as the result of a collective performative experience where the limits between bodies and entities are explored. I am visualising a sci-fi environment (like the upcoming future) with musicians, dancers, and performers that through fusion, exchange, imitation, originality, and communal construction, create a sort of random-real-plot that reflects the "natural" human algorithm that is activated through a shared creative process.
From the prize, I will donate £5,000 to different aid organisations. I find it vital to support groups that do important work in promoting and showing support to vulnerable minorities in disadvantaged situations in so many international scenarios. My true hope is to inspire others to show support to organisations in their communities too.
CIRCA: WHAT DOES 'HOPE' MEAN TO YOU?
1. Lionel Messi
2. First one must know how to suffer
then to love, then to leave
In the end, go on without a thought
Extract Tango Naranjo en Flor
3. Experience is a comb that life gives you when you are already bald
Irish proverb by Bonavena
FOLLOW TANYA V. ABELSON ON INSTAGRAM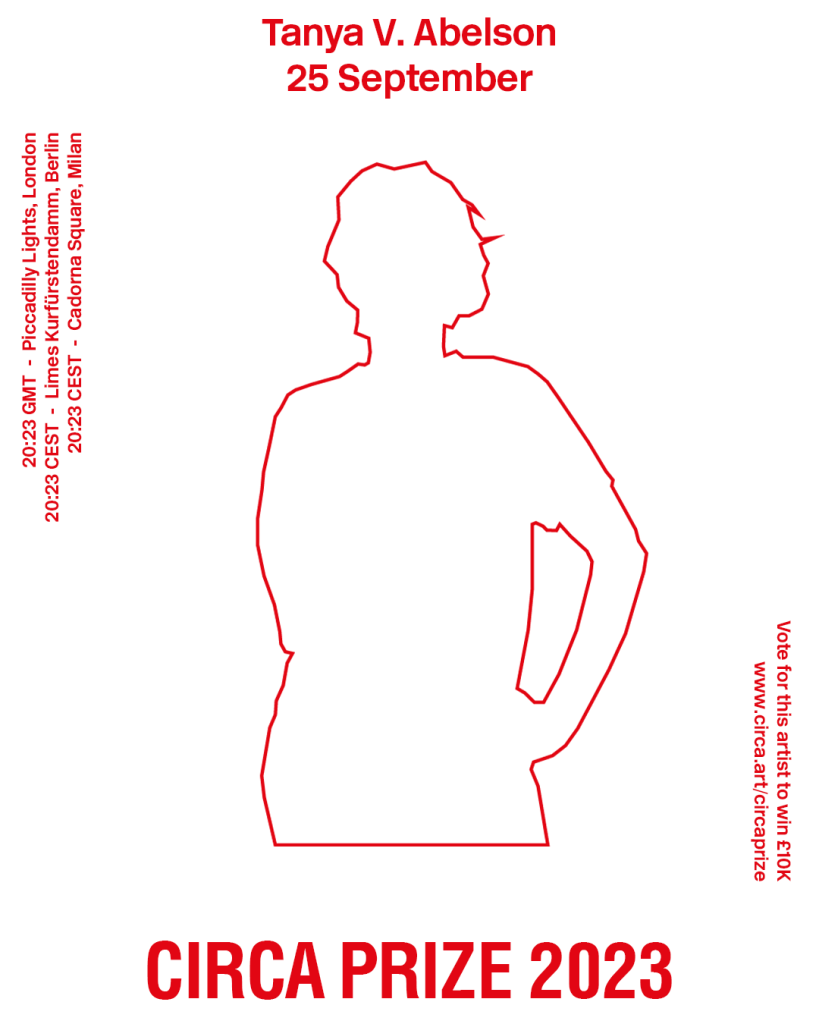 Vote for this artist