Revital Cohen & Tuur Van Balen
We work across objects, installation and film that look at processes of production as cultural, personal and political practices. Our practice could be thought of as 'situated', where the making of the work is performed within particular networks. The choreography of labour and extraction of minerals have been long-standing interests, followed by the many forms of reality generated by the gambling industry. Animal bodies (human or otherwise) are a recurring theme; in particular how these are shaped by the situations in which they operate. Rehearsals seem to return as well.
Our film works are usually produced by just the two of us with minimal equipment, in the spirit of DIY and to maintain a level of intimacy. They often come out of long overlapping periods of research within particular sites and contexts (hospitals, mines, factories, theatres, laboratories…) and rely on ongoing relationships with multiple collaborators. They are not documentary in nature but use the context as set and setting for an open-ended visceral and aesthetic experience. The films usually feature text (which can be connected or disconnected from the footage) and original music.
CIRCA: HOW IS YOUR PROJECT TIED TO THE THEME OF 'HOPE'?
The submitted project is a short excerpt taken out of Heavens – a 30-minute video, sound and text installation, originally commissioned by the Serpentine Galleries with sound by Pan Daijing. The work starts from a theory that the octopus evolved from a squid infected by a virus that fell on a meteor from outer space. It aims to open the idea that our ecology is wider than our planet, suggesting that there could be other forms of consciousness and routes to regeneration that are waiting to be found.
This short vignette shows eight synchronised swimmers rehearsing an underwater routine from below, an eclipse constricting like a pupil, and the universe hyperventilating. The sequence is overlaid with the first and last verses in the libretto, bringing together creation myths from antiquity with psychedelic visions and space travel fantasies.
CIRCA: WHAT WOULD YOU CREATE/DO WITH THE £30K?
We will create a new film revolving around the birthing of foals. Last winter we spent time in thoroughbred stables in Newmarket watching foals being delivered. Performed at night in a calm quiet atmosphere, future racehorses slip into the world covered in care, hopes and bodily fluids.
We will be back to film next season's foaling and make a work that looks at these sculptural creatures in the state of becoming, as a way of thinking of optimism and creation through rituals of (re)production. The film will be composed of slow closeup footage of the typography of horses bodies within amniotic sac membrane, of human hands pulling foals' front legs, of the choreography of man and animals in a pile of hay. The nature of the work will be dreamlike, abstract and fragmented. A short subtitle track will bring together cult leaders and warriors' birth myths, sculptural instructions, and deep diving hallucinations.
CIRCA: WHAT DOES 'HOPE' MEAN TO YOU?
R: A disbelief in solid structures and immovable objects. The sound of people taking to the streets.
T: Hope is the feeling that guides your movements.
FOLLOW REVITAL COHEN & TUUR VAN BALEN ON INSTAGRAM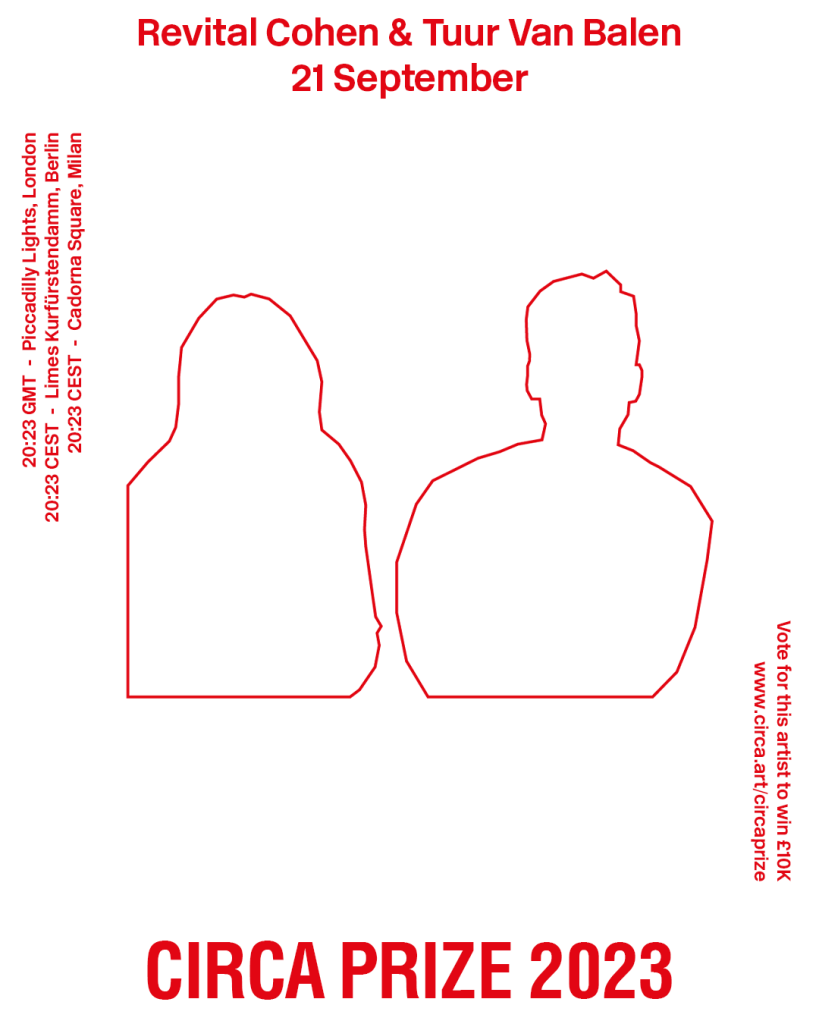 Vote for this artist