Joseph Noonan-Ganley
My art explores how identity is collaboratively made in the process of interpreting others, being interpreted by others and the integration of these relationships. Aiming to expand queer sensory vocabularies by complexifying male sexuality, my practice exposes problems that are cleansed out of contemporary queer culture (e.g. political ambivalence). Works draw from the literary genre of bio-fiction, feminist bodily experience, theories of sexual dissidence and materialist filmmaking.

I often take as artistic material the lives and works of bisexual and homosexual men (Charles James, Gareth Thomas). I openly manipulate the remnants of these artists, designers, sports people, dressmakers and writers. Unearthed materials are remade through filming, sculptural construction and textual experimentation in explicit detail. Closing in on singular elements gives the artworks the building blocks to open up new meanings and resonances, shifting the material's relationship to its original creator.
Examples of some of these materials: misty footage of a muddy sports match; letters riddled with arguments; an amateur mini-TV series shot on a grandmother's camcorder; digitised tape recordings of interrogations of young rugby players; video footage of a famous American artist's home. I find methods and techniques through engaging these biographic materials, where I unravel popular notions of the authentic self. These allow me to establish idiosyncratic processes of understanding.
CIRCA: HOW IS YOUR PROJECT TIED TO THE THEME OF 'HOPE'?
This work treats beds as a method of time travel, bringing historical material inventions into the present. When beds are mediated through imagery and sound they expand to make room for new inhabitants. In this way historical beds gain the power to include people of the present. When hope is channelled through creative action, radical change, survival, even time travel is possible.
The video is narrated from the position of one of the Uruguayan rugby players who crashed in the Andes in 1972. He describes the design, construction and use of the team's emergency beds. Images, sound and text from archives, mass media and personal notebooks make space for contemporary viewers to cohabit these beds, to partake in this imaginative composition. The protagonist elaborates upon the original methods that the boys improvised, drawing on an example: a contemporary alphabet fashioned out of jockstraps. These letters speculatively inscribe the different contexts and temporalities that the boys find themselves in (bed, plane, book).
CGI, AI and technical consultancy: Harry Sanderson
CIRCA: WHAT WOULD YOU CREATE/DO WITH THE £30K?
I will transform an unfinished body of theatrical research into an expanded moving image artwork.
The research casts the medieval scripture of the southern French Cathar heretics in a contemporary context through investigations of the pop star Prince's early androgynous performances, erotic lyrics and music.
The Cathar heresy is an early precursor to non-binary gender identity. During their fleeting time on earth these angels aimed to withdraw from the genesis and generation of the material world, whereby they voided gender as a marker of mortality.
I will film garment and textile production processes such as felting, knotting and knitting as a way to narrate the Cathar experience of struggle for autonomy and bodily pleasure in ascetic practice. This will be accompanied by a voice derived from the Cathar scripture (source: Heresies of The High Middle Ages, 1969), as well as new music developed in the vein of Prince's 1987/1988 songs If I Was Your Girlfriend and I Wish You Heaven.
CIRCA: WHAT DOES 'HOPE' MEAN TO YOU?
Artists's hope is fidelity to following material, despite not knowing or being in control of the outcome. Hope is founded on the practice of opening new links within oneself and the world: a new shared capacity to think, see and act.
FOLLOW JOSEPH NOONAN-GANLEY ON INSTAGRAM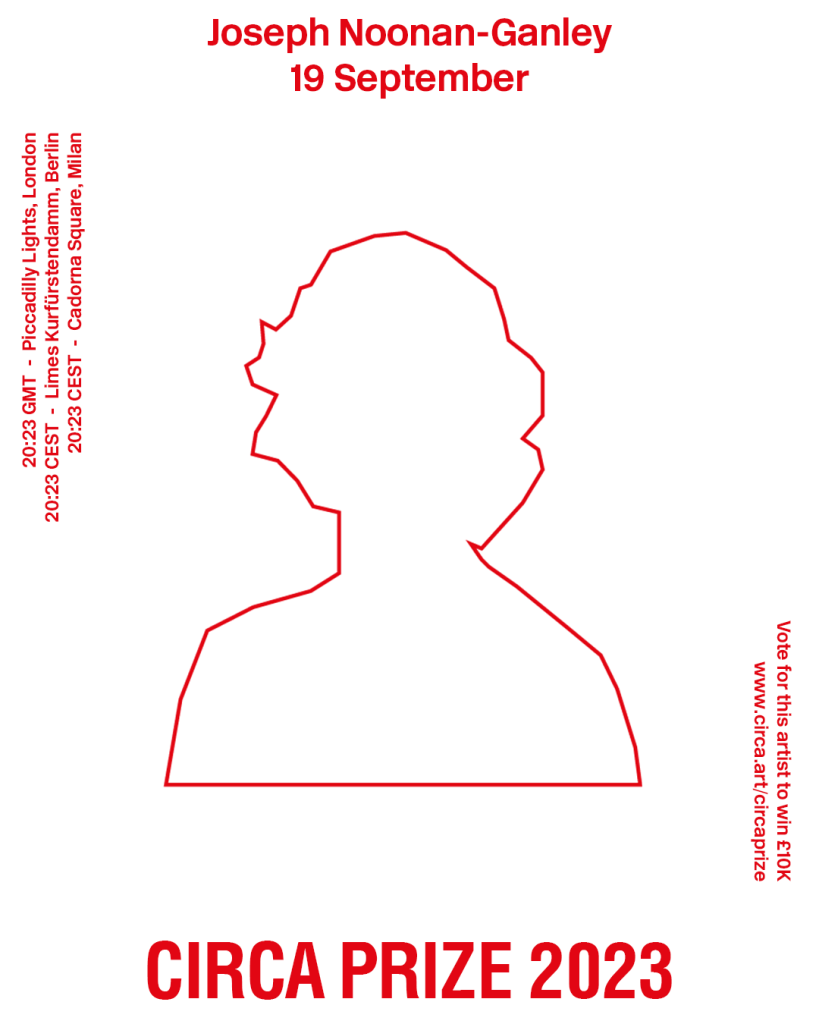 Vote for this artist