Conor Ackhurst
I make installations and films, assemblages of found materials and digital animation housed in metal structures. The metal structures frame a space, usually 'safe' for humans, that has been condensed, like the crushed interior of a car, a passageway turned into an impossible collision of doors, or a cave narrowed to claustrophobic proportions. This simulated world-building is a confrontation with possible violence as a boundary experience.
Through the convergence of found materials and crafted structures, my work sparks a dialogue between the viewer and their environment. The juxtaposition of familiar elements within an altered context creates a space for questioning and reevaluation. It is within these immersive encounters that the interplay between perception, physicality, and emotional response unfolds.
In my artistic exploration, I delve into the realms of simulation, world-building, and the pervasive influence of hyperculture facilitated by the internet. I investigate how these interconnected phenomena shape our perception of reality and contribute to the construction of our collective consciousness.
CIRCA: HOW IS YOUR PROJECT TIED TO THE THEME OF 'HOPE'?
The film finds a connection to the theme of hope through its exploration of obsession, fetishisation, and mortality. By delving into anxieties and societal responses to potential annihilation, the film provokes viewers to confront their fears and reflect on the fragility of life. Through this process, a glimmer of hope emerges, rooted in a shared vulnerability. Challenging our projection of hope onto darkness, blurring the line between denial and belief. The film allows hope to flourish, empowering us to find resilience and optimism. Drawing upon a variety of sources and digital animations that simulate the crumpling of car seats in a void, akin to a video game. Like the combustion engine's pistons spluttering into ignition, the film strives to create sparks of optimism, propelling us forward with the belief that even amidst darkness, hope is found and nurtured.
CIRCA: WHAT WOULD YOU CREATE/DO WITH THE £30K?
Receiving this prize would be an extraordinary opportunity, one that fills me with immense excitement as it represents a pivotal moment in my career. With the generous support provided, I would strategically invest in myself to elevate my craft and push the boundaries of my practice, including expanding my workshop with new tools. Additionally, I would seek further tuition in software crucial to my practice like 3D modelling and animation. The prize would also allow me to collaborate with technicians and fabricators.
This support will enable me to work on an ambitious scale and open doors to new opportunities. It is my goal to develop in every aspect of building my work, from research to production. With this prize, I would immerse myself in invaluable learning experiences that would enrich my practice and serve as a catalyst for transformative growth. It is an investment that goes beyond financial support, providing the necessary resources and expertise to propel my practice forward.
CIRCA: WHAT DOES 'HOPE' MEAN TO YOU?
Hope for me as an artist is profound, embodying belief in positive change and unwavering resilience. It propels my exploration of human existence and our intricate relationship with the world.
FOLLOW CONOR ACKHURST ON INSTAGRAM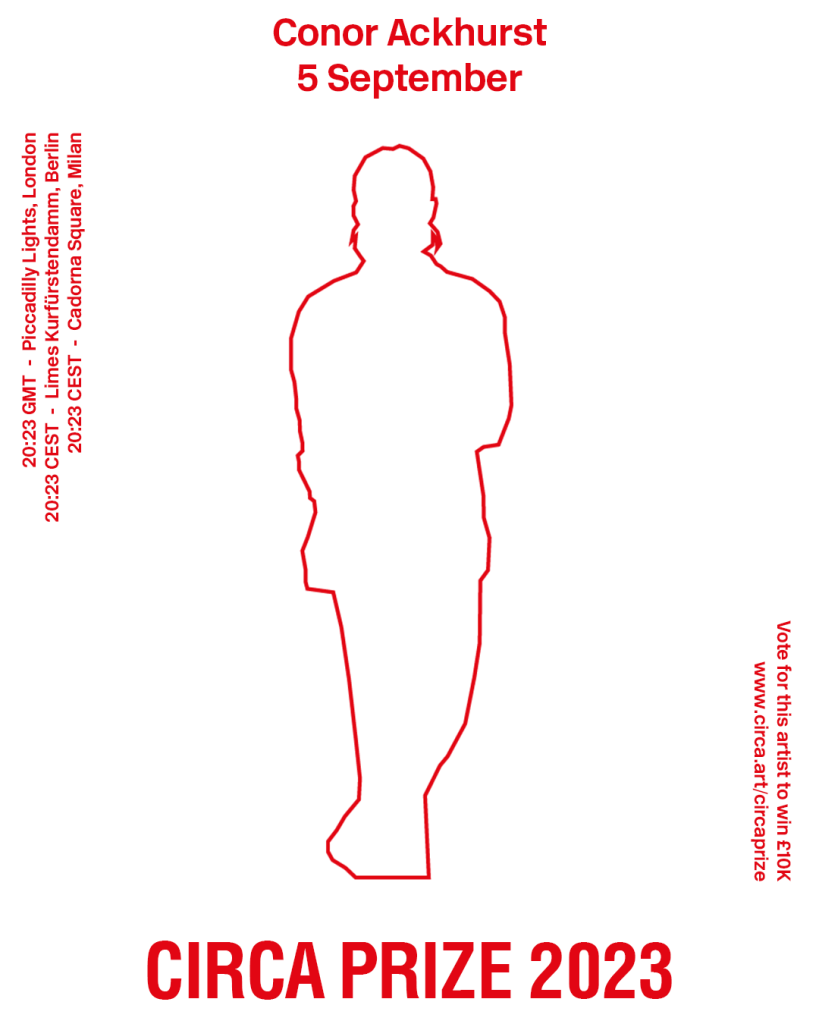 Vote for this artist