CB Hoyo
This work serves as a profound exploration of global unity and the human experience, portrayed through the diverse interpretation of 'hope' in numerous languages. I drew inspiration from an Instagram story I posted that resonated with many, leading me to use a 15-meter canvas to visually represent 'hope' across a variety of languages. My chosen medium is vibrant, water-soluble oil sticks on raw canvas, symbolising the purity and dynamism of communication. The piece goes beyond mere visual aesthetics; it goes deeper into the symbolism inherent in the languages used. The deliberate irregular spacing, punctuation, and sloppy handwriting of the text shift the viewers' focus from the visual to the conceptual essence of the words. I faded the text with water, resulting in a fused image of linguistic diversity, reflecting the endless change and interconnectivity that defines our existence. My exploration with text art has helped shape my artistic voice and perspective on life, allowing me to critique and distil societal realities, highlighting issues that, while universally acknowledged, are often overlooked. Being born in Cuba and having journeyed through various countries, my work is deeply influenced by my fascination with diverse cultures and human behaviour. I invite viewers of my work to reflect on thoughts and sentiment that go beyond cultural borders and forms a crucial part of our shared human journey.
CIRCA: HOW IS YOUR PROJECT TIED TO THE THEME OF 'HOPE'?
My project is intricately tied to the theme of 'HOPE' as it explores the concept through the lens of language, culture, and human connection. Through my artwork, I delve into the collective consciousness of humanity, inviting viewers to contemplate the meaning of hope and its expression in different languages. With the vibrant and fluid nature of my chosen medium  I create a kaleidoscope of linguistic unity, mirroring life's constant flux and reminding us that hope transcends borders and circumstances. Ultimately, my project aims to inspire viewers to recognize hope as a universal thread that weaves through our shared human experience.
CIRCA: WHAT WOULD YOU CREATE/DO WITH THE £30K?
With the £30,000, my plan is to construct a creative haven in Bayahibe a small fisherman town on the east coast of the Dominican Republic. This would involve renovating a studio space I currently own. Where I'll establish an artist residency program, allowing emerging Dominican and international artists to refine their craft, collaborate with established professionals, and gain exposure to international markets.
Simultaneously, I would invest a portion of the funds in a social project to foster art education and resources in underprivileged Dominican communities. This initiative aims to bridge the opportunity gap, providing individuals access to creative tools, a platform, and a voice to express their narratives.
In essence, the funding would serve a dual purpose – empowering emerging artists and inspiring underprivileged communities, thereby enriching the cultural landscape of the Dominican Republic.
CIRCA: WHAT DOES 'HOPE' MEAN TO YOU?
Hope is life, a powerful force that transcends borders and circumstances, sustaining us all. It fuels our belief in positive change, even in adversity. Hope unites us, reminding us of brighter possibilities and inspiring perseverance.
FOLLOW CB HOYO ON INSTAGRAM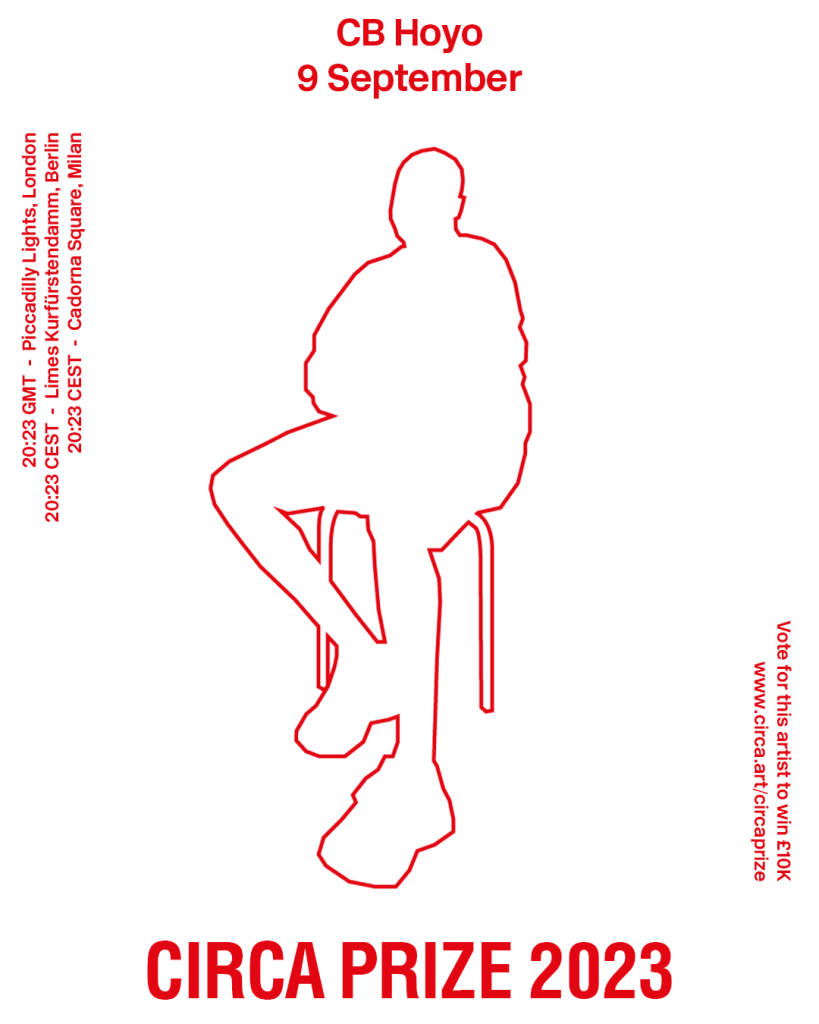 Vote for this artist